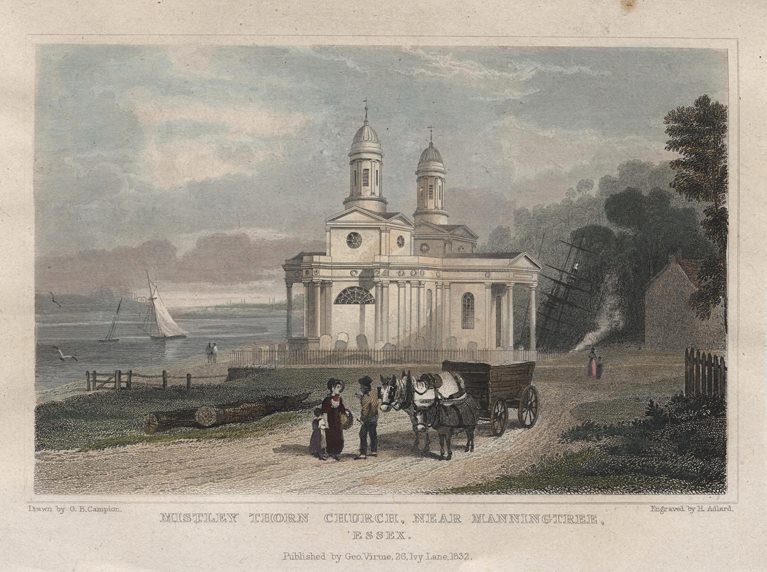 Mistley Thorne Church, 1834.
Transcribed by Helen Barrell, except marriages 1813-1837 and baptisms 1775-1812 transcribed by Arny Webb. They can be searched for at FreeREG.
Notes
Manningtree was a chapelry of Mistley. There is a note beside the baptism of Edward Dyx on 28th March 1619 that this was performed on Easter Day "at ye chappell of Manningtree, ye first yt ever was baptised there." From then on there are baptisms in the Mistley register with a note to say they were performed "at the chapel" – presumably at the one in Manningtree. The first burial at Manningtree chapel was on 28 May 1633 – that of John Howard, son-in-law (stepson?) of Willm. Parker and his wife Elizabeth. Manningtree has a separate register from Mistley's starting in 1695.
Something awry in the early 1600s – some of the years might have got muddled up (1604 ends up mixed in with 1603 and 1605) or there's no baptisms at all in the register for 1604.
High number of burials in 1604 compared to other years (very high in August, September and October). This might be the plague. A high number of burials from Summer 1603 going into 1604 in Wivenhoe similarly suggests the plague.
According to Gaskill's Witchfinders, Thomas Witham (vicar) left for London in 1643 and died the following year. John Witham became vicar in 1647 and is almost certainly Thomas' son (perhaps the child of Thomas and Freegift baptised in 1622). This explains the gaps in the register, and without an incumbent, the parish experienced a power-vaccuum into which men like Matthew Hopkins, John Sterne, Sir Harbottle Grimstone and Sir Thomas Bowes (step-son of Charles Cardinall) could slide in and do their worst against 'witches'. Burial of John Hopkins, son of Marie Hopkins, wife of Thomas Witham (parson) in 1641 might indicate that Matthew Hopkins was the stepson of Mistley's minister, hence how he moved from Wenham in Suffolk to Mistley.
Mind the gaps! There are about 15 to 25 baptisms a year until the Civil War, when lots of gaps appear.

Baptisms: Few 1643, none 1644, three 1645, two 1646, eight 1647, five 1648, six 1649, eleven 1650, six 1651, 1652 none.
1650s-1680s – baptisms and births added retrospectively by some families. Presumably some are missing.

Gaps in burial register:

Burials run from 1559-end September 1643, none for 1644-1646. Six only 1647 (Aug-Mar 1647/8, seven only 1648 (March-August). One 1649, two 1650, recommences July 1688 with death of John Witham, rector, 'minister of this parish 41 yeares.' What happened to the parish register under his tenure? Did he use long-gone paper instead of the parchment register that has survived to the present day? No burials 1691-1694.
One only 1727, none 1728-1729. None 1732-1736. Two only 1737, one 1741/2. None 1742-1753. Two 1754. None 1755-1761. Were these not recorded, or were recorded in a since-lost burials in woollen register? Or were people buried elsewhere? (eg. Manningtree)

Gaps in marriage register: marriages end 24th May 1643 (when Thomas Witham goes to London) and recommence 18th January 1647 1647/8 when John Witham becomes the new minister. They run 1647/8, 1648, 1651, then a huge gap until 1688, with one marriage 1689 and two in 1690. And then the early register ends. Marriages in the next register begin in 1697. Were there no marriages 1691-1696, or were they not recorded or subsequently lost?
Baptisms 1766-1773 on damaged paper. Some names and dates have been lost (faded or from tears and holes. Main run of baptisms in that register ends 1773, then is followed by some out of sequence (two 1733, one 1757, one 1738). There are then three where the year is completely illegible – from the names of the parents (Thomas & Elizabeth Taylor, George & Esther Algate, Daniel & Sarah Gentry) it's possibly the 1760s or 1770s. These are followed by one baptism from 1745.
Baptisms
Burials
Marriages
1559-1754
1754-1812
1813-1837