This might look like a fairly ordinary photograph brooch, but it has a secret….
Audio transcript (PDF –  40KB)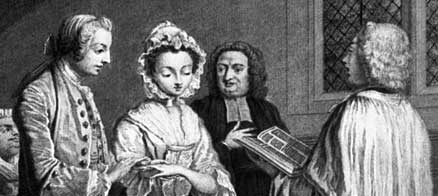 *contains spoilers*
If you've ever read The Woman in White, then you'll know that all the mystery and obfuscation, the swapping of people drugged on laudanum and signing of parchment documents, revolves about Sir Percival Glyde's attempt to marry a wealthy woman to cover his debts, and to hide his illegitimacy. Had his mother not been married to another man, preventing his parents' marriage, had divorce been easier to obtain, then there would have been no need for him to go to the great lengths he does to hide his secret, and neither would he die horribly in a conflagration in a church vestry. But without being a lawful (ie. legitimate) heir, and as his father did not leave a will, Sir Percival Glyde is a fraud. He could not have inherited his title and property from his father by default.
Far back in the past, before Marian Halcombe and Laura Fairlie decide it would be amazing to have an art tutor (especially a handsome one…), Percival manipulated Mrs. Catherick to help him gain access to the church vestry. And why would he want to do this? Because he wanted to fraudulently edit the marriage register. Continue reading →
There I was, opening another marriage register, ready to transcribe, when I spotted something, which took my mind far from the nuptials of the people of Essex, and off into the realms of literature.
Not that this is an unusual occurrence – some people have remarked to me that "we're all related to each other anyway" and "it's just a list of lots of names", but what always fascinates me are the stories you can find in parish registers. There is so much material for authors of historical novels in them – strange deaths, attempted bigamy, bizarre choices for children's names, I could go on…..
Sometimes, I come across things in registers which remind me of novels I have read. I studied English Literature at university, which is probably to blame. For instance, all those soldiers posted at Weeley from 1803, who married the local girls, reminded me straight away of the militia being billeted near the Bennets' home in Pride and Prejudice. And my various wanderings in old churchyards bring to mind Wuthering Heights and (as mentioned when I went round St. Peter's, Harborne) the ghost stories of M. R. James.1)Especially when something rather uncanny happened to me and my mum in the churchyard at High Ongar….
But on this particular occasion, where I paused in my transcribing, my thoughts derailed, it was because I had noticed a particular surname. It wasn't the first time I had, but this time my thoughts coalesced adequately for me to to think… "Hang on! I wonder if…?"
Jane Eyre is one of my favourite novels. It has been since we read an abridged version of it when I was 11 at primary school; then, when I was 13 at senior school we read the full edition and were allowed to watch the 1983 adaptation with Timothy Dalton as Mr. Rochester.2)Watch out – I do love my costume dramas and adaptations, and will be writing about them in this blog. It is a novel at once so ordinary and yet so strange; humdrum life wrapped about with the uncanny, that I cannot prize it from my mind. So little wonder then, that, as I looked at the marriage register and for some reason I don't know, looked at the instructions for vicars on how to fill out the entries, rather than the entries themselves, that I noticed, once again, that the name of the publisher was George Eyre:
| | | |
| --- | --- | --- |
| 1. | ↑ | Especially when something rather uncanny happened to me and my mum in the churchyard at High Ongar…. |
| 2. | ↑ | Watch out – I do love my costume dramas and adaptations, and will be writing about them in this blog. |