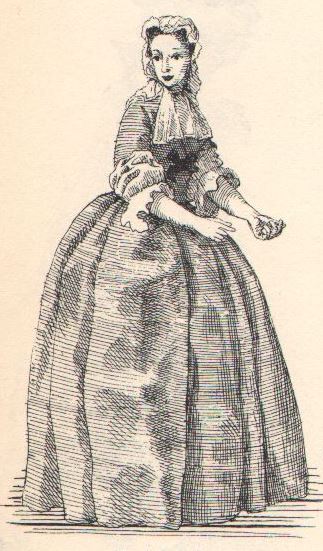 Married to John Cardinall (1627-1691) at St Bennet's Gracechurch in London in 1664, two years before the church was destroyed in the Great Fire of London, Susan Latham is a mystery. While her husband's ancestry can, thanks to a line of Welsh kings, be traced as far back as far as the end of the Roman Empire in Britain, Susan Latham appears seemingly out of nowhere. All we know about her before her marriage is from the couples' marriage licence – she was 28 years old, and at the time of the marriage was living in "Bromley, Essex."
But there are no Lathams in the Great or Little Bromley's surviving registers, and no Lathams appear in the Cardinalls' wills as handy clues. So who was she and where did she come from?
The fact that Susan lived in "Bromley, Essex" at the time of her marriage is a very useful clue. At the time, the Bowes family lived at Great Bromley Hall. Sir Thomas Bowes (1590-1676) (John Cardinall's uncle), was married to Mary D'Ewes (1607-1653). And Mary's aunt, Alice D'Ewes, had married a man called William Latham (died 1614), who lived in Upminster, south-west Essex).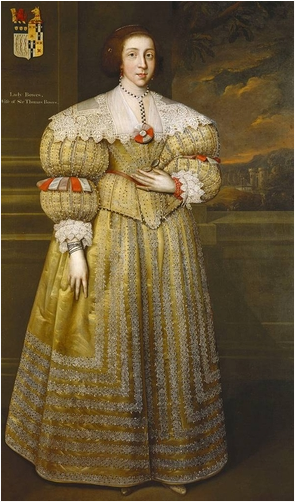 William and Alice Latham had nine children: Ralph, William, George, Charles, Thomas, Elizabeth, Ann, Martha and Grace. Two of their sons, George and Charles, married sisters, Mary and Susanna Lownes.
The Lownes girls were the daughters of a London stationer called Matthew Lownes (died 1625) and his wife Anne Halwood (died 1626). Mary married Charles Latham, and Susanna married George Latham. Both couples had several children, including daughters called Susanna Latham who are candidates to be John Cardinall's wife.
Charles and Mary's daughter Susanna died in 1647 aged 20, which rules her out as the woman who would go on to marry John Cardinall. So this leaves us with George and Susanna's daughter. I haven't been able to find baptisms for their children, apart from their son Paul, who was baptised in 1646 at St Faith's-under-St Paul's,1)Stationers – what we'd perhaps now called publishers – at this time were based around St Paul's churchyard, and George had entered into the business. St Faith's had been a church close to one of the ancient iterations of St Paul's, but at one point the cathedral was extended to the point that St Faith's was knocked down and its footprint was under the new iteration of St Paul's. The parish of St Faith's still existed, and the parishioners went to services in a side chapel of St Paul's. This is where Paul Latham was baptised in 1646. but the names of their children appear in other documents, hence we know they had a daughter called Susan. To have been 28 at her marriage in 1664, the Susan Latham who married John Cardinall would have been born in about 1636, which makes it possible that she could have been George and Susanna's daughter.
So if this was the case, we would have John Cardinall marrying his aunt's cousin's daughter. In other words: John Cardinall's aunt Mary D'Ewes had cousin called George Latham, and he had a daughter called Susanna Latham. Marriages among extended families are not unusual in the upper middle classes at this period.

When George wrote his will in 1652/3, he was a Stationer and Citizen of the City of London. He mentioned his wife Susan, then his children George, Richard, Paul, Susan, Elizabeth, Barbara and Anne. The daughters were all unmarried at the time, except for Anne, who was the wife of Edward Curle, and Mary, wife of Timothy Garthwaite (another Citizen and Stationer, died 1669). He made his brother-in-law Richard Tisdale his executor and his son-in-law Timothy Garthwaite the overseer of the will. The will was proved on 10th May 1658.
Except there's a slight problem. George Latham died before his wife, and in January 1678/9, his widow wrote her will.2)Proved 11 Jan 1687/8. From the collection of London wills on Ancestry. She mentions her sister Anne Tisdale; her daughter Anne Curle, a widow; her son Paul Latham; and daughters Elizabeth Latham, Barbara Latham and… Susan, wife of John Gardner.
On the face of it, this means the theory is wrong – Susan's husband is John Gardner, not John Cardinall. However, I think it's possible that Gardner could be a mishearing of Cardinall. The hard C and G could be hard to distinguish, they both have -ardn- in the middle of the name (Cardinall is sometimes written Cardnall), and the L sound at the end of Cardinall might not be sounded as clear L's, more an -aw sound which could be heard as -er, if the R isn't rhotic. So I don't think that the fact it says "Gardner" instead of "Cardinall" immediately rules out this Susan Latham as the one we're looking for. Indeed, in the will of her sister, Ann Curle, we see a sister mentioned called "Mary Gartrett" – and this is Mary Garthwaite! Ann Curle unfortunately doesn't mention her other sisters by name, she just says "my three other sisters", which unfortunately doesn't help to clear this mystery up. Maybe there's another document out there somewhere that would shed some light on this. Is it Gardner? Is it Cardinall? Will we ever know?
The Latham stationers are an interesting family – in fact, Elizabeth was the first woman to be made free of the Company of Stationers in 1668, by patrimony. Elizabeth caused a scandal when in 1693 she printed Lord Rochester's salacious poems and ended up imprisoned for it.
And besides the link between the Cardinalls and the Lathams via Mary D'Ewes, there's another link between them via the Pyrton family. William, who married Alice D'Ewes, was the son of William Latham and Amica or Ann Strangman.3)Her name varies between Visitations. The Strangmans were also connected to the Pyrtons because Henry Boode of Rayleigh had married Ann, daughter of John Strangman, and their son married Elizabeth Bishop, whose mother was Agnes Pyrton. Agnes Pyrton was the sister of Sir William Pyrton (1493-1551), who was the father of Edmund (1530-1609). In other words, Agnes was the aunt of Edmund Pyrton, and great-aunt of Elizabeth who married firstly Anthony Browne and secondly Captain Peter Latham. According to the Visitations, William had a brother also called William (which seems a bit odd but I can't find any sources other than the Visitations to disentangle it), and this brother had a grandson called Captain Peter Latham of North Weald. Peter was Elizabeth Pyrton's second husband after her first husband, Anthony Browne of Weald Hall, died. Elizabeth was the daughter of Edmund Pyrton and Constance Darcy (daughter of the 1st Baron Darcy of Chich), and her aunt (Edmund's sister) Katherine married George Knightley. George was her second husband – her first was John Clare or St Clare/Sinclair (1523-1564) of Thorrington, and Katherine is depicted in the brass commemorating John at the church, having born John five children. George was the brother of Lettice Knightley – John Cardinall's great-grandmother, who had married William Cardinall (1509-1568).
John Clare's first wife, Joan, had initially been married to a man by the name of Beriffe, again, another family connected to the Cardinalls.4)The 1542 will of John Berif at Brightlingsea, held at ERO, mentions his servant John Clare and his wife. Unfortunately a corner of the page has been lost which may have given his wife's name. It seems likely that the John Clare mentioned in the will is a relative of John Clare (1523-1564). It may even be him, or his father, Sir John Sinclair, 1479-1546. In fact, John had had dealings with William Cardinall of Great Bromley, as had that branch of Beriffes, and the Beriffes were also relatives of the Cardinalls.5)John Cardinall's uncle, Robert Cardinall (1593- died before 1644), was married to an Elizabeth Beriffe. Robert had inherited property from his father (Charles Cardinall, ?-1624 ) which after his death was supposed to pass to James, John's father. Unfortunately, Robert sold it before he died, and in 1644 James mounted a Chancery suit over it (TNA ref C 6/11/59) versus his brother Charles (1590-?). Later, John's nephew, James Clarkson (son of Dorothy Cardinall (abt 1630-1704) and Samuel Clarkson (1628-1700) ) married Elizabeth Berriffe (?-1696), daughter of Richard Berriffe. So the families were all known to each other and were thoroughly entangled.
There are yet more Lathams who appear tied in with the Pyrtons and lived in Elmstead in the late 1500s and early 1600s. In 1579, Edmund Pyrton wrote a letter asking that his cook, Robert Latham, "bestowed in the Town Hall by one Bosarde, the brewer, be released."6)A letter among Philip Morant's manuscripts at the Essex Record Office, ref: D/Y 2/9. Perhaps he is the Robert Latham buried in Elmstead in March 1580/1. The next Latham to appear in Elmstead's registers is another Robert, when he married Rebecca Amery in 1600. The Lathams then vanish from Elmstead until 1627, when an Edmund Latham (perhaps named after Edmund Pyrton) appears with his wife Amy, and proceeded to have several children (Edmund 1627, Robert 1629), and another Robert and his wife Rosamund had children too (Richard born about 1639, Rosa died 1650). Edmund, born 1627, appears to have been married in 1651 to Susanna Dunkin, and had several children including a daughter called Susanna. But she was born in about 1651, and is therefore too young to be the Susanna Latham who married John Cardinall. The Lathams surname appears to come from Lathom in Lancashire, so the Elmstead Lathams are quite possibly related to the other Lathams who found their way to Upminster in Essex.
So the question, who was Susan Latham? must at the moment go unanswered. I think there's a very strong argument for her being the daughter of George Latham and Susanna Lownes, but that tricksy issue of "John Gardner" instead of "John Cardinall" spoils the theory somewhat. It might be a misheard name or we might be dealing with completely different people. But I hope this research shows that there were several interconnecting links between the Lathams and the Cardinalls, which I think make it all the more likely that we have a strong candidate for John Cardinall's wife. It just needs a little more proof to make it certain, and sadly I just don't know when, or even if, that proof will ever turn up.
| | | |
| --- | --- | --- |
| 1. | ↑ | Stationers – what we'd perhaps now called publishers – at this time were based around St Paul's churchyard, and George had entered into the business. St Faith's had been a church close to one of the ancient iterations of St Paul's, but at one point the cathedral was extended to the point that St Faith's was knocked down and its footprint was under the new iteration of St Paul's. The parish of St Faith's still existed, and the parishioners went to services in a side chapel of St Paul's. This is where Paul Latham was baptised in 1646. |
| 2. | ↑ | Proved 11 Jan 1687/8. From the collection of London wills on Ancestry. |
| 3. | ↑ | Her name varies between Visitations. The Strangmans were also connected to the Pyrtons because Henry Boode of Rayleigh had married Ann, daughter of John Strangman, and their son married Elizabeth Bishop, whose mother was Agnes Pyrton. Agnes Pyrton was the sister of Sir William Pyrton (1493-1551), who was the father of Edmund (1530-1609). In other words, Agnes was the aunt of Edmund Pyrton, and great-aunt of Elizabeth who married firstly Anthony Browne and secondly Captain Peter Latham. |
| 4. | ↑ | The 1542 will of John Berif at Brightlingsea, held at ERO, mentions his servant John Clare and his wife. Unfortunately a corner of the page has been lost which may have given his wife's name. It seems likely that the John Clare mentioned in the will is a relative of John Clare (1523-1564). It may even be him, or his father, Sir John Sinclair, 1479-1546. |
| 5. | ↑ | John Cardinall's uncle, Robert Cardinall (1593- died before 1644), was married to an Elizabeth Beriffe. Robert had inherited property from his father (Charles Cardinall, ?-1624 ) which after his death was supposed to pass to James, John's father. Unfortunately, Robert sold it before he died, and in 1644 James mounted a Chancery suit over it (TNA ref C 6/11/59) versus his brother Charles (1590-?). Later, John's nephew, James Clarkson (son of Dorothy Cardinall (abt 1630-1704) and Samuel Clarkson (1628-1700) ) married Elizabeth Berriffe (?-1696), daughter of Richard Berriffe. |
| 6. | ↑ | A letter among Philip Morant's manuscripts at the Essex Record Office, ref: D/Y 2/9. |