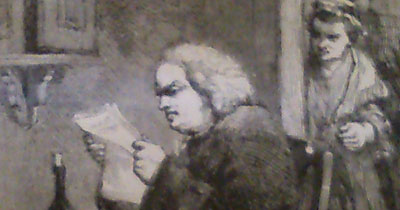 If you would like me to write for you, just get in touch.
Books
Fatal Evidence: Professor Alfred Swaine Taylor and the Dawn of Forensic Science. To be published by Pen & Sword in July 2017.
Poison Panic: arsenic deaths in 1840s Essex. Publisher 2016, by Pen & Sword.
Articles
"Discover Evidentree", Family Tree, August 2018. An interview with Greg Scowen, creator of new genealogy website Evidentree: features and tips.
"Suffolk's big stride forwards", Family Tree, December 2017. Suffolk Record Office's project to digitise their collections and move into a new archive building.
"Unusual finds in parish registers", Fortean Times, June 2017 (FT354). A collection of strangeness from clergymen's notes: weird weather, strange deaths, The Fat Man of Maldon, The Witchfinder General, earthquakes, polydactyl children, and the haunting of Reverend Merryweather.
"FreeREG: new look, new tools", Family Tree, September 2015. Search tips for using the new tools on FreeREG to best access its 32 million UK parish register transcriptions.
"Working for salvation", Family Tree June 2015. How to research Salvation Army officers: the Salvation Army International Heritage Centre, newspapers, passenger lists.
"The Adventure of the Sailor in the River", Fortean Times May 2015 (FT327). Forum. An unusual maritime mystery involving a sailor who wasn't quite what he seemed (newspapers, censuses, parish registers, merchant navy records, gender history).
"Lateral research", Family Tree February 2015. Five tips: 1. siblings & neighbours, 2. employment, 3. regional accent, 4. neighbouring parishes, 5. one-place & one-name approaches.
"What the old soldier remembered", Family Tree November 2014. Using memories in genealogical research.
Guest blogs
"Discovering my grandmother's globe-trotting Uncle Bill in The 1939 Register," Findmypast, 1 December 2015
"My 1939 investigation continued – an intrepid cocoa-buyer and Uncle Bill's fate," Findmypast, 14 December 2015
"Arsenic at Christmas: a recipe for disaster," Findmypast, 23 December 2015
"Multiple wives and a missing daughter: Scandalous family secrets in the 1939 Register," Findmypast, 16 March 2016
"How a 100-year-old letter sparked a discovery in the 1939 Register," Findmypast, 22 March 2016
"A Titanic survivor in the 1939 Register," Findmypast, 4 July 2016
"Poison Panic," Historic UK, 2016
Talks
Turn your family tree surprises into a book – Who Do You Think You Are? Live, 2017
Why not write non-fiction? Book to the Future festival at the University of Birmingham, 2016
Wivenhoe's epidemics: for the Wivenhoe History Group about parish registers and the plague, small pox and cholera (July 2015)
Social media for authors: for the University of Birmingham's Book to the Future festival, 2015.