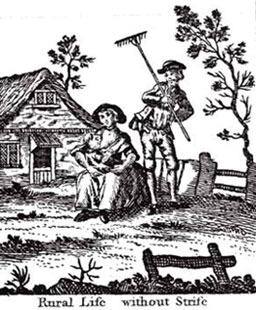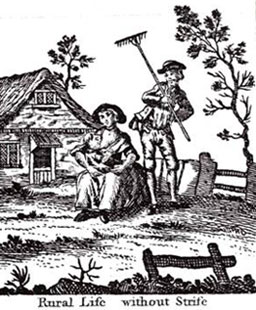 As with his siblings, HenryII and Ann, I don't yet know the exact origins of John GardinerI – some information can be garnered from his father's 1728 will, however, I am yet to find the baptisms of HenryI's children, so I don't know who his mother was or where he was born. I didn't know his age until it appeared on his marriage licence allegation.
John was a bachelor when, in 1728, he inherited the lease of the farm his father occupied at the time, and all the rest and residue of his estate. He was also charged with bringing up his nephew, John Gardiner, son of his sister Ann, until he was "shiftable". Three years later on 22 June 1731, aged 34, he married Hannah Barton, 22 and from Mistley, their ages being given on their marriage licence allegation. JohnI's brother, HenryII, had married Hannah's sister, Mary, eleven years earlier. Hannah and Mary were daughters of Francis Barton, a Mistley farmer. Hannah was eighteen when, in 1726, Francis died. He left her £100 and various pieces of clothing and furniture.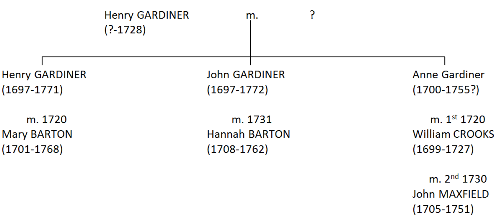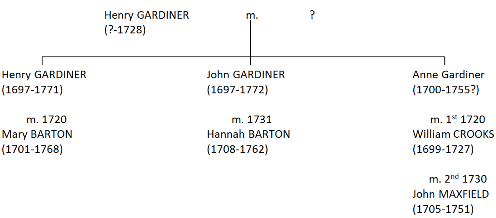 Their children
JohnI and Hannah had at least eight children baptised at Great Bromley:
JohnII, bap. 7th May 1732
Hannah, bap. 10th Oct 1733
Henry, bap. 15th April 1735
Daniel, bap. 21st June 1737, possible burial 12th Dec 1762
Twins: Stephen and William bap. 19th Sep 1740, buried 30th Sep 1740 (no parents' names given in the register, but John and Hannah are the only Gardiners in the register at this time)
William, bap. 17th Nov 1741, possible burial 26th Sep 1744
Elizabeth, bap. 16th May 1743, possible burial 27th July 1744
William, bap. 7th July 1745
Mary, 27th May 1747
By the time he wrote his will in February 1772, it seems that only four of John and Hannah's children were still living: John, Hannah, William and Mary. Hannah apparently predeceased him as she doesn't appear in his will – as ever with the Great Bromley register, the burials are vague, but a Hannah Gardiner was buried there on 19th Oct 1762, and this is possibly John's wife (their daughter Hannah married John Chaplin in 1765). I cannot find a burial for Henry, baptised in 1735, but he may have disappeared down a gap in the register.
Life in Great Bromley
JohnI and his brother HenryII were men of property: they both appear in the 1734 and 1764 poll books, living in Great Bromley, which is where their qualifying freehold was. He wasn't as busy as HenryII, who had various roles as parish clerk and was trustee for several people, however, the John and Henry Gardner nominated in 1753 as land tax assessors are presumably them.[1]Printed notice of appointment of John and Henry Gardner as assessors of the Land Tax at Great Bromley. ERO ref: D/DU 40/61
John's will
JohnI wrote his will on 4th February 1772, just before he died – he was buried in Great Bromley on 13th February 1772. He left the majority of his estate to his son, JohnII – it seems that William, his other son who survived to adulthood, didn't marry, or at least at this point hadn't. William inherited his father's copyhold in Great Clacton, whereas JohnII inherited his father's freehold and copyhold in Great Bromley (occupied by JohnII at the time), and his copyhold in Great Braxted. Out of his inheritance, JohnII was to pay for the marriage bonds settled on his two sisters – Hannah, who by then was the widow of James Chaplin, and Mary, who was married to Thomas Leak. JohnII also had to give £50 to each of his own children: John, Mary, Hannah, Elizabeth and Lucy.
John's legacy
If it hadn't been for John GardinerI, the Gardiner name would probably have died out in Great Bromley before 1800, because his great-nephew, HenryIII (the only grandson of HenryII) died without having a son. However… JohnII's family in fact confuses things. In the next generation of Great Bromley Gardiners, there are so many that I actually cannot satisfactorily connect them all up. It's as well JohnI mentions each of his Gardiner grandchildren by name in his will, so that we know which of them were around by 1772. Luckily, too, we have extra information, coming from the will of James Chaplin and Hannah (née Gardiner)'s daughter, Mary (1764-1831) who goes to great lengths listing the names of her first and second cousins. However, the Great Bromley parish register once again throws up confusions, and it seems that we have extra Gardiners who appear from who-knows-where (perhaps Little Bromley?) who enter the fray.
But, as with all these things… it'll have to wait for another time!