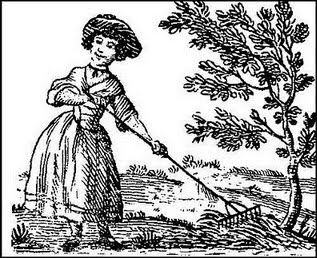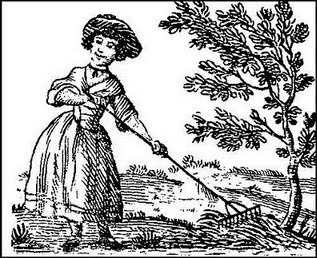 Although the baptisms of Henry GardinerI's three children, HenryII, JohnI and Ann have not yet come to light, his 1728 will tells us that he is their father, although there is no mention of his wife, which indicates that she predeceased him. So at the moment, the first records we have which refer to Ann are those related to her first marriage.

Ann and William Crooks 
On 12th Nov 1723, Ann Gardiner married William Crooks at Great Bromley. Their marriage licence allegation survives, and tells us that they were both single, and that Ann was 20 and of Great Bromley, and her husband was 24 and of St. Leonard's parish, Colchester. There are records at St. Leonard's for two children of William and Ann, both of whom appear in Henry GardinerI's will:
William, b. 18th November 1725 (baptised 29th)
Lydia, b. 15th October 1726 (baptised 23rd).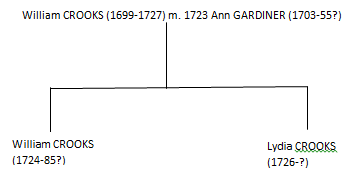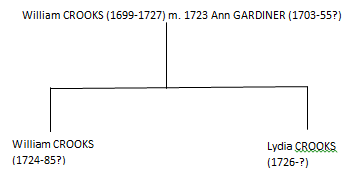 It would appear that after her marriage, Ann moved to Colchester with her husband, but by her second marriage in 1731, she is living in Great Bromley – she probably moved back to live with her family after her husband's death in 1727. William Crooks was buried at St. Leonard's on 20th November 1727.
Henry GardinerI's will directed his sons to be involved in the upbringing of his grandsons – John was to raise John, and HenryII was to raise William. This raises an intriguing question about what their living arrangements were like at the time: John was unmarried at this point, so was he living with his father? And had Ann moved into her father's home after William Crook's death? And could HenryII, with his wife and young family, have been living there as well? He certainly was in Great Bromley at the time.
I have not yet been able to trace Lydia beyond her grandfather's will, however, her brother could plausibly be the William Crooks who lived in St. Osyth from the mid-18th century – in fact, his half-sister, Ann Maxfield, was living in St. Osyth at about the same time. He married Christian Horn there in 1748, and had three children: Susanna (1749), William (1750) and Sarah (1754). There is a burial at St. Osyth in 1785 for a William Crooks (no age or other information given), and at ERO there is a will for another William Crooks, who died at St. Osyth on 28th May 1790.[1]ERO ref: D/ABW 111/1/41 He wasn't buried in St. Osyth, however. The will leaves everything to William Scofield, son of Susan Scofield late of Little Clacton. I would not be surprised if William, who died in 1790, was William, born 1750, and that his sister, Susanna, is Susan Scofield. Therefore, William Scofield would be the grandson of William Crooks and Ann.

The Crooks family in Colchester 
William Crooks was born on 31st March 1699, and baptised at St. Leonard's on 11th April, the son of Samuel and Lydia Crooks. Samuel and Lydia were married at Colchester St. James' on Christmas Day 1690 – Lydia's maiden name was Wayman, and it's probably significant that the bondsman on William and Ann's marriage licence was William Wayman of St. James' – he was presumably a relative on Lydia's side of the family.[2]Samuel Crooks might be related to William Crooks, innholder of Colchester, St. James, whose will was proved in 1718. He left £250 to his son, William, to receive after the end of his apprenticeship, … Continue reading
Working out how many other children Samuel and Lydia had is a bit difficult, as there are baptisms for some, burials for children of Samuel Crooks without a corresponding baptism, and burials for people called Crooks without an age or relationship mentioned. My best guess at the moment is, however:
Lydia, b. 5th Jan 1693 (baptised 15th Sep 1695)
Henry, b. 5th Sep 1695 (baptised ditto)
William, b. 31st March 1699 (baptised 11th April)
John, b. unknown, burial 2nd Sep 1702, child of Samuel Crooks
John, b. unknown, burial 18th Aug 1704, child of Samuel Crooks
Unknown, b. 1705 (burial of a stillborn child of Samuel Crooks, 7th Aug 1705)
Jonas, baptised 25th Oct 1706 (possible burial 27th Dec 1722)
John, b. 4th Sep 1707 (baptised 8th Sep)
There are a couple of mysteries – firstly, in 1711, Samuel, son of Samuel and Susannah Crooks was baptised at St. Leonard's – is this William's father with a second wife, or did Samuel and Lydia have a son called Samuel just after their marriage, who wasn't baptised at St. Leonard's? If Samuel's wife died and he remarried, then the burial at St. Leonard's on 26th March 1718 for Lydia Crooks would probably be for Samuel and Lydia's daughter, born in 1693. However, if the burial is for Lydia Crooks senior, then the child born in 1711 is probably that of an as-yet undiscovered son of Samuel and Lydia. There is a burial at St. Leonard's on 27th June 1719 for Samuel Crooks – this could be William's father, William's potential brother or even William's potential nephew (born 1711). This must, I am afraid, hang in the air unresolved, for now.

John Gardiner 
To return to Ann's family, we know of her two children by William Crooks, both from their baptisms in Colchester and from their appearance in their grandfather's 1728 will. However, a third child of Ann's is mentioned in that document – John Gardiner. This must be a child born before Ann's marriage to William Crooks in 1723, however, as with his mother, his baptism is yet to be located.
At the moment, the only record I have of him is from HenryI's will – as mentioned, his uncle John Gardiner was tasked by his grandfather to "bring up and educate the said John Gardiner till be becomes shiftable & able to maintayne himself wthout being allowed any thing for so doing." Whether he stayed in Great Bromley or moved away, I don't know. As mentioned, there are problems with the Great Bromley register, so that John could have died and his burial not been recorded because it fell in a gap or a period when the register was poorly kept, or that he is recorded only as "John Gardiner", and as such is impossible to confidently identify. It could be he moved away from Great Bromley when his mother did, after her second marriage. The wills of his Gardiner uncles, John and Henry, make no mention of him: this could be because he had died, or because they no longer felt responsible for him, or needed to be.
As well as his grandfather tasking John's uncle with his upbringing, HenryI bequeathed him £150 when he reached the age of 21. This is more than three times as much as Ann's other children were to receive at the same age – William and Lydia Crooks were left only £45 each. Although William Crooks senior didn't leave a will, it's possible that he had left money for his own children, and as Ann inherited £41 from her father, it would seem to be the case that she was not left destitute by her husband's death, so the fact that John inherits so much more does indicate that his grandfather was concerned he was in an undefended state, implying he was an illegitimate child.

John Maxfield (1705-1751) 
On 22nd January 1731, Ann married for a second time, to John Maxfield. John was a 26 year old bachelor, and Ann's age is given as 30 (bear in mind her age is given as 20 on the first marriage licence allegation in 1723). John was a Great Bromley resident, and was baptised there on 27th May 1705, the son of John – but there are no other Maxfield baptisms or marriages in the register, apart from that of John and Ann's first child, Mary, on 15th August 1731. Their other three children were baptised in Weeley, the family presumably moving there some time between 1731 and 1735:
Mary, baptised 15th Aug 1731 at Great Bromley
John, baptised 13th July 1735 at Weeley. Buried 25th Sep 1751
George, baptised 17th Feb 1742 at Weeley. Buried 23rd Feb
Ann, baptised 14th Aug 1743 at Weeley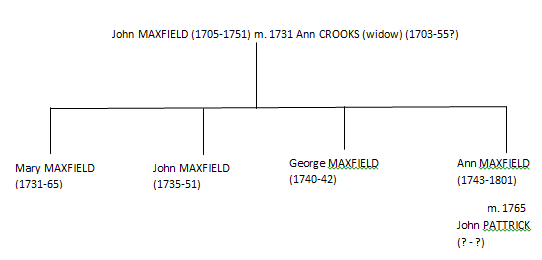 From Weeley to Great Bromley again 
John Maxfield was buried in Weeley on 15th June 1751, leaving Ann a widow for the second time. When their son John was buried on 25th September of the same year, he is recorded in the register as the son of Widow Maxfield. I am yet to find a burial for an Ann Maxfield, however, there is a burial at Great Bromley on 7th November 1755 for Ann Crooks – this could well be Ann, and the surname from her first marriage was entered in the register in error. It may be that she moved back to Great Bromley after her second husband's death, or that she continued to live in Weeley or perhaps moved to St. Osyth (if the William Crooks who lived there was her son), and requested to be buried at Great Bromley. There is a Mary Maxfield who was buried at Great Bromley on 14th Nov 1764 – this could be Mary, John and Ann's daughter.
This leaves Ann, the youngest child of John and Ann, my 6 x great-grandmother. In 1765, she married John Pattrick at St. Osyth, a Suffolk man who had come to Essex after being balloted to serve in the militia at Little Holland. And what happened to them… well… that's another story.
Footnotes

↑

1
ERO ref: D/ABW 111/1/41

↑

2
Samuel Crooks might be related to William Crooks, innholder of Colchester, St. James, whose will was proved in 1718. He left £250 to his son, William, to receive after the end of his apprenticeship, and mentions his wife Sarah and his daughter Susan Woodhouse. ERO ref: D/ABW 82/193. Whilst William's son is a candidate for Ann Gardiner's husband, I think it more likely Ann married Samuel's son, given that Samuel lived in St. Leonard's, which is where we know his son lived based on his marriage licence allegation and then the baptism of William and Ann's children. Also, the age of William on the marriage licence allegation corresponds with the date of birth given with the entry of his baptism.