The Gardiner family appear to have been a relatively prosperous family, living in Great Bromley in north-east Essex in the 18th century. Although the name crops up first in the parish registers in the early 17th century1)The baptisms of William Gardiner's children: William (1608), Golding (1609), Marie (1611), William (1612), John (1614) and Edward (1615)., and then again in late 17th century2)The baptisms of John & Mary Gardiner's children: Mary (1689) and Daniel (1692), then the 1684 marriage of Richard Hacklin to Hester Gardiner, and the 1696 marriage of John Gardiner, widower, to Elizabeth Kingsbury, widow of Wix. It's possible that John Gardiner, marrying in 1696, is the father of Mary and Daniel. Note, however, that before 1754, you didn't have to reside in a parish to marry there, it's hard to trace what happened to those Gardiners. The story really starts with Henry GardinerI, a yeoman, and his three children: John, HenryII and Ann.
I am yet to find the baptisms of HenryI's three children, however, their ages are given on their marriage licences – HenryII was 23 when he married in 1720, Anne was 20 when she married in 1723, and John was 34 when he married in 1731.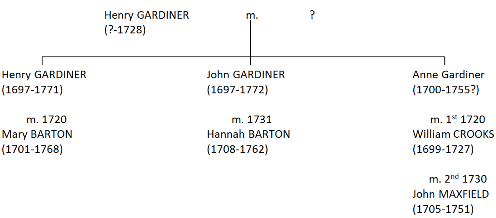 Ann Gardiner (1703 – 1755?)
HenryI's 1728 will mentions his daughter Ann Crooks, and her three children – John Gardiner, William Crooks and Lydia Crooks. In 1723, Ann married William Crooks of St. Leonard's, Colchester Great Bromley. William and Lydia were both baptised in their father's parish, in 1724 and 1726 respectively. The fact that her son John has her maiden name suggests he was illegitimate. John was bequeathed £150 by his grandfather HenryI, and William and Lydia were each left £45, to inherit when they reached their majority. William Crooks, Ann's husband, died the year before her father: Ann was bequeathed £41 by her father – to be paid in a lump sum if she married, or in weekly or monthly instalments if she did not. HenryI tasked his son John with raising his nephew, John, until he was "shiftable", and HenryII, Ann's other brother, was to bring up William.
Ann did indeed marry again: John Maxfield, a Great Bromley local, in 1731.
Henry GardinerII (1697-1771)
Henry GardinerII was bequeathed £150 in his father's will, and his children, John (1725-) and Mary (1722-71), are to each receive "fourscore pounds" when they come of age. HenryII had five children, but in 1728, only the two mentioned in the will were living. His son, Henry, who was born about 1724, died in 1727. His other two children, Elizabeth and HenryIII, were born about 1728 and 1731 respectively.
In 1741, Mary married Joseph Nunn – this ties the Gardiner family in with the Nunn banking family of Lawford, Mistley and Manningtree. John married Mary Heckford (1725-), the daughter of Samuel Heckford of Great Bentley, and they had at least three children – Mary, Sarah and Henry (1761-1799).
John Gardiner (1697-1772)
HenryI's 1728 will leaves everything, after the legacies have been paid, to his other son, John, who inherits the lease on the farm that HenryI occupied at the time. John was unmarried at this point – it was three years later that he married Hannah Barton in Mistley, and they at least eight children.3)John (1732-1816), Hannah (1733-1808), Henry (1735-?), Daniel (1735-62?), William (1741-44), Elizabeth (1743-44), William (1745-?), Mary (1747-92?). Note that there are gaps in Great Bromley's baptisms and burials register in the 1760s, and also that burials mostly consist of a name and date of burial, rather than including relationships. There are many Gardiners in the burials but it's not clear which burial refers to which person. It's likely that John had three sons called William, but the first two died without their burials being properly entered in the register. His 1772 will refers to only four of his children: John, Hannah, Mary and William. Henry and Daniel presumably predeceased him, as did his wife, as none of them are mentioned in the will. The twins, Stephen and William, baptised and buried in 1740 without any parents' names, could also be children of John and Hannah.
Clues or red herrings?
But where did Henry senior's wealth come from? He seems to be moderately well-off, but not perhaps rich, and is able to provide for his widowed daughter and her children. He is possibly the Henry Gardiner who appears in the 1711 will of Ann Gardiner of Great Bromley, widow. The orthography in her will is awkward – she refers to Henry Gardiner as both her "consman" (kinsman, perhaps) and her cousin – whether these are the same or two different Henry Gardiners is difficult to say. It's tempting to speculate that Henry named his daughter after this lady, who left to Henry her "consman" a house, the corn standing in the fields, all the equipment relating to her farm, and her household goods.
There are Gardeners in Little Bromley, which may be where HenryI's branch of the family came from, or they may have something to do with Philip Gardiner of Great Clacton (John (1697-1772) has some connection with the town), but some investigation will need to be done to find that out.
| | | |
| --- | --- | --- |
| 1. | ↑ | The baptisms of William Gardiner's children: William (1608), Golding (1609), Marie (1611), William (1612), John (1614) and Edward (1615). |
| 2. | ↑ | The baptisms of John & Mary Gardiner's children: Mary (1689) and Daniel (1692), then the 1684 marriage of Richard Hacklin to Hester Gardiner, and the 1696 marriage of John Gardiner, widower, to Elizabeth Kingsbury, widow of Wix. It's possible that John Gardiner, marrying in 1696, is the father of Mary and Daniel. Note, however, that before 1754, you didn't have to reside in a parish to marry there |
| 3. | ↑ | John (1732-1816), Hannah (1733-1808), Henry (1735-?), Daniel (1735-62?), William (1741-44), Elizabeth (1743-44), William (1745-?), Mary (1747-92?). Note that there are gaps in Great Bromley's baptisms and burials register in the 1760s, and also that burials mostly consist of a name and date of burial, rather than including relationships. There are many Gardiners in the burials but it's not clear which burial refers to which person. It's likely that John had three sons called William, but the first two died without their burials being properly entered in the register. His 1772 will refers to only four of his children: John, Hannah, Mary and William. Henry and Daniel presumably predeceased him, as did his wife, as none of them are mentioned in the will. The twins, Stephen and William, baptised and buried in 1740 without any parents' names, could also be children of John and Hannah. |