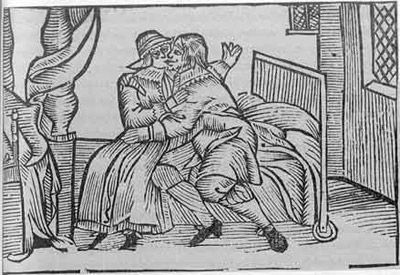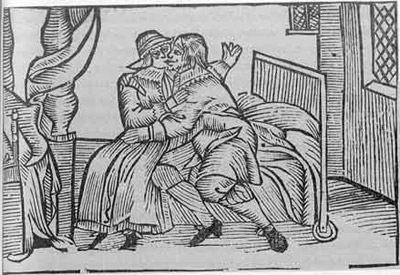 I don't yet know the exact origins of Henry GardinerII – what I know of his parentage, the son of Henry GardinerI of Great Bromley, and of his siblings, John (1697-1772) and Anne (1703-1755?), comes from his father's will. Without his baptism, I have been unable to find out where he is likely to have been born, or the name of his mother – hopefully as the coverage of parish register transcriptions improves, this might change. I didn't even know, roughly, his year of birth, because it's not given with his burial in 1771, until I found his age on his marriage licence allegation. So maybe we'll start there, Henry's marriage to Mary Barton?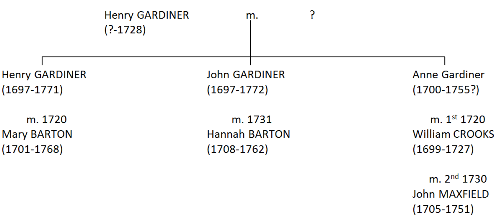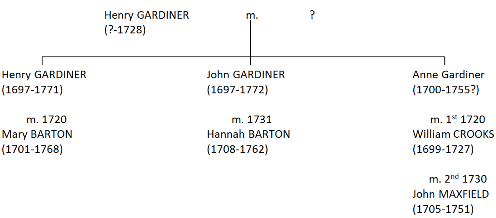 The Bartons of Mistley 
Alas – while the marriage licence allegation, saying they intended to marry at Alresford, has survived, the register in which it was recorded hasn't – St. Peter's registers have been lost prior to 1742. But the allegation gives us some very useful information, which the marriage record is unlikely to have included. It is dated the 27th December 1720 and tells us that Henry Gardiner (or Henery Gardner, as he signed it) was a 23 year old farmer from Great Bromley, and that Mary Barton was 19 and from Mistley. They were both single. Francis BartonII, farmer of Mistley signs the bond with Henry – this is Mary's father, although the allegation doesn't say so.
We can't go further forward with the Gardiners without stepping backwards and slightly sideways to have a quick visit to Mistley and the Barton family. Mary was one of three sisters to marry a Gardiner – Hannah married Henry's brother, John (1697-1772), and the eldest of the Barton children, Elizabeth, married Daniel Gardiner in Little Bromley. Whether Daniel was a relative of Henry and John remains to be seen (Henry's will mentions property in Little Bentley that he bought from Daniel Gardiner – his brother-in-law died in 1728 and left a copyhold farm in Little Bentley to his son, Daniel. So in other words, Henry bought it from his nephew) – they were from neighbouring parishes, so it is possible, but I will explore the Little Bromley Gardiners in a later article.
Francis BartonII and his wife Elizabeth had eight children, all baptised at Mistley:
Elizabeth, 23rd July 1700
Mary, 8th Dec 1701
FrancisIII, 7th July 1703
John, 10th Dec 1704, buried 22nd Dec
Judith, 29th April 1706
Hannah, 1708
Ann, 1709
John, 1712
FrancisII died in 1726, and his will,[1]ERO ref: D/ABW 86/1/44 proved on 17th May 1726, mentions his son-in-law, Henry Gardiner, to whom he left £20, and then Henry's three children: Mary, Henry and John, between whom £40 was to be shared when they reached the age of 21. Hannah Barton, about 18 at the time, and still five years away from her marriage to John Gardiner, was to inherit £250 on her majority, as well as a gold ring and a silver spoon. Hannah was also to receive her mother's "childbed linen, wearing linen and other linen" and the chest of drawers it was kept in, and all their late mother's wearing apparel, divided with her sister Anne (clothing at this time was very valuable so it's not unusual to see it being bequeathed in wills). And Anne was also to inherit £250 on her majority and two silver spoons. Francis junior was charged with providing bed and board for Hannah and Anne, and he inherited the lease on the farm where his father dwelt at the time. Elizabeth, the eldest, isn't mentioned in the will, but her husband, Daniel Gardiner, is named as an executor (along with Francis junior), and was bequeathed £50 for the help he would give Francis junior. It is possible that FrancisII's children Judith and John, died before 1726.
Francis also mentions his sister, Elizabeth, widow of William Dillock, to whom he bequeathed £20, and he left £10 to his sister-in-law, Susan Foker, widow. "Sister-in-law" doesn't have the rigid meaning it has now – Susan could have been the sister of Francis' late wife, wife of his late wife's brother, a step-sister, or a half-sister. I haven't investigated the Barton family very closely yet, but it could even be that Francis' mother had married a Foker, so he had a step- or half-brother who married Susan. Certainly there is a Jeremiah Foker (or Folkard) around Mistley at this time, who may be connected.
Two other wills of the Barton family shed further light on their family. FrancisII's father, also called FrancisI, was a yeoman who died in 1726 in Bradfield. In his will[2]ERO ref: D/ABW 86/1/58 (written the year before), he left him £5 and the lease of the farm where he lived at the time – this is presumably the lease that FrancisII bequeathed to his son in his own will. FrancisI left his son-in-law William Dillock £5, and his executor was his son, Joseph Barton. One of the witnesses was Mary Dillick – she is probably the "cusen" of Joseph Barten of Bradfield, yeoman, whose will was written in 1727[3]ERO ref: D/ABW 88/1/37 (presumably he is the son of FrancisI). He left her £41, to inherit when she was 21, a feather bed, a table and a chest of drawers. He also mentions William Dillick as his "cusen" – again, we have to be careful assigning modern meanings to these terms: Mary is possibly Joseph's niece, the daughter of William and Elizabeth. The William Dillick mentioned in his will might be his sister's husband, or could be another child of William and Elizabeth.
Other records at ERO[4]ERO refs: D/DH VIA44, D/DH VIA45, D/DH VIA46, D/DH VIA47 show us a Francis Barton of Bradfield, husbandman, leasing property from various members of the Grimston family: in 1678, 1700, 1711 and 1720 "of a messuage and premises 4 acres, a close 4 acres, Barnfield 4 acres, Broomfield 3 acres, and a close 2 acres." The record for 1720 says that the lease was for nine years, so this is presumably the remainder of the lease that FrancisIII inherited in 1726.

The children of HenryII and Mary Gardiner 
HenryII and Mary baptised five children at Great Bromley:
Mary, 21st May 1722
Henry, 4th May 1724. Died 1727
John, 8th Nov 1725
Elizabeth, 5th Dec 1728
Henry, 14th Jan 1731
HenryII's 1771 will mentions only one of his children – Mary Nunn, his daughter who married Joseph Nunn of Mistley in 1741. It isn't clear if she is the only one mentioned because her other siblings pre-deceased their father, or because he felt they did not need his financial help – although having said that, HenryII left Mary a £15 annuity, even though she had a wealthy husband. He left everything else to three of his grandchildren.
Regarding his daughter, Elizabeth, there is one burial in Great Bromley for an Elizabeth Gardiner on 27th July 1744. As there are no ages or relationships in the register, it's impossible to know for sure if this is her. HenryII's brother, John, also had a daughter called Elizabeth, baptised in May 1743 (both girls were perhaps named after their maternal grandmother, Elizabeth Barton). It could be that the burial is of John's daughter, dying in infancy – she doesn't appear in her father's will either, so may have pre-deceased him, but we just can't tell. Bear in mind that HenryII's children were born around the time of there being a large gap in the burials register (1730-5), so it is possible that the burials of Elizabeth and his son, Henry, if they died young, have been lost.
There are five burials in Great Bromley for various Henry Gardiners between 1727 and 1771: 8th September 1727 (almost certain to be HenryII's son born in 1724), 6th May 1728 (extremely likely to be HenryI – his will was proved on 29th May that year), 24th October 1754, 10th June 1770 and 11th January 1771. We can be almost certain that the 1771 burial is of HenryII (he wrote his will in 1769 and it was proved in May 1771). But what of the other two? One of these could easily be HenryII's second son (born 1731) and could equally be Henry, son of JohnI, who was baptised in 1734. John's son Henry doesn't appear in his 1772 will, so again, it's possibly either of them, but we have no way of proving it decisively.

The "middling sort" 
HenryII seems to have occupied a position of trust in Great Bromley, and in the surrounding area. We know he was a man of property – he appears in the poll book for 1734, as did his brother, John, residing in Great Bromley, where their qualifying freehold was. He pops up in various records held at ERO: in 1742, along with William Grincey, he made Great Bromley's land tax assessment, and in 1753, he and John Gardner (presumably his brother), were both appointed land tax assessors.[5]ERO refs: D/DU 40/59, D/DU 40/61 And if that didn't keep him busy enough, the same year he was appointed surveyor of the highways of Great Bromley, with William Mannock esq., Samuel Salmons and Thomas Eagle.[6]ERO ref: D/DU 40/60 He acted as a trustee – in various records from the late 1730s and early 1740s, he was, with William King of Mistley, the trustee of Samuel King of Little Bentley Hall, and in 1742, he was trustee of Anne Sherman, wife of Henry Sherman, with William Yeoman.[7]ERO refs: D/DB 49, D/DU 40/103 Whether these people had any familial connections with him, I don't yet know, but it may have been he was chosen as trustee as he was a respected member of the community – he is probably the Henry Gardiner whose name appears at the front of the Great Bromley register for 1735-1812, as churchwarden.
When thinking about how busy Henry was in Great Bromley, one wonders what his wife got up to. She no doubt led the life typical of the rural middling sort – with her husband being churchwarden, she may have been involved with charity amongst poor parishioners, and she would have been part of the wider network of well-heeled families in the area. She probably knew members of the Salmon, Cardinal, Carrington and Canham families. With her sister being married to her husband's brother and also living in Great Bromley, you get the impression that the families were close, although of course, that does carry with it the risk of inescapable tensions and familial discontent. After the marriage of her daughter, Mary, to Joseph Nunn, Mary may have then been connected with the "middling sort" in Mistley, Lawford and Manningtree.
It would seem that Mary pre-deceased her husband – there is a burial in the Great Bromley register on 7th May 1768 for Mary Gardener, wife of Henry Gardener, and HenryII's will, makes no provision for his wife, so presumably she passed away aged 67. He wrote his will in 1769, so perhaps had written an earlier one and needed to change it following his wife's death.

HenryII's will
The only relatives in HenryII's will are three of his grandchildren and his daughter, Mary, and her husband. He mentions Henry and Sarah Gardiner, without stating their parents' names, and he mentions Joseph NunnIII. Joseph, it's clear from the will, was the son of Joseph NunnII[8]Here we have Joseph NunnII and Joseph NunnIII – in case you're curious, Joseph NunnIappears in a later article., and Henry's daughter Mary. I first assumed that Joseph and Mary had only one child (I have yet to find their baptisms), but JosephII's own will, written in 1777, mentions nine children, and says that he leaves his son JosephIII £500, significantly less than he bequeathed his other children: "The reason why I do not given him an equal share with the rest of my sons is because his grandfather Henry Gardiner deceased hath amply provided for him and hath given the rest of my children nothing." JosephII, it would seem, thought his father-in-law's proceedings somewhat irregular.
That said, from the rest of JosephII's will, it's clear he was a man of wealth and property. He left legacies altogether of £4,600, and mentions seven different properties, which he left to his other sons. HenryII probably felt that his other grandchildren, who may even have been orphans at the time, needed to be adequately provided for, at the expense of not leaving Joseph and Mary's wealthy children anything.
In order to identify HenryII's grandchildren, HenryIII and Sarah, I had to look at other sources. On 5th April 1753, John Gardiner of Great Bromley, married Mary Heckford, at Great Bentley. The marriage licence allegation for this marriage survives, saying that John was 27 and Mary, 28. This ties in with the above baptism for John, son of HenryII, in 1725. I am yet to locate the baptisms for John and Mary's children – perhaps they didn't settle in Great Bromley (when Sarah married in 1782, she was living in Colchester, so perhaps the family had moved there), or perhaps Mary, from a Quaker family, continued in that faith and her children were never baptised in an Anglican parish church (however, they don't appear in Quaker records either, and she and her sisters married in the parish church at Great Bentley). Based on Henry and Sarah's ages on their marriage licence allegations, though, he was born in about 1761 and Sarah in about 1760. Mary's father, Samuel, left a will, which gives us some more clues.
Samuel's will, proved in 1763, mentions amongst others, his daughter Mary Gardener (who inherited £10), and his grandchildren Mary, Sarah and Henry Gardener (who were to inherit £5 each on reaching the age of 21). Presumably Mary, the granddaughter, died before HenryII wrote his will, leaving only Sarah and HenryIII to be included in it.
To return to HenryII's will, it is very possible that his grandchildren, Henry and Sarah, were orphans, or that their father had died. He charges some of the property he bequeaths to JosephIII with an annuity of £10 each for Henry and Sarah "until they shall severally attain their respective ages of 21 years, for and towards their respective maintenance, bringing up and education" – this is a term generally seen when a parent with children under 21 writes a will.
HenryIII and Joseph NunnIII inherit all of HenryII's property, Henry seeming to inherit slightly more than his cousin and would, on reaching 21, be a wealthy young man. Sarah, however, inherited £400, which does not seem a particularly grand sum in comparison. And while JosephIII was the only child of JosephII and Mary Nunn to inherit anything from HenryII, he was made an executor with his father, and was expected to keep all the property that his cousin was to inherit on his majority in good repair. At the time of the will being written in 1769, Joseph was about 27 years old, and his cousin was only about 8 – he had many years of responsibility ahead of him.
Intriguingly, a copy of HenryII's will turns up in bundle of papers at ERO, in a collection of documents that belonged to a solicitor in Manningtree.[9]ERO ref: D/DHw T95 This is on my list to consult on my next trip to Chelmsford. It includes a school bill for a Miss Gardner, from about 1800 – this, I think, is Anne: great-granddaughter of HenryII and daughter of HenryIII – but how she fits in will have to be left for another time.
Footnotes

↑

1
ERO ref: D/ABW 86/1/44

↑

2
ERO ref: D/ABW 86/1/58

↑

3
ERO ref: D/ABW 88/1/37

↑

4
ERO refs: D/DH VIA44, D/DH VIA45, D/DH VIA46, D/DH VIA47

↑

5
ERO refs: D/DU 40/59, D/DU 40/61

↑

6
ERO ref: D/DU 40/60

↑

7
ERO refs: D/DB 49, D/DU 40/103

↑

8
Here we have Joseph NunnII and Joseph NunnIII – in case you're curious, Joseph NunnIappears in a later article.

↑

9
ERO ref: D/DHw T95