→

→

→

Daniel Harris: a cheesemonger...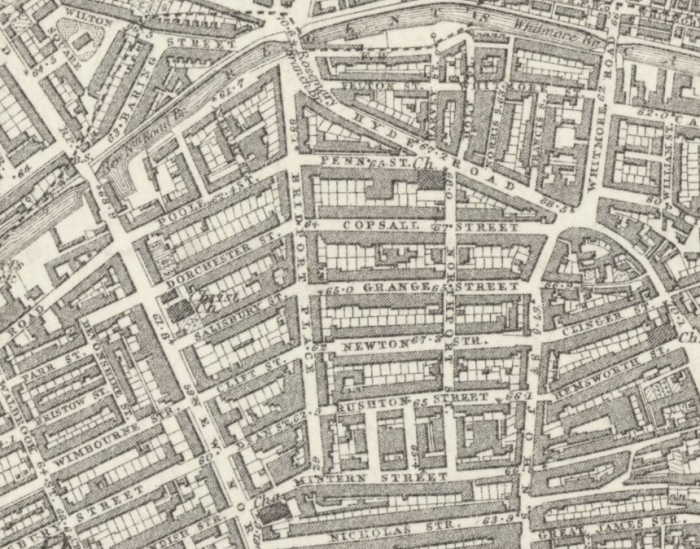 Some years ago now I travelled back from my great-grandfather John Henry Nunn to his mother, Eliza Harris. And once I'd found Eliza, I found her parents – Daniel Harris and Sarah Jones.
Daniel's name first came up on the marriage of Eliza to Samuel Nunn on 20 August 1863 in Hackney, so I went to the censuses to find out more about Eliza. On the 1861 census, I found 19-year-old Eliza living at home with her parents, at 43 Bridport Place in Shoreditch, with a lodger: Samuel Nunn, who she would later marry.
A slight detour is required here. Did Eliza and Samuel meet when Samuel turned up to live as the Harrises' lodger? Or were Eliza and Samuel already a couple? My great-grandfather was born a year before his parents' marriage, but despite being illegitimate, both his parents are named on the birth certificate. This is very unusual, and as far as I know, could only happen if the father registered the birth, but only Eliza's name is mentioned as the informant.
Back to Daniel. The census told me that he was 67 and had been born in Hook Norton, Oxfordshire. I looked at his family in more detail – the 1841 and 1851 censuses, and baptism records, and also his marriage to Sarah. From this other information, I found out that Sarah was born Llandewy, Radnorshire – which turned out to be the village of Llanddewi Ystraddeni, just a few miles north of Llandrindod Wells. Daniel and Sarah had married at Christ Church Newgate Street in the City of London, near St Paul's Cathedral, on 14th September 1823. The church was united with the parish of St Leonard's, a church destroyed in the Great Fire of London. Sadly, Christ Church was destroyed in the Blitz and its ruins can still be seen today. Coincidentally, Christ Church is very near to St Botolph without Aldersgate (now the London City Presbyterian Church), which was attended by Samuel Nunn's family.
Daniel and Sarah had five daughters and one son, and they all went on to marry and have children of their own:
Mary Elizabeth, 1824-1907, married Francis Terry
Harriet Selina, 1827-1897, married William Sharpe
Thomas Evans, 1829-1890, married Susannah Bemister
Sarah Jemima, 1831-1917, married John William Davies
Emma, 1836-1916, married Frederick Horne
Eliza, 1841-1913, married Samuel Nunn
I haven't been able to find Eliza's baptism, but her other siblings were all baptised at St Giles Cripplegate, even though the family lived in Hoxton. The first three baptisms – 1824-1829 – show that Daniel was a wine cooper, and that the family lived on Salisbury Street, Hoxton. The street was obliterated in the Blitz, and is now where Shoreditch Park is. Then by 1831, the family moved – only a street or two away – to Bridport Place, where Daniel and Sarah would spend the rest of their lives. And Daniel had a change of career – he was now a grocer.
In 1839, Daniel appears in Pigot's Directory as a cheesemonger living at 43 Bridport Place, and we find him at the same address on the censuses too. In 1841, he's described as a "grocer", and in 1851 and 1861, he's a "grocer and cheesemonger".
I wanted to go further back and find out who Daniel and Sarah's parents were. A relative had found Sarah's baptism at Llanddewi Ystradenni in 1800. She was the daughter of Evan and Elizabeth Jones – which probably explains Thomas Evans Jones' middle name, and Mary Elizabeth's too. As this was the days before Oxfordshire parish registers appeared on Ancestry, to find out more about Daniel I had to send off for a CD of transcriptions from the Oxfordshire Family History Society. I waited, and as soon as it arrived, I whisked off to my PC to look through the transcriptions and find his baptism.
But it wasn't there.
I didn't want to randomly send off for ever more CDs on the chance he was baptised somewhere nearby rather than in Hook Norton itself. And I asked for advice on a family history forum, and was told that as Hook Norton is in the north of Oxfordshire, right on the Warwickshire border, he could've been born in that county instead.
Thinking that his family could have been non-conformist, I searched the non-conformist baptisms and births on Ancestry and Findmypast, but there was still no sign of him. A bit of research told me that Hook Norton had a Baptist church which was, and still is, active. Perhaps Daniel's family were Baptists, and that's why there was no record of an infant, Church of England baptism for him? I sent off for a booklet of records related to Hook Norton Baptist church from the Eureka Partnership. There were Harrises in it, yes, but no sign of Daniel. I noticed that births were only recorded for the Baptists from the 1820s. Although this went back to the late 1700s, it was still rather sparse, and it occurred to me that by the time the births were being recorded, Daniel was in London.
I had hit a brick wall. All I could do now, really, was to trace Daniel's family forwards, in case I found any clues. And as it just so happens… I did.
Next: Reuben and Jemima: finding siblings
Written: 19th March 2023