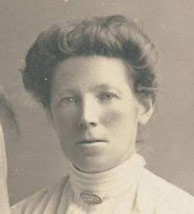 Agnes, my great-grandmother (my Grandad's mother), is my link to the Wade family. She was born in East Donyland (Rowhedge) – her mother's family, the Wades can be traced moving from Layer-de-la-Haye in the late eighteenth century, to Fingringhoe, and then to East Donyland by the mid nineteenth century. Her father's family were from Wivenhoe – he moved to East Donyland sometime in the 1860s when his father became employed by Philip Havens as his woodman.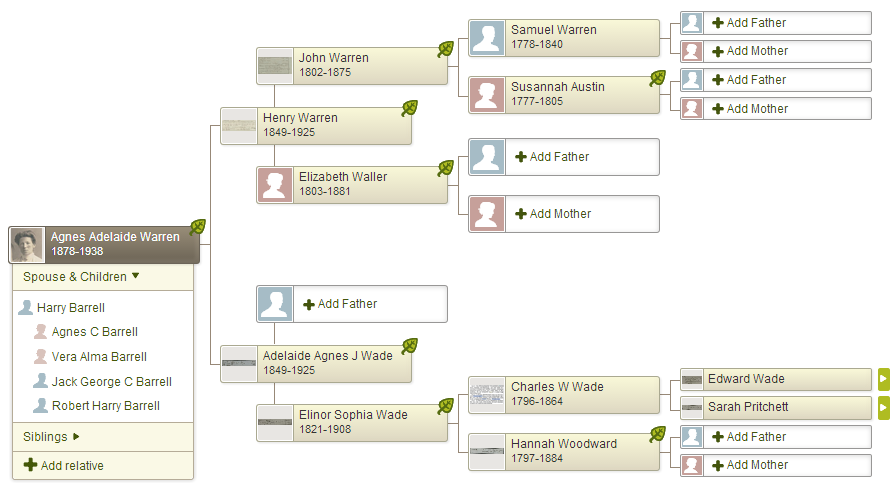 Click to enlarge
A tree with few branches
I feel rather sad, looking at Agnes' tree, when I compare it to that of my Grandma's grandfather, Henry William Field. It's just so sparse. It doesn't help that her mother was illegitimate and that there is no record of her father's name – when I started to research my family tree, I asked my Grandad for information and he was immediately rather evasive – it was only when I found out that his grandmother, Agnes Adelaide James Wade (1849-1925) was illegitimate that I understood why: I think he felt rather awkward about it. But it's just one of those things – on the far more populous branches of Henry William Field's tree, there is illegitimacy too, but it hasn't resulted in a gap in the tree because the Bastardy Order still exists which gave the father's name.
Other gaps have been caused by problems with parish registers – it wasn't only the Wades in Agnes' tree who were from Layer-de-la-Haye: according to censuses, her paternal grandmother, Elizabeth Waller (1803-1881), and her maternal great-grandmother, Hannah Woodward (1797-1884), were born there too. Neither of them appear in the baptism register, and no other documents exist such as wills or settlement examinations, which would have helped to identify them. There are certainly Waller and Woodward families in Layer-de-la-Haye at the time they were born, so perhaps a bit of guessing could solve the mystery – there are two Woodward children born in Layer-de-la-Haye who were given the middle name Whittaker, a middle name which appears with impressive frequency amongst members of the Wade family, too. The Warren line might yet yield dividends – Agnes' father was born in Wivenhoe, as were his father and grandfather, and there are Warrens in the earliest Wivenhoe register.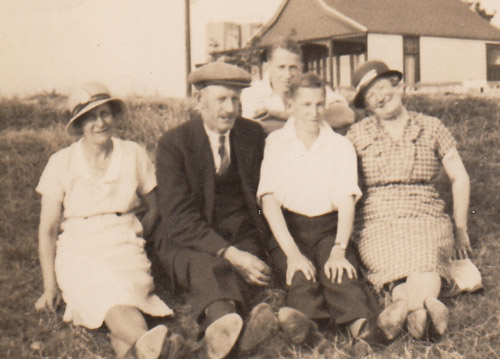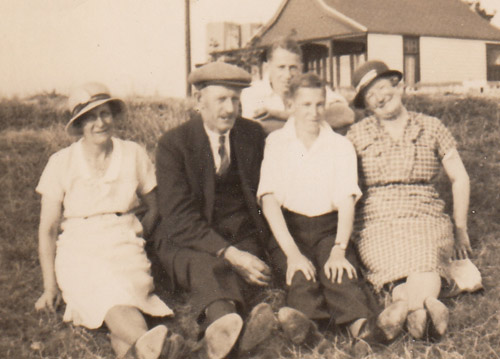 I wonder, too, what Agnes was like. She might look a bit stern in the photo at the top of the page, but it was a studio photo, and they usually lead to rather stiff poses. The only other one I have of her, above, shows a happy woman, smiling for the camera. She sits with her two sons on her right, along with William James Kemble and Amy Edith (née Field), whose daughter Agnes' eldest son was to marry in 1938.
When her parents married, her mother signed the register, but her father did not, and I wonder if Agnes hankered after a better social position, and felt the stigma of her mother's illegitimacy, just as my Grandad seemed to. The very first record I saw that featured Agnes was the 1901 census: she was living in Wivenhoe with her husband, Harry Barrell, and they have a servant – Alice Warren, born in Rowhedge. It was only when I found out Agnes' maiden name, that I realised their "servant" was in fact Agnes' own sister – the relationship to the head of household is merely servant, not "sister-in-law". I have often wondered what this meant – was Alice their paid servant, or did she help round the house in exchange for board? Did they massage the truth slightly so that they could appear well-to-do? Was it just a joke? (by the time of the 1911 census, when we get to see the forms actually completed by our ancestors, you see all sorts of things entered – three year olds given the occupation "chatterbox", for instance). Or perhaps it's just a blunder on the part of the census enumerator – Alice's occupation was "domestic servant" and the enumerator assumed that was her relationship to the head of household (and I read too much into it…).
That said, when my Grandad passed his accountancy exams, Agnes gave him a pair of kid gloves – there seems to be something symbolic in that gesture. His father was a skilled labourer on the shipyard and they lived in a very nice house, but by becoming an accountant, my Grandad had officially entered the middle class. But then again… maybe she just thought he'd like a nice pair of gloves as a congratulatory gift, rather than the inevitable pair of socks….
As with many of my ancestors, I wished I'd met her.