You may recognise this chap from the front page of this website – he is my 2 x great-grandfather, Henry William Field, my Grandma's grandad. He lived his whole life in Brightlingsea, except when he was away at sea: like many men in that town, he was a mariner.
In 1883, Henry married Sarah Eliza Savage. Her family were living in Brightlingsea by the time of the 1871 census, but she and her siblings were born in Sussex. Her father was a Sussex mariner, and had, presumably on his travels, married a Liverpool girl. Sarah is on my father's matrilineal line, and I have traced it back as far as I can, to the Isle of Man and Jane Christian, who was born in about 1761. My father recently did a mitochondrial DNA test (the DNA passed down from mother to child), and it came back with the haplogroup J1c1c – this is Jane Christian's legacy (and rather ironically, too, given her initials!). Sarah's mother also had Quaker ancestry, from Kendal and Chesterfield. Henry's wife, then, has quite well-travelled ancestry, whereas this isn't so much the case with his own.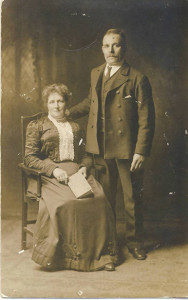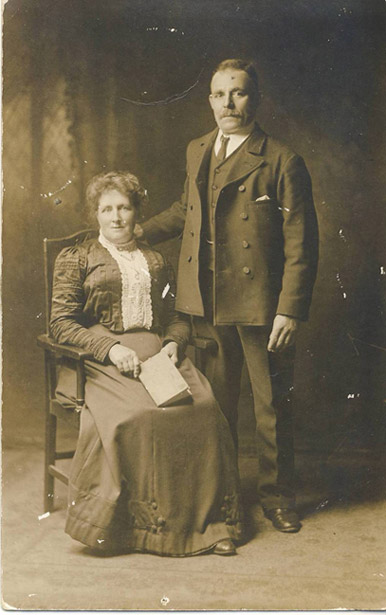 Click to enlarge
Although Henry's male line originated in Suffolk (I've got as far back as his 2 x great-grandfather, John Field, who was born in about 1756 and died in Mendlesham, Suffolk in 1821), the rest of his family, up to about 1700, is from the Tendring area. In fact, you may notice the strong bias in the parish register transcriptions on this website for parishes in the Tendring Hundred – this is down, entirely, to Henry's ancestry.


Click to enlarge
The ancestors of Henry James Field
Henry was the oldest son of Henry James Field (1837-1913) and Jane Elizabeth Nicholls (1837-1921). Henry James Field was born in Brightlingsea in 1837, but his father, James (1806-1865), was born in Great Bromley (James' mother, Mary Jaggard (1781-1847), was a Great Bromley local). Jane Elizabeth Nicholls has Great Bromley roots too – she is descended from the Gardiner family – but it doesn't seem that the Jaggard and Gardiner families were related until Henry and Jane's marriage. James' father, John (1779-1833) was born in Mendlesham, Suffolk, a farm labourer. The family were examined and removed from Great Bromley under the Poor Law, and John and his wife died in Colchester. Mary Jaggard's mother Ruth (née Wiles, 1751-1826) had also been born in Great Bromley, but there is no trace there of her parents' marriage or baptisms. Hopefully as I continue to transcribe Tendring parishes, they will come to light.
Henry James Field's mother, Sarah Ann Ward, was born in St. Osyth in about 1805, the daughter of John Ward (1779-1864) and Sarah Ann (née Quilter, 1779-1849). The Wards moved to Brightlingsea, and if you visit All Saints and walk up to the church through the little gate, you'll pass by John and Sarah Ann's headstone. John and Sarah Ann's son, also John, was a shipowner and oyster merchant in the town. It is Sarah Ann's sister, Eleanor Quilter (1785-?), who crossed over into the story of my Grandfather's family, when she worked as a servant in the Wade household in Fingringhoe. Sarah Ann and Eleanor's father, Golding Quilter (1754-1820), was a blacksmith from Kirby-le-Soken, and their mother was Sarah Button (1759-1810?), who was born in Thorpe-le-Soken, but whose father was from Great Oakley. John Ward's origins are a little difficult to be certain of, but I'll be writing about that later. He may have been the son of Lancelot (occasionally Lawrence) Ward.
The ancestors of Jane Elizabeth Nicholls
Jane was born in Weeley in 1837. Her father, John Mills Nicholls (1810-1844) was from Wix. His father, Benjamin (1765-1855), had been born in Holbrook, Suffolk, the eldest child of Benjamin (?-?) and Dorcas (née Folker/Folkard, 1744-?), which initially made me think the Nicholls roots were from Suffolk – however, it turns out that in 1764, Benjamin and Dorcas married in Great Holland. Luckily, Dorcas is a highly unusual (and rather marvellous) name, so it was easy to identify them. I will write more about Dorcas, as she moved about quite a lot, and there's certain mysteries surrounding her relationship with her second husband, Joseph Sorrell, a higgler from Wix, which are worth exploring. John Mills Nicholls' mother, Mary Mills, seems to have been the daughter of John Mills and Elizabeth Finch, but unfortunately some pages are missing from the Wix register – which is probably why I'm unable to find her baptism.
Jane's mother, Elizabeth Pattrick (1808-?), was born in Weeley at the time that Weeley Barracks was in full swing during the Napoleonic Wars, the area full of Highland regiments ready to scare off the French. Elizabeth doesn't appear to have remarried, despite losing her husband when she was relatively young – her last appearance in the records is the 1861 census, when she is living with her son, William, in Weeley. William later moved to Brightlingsea, as his sister had previously done. Elizabeth's father was John Pattrick (1767-1849), son of John Pattrick (?-?) and Ann Maxfield (1743-1801). John senior moved from Suffolk to Essex when he was balloted as a private in the Essex Militia, in which he served for three years. John junior married Mary Littlewood (1766-1833) in Tendring.
Tracing Mary Littlewood's family has taken me back the furthest in Henry William Field's tree. While I've only been able to trace the Littlewoods back to Colchester in the 1730s (they moved to St. Osyth in the 1740s), the Newcomb's, Mary's mother side, have proved fascinating: I will in due course write more about them. The Newcombs originally came from Wakes Colne, where they link with the Burton family – extensive wills and other records exist for them, and following the Burton family, through the Dennis and Brewers, we can get back to the early 1600s. Moving forward on the Newcomb line, the family is related to prominent Tendring Hundred farming families such as the Allens and Salmons.
A whistle-stop tour
This is clearly not an exhaustive story of Henry William Field's family, but hopefully it'll serve as a quick guide to the various people mentioned elsewhere on this site, and how they're related. Just pop back here and have a look at the image of Henry's tree, and hopefully all shall become clear… perhaps.