→

→

→

Great Clacton with Little...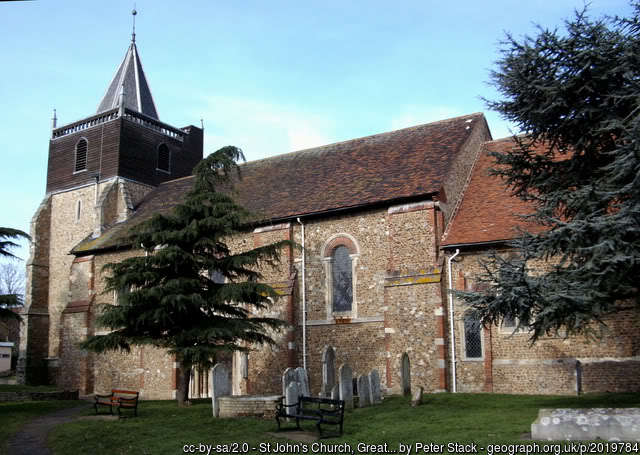 Transcribers: baptisms and burials 1544-1757, and marriages 1544-1710 by Helen Barrell. Marriages 1711-1724 and 1813-1837, and baptisms 1786-1812 by Arny Webb. Baptisms 1890-1923 Angie Banham.
All records transcribed from scans of the original registers at ERO. The transcriptions can also be searched for at FreeREG.
Notes
Little Holland church: In vol 1 of The History and Antiquities of the County of Essex, published in 1748, Morant wrote that Little Holland's church "stood near the Hall, but was so much exposed to the blasts from the Sea, that it is demolished." The parish was then joined to Great Clacton. The first mention of someone in the registers being from Little Holland appears in 1600, but there may have been earlier appearances without their abode being mentioned. The remains of the church are a scheduled ancient monument. The church was demolished sometime between 1650 and 1660. By 1660, only eight families were living in Little Holland. The registers for Little Holland must, sadly, be presumed lost.
The earliest register is in very poor condition. All of the pages are damaged, and repairs made to them using what looks like brown paper have in some places obscured entire records or the majority of them. No transcription has been made where it's impossible to read under the repair.
The years in the earliest register are very unclear. It appears to begin in January 1543/4, but later dates are written in Latin, possibly as regnal dates, and someone seems to have muddled up the 1540s with the 1530s, as well as a later hand adding in years – further adding to confusion. Many years are obscured by repairs, which makes it impossible in most cases to know exactly what year an event took place – so please bear in mind the year could in fact be slightly earlier or later than that given in the transcription. We are however very lucky that some of the information has survived from such an old register, which dates back to the end of Henry VIII's reign.
1580s: Some records lost. 1585 baptisms end October, and the next entries are for December 1586 – and 1587 baptisms end in October, with 1588 beginning in August, as if 1585/1586 and 1587/1588 have become muddled up, or the ends of 1585 and 1587, and the beginning of 1586 and 1588 have been lost.
Only two baptisms for 1592. Baptisms for 1593 stop in October, and there are no baptisms for 1594 or 1595. Baptisms begin again in July 1596. Only two baptisms each in 1603 and 1604. Only four baptisms in 1633, the last one being in May. No baptisms for 1642. 1645: only 5 baps, with what appears to be a gap as no baptisms between May and December. No baptisms for 1650 or 1657, and only thirty for the years 1651 to 1659. No entries for 1667, and only one baptism for 1669, with no burials or marriages. Only 23 baptisms between 1670 and 1679.
Burials run 1664-6, none for 1667, then 1668 burials. A gap, then one burial for 1676, and burials continue regularly from 1677 onwards, except there are no burials from Jan 1687/8-Oct 1688.
Marriages in the register 1560-1710 run: 1560-75, 1577, 1579-81, 1583, 1587-1591, 1597-1602, 1605-1608, 1610-32, 1636, 1638-40, 1653-4, 1658-60, 1664-5, 1667-8, 1676-81, 1686, 1689-92, 1697-1702 [more to follow]. Significant gap with no marriages from 1641-1652.
The baptism on 15 Nov 1599 for Francis (sic) daughter of Thomas and Ann Richmond tells us that Thomas was the son of Robert and Mary Richmond, and that Mary was the daughter of Thomas Knowles, a gentleman from Alisham [Aylsham?], Norfolk, and his wife Johane (Joan/Jane). Imagine finding a baptism for your ancestor and not only finding the names of their parents, but their grandparents and great-grandparents too!
Burial 5th March 1634/5. "Susan the murthered wife of George Burges who hanged for it."
Marriages 1711-24 and baptisms 1786-1812 are difficult to read in places as the writing is rather small.
Baptisms
Burials
Marriages
1544-1549
1560-1710
1711-1724
1725-1812
1813-1837
Note: Groom abodes and marital status in groom list only, and brides vice versa.
1838-1909