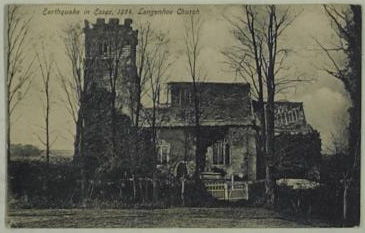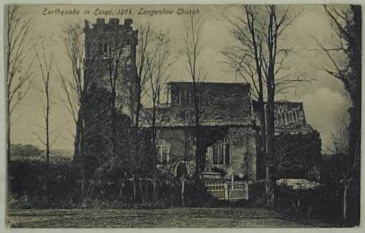 Transcribed by Helen Barrell, except for marriages 1813-1836 transcribed by Arny Webb. They can also be searched on FreeREG.
The church was demolished in the 1960s, having become unsafe after it was damaged in the earthquake of 1884. It had the somewhat dubious claim of being one of the most haunted churches in England. A photograph of Reverend Ernest A. Merryweather, Langenhoe's incumbent who reported many sightings and aural phenomena in his church, noting them in his journal, can be seen in one of Langenhoe's registers. Sadly, without his phantom chum. There is a note in the same register, covering baptisms and burials from 1792-1812, which is an extract from Paul Tabori's 1950 book Harry Price: Biography of a Ghost Hunter. It concerns the Waldegraves and the haunting of Borley Rectory, and appears to have been written by Merryweather. Amongst other notes in the register, Merryweather copied out extracts about the Waldegraves, who had property in Borley and Langenhoe.
Notes
The Royal Cheshire Militia were camped in Langenhoe in 1803.
The early part of the register (1600s to mid-1700s) is quite patchy.
In 1735, Edmund Rolfe and Mary Wells, both Langenhoe residents, were married at Langham, and the marriage was recorded in Boxted's register.
Baptisms
Burials
Marriages
1721-1812
1813-1836