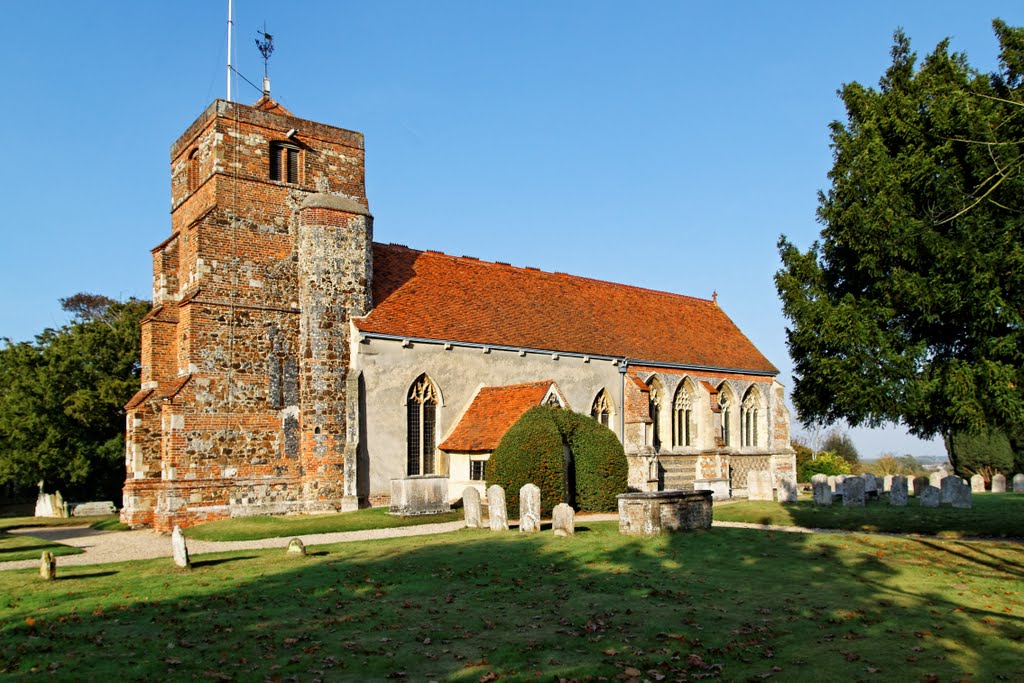 Transcribed by Arny Webb, except the earliest register (1558-1764) and marriages 1754-1812 by Helen Barrell. They can be searched for at FreeREG. There are some lovely photos of the church, some headstones, and Lawford Hall on Flickr.
Notes
Earliest baptism: 1558. Earliest burial: 1561. Earliest marriage: 1560.
With only a handful of exceptions, no parents' names accompany baptisms until 1624. Not exactly helpful for genealogists….
Large gap: no entries 1565 to 1581. The last record is a baptism on 8 Oct 1564 (no burials or marriages for that year), and then there's three burials from January to February 1581/2. Baptisms, burials and marriages begin again from July 1582.
1604: four people are named in the register as having "died of the pestilence", and then "diverse children" – the children who died are unnamed. There is an unusually high number of burials in 1611 (26 – with 9 of those in June), which suggests another visitation of plague to Lawford. The plague was rife in Europe between 1602-11.
Only one entry (a baptism in August) for 1616, and no entries at all for 1617.
In 1622, John Crewe married Jemmimah Waldegrave in Lawford – they are, apparently, Lady Diana Spencer's 10 times great-grandparents.
Gap in register, or were things very quiet? Last entry 21 Sep 1640, next entry 20 June 1641.
There are two quite fun surnames in the early register: Wormingjohn and Flanderflash.
"A travelling childe of 13 years of age was founde deade in a drift of snowe Feberuary 13 day in a grey parell and a graray."
From 1666, the dead had to be buried in English wool unless they died of plague or were destitute. In 1684, when Thomas Simons was buried in Lawford, a note in the register tells us: "Certified to Mr Mott Justice of ye Peace by Mr Frances that he was buried in his clothes being soe corrupt and loathesome that he was not fitt to be touched."
There is a spike in burials in the period late March 1720 to late March 1720/1, which suggests that the village was hit by an epidemic. There are no notes in the register to explain what it was – it is possibly small pox.
Baptisms
Burials
Marriages
1560-1753
1754-1812
1813-1837
Note: Groom abodes and marital status in groom list only, and brides vice versa.