→

→

→

→

Manningtree St. Michael &...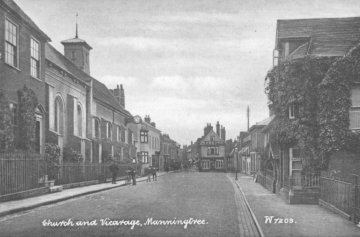 Baptisms and burials 1695-1775, marriages 1695-1753 by Helen Barrell; marriages 1813-1837 by Arny Webb. They can be searched for at FreeREG. The church was situated on Manningtree's High Street. It was demolished in the 1960s and the parishes of Manningtree and Mistley were reunited.
Notes
Manningtree was a chapelry of Mistley. There is a note beside the baptism of Edward Dyx on 28th March 1619 that this was performed on Easter Day "at ye chappell of Manningtree, ye first yt ever was baptised there." From then on there are baptisms in the Mistley register with a note to say they were performed "at the chapel" – presumably at the one in Manningtree. It has a separate register from Mistley's starting in 1695.
Gaps in burials: none 1729, one 1730, none 1732-1736, none June-Feb 1737, one 1738, none 1739, none 1741-1743, one only 1744, 1745, 1747, 1748, 1754, 1755, 1757; none 1746, 1749-1753, 1756, 1758-1761.
Baptisms
Burials
Marriages
1559-1694
1695-1753
1754-1812
1813-1837