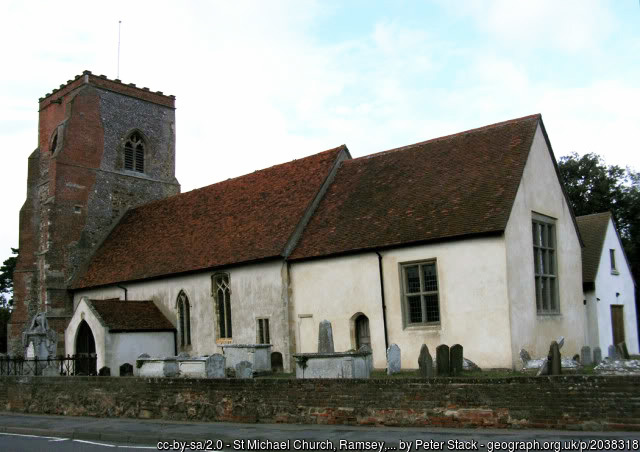 Parish registers held at ERO for the parish church of St. Michael in Ramsey. Full transcriptions are available below. All these transcriptions can be searched for at FreeREG. Scroll to the end for a gallery of a selection of headstones from St. Michael's churchyard, which you can also find on Flickr. Click on photo to see a larger version at Flickr.
Notes
No entries previous to 1645 have survived. Entries are patchy 1658 to 1661 (few baptisms 1659, none for 1660 and 1661; some burials 1659, none 1660, few 1661).
Nine sailors were buried in Ramsey in August 1666; it seems they had been involved in the The St. James' Day Battle during the Second Anglo-Dutch War.
Not many entries 1697-1699. Only one burial in 1698 and none at all in 1699.
There appears to be a gap – no baptisms from January 1717/8 to February 1718/9, but there are burials and marriages for this period.
Entries slightly erratic in the mid-1740s, with missed names, and even a marriage on 16th June 1745 of "Somebody". Whoever that was, has been lost to time.
After civil registration began in 1837, vicars were supposed to have been given a death certificate before performing a burial. If a death certificate wasn't given to them, they were to inform the Registrar of the burial (this appears to be to prevent nefarious goings-on. Today, a death certificate must be produced before a funeral can be arranged). From 1837 to 1844, the vicar of St. Michael's has put a note beside each entry to say when he performed a burial without having been given a death certificate.
Baptisms and burials for 1802 are spread over two registers (October/November 1802 to 1812).
Dates of birth in baptism register for most entries from 1802 to 1829.
Two burials from early 1864 in the spreadsheet below. The remainder for that year are in a later register.
There is a letter, dated 10th November 1886, in the back of the register covering 1802-1812, from Riddiford's solicitors in Gloucester. It requests evidence of Sarah Ann Woodruffe's baptism in about 1810, so that a Government annuity can be set up for her.
In the back of the burial register covering 1813-1864, there is part of a scripture essay (undated) by Mary Duncan, who was in Standard IV at the Girls' National School in Harwich. The reverse side has been used to write a list of Ramsey's incumbents from 1825-1875.
Baptisms 
Burials
Marriages
1645-1753
1754-1812
1813-1837
Flickr API error: 

Invalid API Key (Key has invalid format)