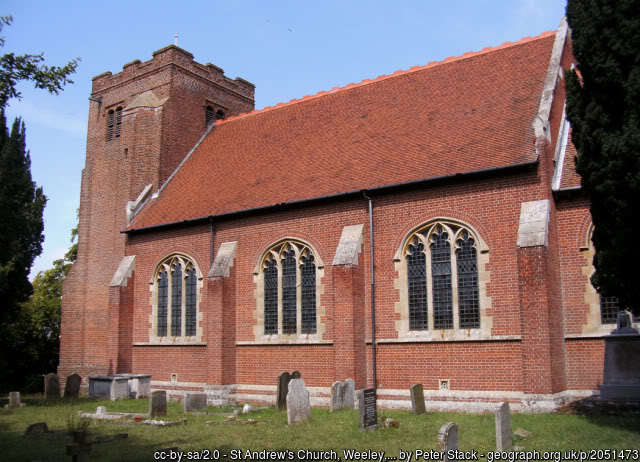 You can search for the entire set of Weeley transcriptions at FreeREG. Transcribed by Helen Barrell from digital scans of original parish registers available online at the Essex Record Office.

Notes
Earliest register has a note saying that many early records were lost by mice, rain and negligence.

Baptisms missing: 1566, 1568-1576, 1581-1582, none 1668, none 1670-1672. One only 1673.
Marriages missing: 1566-1577, 1668-1670. (One marriage appears to be missing from the brides' spreadsheet)
Burials missing: 1566, 1568-1576. Few 1649, none 1650, few 1651, none 1655. Lots of burials 1661 up to June, then a gap, then recommences 1662. None 1663.

James Parkinson was rector from 1607 until his death in 1653. George Parkinson then fills in the register – presumably his son and presumably working in his place. The rector, unnamed, was then deprived in 1662 (ejected from their position) for non-conformity, and was replaced by Richard Cook. This could explain the gaps in the burial register around this point. The Annals of Evangelical Nonconformity in the County of Essex says that in 1650, James Parkinson hired Samuel Dowell as his curate. Amos Fisher was the parish elder.
Many entries can be found in the registers for the years during the Napoleonic War, when many soldiers were stationed at Weeley Barracks. Please see my list of regiments found in the registers and the years they appear, and also Life at Weeley Camp and Barracks, 1803 to 1804, from Mary Ann Grant's Sketches of Life & Manners.
There are a lot of entries in Weeley's registers for people who live in the neighbouring parish of St. Osyth.
Baptisms
Burials
Marriages
1562-1674
1690-1754
1754-1812 (inc. banns) Note: Groom abodes and marital status in groom list only, and brides vice versa.
1813-1837 Note: Groom abodes and marital status in groom list only, and brides vice versa.