→

→

→

West Mersea St Peter...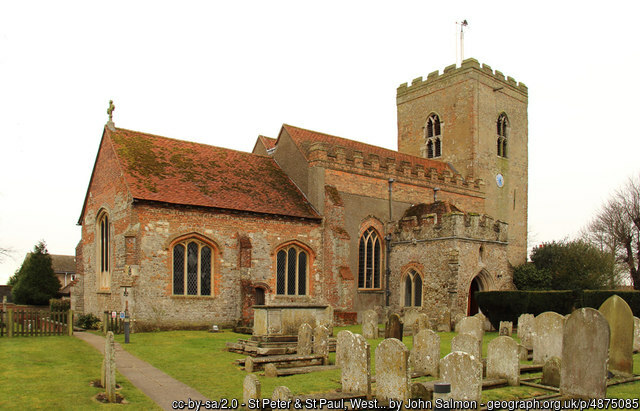 In progress. Transcriptions are on FreeREG now and will appear here in batches soon! 1738-1812 transcribed by Helen Barrell. 1813-1850 transcribed by Arnold Webb.
Notes
General: baptisms and burials 1738-1812 are haphazard in places. There are frequent entries where only an initial is given for a forename, often in the case of a child who doesn't live very long. In the burials, several people from the workhouse, children and adults alike, are recorded without any name at all. Once the tax begins on parish registers in 1783, full names are given instead.
Register 1631-1734: covers baptisms 1631-1733, burials 1678-1734, and marriages 1625-1732. The top half or third of many pages are badly damaged, rendering many entries partially or wholly illegible. Nearly all baptisms for 1631 have suffered this fate.
Baptisms: Only four baptisms for 1741. There's several gaps around the entries, as if the vicar was going to return and write baptisms in, but never did.
Marriages: No marriages 1740-1743 or 1745-1746. Couples may have married elsewhere, particularly in St Giles and All Saints' churches in Colchester. Numbering in the register 1754-1812 is muddled, but entries are chronological.
Missed year, or not? No 1800 marriages are entered in the register. Two are entered with the year 1801, and are immediately followed by a marriage in January 1801. So it's likely that the first two 1801 marriages are actually 1800. This affects the marriages of John Tansley & Mary Newman, and Benjamin Martin & Ann Witaker.
Burials: only one recorded in 1741 (a big gap follows suggesting more should've been entered). None March-Dec 1744 (probably failed to be recorded). 1779: burials recorded from Jan-March – presumably April-Dec unrecorded.
1765 burials: "Four persons were buried by Rev. Mustard this summer whose names I could not get."
Name muddles: one family's surname is written as both Hedgethorn and Headstone, and another's is written as Pewter, Powter and Potter. Hawes and Harris may have been confused too.
Travelling vicar: At some point between October 1739 and January 1739/40, the vicar found himself in Gibraltar, where he was made chaplain of HMS Edinburgh. He married Alexander Grosset to Mary Williams, a widow. Then in September 1744, he married Thomas Blackwell, a merchant, to Elizabeth Hutt, a widow, at "Leghorn" [Livorno] in Italy. In February 1744/5, he was back in Gibraltar, where he married Thomas Purcell and Alice Cullum "at a private house".
The vicar's travels mean that the curate was presumably performing ceremonies at the church in his absence, and it probably explains the gaps in the register around the early 1740s.
Epidemics: higher than usual numbers of burials can indicate an epidemic. The period Jan-Feb 1747/8 had 15 burials, higher than the usual four or five for that period. Noah Webster's A brief history of epidemic and pestilential diseases says that "catarrh" was about in Europe and America in 1747, which could explain it, as respiratory diseases are worse in the winter. Another increase in burials occurs in 1763, beginning at the end of 1762, probably caused by small pox. Although there's no notes to say as such in the register, Wivenhoe's register for 1762 says that of the 68 people buried that year, 35 died of small pox. 60 burials took place in West Mersea in 1763, when usually there's about 20 a year.
Baptisms
Burials
Marriages
1500s-1624: register lost
1625-1732: to follow
1733-1737: none recorded
1738-1753: to follow
1754-1812