→

→

→

→

Wivenhoe memorial inscription galleries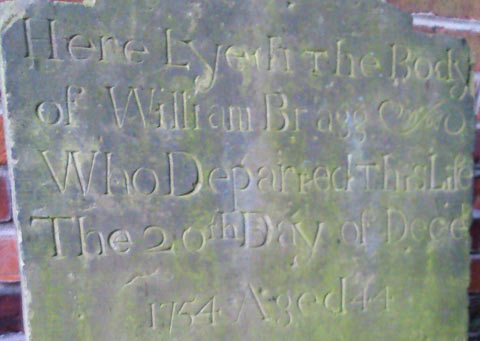 18th century headstone in St. Mary's churchyard
This is by no means a thorough photo project of the many gravestones to be found in Wivenhoe's three cemeteries. However, I have made these photos available here because no doubt someone, somewhen, will want to see a photo of their relative's grave, and it'll just so happen that I'll have taken a photo of it. Mostly, these are photographs of my relatives' gravestones, but others are ones I found interesting because they are well-known Wivenhoe and Colne families: Sainty, Goodwin, Barr, Hazell, Barrell, Warren, Pullen, Fooke and Wade all make an appearance. There are also some military graves and you'll notice that Wivenhoe's maritime culture is evident in the many stones that feature anchors.
Some intrepid souls from the Essex Society for Family History made a survey of the memorial inscriptions in St. Mary's churchyard and the Old Cemetery between 1993 and 1995. Considering how much old stones can be eroded in 20 years, if you have trouble reading the inscriptions in the photos, please send off for the memorial inscriptions CD. It is definitely worth having a copy if you have Wivenhoe family, and they cover many parishes around the county. Wivenhoe is on North-East Essex vol 1. I don't live in Essex so cannot make a special visit. Please note that years of birth provided in these galleries have been estimated from age at death and is only intended as a guide.
St. Mary's churchyard was closed to burials in the 1850s (although the war memorial was placed there after WW1) and a new graveyard was opened on Belle Vue Road. This was closed in the early 1900s and is known as the Old Cemetery and another cemetery, known as the New Cemetery, was opened directly opposite it; it is still in use today. In the 1960s, all the stones in St. Mary's churchyard were moved so that they mostly now stand against the perimeter walls. I'm not entirely sure it's something I would've chosen to do myself….
You might also be interested in the Wivenhoe History Group and The Wivenhoe Encyclopedia.