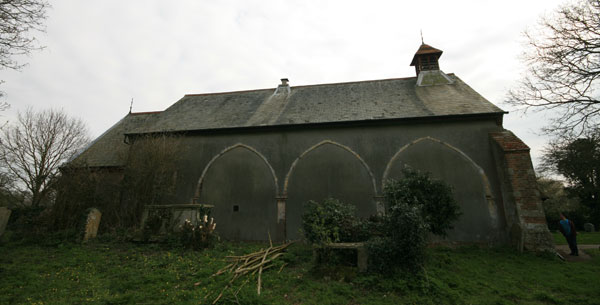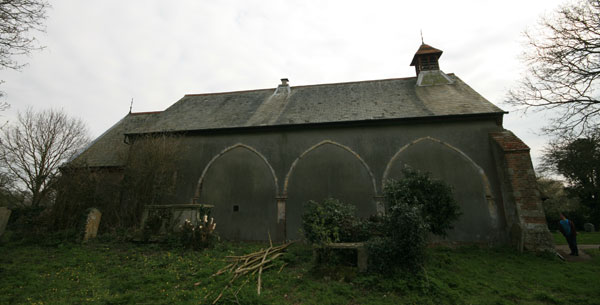 Side view of the church. The arches are all that remains of the 12th century priory.
Transcribed from scans of original parish registers held at ERO. These transcriptions are also available at FreeREG.
A photo of Wix's church can be seen in this article on Wix Priory by Don Budds.
Wix's population, according to the 1841 census, was 808 people (400 males, 404 females). 376 of the population were under the age of 20, and 32 people living in Wix at that time had been born outside Essex. The parish consisted of 2,850 acres.[1]Abstract of the Answers & Returns. Enumeration Abstract, England & Wales. London: W. Clowes, 1843.
Notes
Earliest pages of the first register contain notes entered by the person copying them up from the "old register".
No marriages 1575-1577. None for 1623.
No burials for most of 1582 and 1584, and none for 1583 and 1584. None for 1623. Only one burial 1649 to 1660 (Feb 1657/8). Unusual number of burials in January and February 1665/6 – note that neighbouring Great Oakley had several burials in August, September and October 1666 with a note stating that they had died of the plague. Very few burials in the 1670s.
The baptisms and burials register is patchy for 1760-80 – it appears that it has lost several pages for this period. 1767 – baptisms and burials to 12 April. 1768 – none. 1769 – from 22 April. 1775 – baptisms and burials to 7 May. 1776 – from 21 May.
Marriages register 1754-1812 has been damaged, but is mainly legible. Many of the pages are torn (for instance, the last entry for 1774 is in May, then it jumps to May 1776 – with no end of 1774, no entries at all for 1775, and none for early 1776).
Baptisms
Burials
Marriages
1560-1676
1687-1753
1754-1812
1813-1837