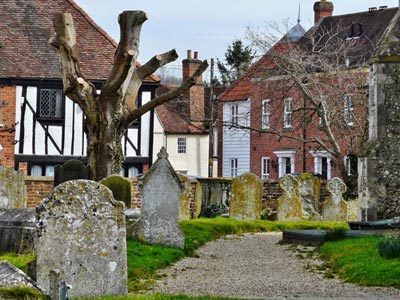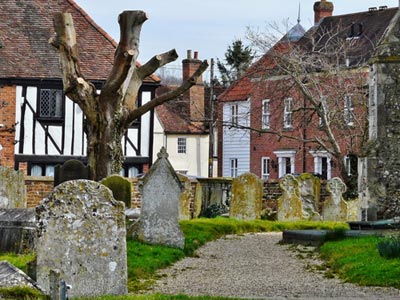 Bures St. Mary straddles the Essex/Suffolk border, with the River Stour running through the middle of it. St. Mary's church is on the Suffolk-side of the river, and the parish registers are held at Suffolk Record Office, so the parish is in the Suffolk section of this website. The part of Bures St. Mary in Essex is known as Bures Hamlet. The Bures St. Mary register sometimes alludes to "Munt" – this is presumably Mount Bures, also in Essex.
More photos of Bures by Cindy.
Transcriptions available below and also on FreeREG. Microfiche from Suffolk Record Office in Ipswich.
Notes
Few parents' names in the baptism register from 1592-1600.
Gap in register following minister's death in 1604. No entries from June 1604 until the start of 1612.
English Civil War and Commonwealth Gap – one baptism for 1642, none for 1643, one for 1644, none for 1645, 1646 or 1647. Some baptisms 1648-1652 (except none May-November 1651). Nine only from 1653-1659. One from 1660 in the 1592-1660 spreadsheet (transcribed from FL 540/4/2). The rest of the 1660 baptisms are in another register, FL 540/4/3.
I am transcribing from fiche 3 to fiche 7. The earliest fiche (not transcribed here) cover baptisms 1558-1591, and marriages 1559-1652. Fiche 7 includes a list of people who were excommunicated.
Baptisms
Burials
Marriages