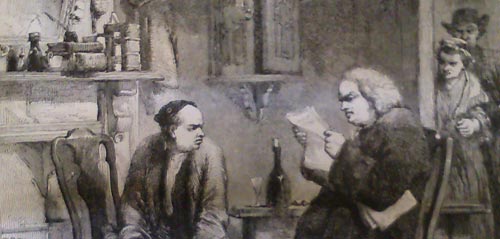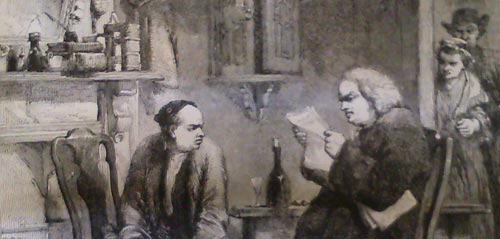 In researching Poison Panic – and in fact before then – I spotted relatives of mine popping up as witnesses at arsenic poisoning trials, or as fellow prisoners at the Assizes. I wrote the book as someone from Essex, so I kept my family within the pages of the book. It is dedicated to my grandparents, after all.
So if you were wondering about the brief walk-on parts of my relatives, let me introduce you in more detail.
Mordecai Simpson
The first 1840s arsenic poisoning case I read about wasn't one in Essex – it was the 1847 Catherine Foster case from Acton in Suffolk, and I only found out about it because one of my ancestors has an unusual name: Mordecai Simpson. Mordecai is my 6 x great-grandfather, and his grandson, also called Mordecai (brother of my 4 x great-grandfather) was Catherine Foster's next door neighbour in Acton in the 1840s.
Mordecai jnr's chickens died at the same time as Catherine's husband, John, which raised suspicions, especially as Mordecai jnr's chickens had eaten the leftovers of John's dumpling. The chicken's throats were examined, arsenic was found, John was exhumed, and Catherine was accused of her husband's murder. Mordecai Simpson didn't very long afterwards – a note in the burial register tells us that he died in 1855 after falling off a wagon. Was he pushed by Catherine Foster's ghost?
My grandma's grandmother, Jane Dewes – Mordecai jnr's great-niece – was born in Acton, and I wondered if Jane had grown up knowing about Catherine Foster's deadly dumpling, and the role that Jane's own family had played in catching – accidentally – a murderer.
Charlotte Elvish
Elvish is a not just a language invented by Tolkein, but a surname which you find in East Anglia. Charlotte was the wife of a wheelwright who lived in Wix, and she was a witness at the trials of both Mary May and Hannah Southgate. You could say she was quite involved. As with all of the main 'characters' in Poison Panic, I used my genealogical sleuthing skills to try to find out what I could about her on censuses and in parish registers. And when I researched Charlotte's background, I realised I was related to her.
Charlotte was born in Fingringhoe in 1811, the daughter of Thomas Jaggard (1784-1851). Her grandfather, another Thomas Jaggard, had a farm, and seems to have been quite well off. But in 1807, at the age of 48, her grandfather married 30-year-old Charlotte Taylor, a widow – she had been born Charlotte Pritchett, and was the sister of my 5 x great-grandmother, via my grandad. She and Thomas senior had two children, but he died very soon afterwards, in February 1812. In fact, Thomas senior might never have seen his youngest son, who was baptised in May that year. It meant that his young widow was left with two little boys, while his sons from his first marriage were 20 and 27 – one of whom had children of his own. Charlotte (who might have been named after her grandad's new missus) was a year older than one of her own uncles.
Thomas senior's will left a farm to Thomas junior – Charlotte's father – but it was encumbered with annuities to support his widow and youngest sons. Thomas junior moved to Wivenhoe, on the opposite banks of the River Colne from Fingringhoe, where he worked as a labourer, presumably renting out the farm he had inherited in order to pay the charges on it. It was in Wivenhoe, in 1837, that Charlotte Jaggard had an illegitimate child, and the following year she married James Elvish in Thorpe-le-Soken. By 1840, they had moved to Wix.
When Charlotte's father died in 1851, he still owned the farm in Fingringhoe that his father had left him, but it seems that it was still encumbered with debt. He directed that what profit remained from selling his farm, after using the proceeds to pay off the mortgage on it, was to be divided between his children.
Hannah Southgate had been the wife of a blacksmith, but after his death had married a farmer. Charlotte Elvish may have looked at Hannah's social climbing and thought of the encumbered farm in Fingringhoe, and – who knows? – felt a twinge of jealousy. Had I not already had the Jaggards and their unfortunate financial problems in my family tree, then I wouldn't have had this insight into Charlotte Elvish's background, nor another personal link with a witness to not one, but two arsenic poisonings.
Henry Gardner/Gardiner
And then I found yet another relative…. Henry was a butcher, who called on Inspector Raison's help when someone stole from meat from his cart. It was Raison who then investigated Henry's sister-in-law when she was suspected of poisoning her husband. Henry's wife, Sarah, was the sister of Hannah Southgate. He appears briefly in the story of Thomas Ham's death, sitting up all night with him as he lay dying. That morning, Thomas called Phoebe, the servant, to him and asked her to fetch a doctor, and Phoebe told Henry to set off in his cart as it was far quicker than Phoebe going by foot. But it was too late – Thomas had died by the time Henry returned.
When I looked into Henry's family, I found him on the 1851 census, having been born in Great Bromley. I haven't found a plausible baptism for him, but I've researched his surname around the Tendring Hundred, particularly around Great Bromley. There's a Henry Gardiner who lived there in the early 1700s – my 8 x great-grandfather via my grandma – and from his two sons, John and Henry, there were many descendants called Henry Gardiner. Without Henry's baptism, I can't prove the link, but the likelihood is very strong that he is my relative, seeing as the Great Bromley Gardiners were a busy bunch, and the name "Henry" came up quite often. So there we are. It's very likely that I'm related to Hannah Southgate's brother-in-law.
Nathaniel Sorrell
A fleeting appearance from one Nathaniel Sorrell, Wix resident – he witnessed the will of Thomas Ham's grandfather. Why is this worth mentioning, Helen? Well, Nathaniel is another of my grandma's relatives, and the other witness of the will was John Southgate's father. Thomas Ham was married to Hannah Southgate, who after Thomas' death married John Southgate.
Thomas (Joseph) Newcomb
Most of the inquest meetings in Poison Panic take place in pubs (until the pub becomes too full, and the meeting has to be moved to the village school…). The inquest into Thomas Ham's death took place at the Crown Inn in Tendring, which had been run by a relative of mine, once again, via my grandma. The Newcombs were blacksmiths, who had moved to north-east Essex from Wakes Colne in the early 1700s.
I must admit to a slight error here as in Poison Panic, I referred to him as Joseph Newcomb, when he was in fact called Thomas Newcomb. He died in April 1848, and the inquest didn't take place until August 1848, but his widow continued to run the pub – when she married in 1850, unusually it gives her occupation (for women, the 'occupation' box on marriage certificates is usually left blank, even though a lot of women worked). It says 'landlord.' In fact, this gives proceedings an interesting edge: Sarah Newcomb was herself recently widowed, and was running the pub while it was filled with the Coroner, the jury, police, the local surgeon and a toxicological expert of national renown – did she wonder if the finger of suspicion was about to point at her?
Reason Field
Reason Field, born in Great Bromley a few years after Henry Gardiner and also a relative of mine via my grandma, was always getting into trouble. His name has come up in numerous newspaper reports. In 1848, described in various papers as a young man of 'decent appearance', he was accused of setting fire to an outhouse in Colchester, belonging to one Isaac Chopping. It was known that Reason had a grudge against Isaac. Reason was seen scuttling away from the scene, he had matches in his pocket of the same description as those found at the scene… and yet… he was acquitted by the jury. Perhaps his 'decent appearance' swung their verdict? This nice-looking young man can't possibly be guilty!
He was tried at the same Assize as Mary May. Whereas Reason was acquitted as the evidence was too circumstantial, Mary May was found guilty on evidence that was rather circumstantial. But Mary was not of 'decent appearance' and in Victorian England, that counted against you.
The other arsonist
When Sarah Chesham and Thomas Drory stood trial in at the Essex Lent Assize in 1851, Lord Chief Justice Campbell referred to it as a week of horrors. There were five cases of murder, attempted murder, manslaughter, embezzlement, forgery, bigamy – and no less than twelve cases of arson.
I didn't name in the book, but one of the arsonsists was John Newcombe, a 24-year-old labourer who was accused of starting a fire in Tollesbury. 'Prisoner is in the habit of smoking and drinking,' we are told. John was found with matches in his possession; he had cried after being arrested. The jury found him guilty. As Campbell felt that John had not 'long been engaged in an evil course of life,' he wasn't given a heavy sentence – he was 'only' transported for seven years. Some of the other arsonists at the same Assize were transported for fourteen years. (Essex Standard, 7 March 1851)
John is, in case you hadn't worked it out, a relative of Thomas Newcomb, the Tendring innkeeper. After the family had moved from Wakes Colne, a branch had moved to Tolleshunt Knights. Although most of them had moved back to Tendring, some stayed further south in the county, and so some of the Newcombs ended up in Tollesbury. Or, in John's case… Australia.
So that's not one, but two arsonists in my family. And both were on trial at the same time as women accused of arsenic poisonings. What are the chances of that…? (quite high if you're from Essex, apparently).
A thread that links us all together
Having found so many of my own family turning up in the course of researching Poison Panic, when I contacted Jeff, one of Hannah Southgate's descendants, it made it easier for me to break it to him. "Hey, Jeff, did you know this about your ancestor? By the way, don't worry, one of my relatives was a witness, and another was likely to have been her brother-in-law. Which in fact, sort of makes us relatives too."