→

→

→

→

Wivenhoe St. Mary the...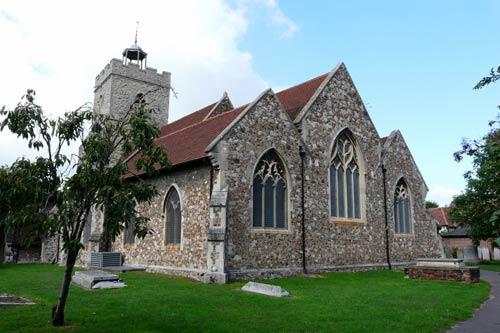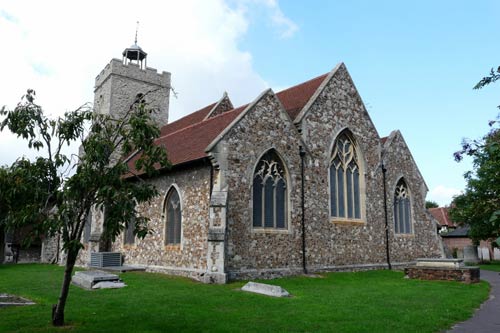 Parish registers for Wivenhoe held at ERO, transcribed by Helen Barrell, excepto for marriages 1813-1837 by Arnold Webb. You can also search them at FreeREG.
Notes
Two burials in 1572 for servants from the household of Edward de Vere, 17th Earl of Oxford: "Maistress Gainesworth gentlewoman to the Right Honorable Countisse of Oxenforde" on 18 December, and "The Earle of Oxenfordes faukener [falconer]" on Christmas Day. These burials back up Daphne Pearson's theory in her book on the 17th earl that he lived in his house in Wivenhoe in the early 1570s, before selling it.
Mothers' maiden names appear in the register 1617-1626.
Marriages: gap in the early marriages register. Marriages run from 1560-1623, then from 1648 onwards. There is a gap 1683-4, then 1686-1687, then 1690-91.
Burials: gap in early burials – only one burial for 1587, and none at all for 1588. Burials stop at July 1682, there is one burial recorded in 1686, and three in December 1688.
Early register was at one point rebound and dogeared pages tidied – this has resulted in the loss of some names which were unfortunately on the edge of the affected pages.
In the 1500s and 1600s, the number of burials each year is around thirty, but in 1603, this number nearly triples – 94 people were buried in Wivenhoe that year, and deaths in 1604 were unusually high too. Clearly, some form of contagious disease hit the village, but there is no note in the register to say what it might have been, although we do know that plague hit London in 1603, beginning in June. Burials increase in Wivenhoe from August, which suggests the disease spread up from London in the space of a few months. This article on the plague in Colchester, from 1579-1666 (from the Colchester Archaological Trust Online Report Library) is worth reading, although it doesn't mention Wivenhoe.
Around 1754, there are several entries in the banns register for couples from St. Giles, Colchester. The explanation given in the register is that Wivenhoe neighbours St. Giles', and that St. Giles didn't have a service every Sunday. In order to publish the banns legally, then, Wivenhoe helped out.
The marriage of Nicholas Corsellis and Mary Goodall took place in Edinburgh in 1762 (the same year as small pox was rife in Wivenhoe), and has been copied into the baptisms and burials register from a certificate given to the rector, Charles Lind. It has been added to the transcriptions of marriages from 1754-1812.
Small pox: "Buried from January 1 1762 to Jan 1 1763: Males 31, Females 37, In all 68, besides four that were carried out of the Parish one only being brought in, of whom 35 died of the small pox. Increas'd in the Burials 44." The register indicates who died of small pox.
Ages added for nearly all burials, and birth dates added for nearly all baptisms, from late 1750 onwards.
The churchyard was closed for burials in 1859 (except for one in April 1860). Please contact Wivenhoe Town Council for a look-up for burials after that date, which took place in the Old and New Cemeteries. There is a fee for this service, which presumably goes towards the maintenance of the cemeteries.
A page of 1813 baptisms is missing from the register (D/P 277/1/6), totalling 16 baptisms, but I have transcribed them from the Bishop's Transcripts of Baptisms at ERO (D/CR 419).
Stray: William Staffe of Wivenhoe was buried in Lawshall, Suffolk, on 19th December 1586.
Stray: Henry Remington of Wyvenhoe fell from his horse in this Parish and dyed at the Cock (buried in Boreham, Essex on 14th May 1699).
Stray: John Blowers of Wivenhoe married Elizabeth Hinds of Bures St Mary there on 1st March 1726/7. Note that Thomas Hindes, whose parish of settlement was Bures St Mary, moved to Wivenhoe in 1722, and John Hines, whose parish of settlement was also Bures St Mary, moved to Wivenhoe in 1739. They are likely to have been Elizabeth's relatives.
Baptisms
Burials
Marriages
1560-1689
1692-1754
Note: Groom abodes and marital status in groom list only, and brides vice versa.
1754-1812
1813-1837