→

→

→

Anthony Mannock of Little...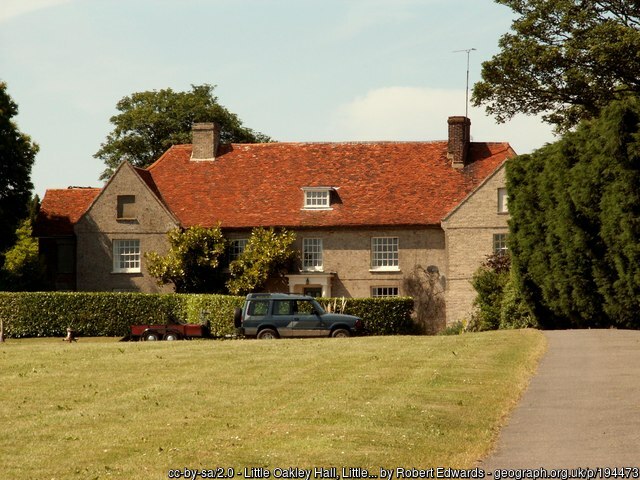 My interest in finding out more about the Mannocks was piqued by the appearance of Anthony Mannock and his family in the earliest surviving parish register for Little Oakley. I think he must be one of the children of Thomas Mannock of Wormingford, and his wife Dennice, as an Anthony is mentioned in the Essex Visitation, and in the Earls Colne manorial records. And his age would fit as him being one of their sons.
On 20th December 1586, Francis Mannock of Stoke-by-Nayland granted Anthony Mannock a lifetime annuity of £20 out of Martell's Hall and the watermill in Ardleigh.[1]This is in the Mannock family's papers held at ERO, which were discovered in a barn! I think this must be the same Anthony – if Anthony was the son of Thomas Mannock of Wormingford, then Francis and Anthony were first cousins, both being grandsons of George Mannock. Francis, though, must've been twenty or thirty years older than Anthony.
He first appears in Little Oakley's register in 1592, with the baptism of his two daughters, Penelope and Thomasin. Then there's two further children baptised – Thomas in 1594, and Edward in 1596. I don't know what became of Edward, but Thomas died in London in 1623, a Citizen and Merchant Tailor. He was buried in St Mary Aldermary's, and his PCC will mentions other siblings who don't appear in Little Oakley's baptisms, perhaps born before the Mannocks moved there: Mary, wife of Peter Coale, a grocer in Ipswich; Bridget, wife of Daniel Smith of Ipswich, and a brother called William. He also mentioned his uncles Henry Pannell (or Paynell) and Arthur Hopton, which led me to Arthur's 1647 will.[2]Thomas' will also mentions his cousin Mary Dards (Deards?), and her daughter, also Mary Dards; his cousin John Mannock; his cousin Avis Beech and her husband Andrew (Thomas' business … Continue reading
Anthony's wife was Bridget, although I can find no record of their marriage so I don't know what her maiden name was, although the 1647 will of Arthur Hopton suggests that her surname was either Hopton or Paynell. Then Anthony disappears, mentioned only in a couple of memorial inscriptions, which aren't actually for him, other than by association.
Interestingly, the Little Oakley parish register tells us that two couples marrying there were servants of "Mr Mannock", who is presumably Anthony Mannock: George Ringwood and Susan Page, who married there in 1593, and Henry Martine and Katherine Mylles, who married there two years later.
Penelope Mannock and her two husbands
Penelope Mannock married Jeremy Burges, a clerical gentleman, at Little Oakley church in 1618. It appears they didn't have any children – at least, there's no baptism for any children in the register, and none are mentioned in Jeremy's will.
It's possible Jeremy whose signature appears on the will of Richard Goslinge in 1607. At least, he signs "Jeronimo Burges"! If he was signing a will in Frinton in 1607, then he was some years older than his wife. He may even have been a widower, although his marital status isn't given in the register.
Jeremy made his will on 20th April 1625, but there's no note on it as to when his will was proved. After leaving bequests to the poor of the parish, and to two servants, William Causton and Mary Rude, he left his buildings and land to his wife, Penelope. He had quite a lot of property: land in Walton-le-Soken, Frinton, Great Clacton, and Little Oakley. The land in Little Oakley was to be Penelope's, and after her death, it was to go to Margaret Sallows. A crossed out line describes her as Margaret, the daughter of John Sallowes, and that the land was to become hers when she was 21 – but the fact that it was crossed out suggests that Margaret was already 21 at the time. I'm not sure what Jeremy's connection was with the Sallowes family.
A telling clue in Jeremy's will is that Penelope was to use the land in Little Oakley to pay her own mother £10 a year "after her said mother's lease of Okely Hall is expirat and eanded." This suggests that Anthony Mannock had died before Jeremy wrote his will. I haven't found burials for either Anthony or his widow. He might've meant either Great or Little Oakley Hall, but Little Oakley Hall seems most likely, seeing as the Mannock children were all baptised at Little Oakley church, and both daughters were married there as well. At the time, both Great and Little Oakley Halls were owned by Sir Thomas Darcy's family.
On 30th August 1627, Penelope married again. Her husband was Lionel Bacon, a son of Edward Bacon of Shrubland Hall in Barham, Suffolk, and his wife Helen Little. The Suffolk Visitation of 1612 lists Edward and Helen's children and gives the age for almost all of them. Lionel was 16 in 1612, so he was about 31 when he married 35-year-old Penelope at Great Blakenham in Suffolk. It seems likely that Penelope knew Lionel via her cousins in Stoke-by-Nayland, which is about 15 miles from Barham. Then again, we don't know who her mother's family was, so the connection could even have lain there.
Sadly, Penelope and Lionel's marriage was rather short. She died less than a year later, on 9th August 1628, and is commemorated by a marble wall plaque in the Bacon chapel at Barham's parish church. The plaque tells us that she was the daughter of Anthony Mannocke of Stoke, which is intriguing – I wonder if "of Stoke" doesn't mean that Anthony ever lived there, but that he is descended from the Stoke-by-Nayland Mannocks.

The plaque reads, in full: "Penelope Bacon the daughter of Anthony Mannock of Stoke in the County of Suffolk Gent being uppon the 30 day of August Anno Domini 1627 Espoused to Lyonell Bacon sonne of Edward Bacon of Shrublande Hall in the aforesayde countye Esquyer after that she had served oute her owne generation by the will of God fell on sleepe the 9th day of August in the year of our Lord 1628."
There are a few places online which record the Bacon family, but none of them point out that Lionel was Penelope's second husband, or that Anthony isn't to be found in Stoke-by-Nayland, but in Little Oakley. Hence me wanting to share my research. Not that Lionel and Penelope had any children, so there's no descendants looking for them, but still… I suppose Lionel must've inherited all of the land that Penelope had inherited from her first husband, then as he died without having had any children, Jeremy Burges' land in Essex passed to members of the Bacon family – if it hadn't already been sold.
Before Penelope's marriage to Lionel, there was a connection with the Mannocks and the Bacons. The second wife of Lionel's uncle Sir Nathaniel Bacon was Dorothy Hopton (1570-1629). She is mentioned in the 1647 PCC will of Arthur Hopton as his "best kinswoman Lady Bacon." Dorothy was the daughter of another Arthur Hopton, and the sister of Sir Arthur Hopton, who was left a ring bearing the Hopton arms by Arthur – because it had been left him by Dorothy (yes, that's three Arthur Hoptons in one sentence!). Arthur Hopton – the one who wrote the 1647 will – was the brother of Penelope's mother Bridget, although I don't know if Bridget was a Hopton or a Paynell (Arthur's will mentions his brother Henry Paynell, and without any marriages popping up to tell us, I don't yet know!).
Thomasin Mannock and William Bendish and…?
On 25 October 1621, Anthony Mannock's other daughter, Thomasin (perhaps named after her paternal grandfather), married William Bendish at the church in Little Oakley. The register both says that they were "gents". In September the following year, their son William was baptised in Elmstead, but he was buried only four days after his baptism. Two daughters followed: Bridget in 1624 and Mary in 1626, but William died on 14th May 1627 and was buried at Elmstead.
He is commemorated by a slab on the floor of Elmstead's church, and a transcription was made by the Essex Society of Family History (their memorial inscription CDs can be very useful if you're lucky enough to find someone you're researching on there). The slab doesn't tell us anything about the Bendishes, but it says:
Here lyeth the body of William Bendishe, Gen, who had to wife Thomason daughter of Anthony Mannocke, Gen. & had issue Bridget & Mary. He departed this life 14th May 1627. Memento mori.
Who William was is a mystery. There's a baptism in Feb 1628 at Elmstead for Elizabeth, daughter of Bridget Bendish. I wondered if that could've been a mistake and it was in fact Thomasin who gave birth to William's posthumous child, but then again, Bridget could have been a sister or sister-in-law of William (she obviously can't be William and Thomasin's daughter, who was only four!). There's no other Bendishes in Elmstead's registers. The Essex Record Office has an abstract of title of Sir John Bendish's from about 1667 which mentions "a messuage called Christmus in Elmstead and Frating" – could that be where William and Thomasin, and perhaps Bridget senr, lived? The Bendishes in the Essex Visitation (1612 and 1634) don't yield any clues.
Sadly, I can at the moment find no trace of Thomasin and her daughters after her husband's death. Did she remarry, as her sister Penelope had? Her husband didn't leave a will, and neither, apparently, did she. There was a Bridget Bendish who appears in Cambridge in the mid-1600s but it's not all that clear if she could be either of the Bridget Bendishes who were in Elmstead in the 1620s.
First published 14th November 2020
Edited 16th November 2020 to add information about Thomas' will, and the Hoptons and Paynells.
Footnotes

↑

1
This is in the Mannock family's papers held at ERO, which were discovered in a barn!

↑

2
Thomas' will also mentions his cousin Mary Dards (Deards?), and her daughter, also Mary Dards; his cousin John Mannock; his cousin Avis Beech and her husband Andrew (Thomas' business partner), and his cousin Robert Pannell – Henry's son. The Paynells and Hoptons have given me yet more rabbit holes to get lost in.