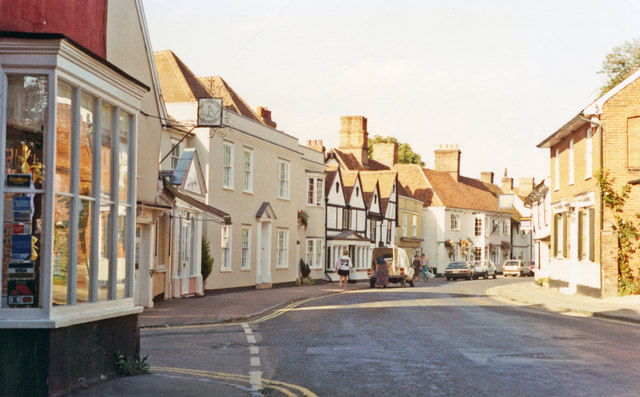 The first member of the Mannock family who I added to my tree was a man called Thomas Mannock, who married Anne Tendring in Boreham, Essex, in 1578. I'd been researching the Tendring family as my 12 x great-grandfather, Ralph Starling of Dedham, had married Margaret Tendring (by then a widow, Margaret Thurston) at Boreham four years earlier. Margaret was Anne's aunt.[1]Margaret's brother Thomas (abt 1531-1603) was Anne's father. Margaret and Thomas were both the children John Tendring (d1552) and his wife Joan Crachrode.
Thomas and Anne had seven children baptised at Boreham between 1579 and 1593: Margaret, Thomas, William, Anne, Faith, Agnes and Dennys. I couldn't see any burials in Boreham for any Mannocks during that period. I wonder if Thomas and Anne remained in Boreham or if they only went back there for the baptisms of their children? Perhaps Anne preferred to spend her confinement in Boreham with her family – her mother Cecily was still around until 1615.
The Essex Visitation for the Tendrings in 1558, 1612 and 1634 says that Anne was married to Thomas Mannock of Gifford's Hall, and yet their children were not baptised in Suffolk. I wonder if, as with his brother Anthony Mannock, they don't mean that Thomas was literally from Gifford's Hall, but that he's from the family of Mannocks hailing from there.
I think it's very possible that he's the son of Thomas Mannock and Dennice Roberts. The visitation tells us that they had a son called Thomas, plus Thomas and Dennice's daughter Bridget married in 1573 and their possible son Edmund in 1574, so Thomas and Anne married at around the same time. Also, note what Thomas and Anne called their youngest daughter – Dennys! It's an unusual name, so that to me is another piece of evidence.
Martell's Hall
Although it's not clear if the family lived in Boreham in the 1570s, 80s, and 90s, we do know that they eventually moved to Martell's Hall in Ardleigh. In 1632, Sir Francis Mannock of Stoke-by-Nayland wrote his will, and he mentioned Thomas, the son of Thomas Mannock of Ardleigh. If Thomas Mannock of Ardleigh was the son of Thomas Mannock of Wormingford, then Sir Francis was removed by several generations from him. Sir Francis doesn't say whether Thomas of Ardleigh was a cousin or uncle or whatever. In fact, Sir Francis' great-grandad was (I think!) Thomas of Ardleigh's uncle, making Sir Francis the first cousin twice removed of Thomas of Ardleigh (again… I think!). Sir Francis owned Martell's – his grandfather, another Francis, and nephew of Thomas Mannock of Wormingford, first cousin of Thomas of Ardleigh (potentially), had granted a £20 lifetime annuity to Anthony Mannock in 1586. So it looks like Thomas Mannock was leasing Martell's from Sir Francis, and that his brother Anthony had been receiving £20 a year from the rent. Keep it in the family and all that…
Thomas Mannock wrote his will on 20th May 1636. This will isn't held at ERO, and isn't a Prerogative Court of Canterbury will, but is held at the London Metropolitan Archives. It's written in his own handwriting, and he leave legacies to his two sons Thomas and William, and to his four daughters – who he doesn't name. He does however name his wife, Anne, and his "cousin" "Thomas Cotten of Barfoult Hall."
That he names Thomas Cotton is significant because it helps to confirm that it was Thomas Mannock and Anne Tendring living at Martell's Hall. Anne's sister Priscilla (1565-1633) had married Robert Cotton at Boreham in 1586.[2]Robert and Priscilla also appear in the Tendring's trees in the Essex Visitations Five of their six children were baptised at Boreham between 1587-1592, then their youngest child, John, was baptised at West Bergholt in 1598. Robert and Priscilla both wrote wills, both giving their abodes as West Bergholt, and their oldest son was… Thomas! Bearing in mind that "cousin" can be used quite loosely at this period, not strictly meaning first cousin, it seems that Thomas Mannock mentioned his nephew in his will. Thomas' will was proved in 1637. There doesn't appear to be a record of his burial, so he died between 1636 and 1637.
The mysterious William Mannock
In Elmstead in 1625, a man called William Mannock married Elizabeth Pyrton (1590-?), the daughter of William Pirton (1561-1600) and Dorothy Cockayne. I think it's plausible that Elizabeth's husband could be Thomas and Anne's son. If Thomas was Anthony Mannock's brother, then William's first cousin, Thomasin, was in Elmstead at the time – Thomasin and William Bendish's first child was baptised in Elmstead in 1625, and Thomasin presumably lived there until at least her husband's death in 1628. I already had Elizabeth Pyrton in my tree as one of the Pyrtons married my great-several-times uncle. But I haven't been able to trace William Mannock and Elizabeth Pyrton any further.
Could he be the William Mannock, gentleman of St Osyth, who wrote his will in 1638? It was proved in 1639. With no surviving register for St Osyth for that period, it's very hard to say. He asked to be buried in the church at St Osyth near his late wife – if anyone can find a memorial inside the church for any Mannocks, please let me know! In fact, it would make sense for him to be Elizabeth Pyrton's husband as she was related to the Darcys, who lived at St Osyth Priory.[3]Elizabeth's grandmother was Constance Darcy, the daughter of Thomas Darcy, 1st Baron Darcy of Chiche, and Elizabeth de Vere. Constance's husband, Edmund Pirton, had a sister called … Continue reading William mentions two daughters, Amy (who was under 18) and Mary, and two sons, Thomas and Francis. He nominated his wife Joane as his executor. The witnesses were Reginald Molineux and Thomas Mannock – could that be his brother, Thomas Mannock III?
Anne's will
By the time that Anne, Thomas Mannock of Ardleigh's widow, wrote her will in 1642, it seems that their son William might have died (a death between 1636 and 1642 would point to William Mannock of St Osyth again…), as the only son she mentions is Thomas. She also mentions her four daughters: Anne Alderton, Anne Ram, Cicilly Allen, and Dennis Hart, and her Ram and Allen grandchildren. Clearly, one of the Annes was an Agnes – possibly "Anne" Ram as there's a baptism in Great Bromley in 1618 for Anne, the daughter of John and Agnes Ram, at the same time as Thomas Mannock III was living there.
Thomas and Alice
It seems that Thomas and Anne's son Thomas Mannock III married Alice Leonard in Boxted in 1609. Their three youngest children were baptised in Great Bromley – Thomas, Alice and Mary – and a fourth child, Priscilla (perhaps named after her aunt), was baptised in Ardleigh in 1625.
Seeking Cecily
As you might have noticed, there's no baptism for a Cecily, daughter of Thomas Mannock and Anne Tendring. At least, not in the Boreham register, or any transcribed registers. But she appears in Anne's will, and it's possible she was named after Anne's mother, Cecily Reynolds. So Thomas and Anne named two daughters after their grandmothers. There's a six-year gap between the baptisms of Thomas and Anne's two youngest children, Agnes and Dennys. It wouldn't surprise me if Cecily was born between the two. Often in wills, children are named in order of seniority. Anne's will names Thomas, then two Annes, then Cecily and "Dennis", again suggesting that Cecily had been born between Agnes and Dennice in that six-year gap.
I haven't been able to find marriages for three of the daughters, but Cecily married John Allen in Great Bromley in 1612, at the time her brother Thomas seems to have been living there.
First published 14th November 2020
↑

1
Margaret's brother Thomas (abt 1531-1603) was Anne's father. Margaret and Thomas were both the children John Tendring (d1552) and his wife Joan Crachrode.

↑

2
Robert and Priscilla also appear in the Tendring's trees in the Essex Visitations

↑

3
Elizabeth's grandmother was Constance Darcy, the daughter of Thomas Darcy, 1st Baron Darcy of Chiche, and Elizabeth de Vere. Constance's husband, Edmund Pirton, had a sister called Catherine, who married George Knightley – my 13 x great-uncle. Catherine's first husband was John Clere or St Clere. His first wife, Joan's surname is unknown, but the Suffolk visitation for the Mannocks says that Francis, nephew of Thomas of Wormingford, had a sister who married St Clere of Essex, but she had perhaps died before their father wrote his will in 1558 as she's not mentioned in it. John's first wife had died before that date too. It's possible, then, that John Clere's first wife was Joan Mannock.