→

→

→

An Afflicted Family: Thomas...
By Stephanie Kent-Nye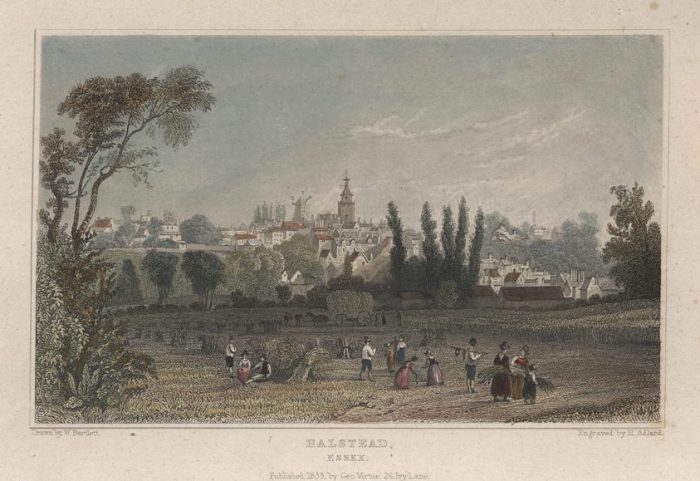 Thomas Cardinall was the Relieving Officer for Halstead in 1841. Responsible for dispensing relief to the poor on behalf of the parish, his second son James, who was heading towards a successful career in Law, had married Lydia, daughter of George Wright, who ran the Halstead Home of Correction. Clearly there was some correlation between the work of Thomas, James Cardinall and George Wright.
Thomas had married his wife Hannah Durrant (who was referred to as Hant) on 1 March 1813, in St Mary's Virgin at the Wall, Colchester. They went on to have ten children.
The 1841 Census was carried out in the first half of that year and shows Thomas and Hant at home with their five youngest children, in Bridge Street, Halstead.
14 May 1841 Thomas, Hant and their family came together, to celebrate the wedding of their third daughter Caroline to the Rev. William Littlewood. The marriage took place at St. Andrews, Halstead. As a Baptist minister, Rev. Littlewood had been ordained to the missionary station on Turks Island, in the Bahamas, so as soon as the celebrations were over, they were packed and ready to leave Essex.
One wonders about the fear and excitement that Caroline must have felt, newly married, leaving her family and setting off on such an arduous journey, to say nothing of her arrival in the West Indies.
For all of them this was to be a final parting.
Caroline Littlewood and her husband had not been gone even three months when an article appeared in the Globe, dated 18 August 1841, talking of the plight that had befallen the family she had left behind.
"It has seldom fallen to our lot to record a more afflicting and melancholy case than we are about to present to our readers. About two months since a fine young man, only 17 years of age, son of Mr Thomas Cardinall, relieving officer at Halstead, in the county, was taken with malignant fever, and in three weeks died; the father, who had been ill for a short time previous, died just a fortnight after the son was buried; and exactly a fortnight after the father was buried, another son, age 10, died with the same disorder as his brother. A widow is now left totally unprovided for, with five children at home, one of whom, the eldest son, it is feared, is sinking with that slow but fatal, consumption. It is barely three months since one of the daughters was married to a Missionary – and is totally unacquainted with the severe afflictions her widowed mother and family are now enduring".
Clearly there had been an outbreak of typhoid.
Thomas aged 17, an apprentice Pawnbroker was the first, dying on 9 June with his father following on the 26 July. By the 12 August Charles aged 10 had also succumbed.
Across the sea there was even more unfolding with neither the family in Essex, nor that in the Bahamas aware of each other's plight.
Chelmsford Chronicle
3 September 1841
"In our publication of the 20th, we noticed the afflicting details of the deaths of three of the family of the late Mr Thomas Cardinall, of Halstead, we have now to record the death of another of that family, a daughter, aged 15, who after suffering under the effects of fever, for three weeks, died on Wednesday last. And in addition to this melancholy circumstance, the widow has received a letter from Nassau, West Indies, stating that her daughter (who lately married the Rev. Mr Littlewood, and who was ordained to the missionary station, at Turks Island, in the Bahamas), was totally wrecked off St Salvador, and only escaped in the long boat with their lives. They lost, it appears, every article they possessed, and after being seven days on one of the uninhabited islands of the Bahamas, without any other provision than that thrown from the ship, consisting of a few bottles of wine, some bread and casks of water, the island not affording the slightest vegetable production, they were picked off and carried back to Nassau, from whence they had set sail about nine days previous.
What must Hant have been thinking? She had the dreadful news her daughter on the other side of the world had lost every possession she owned and additionally she had buried another two of her children, Ann, aged 15 a milliner who died on 1 September, quickly followed by her youngest Edward, aged 8 on the 20th of that same month.
How could a mother survive such tragedy? I fully expected to find another death certificate for Hant herself, but she seemed resistant to the disease that had killed her husband and four youngest children.
Without a death certificate I had hoped to find she had been taken in by one of her surviving older children who were doing well, but she seemed to have vanished from the Halstead records.
In the 1851 census I was shocked to find she had left Essex entirely, moving to Oakham, Rutland where she had found a position as House Keeper for a Mr Cunnington who was a widower living with his three children. I was gratified to see Hant had two General Servants below her, so at least had some support in her work.
Initially I was concerned that I might be on the trail of the wrong Hannah Cardinall, as the 1851 census stated she was born in 1796, three years too early.
Much to my utter delight I then uncovered a certificate that was not black. This time there was a wedding, dated 5th May 1851, showing a marriage between a Hannah Cardinall, widow and a Mr John Lacey. A widower himself, he was a farmer by trade and more than that, the certificate gave me the name of Hant's father, Stephen Durrant. This had to be her.
One would hope Mr Lacey was a kind man, for more sadness was heading towards his wife.
I cannot imagine what Hant thought when in 1856 she received the news that her daughter Caroline Littlewood who was still in the Bahamas, had herself died of a fever, leaving a young daughter, Caroline Eliza Littlewood.
James Cardinall, son of Thomas Cardinall Relieving Officer, had himself named one of his daughters Caroline Littlewood Cardinall, born in 1843, after his sister.
Hant appears again in the 1861 census, still in Oakham, three years before her death at the age of 71. One would hope that she had found an easier life, but it would appear both she and her husband were still working. John Lacey at the age of 78 was a Clerk & Secretary to Oakham Gas Works, with Hant herself marked down as a Domestic Manager.
Unable to find any immigration records at this moment for Caroline Eliza Littlewood, it would seem unlikely that Hant lived long enough to meet her granddaughter who returned from the Bahamas, to marry in 1874 at Holy Trinity, Grays Inn, Mr Theophilus Hulm. Having lived on the other side of the world, it was extraordinary to find the couple settling down to life in Greenstead Green, Halstead, the place of such family tragedy.