Baptised on 12th April 1603, just after the death of Elizabeth I on 24th March 1602/3, and perhaps named after the new Stuart king, James Cardinall seems to have been the only child of Charles Cardinall and his second wife, Bridget Starling. In fact, it was Bridget's second marriage too, and she was aged about forty at the time of her son's birth.
It is possible that he is the James Cardinall who was admitted into Emmanuel College, Cambridge, in 1620. It was known as a "godly" college, founded by Sir Robert Mildmay with the intention of it being a training college for Protestant clergy. Many puritans, such as witchfinder Matthew Hopkins' father, were educated there. Given the puritan bent of other Cardinall family members, and the fact that James' half-brother, Sir Thomas Bowes, worked with Hopkins in prosecuting "witches", it therefore seems possible that James did indeed study at Emmanuel.1)Of course, it could have been one of his East Bergholt Cardinall cousins. Reference from Alumni Cantabrigienses.
We do know though that James was admitted into Gray's Inn in London in 1622, where his grandfather, William, also had studied.2)James appears in the admission register as James Cardinall, son of Charles Cardinall of Great Bromley, gent. He appears to have remained in London for some years, where he was married, and where his first child was born. Early in 1626, he and his half-brother, the abovementioned Thomas Bowes, inherited property from their maternal uncle, Ralph Starling. Ralph, like Bridget, was originally from Dedham, but by the time of his death, was living in Great Bromley. He left most of his property to Thomas (which might explain how Thomas came to live in Great Bromley), and James was bequeathed property in Little Bromley called Vallances. James had already inherited property in 1624 from his father, in Great Bromley and Dedham.
Now financially secure, James married on 11th July 1626. His bride was Dorothy Welby, daughter of Richard Welby. According to Bentham's Baronetage (which traces the Welbys back to the Norman conquest), Richard (1563-1634) was a merchant in London, as well as a city captain and a deputy of the Bassishaw ward. His wife, Susan (Dorothy's mother), was the daughter of Sir William Rowe, knight, a lord mayor of London. See: The ancestors of Dorothy Welby.
The children of James and Dorothy
I have only found one baptism so far for children of James and Dorothy – this is John, their first child, baptised on 20th June 1627 in Hackney, where Dorothy's maternal family had links. The Visitation of 1634 tells us that James and Dorothy had three children – John, James and Dorothy. And James' will, written in January 1663/4, just before he died, tells us that he had six: an unnamed daughter and five sons: John, James, Charles, William and Thomas (the last three presumably born after after 1634). Further, a letter written in 1717, by Henry Summers of Sible Hedingham, to William Holman (whose History of Essex was never published) said that James had James Cardinall "had issue: 9 sons" and his daughter Dorothy.3)ERO ref: D/Y 1/1/179/4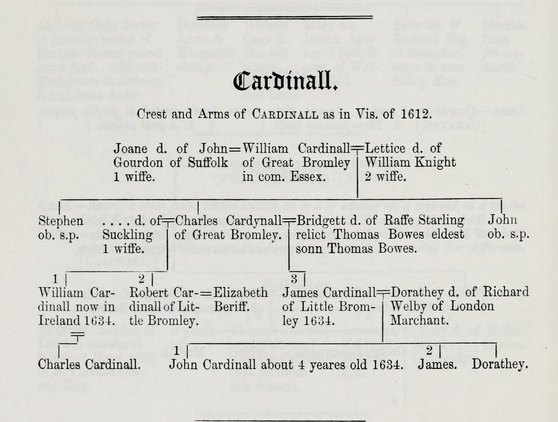 In 1644, there was a Chancery dispute between Charles Cardinall and James Cardinall, over the personal estate of the deceased Robert Cardinall of Little Bromley – it seems to me that this is James (1603-1664) in dispute with, perhaps, his nephew (who you can see on the above Visitation as the son of William Cardinall), over the property of his brother. From documents at the Essex Record Office, it seems that Robert had sold Braham Hall (which he had inherited from his father) in 1633 or 1636, to William Cardinall of East Bergholt (presumably a cousin).4)ERO ref: D/DHt T43/2 Most of the parish register entries for Little Bromley in the 1600s have been lost, which would have perhaps told us more about the family.5)Missing: baptisms 1625-1694, marriages 1615-1694, burials 1619-1677 You can see from the Visitation that Robert apparently married Elizabeth Beriff, and you'll recall that the Beriffs have come up before in connection with other Cardinalls. But did Robert and Elizabeth have any children? It seems from the Chancery records that they did not, both dying without issue.
Dorothy, James and Dorothy's daughter, provides a link with the Beriffs, and with the copious collection of documents surrounding the estate of James Clarkson. We know that James Clarkson (who died in Tendring in 1725) had a connection with John Cardinall of Tendring – he calls him his "cousin", and whilst we need to take care with that word, seeing as it's used to described various relationships other than first cousin, we know from the wills of Charles Cardinall senior (1682) and junior (1700) that Dorothy Cardinall had married someone called Clarkson, and that Charles jnr had a cousin called James Clarkson. James Clarkson married Elizabeth Beriffe – perhaps this came about through the wife of Robert Cardinall and his connection with that family through his wife (another Elizabeth Beriffe)?
Langham Valley House
In October 1638, when he was about 35, James Cardinall purchased Valley House in Langham, Essex, from Robert Littlebury.6)Robert had inherited it from his grandfather, Robert Vigerous. The property had been in the Vigerous family since at least the early 1300s. Dorothy Cardinall died in February 1650/1, and was buried in Langham. Perhaps not needing such a large house any longer, James sold it two years later to William Umfreville. It was a large house – in the Hearth Tax valuation from 1670, William Umfreville is rated with fifteen hearths, which going purely by the number of hearths appears to be the largest house in Langham by some way (the next largest number of hearths being Joseph Grange's house, which had nine).
I found the following, an estate agent's photo of Valley House, on Rightmove. Obviously the frontage would have been different in Cardinall's day, but those chimneys may well be the ones that sat above his house as he relaxed beside one of his several hearths below.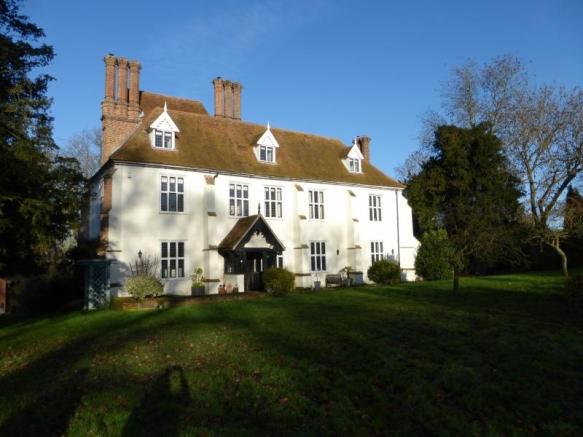 Photos showing the exterior and interior can be seen online via the Historic England archive. I'm not sure about reusage licences for them so don't feel brave enough to include them here, but you can search for them looking for Valley House Langham. The carved dark wooden staircase may well have been the same one that the Cardinalls used.
For more on the owners of Valley House, see the journal of the Essex Society of Archaeology and History.
 James Cardinall in Langham
James wrote his will only a couple of weeks before his death in 1664.
He gave his daughter, unnamed in the will but probably Dorothy, and her children, 5 shillings each, as he bestowed money on her when she married.7)On 18th November 1641, Thomas Pilgrim, gent, married Susanna Cardinall in Langham, Essex. Was Susanna another daughter of James? But as James and Dorothy married in 1626, if Susanna was their daughter, she would have been a young bride (not impossible, though). There is a Thomas Pilgrim of Frating in 1636 who appears in a document at ERO (D/DU 161/486), and then a Thomas Pilgrim of Tendring, whose 1654 will mentions a wife called Cecily. Note, however, that several couples from East Bergholt were marrying at Langham in the mid-1600s, as Langham isn't far away. Susanna Cardinall might not be a native of Langham at all, and is in fact one of James' cousins from East Bergholt. The will of Susanna Cardinall of Layer-de-la-Haye (written 1659, proved 1666) may well be of Susanna Cardinall, Thomas Pilgrim's wife. In her will, Susanna Cardinall of Layer-de-la-Haye mentions three grandchildren: Thomas, Samuel and Susanna Pilgrim.
James jnr received the £100 that his father had already lent him, and the money owed to James senior by someone called George Read was to be divided between Charles and William Cardinall.
His youngest son, Thomas, was to receive £300 and a copyhold cottage in Dedham – it doesn't say so in the will, but this could have been property that James had inherited through his mother's family (either from his grandfather or his uncle).
Everything else was left to his eldest son, John. The will was written on 13th January 1663/4, and "Mr. James Cardinall, gent." was buried in Langham on 4th February 1663/4.
And onwards:
Please follow me over to… James Cardinall's sons.
| | | |
| --- | --- | --- |
| 1. | ↑ | Of course, it could have been one of his East Bergholt Cardinall cousins. Reference from Alumni Cantabrigienses. |
| 2. | ↑ | James appears in the admission register as James Cardinall, son of Charles Cardinall of Great Bromley, gent. |
| 3. | ↑ | ERO ref: D/Y 1/1/179/4 |
| 4. | ↑ | ERO ref: D/DHt T43/2 |
| 5. | ↑ | Missing: baptisms 1625-1694, marriages 1615-1694, burials 1619-1677 |
| 6. | ↑ | Robert had inherited it from his grandfather, Robert Vigerous. The property had been in the Vigerous family since at least the early 1300s. |
| 7. | ↑ | On 18th November 1641, Thomas Pilgrim, gent, married Susanna Cardinall in Langham, Essex. Was Susanna another daughter of James? But as James and Dorothy married in 1626, if Susanna was their daughter, she would have been a young bride (not impossible, though). There is a Thomas Pilgrim of Frating in 1636 who appears in a document at ERO (D/DU 161/486), and then a Thomas Pilgrim of Tendring, whose 1654 will mentions a wife called Cecily. Note, however, that several couples from East Bergholt were marrying at Langham in the mid-1600s, as Langham isn't far away. Susanna Cardinall might not be a native of Langham at all, and is in fact one of James' cousins from East Bergholt. The will of Susanna Cardinall of Layer-de-la-Haye (written 1659, proved 1666) may well be of Susanna Cardinall, Thomas Pilgrim's wife. In her will, Susanna Cardinall of Layer-de-la-Haye mentions three grandchildren: Thomas, Samuel and Susanna Pilgrim. |