Dorothy Welby was baptised on 21 November 1606, at the church of St Michael Bassishaw (since demolished) in the City of London. She would later be married in this same church, on 11 July 1626, to James Cardinall. She was one of eight children of Richard Welby (1563-1634) and his wife Susan Rowe (1573-1628).
Richard and Susan had married in 1593. I cannot find the record for their marriage, but their marriage licence allegation survives. "Richard Welbie" was a leather seller of St Margaret Lothbury (the parish church is very near the Bank of England in the City of London), and "Susanna Roo" is listed as being the daughter of Sir William Roo, knight, "now mayor of London."
Their eight children were:
Susanna, born about 1597, married John Wase
Adlard, born about 1599, married Elizabeth (Unknown surname), died before 1634.
Richard, born about 1601, died London, 1640
Jane, born about 1604
Dorothy, born about 1606, married James Cardinall, died 1651
John, born about 1609
Edward, born about 1611
Elizabeth, born about 1614, probably married Robert Drury, died 1679
The Welby family
Richard's Welby ancestors were from Lincolnshire, where he was born in the village of Gedney, son of Adlard Welby and his wife Cassandra Apreece. In the church of St Mary Magdalene in Gedney, you'll see Adlard and Cassandra on a memorial, which Cassandra had directed to be created in her will.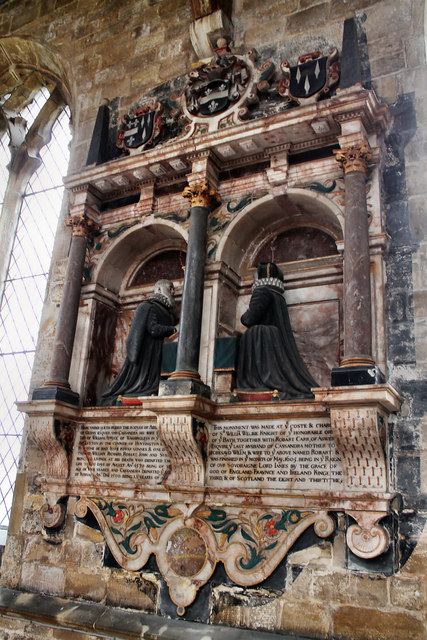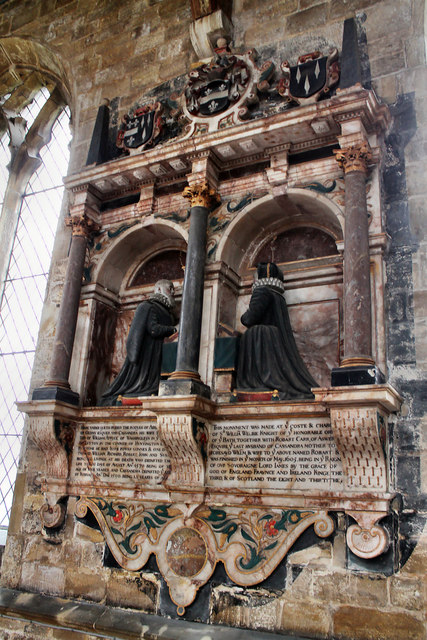 Adlard had six children by his first wife, Ellen Hall. In about 1560, he married his second wife, Cassandra. She would go on to have four husbands in total – at the time of her death, she was married to husband number four, Robert Carre of Aswarby in Lincolnshire, about 30 miles form Gedney. Adlard and Cassandra had five children together:
Richard (Dorothy's father)
Susan, born about 1567 in Gedney, married John Blewet or Bluet of Harlaxton in Lincolnshire
Robert
William, made a Knight of the Bath in 1603, at the coronation of James VI/I. Father of nine children
John, born about 1570 (Adlard's youngest son)
The Welbys were an important family in Lincolnshire and could generate a whole book. In fact, Pugin – architect of the Houses of Parliament is descended from the Welbys. His full name was Augustus Welby Northmore Pugin, and had an uncle (born 1776) called Adlard Welby. I don't think Pugin was descended from Adlard Welby of Gedney, however, but from an earlier branch of the family – the name Adlard, though unusual, was used fairly often in Welby family.[1]While researching the Mannock family, I looked into the family of Audrey Allington, who married William Mannock (d 1558, Stoke-by-Nayland). Audrey was related to the Welbys via the Cecils. … Continue reading
Jane, one of Adlard's children from his first marriage to Jane Hall, married Thomas Ogle (died 1574). Their son, John Ogle, born in Pinchbeck, Lincolnshire, in 1569, was a military commander, and was knighted in 1603. He fought in the Low Countries, and his wife was Dutch. During his military career, he lost an eye, which can be seen from portraits of him. "My nephew Sir John Ogle" was left 5 marks by Richard Welby in 1634, to buy himself a memorial ring. John was buried in Westminster Abbey.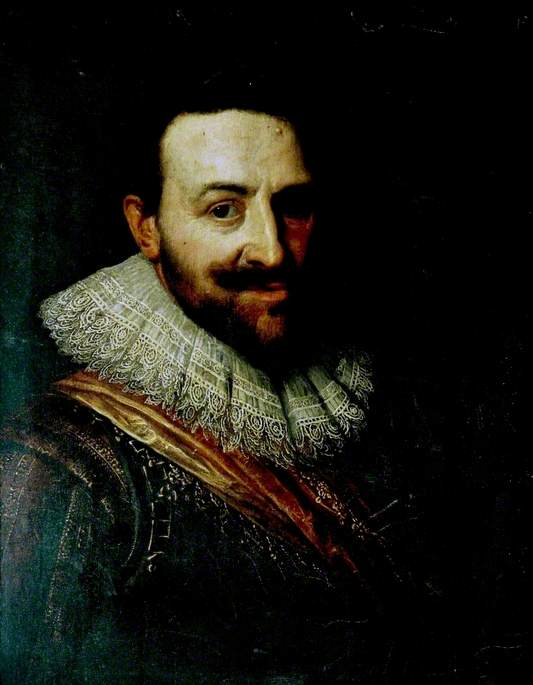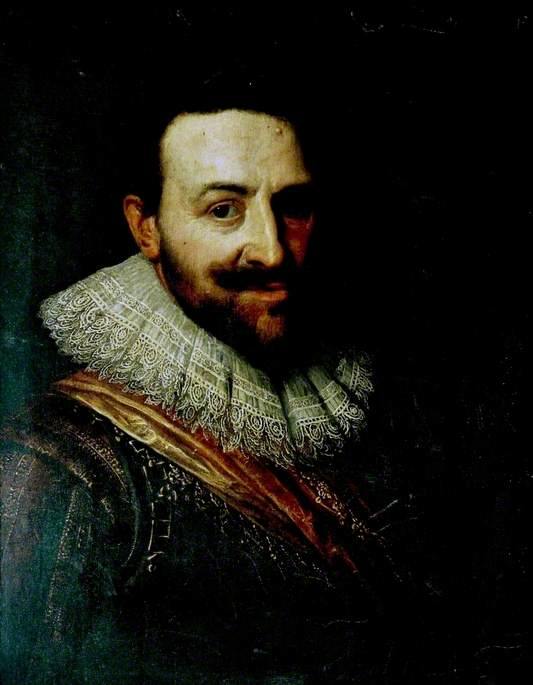 The Apreece family
Cassandra, meanwhile, has a fascinating ancestry, which can (if the sources are correct!) be traced all the way back to Wales, under Roman rule in the fifth century AD. Her father was William Apreece of Washingley in Huntingdonshire (now in Cambridgeshire), about 35 miles from Gedney. Published genealogies give her mother as either Elizabeth or Joanna, daughter of Robert Latimer.
There is a lot of information on the Apreeces of Washingley at Landed Families. Cassandra's brother, Robert, was a recusant Catholic and was fined and imprisoned for accommodating priests at his house, one of whom was St Edmund Campion, martyr. Interestingly, Robert named one of his sons Adlard, perhaps after his brother-in-law, Adlard Welby.
The surname Apreece appears in different spellings, from Ap Rhys, to Price. When Sir Thomas Bowes mentions "Mr Price, a man of no price" in the Chancery row with his step-brother William Cardinall, it seems possible that Mr Price was one of Cassandra's relatives.
Betham's Baronetage takes the Apreece line back ten generations before William Apreece, to Blethen Ap Maynerch, Lord of Brecknock, and his wife Oten, daughter of Tudor, King of South Wales. A footnote adds that, apparently, Oten's father was also an ancestor of the House of Tudor. Following backwards from Oten's father, we go all the way back to the fifth century AD. If this is correct, then it's the furthest I will probably take back any lines of my family!
---
Dorothy Welby's mother, Susan Rowe, was the daughter of Sir William Rowe and his wife Jane Lucar.
The Rowe family
Sir William Rowe
William Rowe – Dorothy Welby's maternal grandfather – was Master of the Ironmongers in 1583, 1584, 1587, 1589 and 1590; sheriff of London from 1582-82, and then lord mayor of London from 1592-3. He was knighted in April or May 1593 and died on 23rd October of the same year.3) He's even on Wikipedia. He was not the only Rowe to be lord mayor, however.
William's first cousin, Sir Thomas Rowe, was lord mayor of London from 1568-69, and Sir Thomas' son Sir Henry, from 1607-8. The Environs of London, by Rev. Daniel Lysons (1810) mentions the Rowes in Hackney. Sir Thomas Rowe (William Rowe's cousin) died in 1570 and was buried at St. Augustine's, Hackney (since demolished apart from its tower), where he had a grand tomb. His son, Sir Henry Rowe, died in 1612, and was placed in the Rowe family chapel in St. Augustine's by his son, another Sir Henry. Owen Rowe, a regicide of Charles II who died in the Tower of London, also had connections with Hackney (he solemnised marriages during the interregnum and was buried there), which might suggest he was related to the various Sirs Rowe.
Footnotes

↑

1
While researching the Mannock family, I looked into the family of Audrey Allington, who married William Mannock (d 1558, Stoke-by-Nayland). Audrey was related to the Welbys via the Cecils. Audrey's brother George had a son called Hugh, who married Elizabeth Cecil. Elizabeth was the daughter of Richard Cecil, and a sister of William Cecil, 1st Baron Burghley (1520-1598). Audrey's brother Sir Giles asked Lord Burghley to be one of the executors of his will. Elizabeth Cecil and William, Lord Burghley, had a sister called Anne, who married a man called Thomas White. And Thomas White and Anne Cecil's daughter Elizabeth White married Adlard Welby – a son of Adlard Welby (1507-1571) and his first wife, Jane Hall. I do like the way these families all link up somehow in the end!