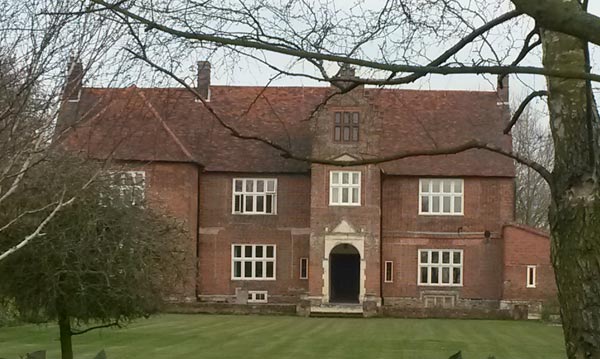 I think it's worth including a section on the Vesey family of Wix Abbey, as Joan Cardinall was married to Robert Vesey for several years while they lived in Wix. She was buried there on 2nd September 1624, "Mris Joane Sucklinge, widow."
Having read the will of Robert's father, William Vesey of Hintlesham (written 1575, proved 1577), it seems to be the case that William owned the manor of Wix and the abbey. William left it to descend to the male heirs of Robert, hence why it is another William, the eldest son of Robert and Joan, who inherited it. He lived in Wix from about 1592 to 1600, before going to Norfolk. The Veseys did return, however, and it may be that the Mr Robert Vesey who was buried in Wix in 1612 was another of Robert and Joan's sons. And the rest of the Veseys who we can see living in Wix for generations afterwards are the descendants of Robert Vesey and Joan Cardinall.
The 1634 Visitation of Essex for the Cardinalls shows us that Jane Cardinall, daughter of William Cardinall of Bromley, Essex, married Robert Vessey of Wix Abbey in Essex. It shows one son – William Vessey of Bedingham in Norfolk, who was still alive at the time of the Vistiation. He presumably moved to Norfolk with his mother after her marriage to Robert Suckling. Note that William married Mary – Wix Abbey has the letters WVM in metal picked out above the porch. British Listed Buildings scratches its head over this, but I think it might be the case that it was put there by William, son of Robert and Jane.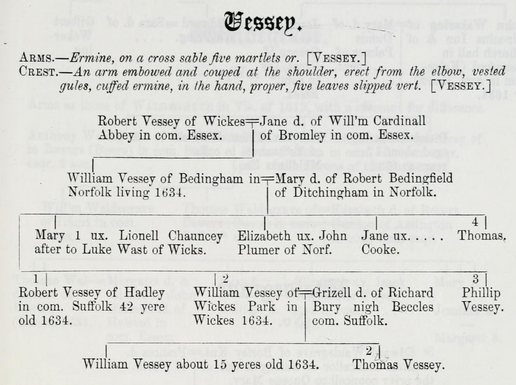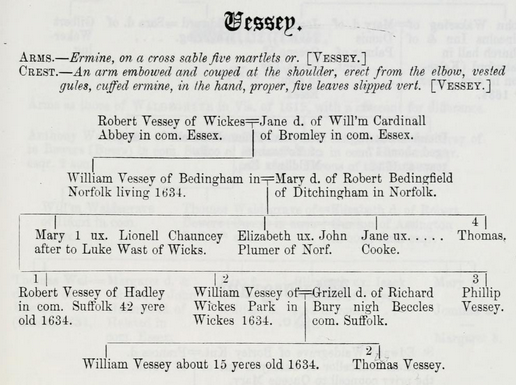 The 1577 Visitation of Suffolk shows us Robert Vesey's origins – he was from Hintlesham in Suffolk, and it shows us more than one child of he and Joan/Jane (or does it? It's a bit confusing because it almost looks as if John Vesey had four children, as no line comes down from Robert and Joan. But then again, no line continues across from John).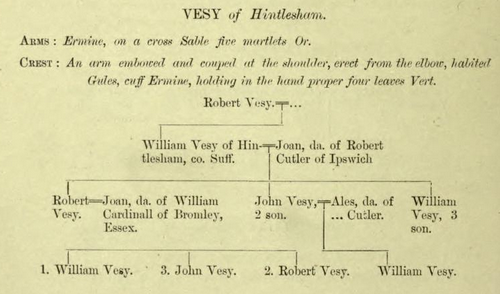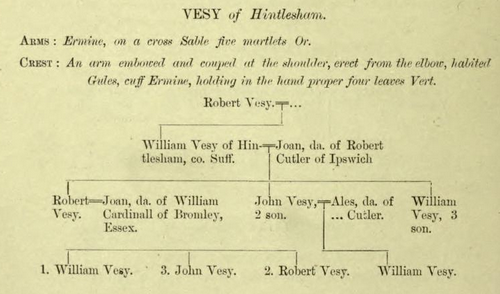 The following Visitation, from 1664, follows on from the 1634 pedigree above, and shows what became of Thomas, the fourth son of William and Mary. Without the earlier Visitation, we could assume that the Veseys had no connection with Wix before Thomas – however, this is not the case.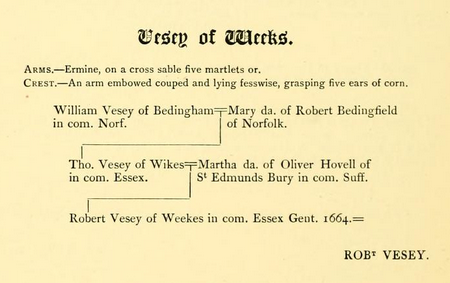 Morant's History of Essex says that "William Veysey, and Robert Veysey or Vescey, and Johanna his wife" bought Wix Abbey in about 1561 from Edward Gilbert and his wife Alice.[1]Morant, History of Essex, vol. 1, pp. 469 It gives Robert's date of death as 4th July 1577, but Wix's parish register says that on 8th March 1574/5, "Mr. Robert Veasey was buried at Markeshall" – perhaps Morant got the 1577 date from documents related to the manor, following Robert's (apparently) intestate death, or that he knew Robert must've died by then because it was the year in which Joan remarried. It is suggestive that Robert was at Markshall – in 1581, the manor was sold to Edward Deraugh, who may have been connected with Joan's brother-in-law.
In 1582, William Veysey went to the Court of Chancery, against Robert Sucklinge and his wife.[2]TNA ref: C 2/Eliz/U3/42 This, I assume, is Robert (and Joan's?) son, William, aged 19, against Robert and Joan Suckling. "For an examination of witnesses as to a will having been left by plaintiff's father. The manor of Hintlesham Priory, Suffolk with the appurtances, and messuages and tenements as named in the bill in Hadleigh, Suffolk, and of the manor of Cockells with the appurtanances." I haven't found a will for Robert Vesey myself, so assumed he had died intestate, and it would appear that poor William perhaps thought that his mother and her new husband were concealing a will from him. Were they? William must've gone to Norfolk, for him to be known as William Vesey of Bedingham, Norfolk, on the Visitation.
The Norfolk connection was strong enough for the Veseys to appear in the Norfolk Visitation too: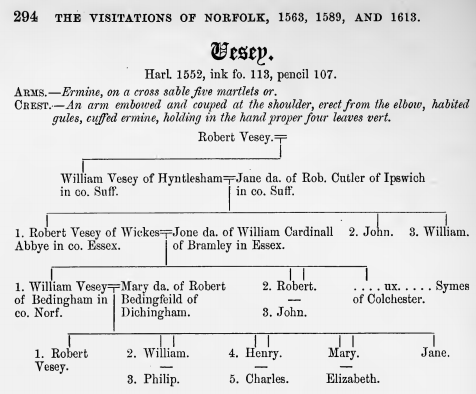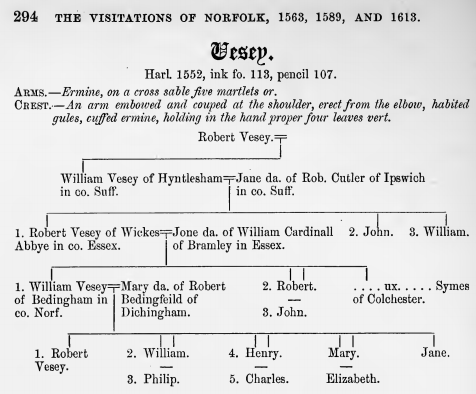 This is the most thorough appearance of the Veseys in all of the Visitations they appear in, and further investigation is worth pursuing. Working out who Symes of Colchester is could be useful. The Wix baptism register doesn't give the mother's name for most baptisms in the 1500s, but if we assume that Joan was Robert's only wife, then they had seven children between 1563 and 1574 (William, George, Frances, Elizabeth, Rose and John). There is no baptism in the register for a son called Robert, although a burial in Wix in 1612 for Mr. Robt. Vesey is presumably Robert and Joan's son.
William Vesey, who was baptised in Wix in 1563, married Mary Bedingfield in Hedenham, Norfolk, on 13th September 1590. By 1592 they were back in Wix in Essex, where their daughter Mary was baptised on 22nd August of that year. Five children were born to William and Mary Vesey in Wix between 1592 and 1600 (Mary, William, Philip, Henry and Elizabeth), and then on 6th September 1602, their daughter Jane was baptised in Bedingham, Norfolk. Four more children followed: Charles, Thomas and Margaret. I haven't found a baptism for their eldest son, Robert, but he may have been born in 1591, between their marriage and the birth of their first daughter. These baptisms account for nearly all the children in Visitation of Norfolk. Note that this might indicate an 8-year window in which the metalwork WVM letters appeared on the frontage of Wix Abbey; indeed, an eight-year window in which Wix Abbey was built. You can just about see them in the photo above, although they can be seen far more clearly on this photo on Flickr.
According to Morant, the manor of Wix passed to Robert and Joan's son William, then to Robert, then to William, who sold it to Warner of Little Waldingfield.[3]Morant's descent of the manor needs to be handled with care, as he says Robert's son was William "He married Joanna daughter of William Cardinal of Great Bromley – William was … Continue reading
Interestingly, we have this indictment from 1629, which names William Veysie senior and junior, Robert Veysie, Thomas Veysie, Thomas Sucklinge and Christopher Suckling, all gentleman, with labourers Robert Andrewes and his wife, Edward Andrewes and his wife Elizabeth, William Alexander and John Andrewes, all of whom were from Wix.[4]ERO ref: Q/SR 267/43 All of them forcibly entered a messuage and land occupied by William Lucas and John Browne, and ejected them. I would suggest that William Veysie senior is the son of Robert Vesey and Jane/Joan Cardinall, and that William junior, Robert and Thomas are his sons. Christopher and Thomas Suckling could be Joan's sons by Robert Suckling.[5]The Norfolk Visitation shows a third son of Robert and Joan, missing from other records of the family, called Thomas. So quite the family outing.
A huge amount of research into the Veseys appears in Evidences of the Winthrops of Groton, including this quite thorough tree of the Veseys of Wix:[6]Pedigree A on page 62 shows what happened to Robert's brother, William, and his descendants.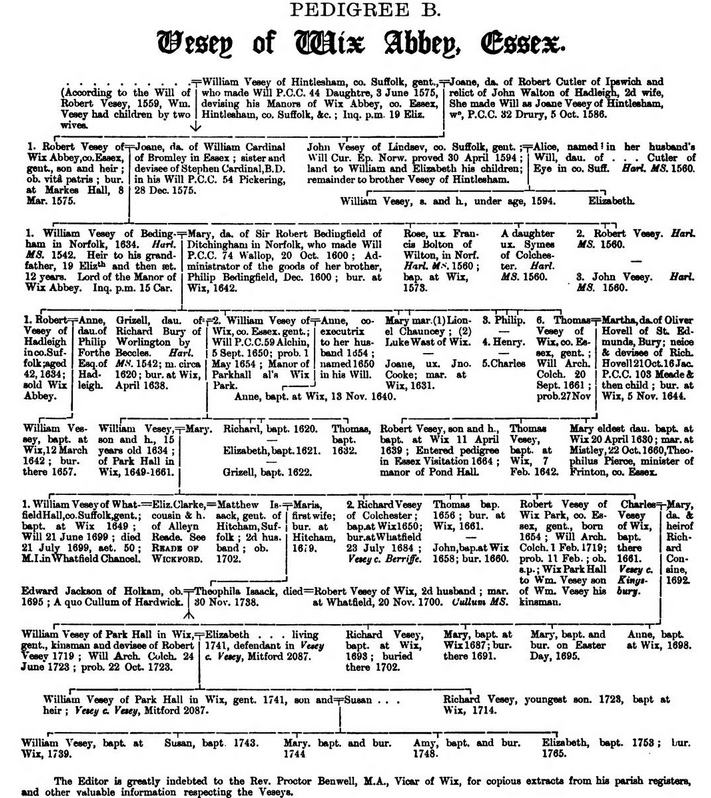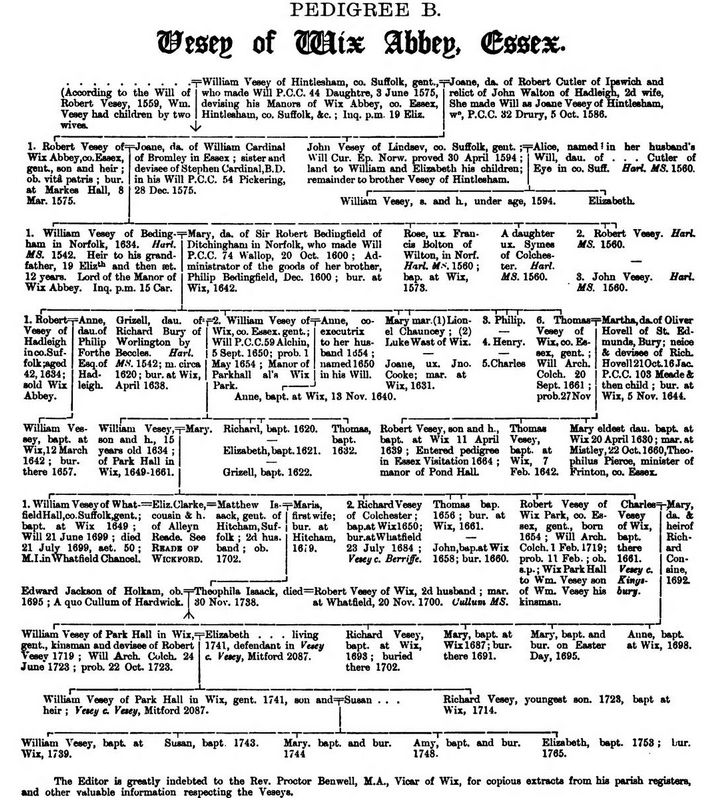 However, it doesn't give us the names of all of the children for whom there are baptisms in either Wix's registers or those in Norfolk, and there is no mention of the Sucklings. Considering that Christopher Suckling, Joan's son by Robert Suckling, is known in Burke's as "Christopher Suckling of Wix", he must have been quite close to his half-siblings from his mother's first marriage – perhaps. At least, he and his 'whole' brothers were close enough to involve themselves in a property dispute in Wix with the Veseys.
When William Vesey of Hintlesham wrote his will in 1575, a year after his son Robert's death, he mentions an agreement between himself and Joan made by Robert Gurdon and William Cardinall. This is significant because it's presumably Joan's brother, William Cardinall, but as her mother's maiden name was Gurdon, then Robert is perhaps an uncle or a cousin of Joan's. The agreement was to provide Joan with an income from certain parts of William's property, perhaps a settlement on her marriage, or perhaps arranged after her husband's death.
When Morant says that William and Robert Vesey bought the manor of Wix, I suspect it was a purchase made by Robert with his father, perhaps on his marriage.
Some of the Veseys appear in the Alumni Cantabrigiensis. Philip, son of William and Mary (Bedingfield), was admitted to Emmanuel College, Cambridge in 1612, and was ordained in 1625. He became the rector of Beaumont (before it was joined with Moze) in 1625. The parish register entries for Wix for 1629 are signed off by "Mr. Veasey, minister" – this could easily be Philip.
Footnotes

↑

1
Morant, History of Essex, vol. 1, pp. 469

↑

2
TNA ref: C 2/Eliz/U3/42

↑

3
Morant's descent of the manor needs to be handled with care, as he says Robert's son was William "He married Joanna daughter of William Cardinal of Great Bromley – William was his son and heir. He was succeeded by Robert, and he by William Vesey." I think this might be a little confused as it's implying that Robert's wife wasn't William Cardinall's daughter, but we know otherwise. It might also explain why there's an idea that Morant didn't identify the "M" of the "WVM" letters on the wall of Wix Abbey – anyone reading Morant would think it should've been WVJ, which is incorrect.

↑

4
ERO ref: Q/SR 267/43

↑

5
The Norfolk Visitation shows a third son of Robert and Joan, missing from other records of the family, called Thomas.

↑

6
Pedigree A on page 62 shows what happened to Robert's brother, William, and his descendants.