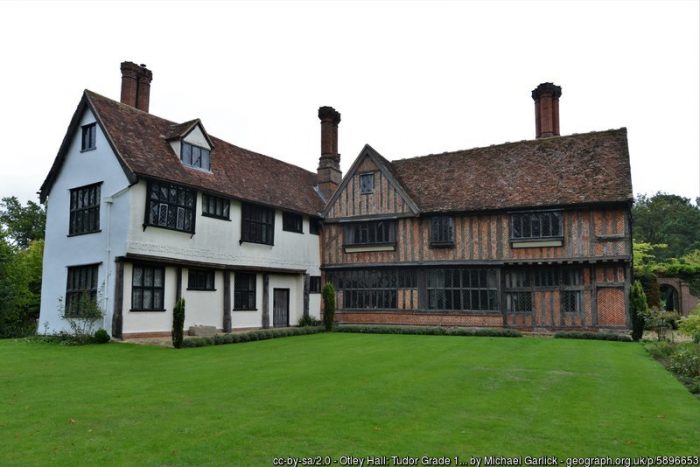 The Gosnolds
The Suffolk Visitation of 1561 for the Gosnold family tells us that a woman called Margaret Gosnold married William Cardinall of Wenham, and that her sister Alice was married three times: to Thomas Merrell of Whepstead, to Thomas Webbe of Dedham and to John Berriffe of Brightlighsea. Alice married John Berriffe sometime between about 1506 and 1515, and Margaret probably married William Cardinall not long before 1512.1)Based on their father, John Gosnold's will written and proved in 1512 not mentioning either sister – so they must've been married before he wrote the will. Thomas Webbe's will was proved in 1506. John Berriffe died in 1521, and according to the brass in All Saints, Brightlingsea, John and Alice had five children.
Alice and Margaret had three brothers – Robert, Edmund and William. Robert, the eldest, had at least five children by his first wife, Agnes Hill.2)According to the Suffolk Visitation, Robert I married Agnes daughter of John Hill of Ashe and had five children. His second wife was Anne Bacon (d 1578), widow of Thomas Bacon of Hessett (d. 1547), daughter of Richard Doggett. They didn't have any children Their daughter Katherine married Thomas Golding of Poslingford, their daughter Joan married Thomas' brother, John Golding of Walter Beauchamp and their daughter Christian married James Ryvett of Mendlesham.
Blennerhassett, Higham, Wingfield
Their eldest son, John Gosnold, married Katherine Blennerhassett.3)The family originated in the Cumbrian village of Blennerhassett. Katherine was the daughter of Sir Thomas Blennerhassett and his second wife Margaret Braham.4)The 1561 Suffolk Visitation says Sir Thomas' first wife was Jane Sutton, and they had three children: George, Edward and Jane. His second wife, Margaret, was the daughter of John Braham of Wetheringset, Suffolk. They had two sons called John and five daughters, with Katherine as their youngest. The eldest of Sir Thomas and Margaret's daughters, Elizabeth, married Lionel Lowthe. Lionel and Elizabeth's daughter Margaret married Francis Clopton of Melford Park in Suffolk – the Cloptons link with the Cardinalls via the marriage of Sir Simonds D'Ewes (1602-1650) to Ann Clopton in the early 1600s – Sir Simonds' sister Mary D'Ewes (1607-1653) married Sir Thomas Bowes, half-brother of Charles Cardinall (?-1624).
Margaret, the fourth daughter, married John Spilman, a judge, and their son, also called John, married Judith, daughter of Sir Clement Higham.5)The Blennerhassett visitation only says that John Spilman jnr married "a daughter of" Sir Clement Higham. Judith is named in the Suffolk Visitation for the Higham family of Barrow, her husband apparently John Spelman of Narborough in Norfolk. Judith's brother was John Higham (1533-1626), the father of another Clement Higham (d.1634). Clement married Anne Cardinall, (1563-?). Anne was the daughter of William Cardinall (1535-1598) and his wife Mary Wentworth – William's brother was Charles Cardinall (?-1624). And there was already a link with the Blennerhassetts and the Highams before John Spilman married Judith Higham, as Sir Thomas Blennerhassett's mother was Jane, daughter of Thomas Higham.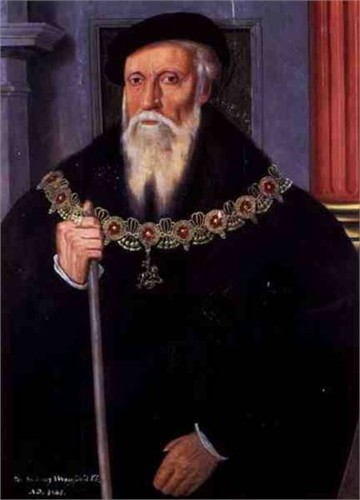 Katherine Blennerhassett and John Gosnold didn't have any children, and after John died in 1554 (making his brother Robert II his father's heir), she married Anthony Wingfield. Her father-in-law was Sir Anthony Wingfield (before 1488-1552), and her mother-in-law was Elizabeth Vere. Elizabeth's brother John was the 14th Earl of Oxford, and got into trouble with Henry VIII because when he was under the age of 14 and still a royal ward, he married Anne Howard. Anne's half-sister Elizabeth Howard married Thomas Boleyn – they were the parents of Anne Boleyn. And her half-brother Edmund was the father of Catherine Howard, Henry VIII's fifth queen. Catherine Howard's mother was Joyce Culpeper – there may be another connection to the Blennerhassetts there because Sir Thomas' granddaughter Mary (daughter of George, Sir Thomas' eldest son) married a Thomas Culpeper. This might be Joyce's brother, or another of the Thomas Culpepers in that family.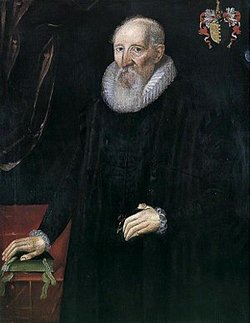 Anthony Wingfield, Katherine Blennerhassett's second husband, had a sister called Elizabeth, and she married William Naunton of Alderton in Suffolk. William and Elizabeth had five sons (their grandson Sir Robert Naunton (1563-1635) was a writer and politician), and two daughters. Their daughter Ursula married Robert Gosnold of Otley. This was Robert III – son of Robert Gosnold (d 1559) and Mary Vesey, grandson of Robert Gosnold (d1573) and Agnes Hill. So Ursula Naunton, niece of Anthony Wingfield and his wife Katherine Blennerhassett, married Katherine's nephew. Presumably it was that connection established on Ursula's mother's side between the Gosnolds and the Wingfields that led to Ursula Naunton marrying Robert Gosnold. They would become ancestors of Danny Dyer, but that's another story.
It looks possible that Robert and Ursula had a daughter called Ursula. The Suffolk Visitation for the Cutler family shows that Thomas Cutler of Sproughton's second wife was Ursula, daughter of Robert Gosnold of Otley. It seems Thomas wasn't her first husband, as a possible marriage for the couple in 1615 at Parham, Suffolk, less than 10 miles from Otley, is for Thomas Cutler and Ursula Pratt. Unfortunately, Otley's earliest register has been lost so it might be a completely different couple, but Visitations don't always record other marriages. Thomas' aunt, Joan Cutler (died 1586), married William Vesey of Hintlesham, and their son Robert married Joan Cardinall (died 1624). Joan was a daughter of William Cardinall (1509-1568).6)Joan's second husband was Robert Suckling, and they would become 4 x great-grandparents of Horatio Nelson.
Pyrton, Bode and Wingfield
Katherine and Anthony Wingfield had two daughters – Ursula and Margaret (this is another Ursula, not the one who married Robert Gosnold III!).7)This is according to the Blennerhassett visitation. In 1569, Margaret Pyrton, of Little Bentley, the widow of Sir William Pyrton, wrote her will.8)Other people mentioned in the will besides Margaret's children and their spouses: Nicholas Carter, John Pyrrye, Elizbeth Gynes, Elizabeth Clerke, Elizabeth Hunton, Mother Page. Witnesses: Edward Lloyd (a clerk), Anthonye Bishopp (perhaps a relative of Agnes Pyrton's husband), John Payne. After bequests to her children and her sons in law,9)Henry Weston was the husband of Parnell Pyrton and George Knightley was Catherine Pyrton's second husband. she left 5 shillings to Ursula Wynfeld. I think it's likely that this Ursula Wynfeld is the daughter of Anthony Wingfield and Katherine Blennerhassett. In 1573, Ursula Wingfield, "gent", married Henry Bode, "gent", at Little Bentley. Margaret Pyrton's will also mentioned Parnell Bode, who was Henry's sister. Henry and Parnell Bode's parents were Henry Bode senr and Elizabeth Bishop. And Elizabeth Bishop's mother was Agnes Pyrton – Sir William's sister. So in other words, Henry Bode jnr and his sister Parnell were great-nephew and great-niece of Margaret Pyrton.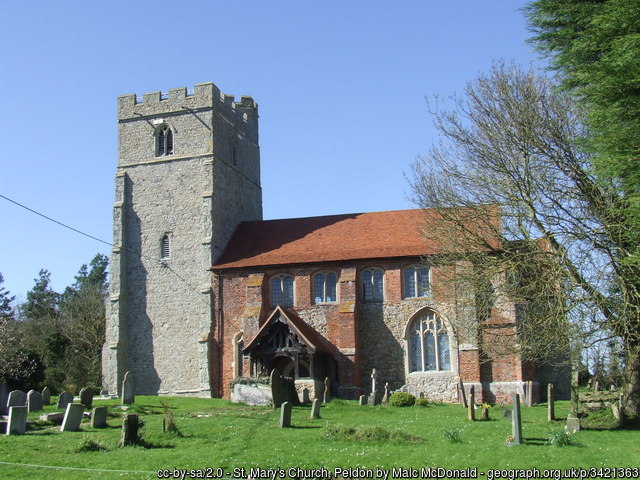 Margaret Pyrton left Mistress Taye, widow, a ring. A "Maistres Teey" is mentioned in the will of Elizabeth Darcy (née de Vere) too, leaving her "a litle wrethed ring" if she should die in Misstress Tey's house. This "Mistress Tey" may be the mother of William Tay who married Parnell Boade in Little Bentley in 1572. This is very likely to be the William Tey who was rector of Peldon from 1569-1594 (when he died), rector of Little Bentley for only a year, from 1573 to 1574,10)From the Clergy Database and rector of Rougham in Suffolk.11)From Tey's biography in Conferences and Combination Lectures in the Elizabethan Church: Dedham and Bury St Edmunds, 1582–1590, pp255-260. William's patron as rector of Peldon was his own mother, Constance Tey, "by grant from Edmund Pirton, armiger, of Little Bentley, Essex, executor of Robert Darcy of St Osyth (Chiche), Essex, who had grant from John Lord Darcy of Chiche." According to the 1558 Essex Visitation, William Tey was one of seven children of John Tey and his wife Constance, daughter of John Roberts.12)Margaret Pyrton's husband, William had an aunt called Margaret Pyrton, and the 1558 Visitation of Essex for the Pyrtons says she was the wife of William Roberts of Little Braxted in Essex. This may mean the Pyrtons were related to the Teys via the Robertses. There are Robertses who link in with the Strangmans and the Darcys as well, but I haven't researched this in detail yet. The family were from Layer-de-la-Haye, which might explain why the Teys were patrons of neighbouring Peldon. It's tempting to wonder if Constance Darcy was named after Constance Tey. Further up the Tey tree from William, we see a Robert Tey whose wife's second husband was John Nanton – he might be from the same family as the Nauntons mentioned above. William Tey was involved in the Dedham classis so would have known William Cardinall (c.1535-1598).13)The biographical section of Conferences and Combination Lectures includes several mentions of William Cardinall. It says that he was the brother-in-law of Edmund Chapman, the minister at Dedham who he mentions in his will as "my friend". It assumes that Edmund's wife Susan was "Susan Cardinall". But I cannot find any evidence of a sister called Susan Cardinall in any visitations or documents. I have seen it mentioned before that Edmund was William's "brother-in-law" but I find it very unlikely that he was. Whenever he is mentioned as his brother-in-law, there's no accompanying evidence for it, so I can't work out where this idea has come from. It seems as if it's a guess or misreading by someone that has been endlessly repeated. If he was married to William's sister, it's likely the will would refer to Edmund as his brother-in-law, not his just his friend.
The will of William Cardinall of Great Wenham, written in 1543 and proved in 1551, mentions Robert Body (possibly Sir Robert, it was hard to read!) as a witness. The Bode surname is also written sometimes Boade and Boode, and I wonder if Robert Body could be connected to Henry and Parnell Bode somehow.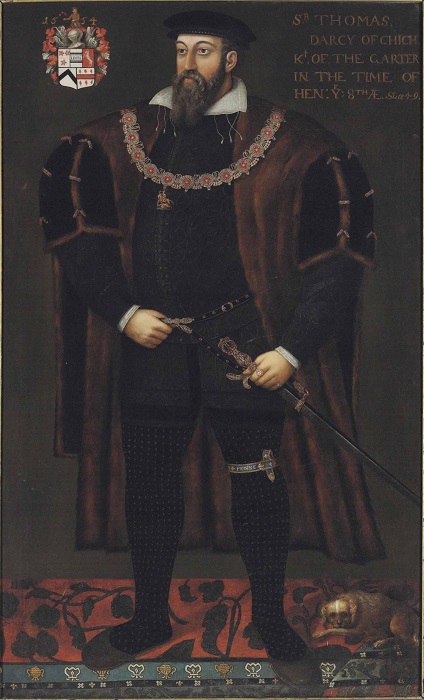 Edmund Pyrton – Sir William and Margaret Pyrton's son – had married Constance Darcy, a daughter of Thomas Darcy and Elizabeth de Vere.14)In 1561, Edmund and Constance had a son called William. In 1593, William named his son Kitson Pyrton. This name appears to come from the surname of Mary Kitson, who married William's first cousin, Thomas, 3rd Baron Darcy of Chiche (who would also become Viscount Colchester and Earl Rivers), grandson of Thomas Darcy, 1st Baron, and his wife Elizabeth de Vere. Elizabeth de Vere was the daughter of John de Vere, 15th Earl of Oxford. He had inherited his title on the death of the abovementioned John de Vere, 14th Earl of Oxford, brother of Elizabeth Vere who married Anthony Wingfield. Elizabeth died on 26 December 1565 in the house of Edmund and Constance. She was buried at the church in Little Bentley, although her will asked that she be buried at St Osyth beside her husband.15)It's possible that the burial was recorded in the Little Bentley register even if it didn't take place there, but there's no note to indicate that the burial had taken place elsewhere. The register for St Osyth covering this period has been lost so we don't know if she was buried there as well, unless a memorial inscription remains somewhere that would tell us.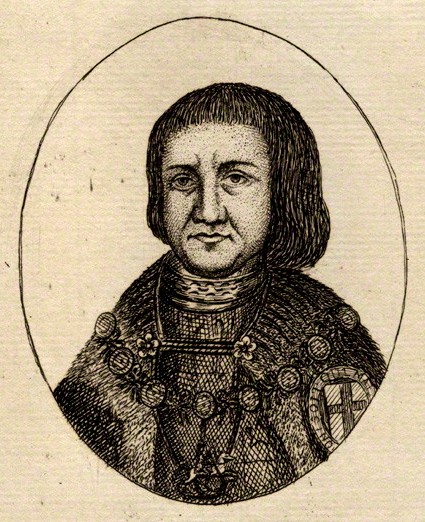 Knightley, Pyrton, Wingfield, Vere
Sir William and Margaret Pyrton's daughter Katherine married George Knightley. There is a direct connection here to the Cardinalls, as George's sister Lettice married William Cardinall (1509-1568) – this is the William Cardinall who might be Margaret Gosnold's son. So the Cardinalls were in-laws of the Pyrtons.
But the Knightleys link up with the de Veres as well, bringing us back to the Wingfields again. Edmund Knightley, a cousin of George and Lettice,16)Note George and Lettice four sisters: Winifred, Elizabeth, Audrey and Katherine. married Ursula de Vere, sister of Elizabeth and John. Heading up the Knightley tree from George and Lettice, we meet their great-grandparents, Richard Knightley of Fawsley, Northamptonshire, and Elizabeth Purefoy. George and Lettice are descended from their second son, John, whereas Edmund Knightley is descended from their eldest son, Sir Richard Knightley of Fawsley and his wife Eleanor Throckmorton. Their son, another Richard Knightley, had several sons – his third, born by 1491, was Edmund Knightley, a politician. Edmund's sister, Susan, married Sir William Spencer (c1496-1532) of Althorp in Northamptonshire, and in about 1522, Edmund's brother Richard married Sir William's sister, Jane Spencer. Sir William and Jane were the children of Sir John Spencer and his wife Isabella.17)Information from the Essex Visitation and History of Parliament.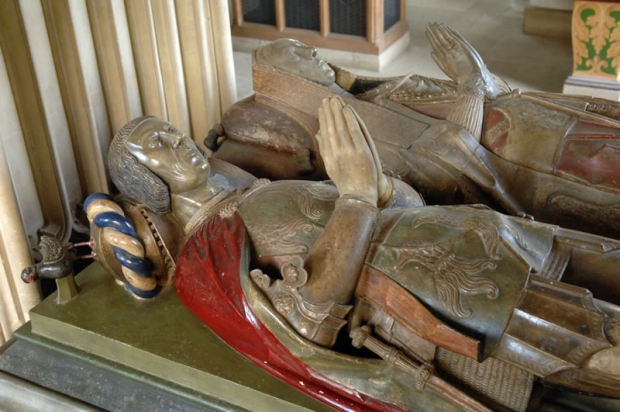 The Spencers of Althorp are a famous family, with descendants include Diana, Princess of Wales, and Winston Churchill. However, the matches between the Spencer and Knightley families didn't go according to plan. Family feuds ensued. Sir William fell out of with the Knightleys, and in about 1529, Edmund, his brother Richard, and Sir Anthony Wingfield (Edmund's brother-in-law, who you may recall had married Elizabeth de Vere, Ursula's sister) were assaulted in Cheapside. Sir William Spencer died in 1532, and Susan alleged that he had died in debt, so she and her brothers defrauded her husbands trustees of certain moveables, as well as defrauding the King of the wardship of Sir William Spencer's heir. Upsetting the king wasn't a good idea, and Knightley ended up in the Fleet prison for several weeks, but he used his connections to get out. Once Edmund's brother Richard died, his widow Jane married Robert Stafford (Ursula and Elizabeth de Vere were the daughters of George de Vere and his wife Margaret Stafford, who was presumably a relative of Jane's new husband).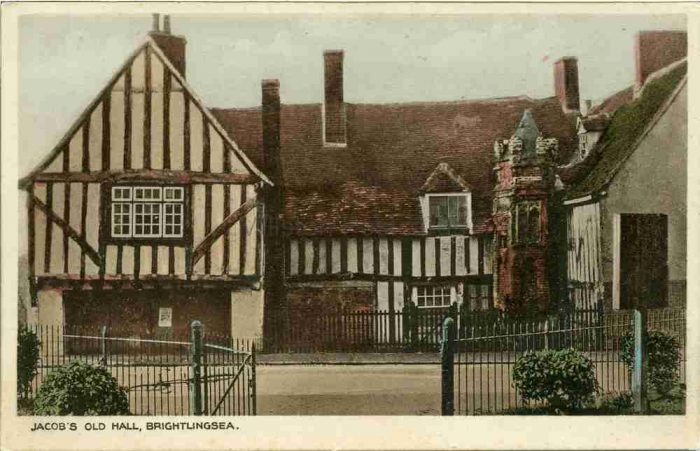 Pyrton, Beriffe, Clare
As mentioned, Katherine Pyrton married George Knightley. They didn't have any children. However, her first husband was John Clare (abt 1523-1564) of Thorrington in Essex. His father and his ancestors before him were the St Clares – or Sinclairs, St Cleres, etc. John Clare inherited St Clere's Hall in St Osyth, which still stands today.18)John Clare passed the manor by fine in 1555 to John Gason, and not long afterwards, it came into the Darcy family. According to brass at the church in Tolleshunt Darcy commemorates "Thomas Darce of Langbrooks in Toulshunt Darce, the yongest son of Brian Darce of Sincklers Hall in St Osithes." Thomas died in 1624. Brian Darcy's daughter Mary would marry John Clare's nephew, Sir Thomas Eden. A brass at the church in Thorrington shows that John had had two wives – his first was Joan, by whom he had no children, and his second was Katherine. They had five children: John, Edmund, two daughters called Margaret, and Elizabeth.
Elizabeth Clare, John and Catherine's daughter, married Owen Rowse, son of Reginald Rowse, in Thorrington in 1579. This gives us yet another family link, because by then, Elizabeth's mother was married to George Knightley, and George's sister Catherine had married Reginald Rowse of Badingham in Suffolk. So it seems Elizabeth Clare married her stepfather's nephew, or at least a member of her stepfather's extended family. Note that the Suffolk Visitation mentions Reginald Rowse of Badingham, but not his marriage to Catherine Knightley (that can be found in the Knightley tree in the Essex Visitation). It may be a different Reginald Rowse in the Suffolk Visitation, which happens to record the marriage of one of the Rowses to Agnes Blennerhassett. It also records the marriage of Thomas Rowse of Dennington to Anne, daughter of Sir Nicholas Hare – the Knightley's mother, Anne Hare, was (according to the Essex Visitation) the sister of Sir Nicholas Hare, perhaps the same man.19)The Essex Visitation says Anne was the daughter of Thomas Hare and the sister of Sir Nicholas. However, other records say that Sir Nicholas' father was John Hare. The 1521 will of Dr Thomas Hare of Homerfield, Suffolk, mentions his nephew Nicholas Hare, as well as a John Hare. Unfortunately it's in Latin – it looks as if it's saying John is Nicholas' father, so perhaps Sir Nicholas was in fact Anne's cousin rather than brother? Owen Rowse is not mentioned in the Essex or Suffolk Visitations, but Thorrington's parish register has recorded the marriage as being that of "Mr Owen Rowse son of Mr Renold Rouse". Owen and Elizabeth had at least two children – Constance and Reginald. And Edmund Clare named his son Knightley, in honour of his stepfather – bearing in mind Edmund was only one when his father died, presumably George Knightley, who had no children of his own, took on the Clare children.20)Edmund initially lived in Thorrington, where his children Constance and Knightley were baptised, then he appears in Elmstead, where his first wife Dorothy was buried in 1601, and his second wife Avis was buried ten years later.
It's interesting to note that an Anthonie Bishopp witnessed John Clare's will, written and proved in 1564, and someone by the same name witnessed Margaret Pyrton's not many years later. He also left money to his "cousin Bishoppe", which might be the same person. John also mentioned his sister Anne who lived in London, and her son Robert Holderns. He had another sister, Elizabeth, who married Sir Thomas Eden of Bullingdon Hall in Essex. Sir Thomas and Elizabeth's son (another Sir Thomas) married Mary, daughter of Brian Darcy of St Osyth, so the families overlap again. Sir Thomas jnr and Mary's eldest son was called St Clere Eden. The Suffolk Visitation of 1561 for the Candyshe (Cavendish) alias Garnon family of Grimston Hall in Trimley St Martin states that Margaret, daughter of Richard Candyshe and his wife Beatrice Gold, married John St Clere of Essex. This might make her the mother or step-mother of John Clare, although her sister Mary married Thomas Felton of Playford, Suffolk, in 1547, so it could make her a wife of John Clare as he was 24 years old when Margaret's sister married.
It's at this point that the Beriffe family make another appearance, as John Clare's first wife, Joan, had previously been married to a Beriffe, but I can't work out which one. His will leaves to John, son of the late John Beriffe of Colchester, property in Elmstead, according to a grant made between John Beriffe senior and John Clare's late wife, grandmother of John jnr.21)I've modernised the spelling. The relevant part his will says, "Item: I give to John Berife the son of John Beriffe late of Colchester deceased all such interest, claim, title and rights as I now have or mine heirs after me by any means of right ought to have of and in such lands and tenements are set lying and being in Elmstead according to the grant made thereof to John Berief father of the aforesaid John Berief by his grandmother my late wife deceased to him and to his heirs as by a deed of the same more at large may and doth appear excepting and refering only the fell of one wood called Wiseman's Heaths to be felled within five years next ensuing. Item: Also I do give to the said John Berief all such watinges (weightings?) and evidences as are appertaining to the same and now being in my custody and keeping." PPC will of John Clare of Thorrington, 1564. He left William Beriffe of Brightlingsea – "my son" (by which he presumably means his stepson) a double ducat.
Wiseman's and some other property in Elmstead (Fennes, Adams, Picards and Frances) are mentioned in the 1578 will of William Beriffe of Brightlingsea. According to the brass in All Saints, Brightlingsea, William was the son of John Beriffe of Jacobs, who died in 1542. John's parents were John (died 1521) and his wife Alice Gosnold (died 1536). But it doesn't look as if Joan, who married John Clare, can have been the widow of John who died in 1542, as the wife mentioned in his will was Margaret. Then again, from the Caundish/Cavendish alias Garnon entry in the Suffolk Visitation, we know that Margaret, daughter of Richard Candyshe, married a John St Clere of Essex. Although the brass rubbing reproduced in Lack, Stuchfield and Whittemore's book shows John Clare having a first wife Joan and a second wife Katherine, perhaps there had been another wife, Margaret, before Katherine, and she is the woman who had previously been married to Beriffe.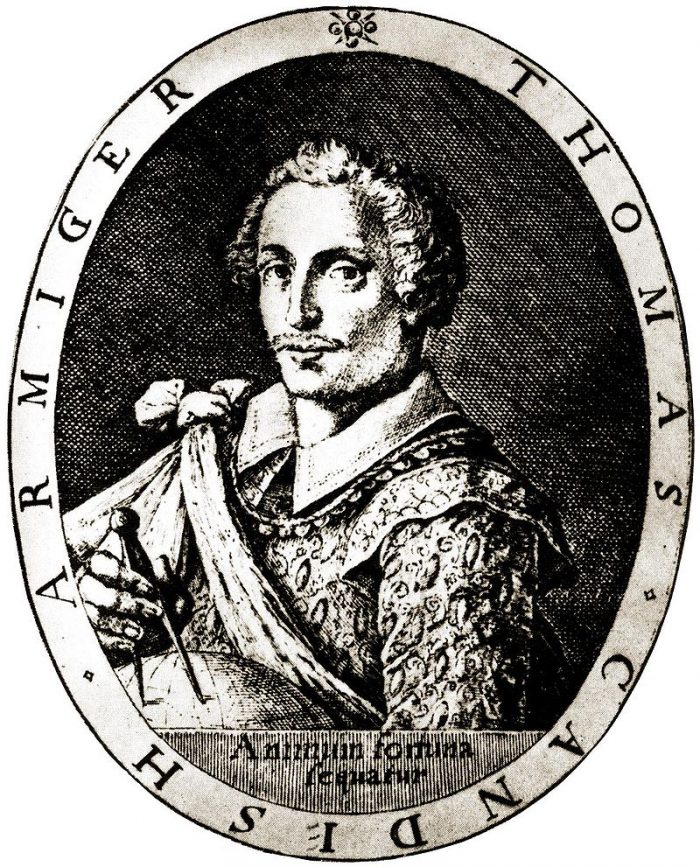 When Margaret's brother William Candyshe of Grimston Hall wrote his will in 1572, he made Sir Robert Winckfeilde his supervisor. William's wife was Mary, daughter of Lord Thomas Wentworth of Nettlestead, Suffolk, and according to the 1561 Suffolk Visitation, one of Mary's sisters had married Sir Robert Wingfield of Letheringham.22)The Wentworth entry says this was Jane whereas the Wingfield entry says it was Cecily. Therefore, he made his brother-in-law his supervisor. William and Mary's eldest son, Thomas Cavendish (1560-1592), was known as "The Navigator" – he went off adventuring across the seas, intending to return by circumnavigating the globe, but never came back. Sir Robert Wingfield was the son of Sir Anthony Wingfield and his wife Elizabeth de Vere, mentioned above.
That said, John Clare does appear in some of the Beriffe's wills. There's a John Clare, servant of John Beriffe, mentioned in the 1542 will (unfortunately the corner of the page is torn so the name of Clare's wife has been lost, but should appear on the registered copy). It depends if we think the two John Clares are one and the same, but John Clare seems rather too grand a person to have been a servant. Then in the 1563 will of Thomas Beriff, yeoman of Brightlingsea, John Clare, gentleman, is left a rose noble and a book, and Edmund Pyrton received a bequest in the same will (by this point, John Clare had presumably married Catherine Pyrton, Edmund's sister). John Clare and Edmund Pyrton seem to have been among Thomas Beriff's most trusted friends, if not relations – he made his widow, Ellen, his sole executrix and that stated that if she was to marry again, she and her husband would need to enter a surety with Clare, Pyrton and other men who were relatives of his. I am yet to untangle this, and may never be able to as the earliest Brightlingsea parish register is lost – working out the Beriffe family tree is very difficult, and perhaps impossible.
Pyrton, Latham
It wasn't until 1664 that John Cardinall (1627-1691, great-grandson of William Cardinall and Lettice Knightley) married Susan Latham. I have tried to identify Susan elsewhere, but there's an interesting link much earlier.
As mentioned, Catherine Pyrton's second husband was George Knightley, Lettice's brother. Catherine's niece Elizabeth, daughter of Edmund Pyrton and Constance Darcy, was born in 1565, not long before the death of her grandmother, Elizabeth Darcy (née de Vere). The Pyrtons moved Little Bentley and Elmstead, and it was in Elmstead in 1586 that Elizabeth Pyrton married Anthony Browne of Weald Hall. Anthony died 1623, when Elizabeth was 58, and two years later, she became the first wife of Peter Latham of South Weald, who was, it appears, 21 years her junior.
Peter's great-grandparents were the grandparents of William Latham (died 1614), who married Alice d'Ewes. And William and Alice were the grandparents of a woman called Susan Latham, who is a contender to be John Cardinall's wife. Interestingly, the mother of William Latham was Amica (or Anna) Strangman, and the sister of Amica's grandfather John Strangman, a woman called Anne, married Henry Boade of Rayleigh. Henry and Anne Boade were the paternal grandparents of Henry and Parnell Boade who appear in Margaret Pyrton's will.
A tiny fraction of two million
Ultimately, it's not really surprising that the families all link in as they do. The population of England in 1500 was about two million, or in other words, under a quarter the number of people living in London today, or Birmingham's modern population plus Glasgow and Edinburgh's. The gentry in an area like East Anglia would have known each other and would have been related several times over, as this research here shows. But the very fact that all these links exist is extremely interesting, and it shows that if you're stuck on part of your tree, it pays to research the other names around it. Eventually, these intertwined early modern relationship networks may well bear fruit.
| | | |
| --- | --- | --- |
| 1. | ↑ | Based on their father, John Gosnold's will written and proved in 1512 not mentioning either sister – so they must've been married before he wrote the will. Thomas Webbe's will was proved in 1506. John Berriffe died in 1521, and according to the brass in All Saints, Brightlingsea, John and Alice had five children. |
| 2. | ↑ | According to the Suffolk Visitation, Robert I married Agnes daughter of John Hill of Ashe and had five children. His second wife was Anne Bacon (d 1578), widow of Thomas Bacon of Hessett (d. 1547), daughter of Richard Doggett. They didn't have any children |
| 3. | ↑ | The family originated in the Cumbrian village of Blennerhassett. |
| 4. | ↑ | The 1561 Suffolk Visitation says Sir Thomas' first wife was Jane Sutton, and they had three children: George, Edward and Jane. His second wife, Margaret, was the daughter of John Braham of Wetheringset, Suffolk. They had two sons called John and five daughters, with Katherine as their youngest. |
| 5. | ↑ | The Blennerhassett visitation only says that John Spilman jnr married "a daughter of" Sir Clement Higham. Judith is named in the Suffolk Visitation for the Higham family of Barrow, her husband apparently John Spelman of Narborough in Norfolk. |
| 6. | ↑ | Joan's second husband was Robert Suckling, and they would become 4 x great-grandparents of Horatio Nelson. |
| 7. | ↑ | This is according to the Blennerhassett visitation. |
| 8. | ↑ | Other people mentioned in the will besides Margaret's children and their spouses: Nicholas Carter, John Pyrrye, Elizbeth Gynes, Elizabeth Clerke, Elizabeth Hunton, Mother Page. Witnesses: Edward Lloyd (a clerk), Anthonye Bishopp (perhaps a relative of Agnes Pyrton's husband), John Payne. |
| 9. | ↑ | Henry Weston was the husband of Parnell Pyrton and George Knightley was Catherine Pyrton's second husband. |
| 10. | ↑ | From the Clergy Database |
| 11. | ↑ | From Tey's biography in Conferences and Combination Lectures in the Elizabethan Church: Dedham and Bury St Edmunds, 1582–1590, pp255-260. |
| 12. | ↑ | Margaret Pyrton's husband, William had an aunt called Margaret Pyrton, and the 1558 Visitation of Essex for the Pyrtons says she was the wife of William Roberts of Little Braxted in Essex. This may mean the Pyrtons were related to the Teys via the Robertses. There are Robertses who link in with the Strangmans and the Darcys as well, but I haven't researched this in detail yet. |
| 13. | ↑ | The biographical section of Conferences and Combination Lectures includes several mentions of William Cardinall. It says that he was the brother-in-law of Edmund Chapman, the minister at Dedham who he mentions in his will as "my friend". It assumes that Edmund's wife Susan was "Susan Cardinall". But I cannot find any evidence of a sister called Susan Cardinall in any visitations or documents. I have seen it mentioned before that Edmund was William's "brother-in-law" but I find it very unlikely that he was. Whenever he is mentioned as his brother-in-law, there's no accompanying evidence for it, so I can't work out where this idea has come from. It seems as if it's a guess or misreading by someone that has been endlessly repeated. If he was married to William's sister, it's likely the will would refer to Edmund as his brother-in-law, not his just his friend. |
| 14. | ↑ | In 1561, Edmund and Constance had a son called William. In 1593, William named his son Kitson Pyrton. This name appears to come from the surname of Mary Kitson, who married William's first cousin, Thomas, 3rd Baron Darcy of Chiche (who would also become Viscount Colchester and Earl Rivers), grandson of Thomas Darcy, 1st Baron, and his wife Elizabeth de Vere. |
| 15. | ↑ | It's possible that the burial was recorded in the Little Bentley register even if it didn't take place there, but there's no note to indicate that the burial had taken place elsewhere. The register for St Osyth covering this period has been lost so we don't know if she was buried there as well, unless a memorial inscription remains somewhere that would tell us. |
| 16. | ↑ | Note George and Lettice four sisters: Winifred, Elizabeth, Audrey and Katherine. |
| 17. | ↑ | Information from the Essex Visitation and History of Parliament. |
| 18. | ↑ | John Clare passed the manor by fine in 1555 to John Gason, and not long afterwards, it came into the Darcy family. According to brass at the church in Tolleshunt Darcy commemorates "Thomas Darce of Langbrooks in Toulshunt Darce, the yongest son of Brian Darce of Sincklers Hall in St Osithes." Thomas died in 1624. Brian Darcy's daughter Mary would marry John Clare's nephew, Sir Thomas Eden. |
| 19. | ↑ | The Essex Visitation says Anne was the daughter of Thomas Hare and the sister of Sir Nicholas. However, other records say that Sir Nicholas' father was John Hare. The 1521 will of Dr Thomas Hare of Homerfield, Suffolk, mentions his nephew Nicholas Hare, as well as a John Hare. Unfortunately it's in Latin – it looks as if it's saying John is Nicholas' father, so perhaps Sir Nicholas was in fact Anne's cousin rather than brother? |
| 20. | ↑ | Edmund initially lived in Thorrington, where his children Constance and Knightley were baptised, then he appears in Elmstead, where his first wife Dorothy was buried in 1601, and his second wife Avis was buried ten years later. |
| 21. | ↑ | I've modernised the spelling. The relevant part his will says, "Item: I give to John Berife the son of John Beriffe late of Colchester deceased all such interest, claim, title and rights as I now have or mine heirs after me by any means of right ought to have of and in such lands and tenements are set lying and being in Elmstead according to the grant made thereof to John Berief father of the aforesaid John Berief by his grandmother my late wife deceased to him and to his heirs as by a deed of the same more at large may and doth appear excepting and refering only the fell of one wood called Wiseman's Heaths to be felled within five years next ensuing. Item: Also I do give to the said John Berief all such watinges (weightings?) and evidences as are appertaining to the same and now being in my custody and keeping." PPC will of John Clare of Thorrington, 1564. |
| 22. | ↑ | The Wentworth entry says this was Jane whereas the Wingfield entry says it was Cecily. |