→

→

→

Naming an unknown soldier
After my grandma went to an old people's home, my aunt found several envelopes of photographs. She stuck them all into an album, and I call this now "Grandma's Album". Many of the old photos on this site come from that very collection.
Most of the photos have been identified by my grandma (with the help of my very patient stepmum), which means I can put faces to many of the names I have researched. However, out of this collection, there's one person who doesn't have a name: this First World War soldier.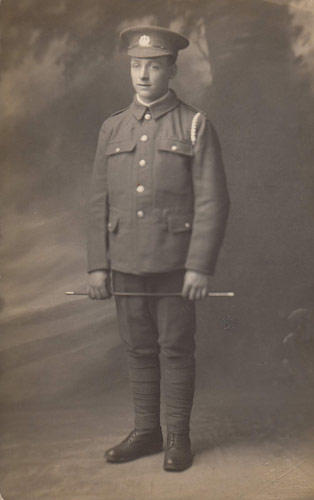 When I looked on the back to see if Grandma had written his name, I found this: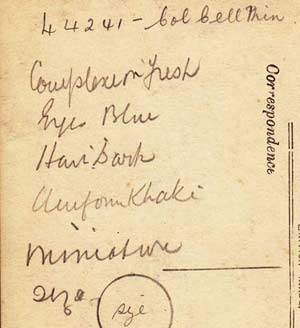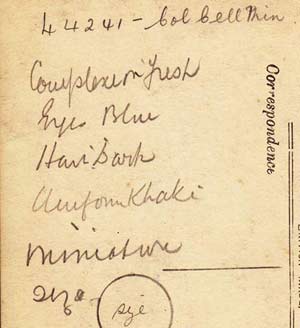 Is 44241 an Army registration number? But what does "Col Cell Thin" mean? Is 'Col' short for 'colour', 'colonel', 'collect' or 'Colchester'? The notes about appearance are what you see on military attestation papers. "Miniature" – well, it's printed as a postcard, so presumably it's a smaller version of a full portrait-sized photograph.
But who was he? Well, the fact he appears in Grandma's album suggests to me that he's likely to be one of the Field siblings from Brightlingsea, Essex – one of my great-grandma's brothers. She had four: Harry George (1892-1970), William James (1894-1982?), Ernest Baden Powell[1]I don't know why he was called this! (1900-1953) and Charles Edward (1902-1990). It's unlikely the soldier is Ernest or Charles, as they were too young (although that said, my great-grandfather on my mother's side went into the Army aged 14 in 1915, so I can't discount it, especially as the Unnamed Soldier does look rather young).
I knew, however, that it wasn't Harry, because my Grandma had identified him as the subject of this photo:
Harry is a bit of a legend in my family, because he was a professional yachtsman who sailed on "Shamrock" (belonging to Sir Thomas Lipton of Lipton's tea) and "Britannia" (owned by Edward VII and George V). These weren't the only yachts he crewed on – the skippers were infamous for tempting crew off other boats with higher pay, and the sailors happily went where they were paid the best. Harry, whose wife was blind, lost an eye himself in an incident on board the "Britannia" – the story was that he was on deck, trod on a broom, and it sprang up and knocked out his eye. I contacted the Classic Boat Museum, and they told me that John Jeffries' book Sacred to their Memory states:
Harry lost his eye during bad weather when the masthead-man mistakenly dropped a marlin spike which took Harry's eye out 'on to the deck'! It also mentions Harry's wife Rosie, who was blind, but they were happy that they 'had one eye between them'.
Somehow losing an eye from a dropped spike seems far worse than losing it by standing on a broom…. The last racing flag of "Britannia" hangs on the wall of Wivenhoe Sailing Club to commemorate the many yachtsmen produced by the towns and villages along the Colne – they were sought as some of the best in the country. In fact, Olympic-winning sailors have come from this area: Reg White and John Osborne (who won gold at the 1972 Olympics: Reg crewed with my uncle at one point) and Saskia Clark (who won silver at the 2012 Olympics and was in my class at school) – there must be something in the water, besides mud.
Merchant seamen were automatically co-opted into the Royal Navy when war broke out, hence Harry's uniform. Although that said, I haven't found him yet in the merchant seaman records – I'm not entirely sure if yachtsmen had to register, so it might just be that when the yachts stopped racing for the duration of the war, Harry went into the Navy voluntarily. It's a little bit blurry, but you can see HMS Pembroke on Harry's hatband:
The reverse of Harry's photo is similar to that of the soldier's. It says:
44242. Col Cell. Complexion fresh Geo? Hair Medium. Naval uniform. Printed: "Stickybacks" 129 High St Chatham, 80 High St Sheerness. Managing Director N. Mason.
Chatham is significant, because HMS Pembroke – as well as being the name of several ships and even the code name for Bletchley Park during WW2 – was the shore barracks at Chatham. So although I am yet to find Harry's military record, it does mean we know where he spent at least part of WW1. It's interesting to compare his photo to that of some other HMS Pembroke sailors, who visited the same studio – you can see the same chair!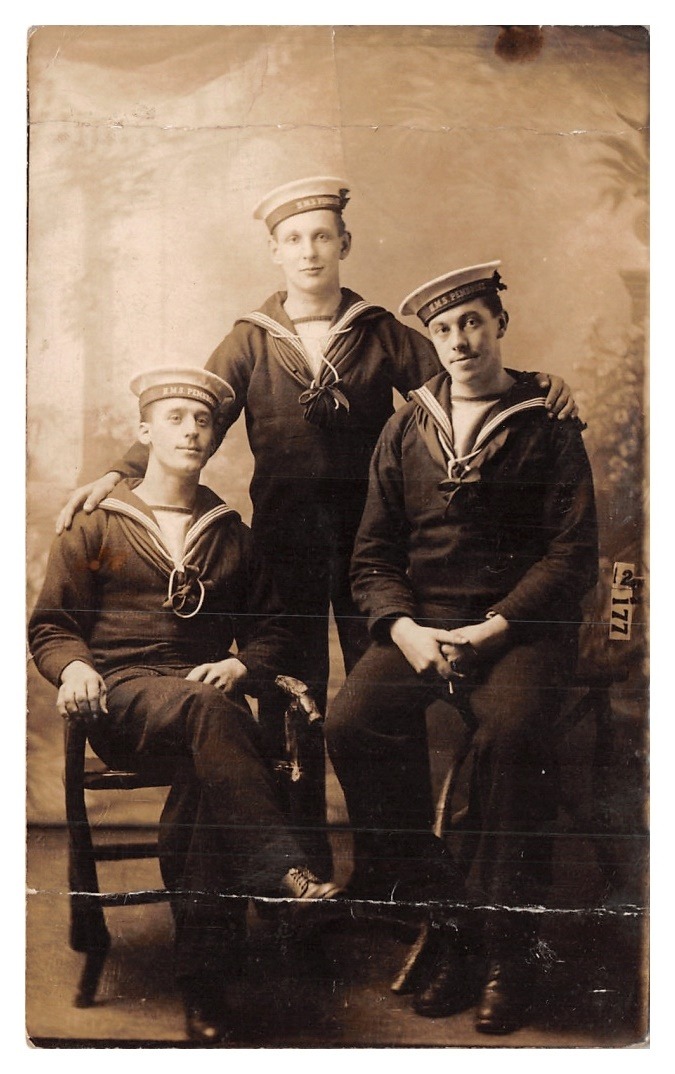 The fact that the soldier's photo has 44241 on the back, and Harry's has 44242 made me wonder if they were copies made by either their mother or my great-grandmother, but it certainly links the two photographs.
I looked at the photos of the Field siblings to see if I could find a resemblance between the soldier and one of the brothers. Fortunately for my purposes, the Fields conveniently posed in just the best way to help me:

Grandma identified the chaps as (left to right) Harry, Bill, Ernest and Charlie (for completeness, the ladies are Lily, Emily, Amy (my great-grandmother) and Maggie). I think, if we're just looking at resemblance, that Bill most closely resembles the soldier. That's all well and good, but is there any concrete evidence that it is, definitely, Bill? Are there any clues in the photo or in the paper record that could help us? What about his uniform, for instance?
I tried zooming in on the cap badge, but it's caught the light, so it's hard to see without scanning at a higher res than 300dpi – and I am in Birmingham, while the original is in Essex, so that's not going to happen at the moment!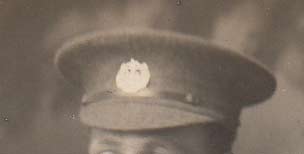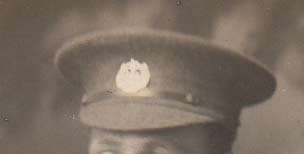 I searched the British Newspaper Archive via Find My Past for "field" and "brightlingsea" during the years of WW1, and found one hit that referred to a serviceman, from the Chelmsford Chronicle on 16th November 1916.


There, among the wounded of the Essex Regiment, was W. Field of Brightlingsea. Field is not a particularly uncommon surname in that town – the Field siblings had three uncles in the town, all of whom had children, plus their father had cousins in the town as well. However, there were only two W. Fields in Brightlingsea at the time who were about the age to be in the Army – William James Field, and Walter Field. But Walter was in his 40s, so to be honest, is unlikely to have been in the Army.
So to the records. As you probably know, by a rather sad irony, most WW1 serviceman records were destroyed during the Blitz. Searching for William James Field yields no records which would have given details such as place and date of birth and next of kin. However, there are medal cards. Peter Layzell, who runs several local history Essex websites, including a site about the Essex Regiment and Militia, went for a rummage through the medal cards on Find My Past, and came up with one for William J Field, who served as a private in the Essex Regiment and the Royal Engineers during WW1. There isn't enough information on the medal card to say definitively that the soldier is Uncle Bill, but it is very suggestive. Peter also pointed out that the soldier appears to be wearing a scarf around his neck, which is rather unusual, and that his swagger stick was more the preserve of officers rather than privates (Blackadder has one; Baldrick does not).
Peter also explained that at the time W. Field was wounded, the 2nd, 10th and 13th Battalions of the Essex Regiment were involved in a major battle at Ancre on the Somme – so he might have received his wound there.
Peter suggested I contact the Essex Regiment Museum in Chelmsford, and Ian Hook replied, saying:
Your photograph certainly depicts a soldier of the Essex Regiment, in the Economy Pattern Service Dress, that is the jacket made without pleats in the pockets and rifle patches on the shoulders in order to save both cloth and production processes.
So another piece of evidence falls into place – this photo looks like a younger version of Uncle Bill, we know that a William J Field was in the Essex Regiment, and that a W Field of Brightlingsea was also in the Essex Regiment – so are they one and the same man?
Ian also pointed out that there's a photographer's stamp in the bottom-right hand corner of the photo. I enlarged this and changed the contrast settings: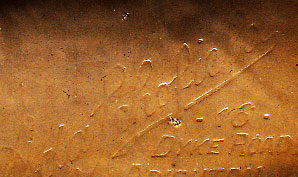 The photographer's name is *da Schofield of 16 Dyke Road, in… can't quite read the place. However, a quick Google told me that Ada Schofield ran a photography business at 16 Dyke Road in Brighton, so this means we can identify a man in Essex Regiment uniform, having his photo taken in Brighton! And what does that mean?
Well, it could be that Bill was visiting family – his mother was born in Steyning in West Sussex. But why did he take his uniform on a visit? Peter told me that the 11th Battalion of the Essex Regiment was the only one to have trained at Brighton (amongst other places), before going to France, so this detail, of the soldier in Essex Regiment uniform being photographed in Brighton may well indicate that he was in the 11th Battalion. And as they were in Brighton from January to March 1915, this information even gives us a three-month period in which the photograph could have been taken.
So I think there's enough evidence here to say that the soldier is William James Field – my Grandma's Uncle Bill – and that he served in the Essex Regiment during WW1, was possibly in the 11th battalion, and was wounded. And after he recovered from his wound (which isn't necessarily from a bullet or a shell, but illness) he transferred into the Royal Artillery.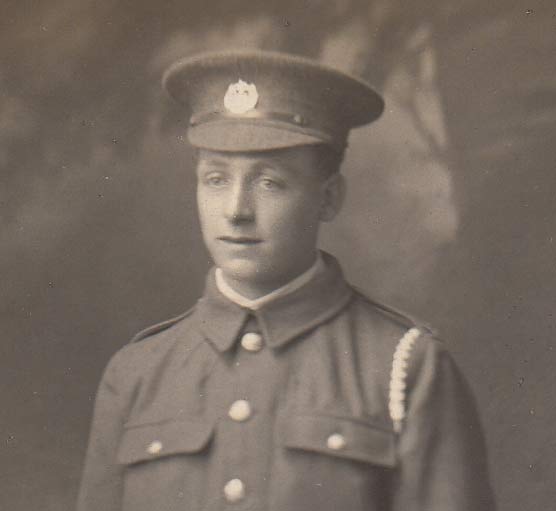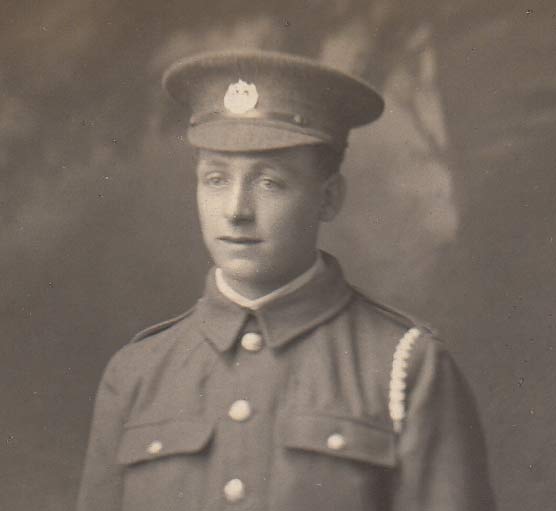 Any more than that, I don't unfortunately know, apart from him appearing in the electoral roll for Brightlingsea in 1918, living with Margaret Field (possibly his sister, Maggie) – but he's gone by the time of the 1929 roll. Perhaps when the 1939 Register and the 1921 census are released, I might be able to find out a little bit more about Uncle Bill. I haven't found a marriage for him,[2]There are plenty of William J Field grooms in the BMD index, even some who married a Margaret, but none in Essex, although there are some in London and Kent which might be possibles. Of course, he … Continue reading and there's a William James Field who died in the Colchester district in 1982, born "about 1893" which could be him. His father, Henry William Field, didn't leave a will when he died in 1941, but there are letters of administration (leaving only £18!). I'm not hopeful it will shed much more light on Bill. But even though his story peters out for now, I'm glad we've named the unknown soldier.
Many thanks to Peter Layzell and Ian Hook for their help.
Update: June 2016
After writing this, I was contacted by Roger Appleby, who is a relative of the Fields. Some of his family ran a photography studio, so he was able to decipher the writing on the back. It's directions to a photographer to colour tint the skin, hair, eye and uniform.
I did some research on Bill, and found out that he got married in 1919 in Nottingham, to a Gertrude Dilks. And it was indeed Uncle Bill who died in 1982 – he and Gertrude had moved to Clacton. I've since been in touch with Stella, a granddaughter of Charlie Field, and she's sent me a poem, written by Charlie's wife, which mentions "Bill and Gert". It has a stanza about Bill getting shot during the War. And the letter written on Armistice Day by Bill's mother mentions him having an injury, which required him to have another operation, to remove a piece of bone from his arm.