Sarah Pritchett/Wade (1771-1826)
On 14th May 1791, my 5 x great-grandparents, Edward Wade and Sarah Pritchett, were married at the parish church in Fingringhoe. Edward had been born in nearby Layer-de-la-Haye in about 1769, the son of Edward Wade and Elizabeth (née Cardinal). His family moved to Polstead in Suffolk for a while, from about 1776, and in 1782, he was apprenticed as a wheelwright to the aptly-named Joseph Chippington of Stoke-by-Nayland. Edward and Sarah were married by licence, as Sarah was 20 and therefore under age. There are no Pritchetts in Fingringhoe before their marriage, and the licence allegation gives Sarah's father as William Pritchett, vintner of St. James' in Bury St. Edmund's. It seems likely that Sarah and Edward met while he was living in Suffolk, perhaps during his apprenticeship.
The mystery is – who, apart from her father, were the rest of Sarah's family? Where was she born and baptised? Who was her mother? Did she have siblings? Is there a connection with the only other Pritchett in the Fingringhoe registers, 79 year old Sarah Pritchett, who was buried there in 1825?1)Aside, of course, from the many descendants of Edward and Sarah Wade, whose middle names were Pritchett or Pritchard. Clearly the name was significant to them. Other commonly-appearing middle names in the Wade family are Whittaker and Cardinal. Cardinal is easily explained as being the maiden name of Elizabeth, who married Edward Wade in Layer-de-la-Haye in 1767, but Whittaker is harder to explain and will be looked into in more depth later (although note that a witness of Thomas Jaggard's 1812 will was John Whittaker Cooper, and that the Wade and Pritchett graves are very close to that of Thomas Cooper and his wife Mary, née Whittaker). The Bury St. Edmund's registers are frustratingly silent on this point, so it would seem that Sarah Pritchett wasn't originally from the town.
Fortunately, a clue has survived – a particularly helpful one, as it turns out, and not one in paper or parchment. The Essex Society for Family History transcribe memorial inscriptions, and the stone on Sarah Pritchett's grave says:
"In memory of Sarah Pritchett, late wife of William Pritchett of Lexden, who died Nov. 19 1825, aged 79 years."
Given that there are no other Pritchetts in Fingringhoe, it would seem that this is the grave of Sarah Wade (née Pritchett)'s mother (or even stepmother), especially as her husband has the same name as the father on the Wade/Pritchett marriage licence allegation. But wasn't he of Bury St. Edmund's, not Lexden? It doesn't seem unreasonable that some time between the Wade/Pritchett marriage in 1791 and Mrs Pritchett's death over 30 years later, the family moved.
But they're not the only names on the stone, for it goes on to say:
"Also of Charlotte, wife of John Baker, and daughter of the above, who died June 16th 1829, aged 53 years."
We now have a sister and a brother-in-law for Sarah Pritchett/Wade. As Sarah was 20 when she married Edward in 1791, giving her an approximate date of birth of 1771 (this is backed up further by her age being given as 55 when she died in 1826), it's plausible that she could have a sister, born in about 1776.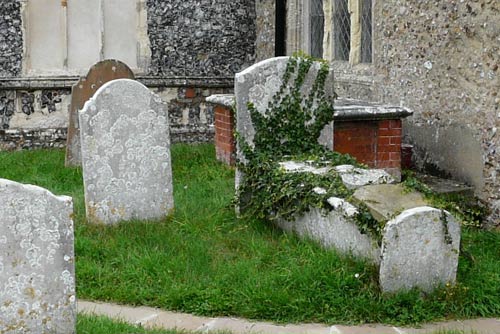 Fingringhoe churchyard: The ivy-covered tomb is the resting place of Edward Wade and his wife Elizabeth (née Cardinal). The headstone to its right is that of Sarah Pritchett and her daughter, Charlotte Baker. The red brick tomb to its left, in the row behind, is the grave of Thomas Cooper and his wife Mary (née Whittaker). Photo by Cindy Lilley.
I moved my attention to the Lexden parish registers, to see if there were any Pritchetts there. I found two Pritchett marriages: Charlotte, marrying Robert Taylor in 1798,2)15th October 1798 and Harriet, marrying Joseph Clark White in 1801.3)2nd November 1801 The witnesses to Charlotte's marriage were William and Harriet Pritchett, and for Harriet's, Sarah Wade and Wm Roberts. It's impossible to say with certainty from just witnesses' names that they're all related, but it would seem likely that Harriet is another daughter of William and (possibly) Sarah.
Aside from marriages, I found the 1807 baptism and burial of a daughter of John and Anne Pritchard, and the burial of William Pritchett, who was buried there on 29th May 1802, aged 57. William, it seemed likely, was Sarah's father.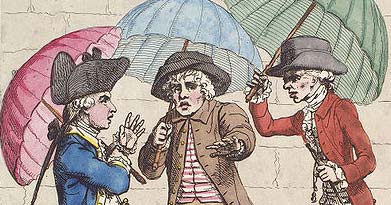 William Pritchett (1745-1802)
What do we know about William Pritchett? He was living in the parish of St. James in Bury St. Edmund's in 1791, working as a vintner. We know his daughter moved to Fingringhoe, as did his wife – presumably relocating after William's death, to live with Sarah and, later, Charlotte. His age at death gives us an approximate year of birth of 1745, which makes him about the same age as his wife, Sarah. We have his letters of administration (he died intestate), and two tantalising clues.
The Pritchetts are conspicuous by their absence from the Bury St. Edmund's parish registers, apart from our first clue – a burial in St. James' on 8th June 1788, of John, the three week-old son of William and Sarah Pritchett. The entry even gives us the mother's maiden name – Dakin. But there's no baptism in St. James' for their child. The year is significant, as this is three years before Sarah Pritchett married Edward Wade in Fingringhoe, and when we know from the marriage licence allegation that William was living in St. James' – so it is possible that John's parents mentioned here are in fact the William and Sarah we're looking for. But without any other evidence, it's impossible to say for sure.
Our second clue is an advert in the Ipswich Journal, 24th October 1795, declaring that George Ruffell has taken over the running of the Bull Inn, Long Melford, and has "engaged PRITCHETT from the ONE BELL at Bury as an assistant." Considering that William was a vintner, it is possible that he is the Pritchett who was working at the One Bell, which was in St. James' parish where we know he was living in 1791, before heading to Melford.
The letters of administration4)ERO ref: D/ABW 115/2/82, 8th November 1802 include William's short, hastily-written will (which, as it didn't name an executor, meant he was intestate), dated 24th May 1802, only five days before his burial. He left everything to his wife, to be shared out between his children after her death. The will doesn't include any names, but the witnesses provide more clues. The first name is very hard to read (C. Alnickett or Hernickett – or Pritchett in poor handwriting), but the others are: Harriott White, Ann Wright and Catherine Pritchett. Harriott is presumably the Harriott Pritchett who married Joseph Clark White in 1801, and Catherine is perhaps the same woman who witnessed Charlotte and Harriet's second marriages (below) – and there is the strong possibility that Catherine is another daughter of William and Sarah. Sarah was bound to perform the will with Joshua Watkins, innkeeper, and Samuel Rayner, cooper, both of Colchester. Their occupations are important to note here because they tie in with William, as a vintner.

Charlotte Pritchett (1776-1829)
By the time she died in 1829, Charlotte was married to John Baker. Seeing that her first husband, Robert Taylor, was of St. Peter's in Colchester when they married in 1798, I checked the Colchester registers and found a burial at St. Botolph's for Robert Taylor in 1806.5)17th April 1806 I thought I would be looking for a marriage between a Charlotte Taylor, widow, and John Baker, but instead found that her second marriage was to Thomas Jaggard, a widower from Fingringhoe. Their marriage took place on 1st January 1807 at All Saints in Colchester (Charlotte was of St. Botolph's, but the church was in ruins at this time so parishioners used All Saints instead). Again, the witnesses to the marriage were intriguing – they were Edward Wade, Catherine Pritchett and Jno Edwards. There was Catherine again – the same one who witnessed William Pritchett's will? As it is, it would seem that Charlotte met Thomas through her sister and brother-in-law in Fingringhoe – as carpenters and wheelwrights were vital to the workings of rural life, it's likely Edward and Thomas, a farmer, were acquaintances, hence why he appears as a witness.
Meanwhile, Charlotte moved from Colchester to live in Fingringhoe with her new husband. She was about 31 and it doesn't appear that she had any children by her first husband. Thomas was nearly 20 years her senior, having been born in East Donyland in about 1758;6)12th November 1758, the son of Thomas Jaggard and Rebecca (née Winch). he was nearly 50 when they married. He had had at least seven children by his first wife,7)Thomas' first wife was Jean/Jane Williams, abt. 1759-99. They were married at Fingringhoe by licence on 23rd December 1783, and their children were: Thomas (1784-1851), Rebecca (1785-91), Mary Ann (1786-91), Elizabeth (1788-89), John (1789-89), William (1791-1838) and Susan (1793-95). but by the time he married Charlotte, only two of them were still living – Thomas,8)One of Thomas' daughters was Charlotte, born in 1811. It's tempting to think that he named her after his stepmother. She married James Elvish in Thorpe-le-Soken in 1838, and in the late 1840s was a witness in the Wix arsenic cases. I have been researching the arsenic cases for some time, so imagine my surprise when I found out I was related to Charlotte Elvish! born in about 1784, and William, born in about 1791. Thomas and Charlotte had two sons – Henry in 1809 and James in 1812. Sadly, Thomas died in February 1812, so had little time to enjoy his young family. He owned two properties, and his will bequeaths one to each of his adult sons, charging them with an annuity of £60 for Charlotte, until Henry and James reached 21, then dropping to £30 a year, and her sons were to receive £200 each.
For reasons now lost to history, she didn't marry John Baker in Fingringhoe or Colchester, or indeed, anywhere in Essex: they were married at All Saints in Fulham, in 1815.9)15th June 1815 Their witnesses were John Parry Price, Louisa Lyons and Sarah Louisa Lyons (more on the Lyons below). In 1818, John and Charlotte's daughter, Charlotte, was baptised in Fingringhoe,10)1st March 1818 John's occupation given as carpenter, and Fingringhoe being their abode. Given that Charlotte's brother-in-law, Edward Wade, was wheelwright in Fingringhoe, it might suggest how John and Charlotte came to know each other. Charlotte senior died 11 years later and was laid to rest in the same grave as her mother.
Mysteries flow on from mysteries – while I was able to find out a surprising amount about this sister of Sarah Pritchett/Wade, it has left me with more puzzles to solve. John and his daughter vanish from Fingringhoe, as do Thomas and Charlotte's two sons. There is a possibility that Henry is the Henry Jaggard, aged 42, who appears on the 1851 census at the White Lion in Norwich, a hawker, his place of birth given as "Essex, Finingham". This could be a mangled version of Fingringhoe, but I have been unable to trace him any further.

Harriet Pritchett (1772-1817)
As mentioned above, Harriet married Joseph Clark White in Lexden, in 1801. Their marriage ended only five years later in 1806, when Joseph died of a liver complaint at the age of 38. He was buried in Lexden,11)17th February 1806 the register giving the cause of death, but also stating that he was a married man of St. Botolph's. It's possible that Harriet and her husband had followed Charlotte to Colchester after their marriage. She married for a second time, in 1807, to Benjamin Hudson, at All Saints in Colchester.12)17th November 1807 The witnesses were Catherine Pritchett, Louisa Lyons and Joseph Ambrose. It appears that Harriet did not have any children from her marriages. Life was not particularly happy for Harriet – she was buried in the churchyard at Lexden in 1817,13)8th June 1817 and the register says "Harriet wife (or widow of) Benjamin Hudson, who deserted her eight years ago." Only two years into her second marriage, her husband absconded!
The register gives the abode at the time of her death as St. Giles' in Colchester – this is the parish that abuts East Donyland, so was quite near to where her sisters (if such they are) were living in Fingringhoe. Quite how she supported herself, I don't know. Despite being the wife or widow of the dastard Benjamin, she did not forget Joseph, her first husband. Rather than be buried in St. Giles', where she had been living until her death, she was laid to rest in the same churchyard as Joseph, who had only deserted her when death intervened. The ESfFH have transcribed what remains of Harriet's memorial inscription: "Har(riet) *son / Josep(h) * White / who…". I suggest this used to read "Harriet Hudson, wife/widow of Joseph Clark White", with details of her death. It may be she was buried with her first husband.
Harriet was 45 when she died in 1817, which gives an approximate date of birth of 1772. This puts her in between Sarah and Charlotte, who were born about 1771 and 1776 respectively, further suggesting that Harriet is a third Pritchett sister.
Catherine Pritchett (unknown)
As mentioned above, we have a Catherine Pritchett who witnesses the 1802 will of William Pritchett, and Charlotte and Harriet's second marriages. She is even more of a will-o'-the-wisp than the other Pritchetts – all that exists are her two marriages.
On 5th August 1808, Catherine Pritchett and Robert Ferguson, both of St. Botolph's, were married at All Saints, Colchester, the witness being Charlotte Jaggard (presumably Charlotte née Pritchett). There are three further witnesses, but they are hard to read, and seem to say: Anne Coppin, Mary Ann Colleer and W. Chisolm.
On 20th September 1814, she married again – Catherine Ferguson, a widow, married Benjamin Humphries, a bachelor, at St. James' in Colchester. The witnesses were Benjm Bloomfield and Charlotte Jaggard. I cannot find any baptisms for children of Catherine and Robert, or Catherine and Benjamin, and I can't find Robert's burial either. Bearing in mind that the Napoleonic Wars were in full swing at this point, and Colchester, a garrison town, was full of soldiers, it's possible that Robert was a Scottish soldier and may have been killed in action. But where did Catherine go after her marriage to Benjamin?

Louisa? (unknown)
Considering the Pritchetts' fondness for witnessing each other's marriages, I took note when the name Louisa Lyons appeared twice – first on Harriet's second, ill-fated marriage in 1807 to Benjamin Hudson, and then on Charlotte's third marriage in 1815. Louisa is even more of a vague suggestion as a Pritchett sister, as I cannot yet prove her maiden name. First of all, I found the baptism of Sarah Louisa, who was another of the witnesses to Charlotte's 1815 marriage – she was baptised in Colchester in 1807, the daughter of William & Louisa Lyons, and the register gives her date of birth as 11th January 1802.14)Sarah Louisa was also baptised in Lexden on 19th January 1803. It may be that she was in fact born in 1803, rather than in 1802 From that, I traced William and Louisa's marriage, which took place at Canterbury All Saints on 31st May 1800. William was a bachelor, an Ensign in the 20th Regiment of Foot, and Louisa was a widow – Louisa McDowell of Lexden in Essex. If she is, indeed, a Pritchett sister, then she perhaps married an Irish or Scottish solider, who was billeted in Colchester or at Lexden Camp, and, after his death, she returned to the Pritchett family home in Lexden. But at the moment, I know nothing more about her. It may of course be that she is no relation to the Pritchetts at all, and was merely billeted at Lexden Camp with her first husband, and became friends with the Pritchett sisters.
William Lyons, however, as an Army officer, is easier to trace. He appears in the London Gazette in 1799, which records him being made an Ensign on 9th November 1798, having started out in the 3rd Lancashire Militia. In 1802, he became a Lieutenant in the 20th Regiment of Foot, and in 1803 became a lieutenant in the 7th Battalion of Reserves. In 1804, he moved to the 25th Regiment of Foot, and in 1809 became Captain of a Company. In 1815, he went onto half-pay in the 6th Garrison Battalion, and then it all goes very quiet until 1834, when his commission was refunded. He was, up to that point, still Captain William Lyons of the 6th Garrison Battalion.
But this is all I have discovered so far. Was Louisa still alive in 1834? What of Sarah Louisa? As yet, I don't know what became of them.
It is a shame I cannot trace Louisa and Catherine any further – if they had lived long enough to appear on the 1851 census, it could provide me with the most important clue of all (if they are, as seems possible, daughters of William and Sarah Pritchett) – where they were born. This in turn could lead me to their baptisms and would prove or disprove the links once and for all.

Other mysteries
Who, then were John and Anne Pritchard, whose daughter, Salome, was baptised in Lexden in 1807? The child was buried in the same parish a few days later.15)Salome was born on 8th October 1807, privately baptised two days later, and buried on 14th October 1807. Could they be connected to William and his family?
There is a rather tantalising connection – on 3rd July 1783, William Pritchard, a baker of St. Stephen's in Bury St. Edmunds, had his settlement examination. He had been born in Haslingham, Norfolk (I think this is an error for Hassingham) and was married to Jane, by whom he had had no children. This, then clearly isn't William Pritchett of St. James', who had at least two daughters by 1783, but given how unusual the surname is in Essex and Suffolk, there might be a connection between the two. For example, they could be cousins who moved down to Suffolk together. There are three references in the Norfolk archives' catalogue to administrations in Hassingham for someone called Jonathan Pritchard – is he related to the William Pritchard who went to Bury St. Edmund's?
With this in mind, I looked for Pritchetts and Pritchards in Norfolk, and found a marriage at St. George Colegate in Norwich in 1806 between James Dobson and Salome Pritchard. The name Salome Pritchard is sufficiently unusual for me to think that there may very well be a connection between John Pritchard in Lexden and Salome in Norfolk – perhaps they were brother and sister? But does this suggest any connection at all between John Pritchard and William Pritchett – other than that they both lived in Lexden at about the same time and had similar surnames?
As with all genealogy investigations, there are hints and clues everywhere you look – and it's very easy to see patterns and connections where there aren't any. But every so often, I revisit this corner of my tree… maybe one day I will find Sarah Pritchett's baptism, and it will be the key to unravelling the puzzle of the mysterious Pritchetts.
Images used in this article are out of copyright, sourced from Wikimedia Commons. 1. Gillray's Les Plaisir (sic) du Menage 1781, 2. detail from Gillray's A Meeting of Umbrellas 1782, 3. detail from fashion plate of evening dresses 1801, 4. Detail from fashion plate "London fashions as worn December 1806", 5. Detail from fashion plate April 1809, 6. Detail from fashion plate "Fashionable Walking Dresses in Dec. 1807."
| | | |
| --- | --- | --- |
| 1. | ↑ | Aside, of course, from the many descendants of Edward and Sarah Wade, whose middle names were Pritchett or Pritchard. Clearly the name was significant to them. Other commonly-appearing middle names in the Wade family are Whittaker and Cardinal. Cardinal is easily explained as being the maiden name of Elizabeth, who married Edward Wade in Layer-de-la-Haye in 1767, but Whittaker is harder to explain and will be looked into in more depth later (although note that a witness of Thomas Jaggard's 1812 will was John Whittaker Cooper, and that the Wade and Pritchett graves are very close to that of Thomas Cooper and his wife Mary, née Whittaker). |
| 2. | ↑ | 15th October 1798 |
| 3. | ↑ | 2nd November 1801 |
| 4. | ↑ | ERO ref: D/ABW 115/2/82, 8th November 1802 |
| 5. | ↑ | 17th April 1806 |
| 6. | ↑ | 12th November 1758, the son of Thomas Jaggard and Rebecca (née Winch). |
| 7. | ↑ | Thomas' first wife was Jean/Jane Williams, abt. 1759-99. They were married at Fingringhoe by licence on 23rd December 1783, and their children were: Thomas (1784-1851), Rebecca (1785-91), Mary Ann (1786-91), Elizabeth (1788-89), John (1789-89), William (1791-1838) and Susan (1793-95). |
| 8. | ↑ | One of Thomas' daughters was Charlotte, born in 1811. It's tempting to think that he named her after his stepmother. She married James Elvish in Thorpe-le-Soken in 1838, and in the late 1840s was a witness in the Wix arsenic cases. I have been researching the arsenic cases for some time, so imagine my surprise when I found out I was related to Charlotte Elvish! |
| 9. | ↑ | 15th June 1815 |
| 10. | ↑ | 1st March 1818 |
| 11. | ↑ | 17th February 1806 |
| 12. | ↑ | 17th November 1807 |
| 13. | ↑ | 8th June 1817 |
| 14. | ↑ | Sarah Louisa was also baptised in Lexden on 19th January 1803. It may be that she was in fact born in 1803, rather than in 1802 |
| 15. | ↑ | Salome was born on 8th October 1807, privately baptised two days later, and buried on 14th October 1807. |