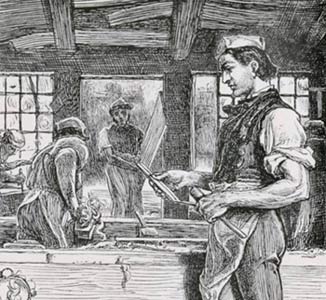 Thomas was the first of Edward and Elizabeth's children to be born in Suffolk; he was baptised in Polstead on 28th April 1776. By the late 1790s, when the Wades returned to Essex, Thomas lived in Fingringhoe with his parents. He was a carpenter, so he may have trained under his elder brother, Edward.
On 1st October 1798, he married Susanna Fitch in Walton-le-Soken, and initially the family continued to live in Fingringhoe, but in either 1807 or 1808, they moved to Alresford.[1]Their son Frederick was their last child to be baptised in Fingringhoe in 1807, and in 1808 their daughter Sarah Whittaker was the first to be baptised in Alresford.
Susanna Fitch
I'm not quite sure how Thomas met Susanna, when she lived in Walton-le-Soken. To get there by road, you have to go through Colchester (although in those days, a quick row over to Wivenhoe, and then a journey by road was possible), or the journey could be done entirely by boat. There may be a connection with his family in Tendring. More will perhaps become clear about Susanna once the Walton registers are transcribed, but she had a sister called Mary, who, once both women were widowed, lived with her in Alresford.
Mary married Mark Noble (eighteen years her senior) of Brightlingsea in 1808 at Thorrington. She may be the Mary Fitch who appears in a will relating to the Gardiner family – the 1806 will of John Howes of Thorrington, brother-in-law of Henry Gardiner. Mark died in 1824, leaving Mary £25 a year, £25 that he had in the Colchester Savings Bank, his copyhold premises where he was living at the time and a fishing boat called "The Mary" (which he may have named after his wife).  Mary outlived her sister, dying in 1854, but it seems that she continued to live with her extended family – the newspaper announcement of her death says that she died "at the residence of her nephew, Mr. Wade, [in] Alresford."
And there is another connection between the Nobles and the Wades – Mark's brother John (1764-1850) had a daughter called Matilda Susannah (1812-1848). In 1831, Matilda married Edward Crusswell Stammers, whose grandmother's second marriage was to Richard Stone. And Richard Stone's sister-in-law (wife of his brother, Thomas Lewis Stone) was Elizabeth Wade – Thomas Wade's brother!


Their children
Thomas and Susanna had at least nine children, and you can see the middle name Whittaker appear again, especially in the form we've seen before: "Sarah Whittaker". It implies once again that this was important to the Wades, but without explaining why. Their first son being named "Thomas Whittaker" reminds us of Thomas Whittaker Cooper, perhaps, the Fingringhoe landowner, who witnessed John Lingwood and Sarah Whittaker Wade's marriage in 1798.
Sarah Whittaker 1799-1806
Thomas Whittaker 1801-?
Frances Susannah 1806-?
Frederick 1807-?
Sarah Whittaker 1808-1846
Elizabeth 1814-?
Benjamin 1815-?
Henrietta 1818-1864
Jane 1822-?
 Alresford
Why, we might wonder, did they move to Alresford? The parishes of Fingringhoe and Alresford face each other over the River Colne, so it wasn't far to travel – they possibly went by boat. The fact Thomas moved to Alresford may even add weight to the idea that his mother, Elizabeth Cardinall, was the daughter of William and Elizabeth Cardinall baptised there in 1743 – he might have relocated with the support of his mother's family who still lived there.
Thomas died in 1835 without a will, and he doesn't seem to appear in the newspapers, so there's not a great deal that can be said about him. He was buried in the churchyard at St. Peter's, and his headstone still stands, as does the one marking where Susanna was buried with her sister.
In 1836, there was a brief flurry of excitement when:
The premises of Mrs. Wade, of Alresford, were plundered on Saturday night last, and eight turkeys taken away. The Great Bromley Association have offered a reward for the discovery of the thieves.[2]Essex Standard 8th January 1836.
It's probably Susanna who is the Mrs. Wade in the story, as there don't appear to be any other Mrs. Wades in Alresford at the time – only Susanna's eldest son, Thomas, had married by this time, but he had moved to Thorrington. Besides which, the premises belonging to "Mrs. Wade" implies that she was a widow, as Susanna was at the time. It's possible that Great Bromley Associated offered a reward because Susanna had not long been widowed. The story of the turkeys doesn't reappear in the papers, so it looks like a crime that went unsolved.
Some interesting stories about Thomas and Susanna's children appear in the newspapers, but that's for another time….