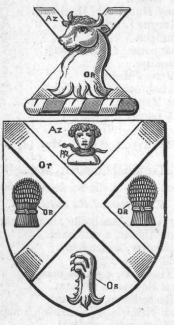 I am very fortunate to have been sent a treasure-trove of research on a Suffolk Nunn family by Lucas Henderson, who lives in Australia. This family appears in volume two of Miscellenea Genealogica et Heraldica.
Joshua Nunn is thought to have been born in Debenham, Suffolk, in 1717, the son of Leonard Nunn, which is the furthest back this line currently goes. Joshua married Mary Baker in Stonham Aspal, Suffolk in 1743, and their children were born in nearby Earl Stonham.
Their son John, born in about 1750, moved to Colchester, where he died in 1807. His son, William, in 1786, married Elizabeth Vaughan in Wales, and they ended up in Manchester, where William was the incumbent of St. Clement's.
William and Elizabeth's son, Samuel (1835-1921), was the rector of Lawton in Cheshire, who in 1885 was granted arms (above). I assume the entry on the Nunns in Miscellenea Genealogica et Heraldica was put together by Samuel when was granted the arms, and at the time, couldn't follow his family any further back.
I will be adding the information I have been sent on this Nunn family over the next little while, and maybe we might be able to take it a further back. Could it be there is a connection with these Nunns and Leonard Nunn who lived in Bradfield and Manningtree in the late 18th century? Or maybe a link with Joseph Nunn? Could they even be connected with my mother's Nunn line? We shall, I hope, find out….