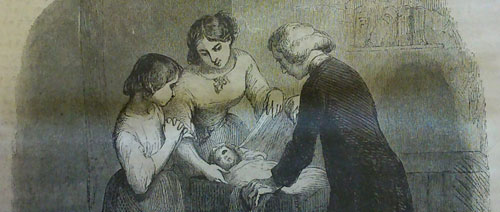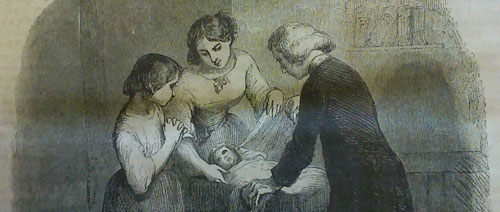 In researching Joshua Nunn, I was keen to find out more about his family in Suffolk. My hypothesis is that his father, William Nunn (born about 1781, died Ipswich 1823) is the brother of my myskahterious gt-gt-gt-grandfather David Nunn. I had found the baptisms of Joshua and his five siblings, at Ipswich's Weslayan chapel, between 1806-15. But where were his parents' married?
Stutton
A clue came thanks to his sister Elizabeth Martin Nunn's distinctive name. An Elizabeth M Nunn married John Long of Manningtree at Stutton, just south of Ipswich, in 1834. Could this be here? I checked on the censuses, and for death records, and found that yes, this was her. Elizabeth was born in 1812, and Elizabeth Martin Long died in the Tendring registration district in 1891, aged 79. The censuses show Ipswich-born Elizabeth Long living in Manningtree with her husband John Long, a butcher. Everything matched up.
Stutton was a clue, and there, in 1802, a William Nunn of Ipswich St Peter's had married a Sarah King. This seemed a possible, as one of Joshua's sisters, born in 1811, was Mary King Nunn. I extracted all of the King marriages in Stutton from the Suffolk marriages on Findmypast, and found:
8 Oct 1792 Nathaniel King married Sarah Rudkin
28 Sep 1802 William Nunn of Ipswich St Peter's married Sarah King
18 July 1806 Benjamin Martin of Colchester St Nicholas' married Elizabeth King
26 April 1810 John Long of Manningtree married Rebecca King
17 Oct 1820 William King, widower, married Rachel Tyler of Holbrook
At some point, I'll track down the full marriage, to see if they were by banns or licence (and find the licences if possible), and also get hold of the witnesses' names.
Then I extracted all the King baptisms in Stutton from the Suffolk baptisms on Findmypast, and cross-referenced them with the Suffolk burials CD-ROM, produced by the Suffolk Family History Society.
Between 1761 and 1778, I found a couple called George and Susannah, who had eight children: George 1761, Susannah 1763, Nathaniel 1766, James 1768, Sarah 1770, Rosanna 1774, Anne 1775, and Bridget 1778. The last three daughters died in infancy, and their daughter Sarah died in 1790, so she didn't go on to marry William Nunn. Then there were two more couples: Henry and Elizabeth, and Nathaniel and Sarah. Nathaniel appears to be George's son, born in about 1766 – he is likely to be the man who married Sarah Rudkin in Stutton in 1792, and their first child, Sarah, was baptised in Stutton in 1793. But then there's that other couple….
Henry and Elizabeth had four children in Stutton:
Mary, 1781
Sarah, 1782
John Mason, 1784
John Mason, 1788
Bentley
I found a burial for the first John Mason King in Bentley on 28 July 1785. When I looked at a map, I realised that Bentley was just to the west of Stutton, which led to me finding a marriage for Henry King and Elizabeth Mason there on 9 Oct 1770. In Bentley, they had:
Henry, 1771
Benjamin, 1772
Elizabeth, 1773
John, 1775
Rebecca, 1780
William, 1780
This made things a bit clearer – Elizabeth, born in about 1773 is, I think, Benjamin Martin's wife. Although it says he's from Colchester when they married in 1806, I found a baptism in Bentley in 1807 for a son called Benjamin, of Benjamin and Elizabeth "Murten". Then a burial in Bentley in 1827 for 65-year-old Benjamin Martin (giving him a year of birth of 1762) – the announcement of his death in the Bury & Norwich Post on 13 June 1827 says that he was a shopkeeper. There is a burial in Bentley 1828 for Elizabeth Martin, aged 55, of Holbrook (to the east of Stutton), who is perhaps Benjamin's widow. A year of birth of 1773 would make Elizabeth 55 in 1828. She was 33 when she married. I haven't yet traced her son. But, on marrying Benjamin Martin, she became Elizabeth Martin, and this is presumably who William and Sarah named their third daughter after.
There was an inquest into Elizabeth's death:
"Mrs Elizabeth Martin, widow, of Holbrook… was found dead on the floor of her bed room on Friday morning. It appearing from the evidence of the surgeon, who was examined upon the inquest, that the deceased had fallen down, and being unable to rise again, had died from suffocation, the Jury returned a verdict to that effect." The Ipswich Journal, 1 March 1828.
The Suffolk Chronicle of the same date printed an advert for a forthcoming auction on 11 March, to sell Elizabeth's effects, which allows us to peek into her well-appointed home:
"All the very neat and modern household furniture and effects of Mrs Martin, of Holbrook, deceased; comprising four-post and other bedsteads, beds and bedding, mahogany and wainscot chests with drawers, dining and other tables, bureau, capital 8-day clock, parlour and chamber chairs, pier and other glasses, glass, china and earthenware, seasoned beer casks, culinary and general articles of housekeeping."
It seems that both Benjamin and Elizabeth Martin left wills, so these might shed more light on their family.
Rebecca King, born in about 1780, married John Long of Manningtree in 1810. They had six children who, like William and Sarah Nunn's children, were all baptised at a Wesleyan chapel:
Henry, 1811
John, 1812
Henry, 1814
Rebekah, 1818 (died 1837)
Benjamin, 1820
William King, 1823
Their son John married Elizabeth Martin Nunn in Stutton in 1834, the marriage which first gave me the clue to search that parish. There are two Wesleyan baptisms – John William, born in 1835, and Sarah, born in 1836. The Wesleyans were very thorough with their baptisms at this point, giving the names of the child's maternal grandparents: both of these baptisms tell us that Elizabeth was the daughter of William and Sarah Nunn.
Tracing Benjamin King, baptised in 1772, takes us to Manningtree as well. When he died on 19 Oct 1852, the death accouncement tells us that "for nearly half a century [he] was the occupier of the Queech Farm, Stutton", and that he lived at the house of his brother-in-law, John Long, in Manningtree (Essex Standard, 29 Oct 1852). Sadly, we also see that he wasn't very happy living such a long life. In February 1850, having been "in a desponding state" for some time, he tried to commit suicide. He usually had his breakfast in bed, and one morning, the servant who took it up for him "was horror-struck at finding him lying stretched out on the floor insensible, with his throat cut, and a razor by his side, and weltering in his blood." He was examined, and luckily his wounds weren't too severe (Essex Standard, 22 Feb 1850).  But there's an echo here of his sister Elizabeth's death, as she too was found on her bedroom floor. There might be nothing in it, though.
The 1851 census, showing us Benjamin King living with John (a corn dealer and guano merchant) and Rebecca Long, tells us he was unmarried. On the 1841 census, he's living in Stutton as a farmer, with a woman called Mary King. Her age is given as 55. I wonder if this could be Benjamin's sister Mary, who was born in 1781? Although she would actually have been 60 by the time the census was taken in June 1841 (her baptism was in May 1781), if it is her, her age has been rounded down. There is a burial in Bentley on 8 Sep 1841 for Mary King of Stutton, aged 59, and I think this might be the same woman. There are no other Kings in Stutton at the time.
Also in Benjamin King's household on the 1841 census is 25-year-old Elizabeth Long and 5-year-old John Long: this is quite possibly Elizabeth Martin Nunn – at least, now she's married and goes simply as Elizabeth Long. Her husband John is alone on the 1841 census in Manningtree, save for two-year-old Sarah and a servant.
Which Sarah King?
But then we have a conundrum. There are two Sarah Kings born in Stutton at about the same time – one, the daughter of Henry and Elizabeth, baptised in 1782, and the other, the daughter of Nathaniel and Sarah, baptised in 1783. I would say it's more likely that the Sarah King who married William Nunn is the daughter of Henry and Elizabeth – she would have therefore named Elizabeth Martin Nunn after her sister, and the daughter born to Henry and Elizabeth King before Sarah was called Mary – and William and Sarah Nunn called their second daughter Mary King Nunn. John Mason King, who was born in 1788, died in Ipswich in 1817, and was buried at St Clement's – that might be another piece of circumstantial evidence, suggesting to us that he had moved to the town with his sister, after she married William Nunn. Or it might be a coincidence….
First published 20 August 2016
Edited 29 May 2020 to remove the last paragraph about not knowing what became of Sarah, wife of William Nunn. See Who was Joshua Nunn?