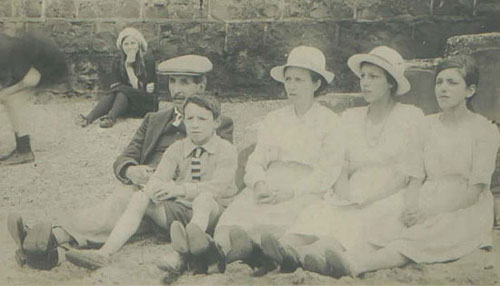 The Nunn family on the beach, possibly at Southend-on-Sea, early 1920s
When I first became interested in researching my family history in the late 1990s, my Grandad (my mum's father – the little boy in the photo above) sent me a letter, where he wrote what he could remember about his side of the family. His surname was Nunn, and I remember as a child him telling me that, as far as he knew, the Nunns were originally from Suffolk and were farmers. In fact, I'm fairly sure he said something about his forefathers coming from "villages along the Essex and Suffolk border". He also told me about a strange meeting on a train in the 1930s (this isn't about to turn into an Agatha Christie mystery, I promise!) when someone saw his surname on his luggage tag and struck up a conversation because he also was a Nunn. Rather than waffle on myself, I'll let my Grandad talk to you:
I will commence with the Nunn family; my information on this stems from a lot of what my mother told me and a history teacher, who researched Essex and Suffolk Norman connections. The Nunns came over with William the Conqueror and for their help were given land in the North of Essex and Suffolk as they were basically farmers. The patron saint of the family was Marie le Nonne but as the Saxons had difficulty in pronouncing names they became known as the "Nonnes". This then became the base for many derivations as follows – NUNN, NUNNERLEY, NOON, NOONE, NONNE, NUNNEY and there may be one or two more. It is interesting to note that you will still find a lot of Nunns in the telephone directories for Essex and Suffolk who are still farmers. My forebears were farmers until my grandfather decided to sell the farms in Suffolk. He was a bit of a naughty boy – wine, women and song until a Wesleyan Methodist minister got him back to the straight and narrow path and he became an oilman in London.

The Nunns had a long connection with the Wesleyans. My mother had a letter from John Wesley to one of my forebears arranging a meeting at his farm, which was an extremely dangerous practice as the Anglicans were very opposed and would probably have arranged to have had the farm burnt. Unfortunately this letter was left in the family "FARM BIBLE" (lost in a house move), which contained the family tree dating back to 1700. A number of interesting facts come from that. First, only one boy in each generation until my father had a brother (I believe William) who died when he was 12 of meningitis, slumping on the table at a meal. No other boys than one have been born to this day, as you know. Secondly, the males tended to marry later in life then to younger women. Thirdly, all were staunch Wesleyan Methodists. My father was John Henry, I believe his father was Joshua and my great-grandfather, Samuel. My great-great-grandfather married a Jewess, who was supposed to have been very beautiful (hence our good looks!!!?).

I would add that a lot of the Norman history was confirmed via a book I read in the Reference library at Southend, which dealt with Norman history in Essex and Suffolk. Don't ask me about the family before they invaded, as I have never seen any reference book. One can only assume they were descendants of the Viking invaders, who settled in Normandy. You will come across the Nunn family all over the world, there is an actress in Home & Away (Australian soap) and I found a Nunn on the Menin Gate memorial in Belgium, who was an American soldier without a known grave.
So this letter was my starting point, and I constructed the following tree: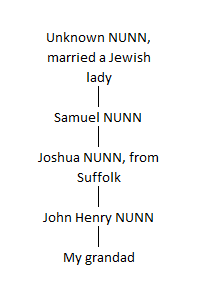 At this point, I really hadn't a clue where to start with family history and thought my Grandad must be absolutely correct with his assertions. He was in his late 80s at the time, and the Farm Bible, which was tragically lost in the early 1960s (I mean, really, surely anyone investigating their family history dreams of finding such a thing, with a tree going back three hundred years?), hadn't been around for a while to jog his memory. My Grandad passed away in 2000, the same year as the 1901 census was released, and when I checked it, along with the 1881 census, I found my great-grandfather, John Henry Nunn (1862-1936) – he was living at home in Hackney, with his parents, Samuel and Eliza. Straight away, then, I could see my Grandad's memory had failed him slightly – John's father wasn't Joshua, but Samuel. However, as with all family histories that come from memory, there was a grain of truth in it – he had remembered there was a Samuel, although not in the right place!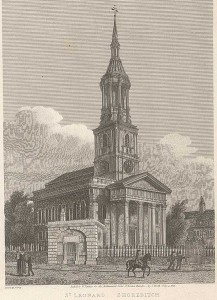 18th century print of St. Leonard Shoreditch
I then looked at Samuel Nunn (1829-1915). According to the 1901 census, he was born in Shoreditch in about 1829. I found some Shoreditch St. Leonard's baptisms online, and there he was: Samuel Nunn, son of David and Elizabeth, baptised on 1st February 1829. So this now gave me a new tree, based partially on my Grandad's letter and partially on historical records:

David Nunn (1786-1841)
If my Grandad's memory served him correctly with the generations, even if it hadn't been quite spot-on with the names, this then gave me David, as the son of an unknown man called Nunn, and his Jewish wife. David isn't a particular common name at this period, and would tie in with him having a Jewish parent – perhaps he was named after his maternal grandfather?
If I wanted to go any further back, I needed to research David. I have tried. He is, however, an extremely tiny needle in a very large haystack. He died in 1841, aged 55 – luckily (although perhaps not for him), just after the census was taken. He was living at 110 Aldersgate Street, Middlesex, a tallow chandler, and he says he wasn't born in county – so might he have been born in Suffolk? Unfortunately, there is no easy way to search Suffolk's parish registers at the moment, in one convenient database, as transcription coverage varies. If we look back at my Grandad's letter, we see him mention his ancestor who moved to London to be an oilman – and oilmen and tallow chandlers were essentially the same thing – and so perhaps it was David who was the "naughty boy" who was reformed by a Wesleyan minister and moved to London.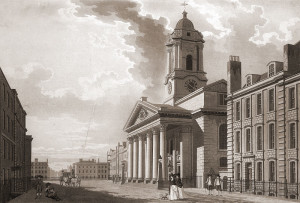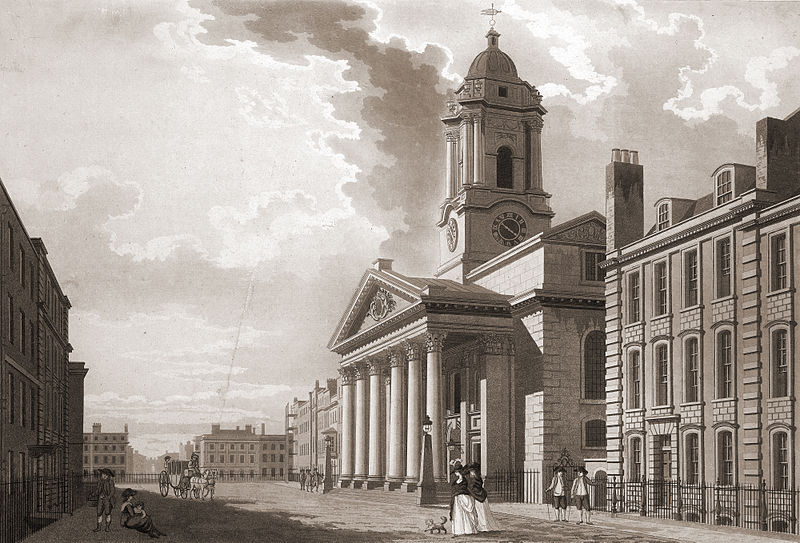 18th century print of St. George Hanover Square
One does wonder, though, the wisdom of someone with a wild past moving to London, but my first trace of David in the historical record, as I am yet to find a baptism or birth record for him, is his marriage in 1818 at St. George Hanover Square, to Elizabeth Griffin. They were both single and both of that parish, and in 1819, we have the next historical record hit for David – the 1819 baptism of David and Elizabeth Nunn's daughter, Sarah, at St. Giles-in-the-Fields. They lived at 22 (or 72) Windmill St., St. Pancras (which isn't far at all from St. George Hanover Square), and his occupation is given as "Tobacconist". This has been written over another word, which was crossed out, and looks rather a lot like "Chandler", so there might be an error there.
David appears in the 1820 edition of Kelly's Directory as an "oilman and tallow chandler" at 132 Shoreditch High Street, and his children's baptisms, through the rest of the 1820s and 1830s give his abode as Holywell Street, which is the old name for Shoreditch High Street. They remained there to at least 1839, the address never varying in trade directories from number 132. His shop even appeared in John Tallis' London Street Views (published between 1838-40, a sort of 19th century Google Street View), so we can see what his business premises looked like: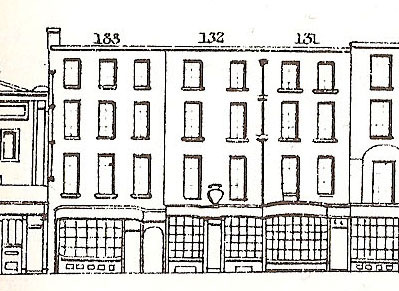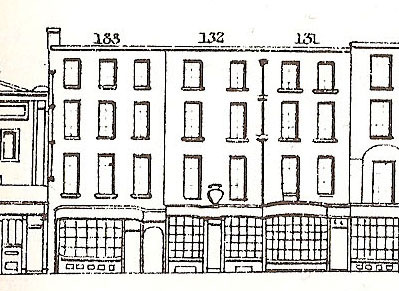 David Nunn's shop on Shoreditch High Street
The shop had a double-bow window, and just above the door, the shape you can see is an oil jug, which represented the nature of their business to a still not-entirely-literate populace. The shop features in a 1977 article in London Archaeologist by P. Backman, "London Oil Jars in the 1840s", as an example of the oil jars which appear in London Street Views.
In fact, using John Tallis' London Street Views with Google Street View, I could see what that part of the street looks like now – it was almost directly opposite the church of St. Leonard. I've also been to Shoreditch and gone into the church, as well as stood outside more or less exactly where the Nunn's shop used to be all those years ago – it's always fascinating to see where our ancestors lived. But the family left Shoreditch, and four documents from 1841 show us the family had moved to 110 Aldersgate Street, in the City of London – first of all, the aforementioned census, but also David's death certificate from August that year, his entry in the burial register at St. Botolph's Aldersgate, and the birth certificate of Lydia, David's posthumous child. I will write more about what I've found regarding the lives of the Nunns in London in a later article.
The Jewish community in Suffolk
I have long been fascinated by the idea of us having some Jewish ancestry – it's just not what you'd expect from a Suffolk farming family. I've recently started to look at DNA genealogy and it seems from this that the evidence is there – I actually carry in my DNA the shadow of my 4 x great-grandmother, because I have several DNA mutations which are usually found in members of the Ashkenazi community. But what was her name? What must her life have been like, a Jewish woman in 18th century Britain, who took the step of "marrying-out" – did her family reject her? Did her husband's family reject him?
But what on Earth would a Jew be doing in rural Suffolk in the 1780s? It turns out, there were Jews in Ipswich and Bury St. Edmunds – in fact, Ipswich's Jewish community was so sizeable that they established a synagogue there in 1792, but before that time, they had met at a hired room, so had been there from at least the middle of the 18th century. They may well have come to Ipswich either by travelling up from London, where the Jewish community had been established since the mid-17th century (we do well to remember the long multi-cultural heritage of this land), or were arriving from mainland Europe through the nearby ports of Felixstowe and Harwich. There is an interesting online article about the Jews of Ipswich in the Proceedings of the Suffolk Institute for Archaeology & History Online, written in 2002 by Robert Halliday,(which includes memorial inscriptions from the Jewish cemetery, translated from Hebrew by Bernard Susser).
The Ipswich community dwindled, and their synagogue closed: and one wonders how much this was down to people moving away, and how much it may have been down to people (perhaps like my ancestor) "marrying out" and converting. A possible scenario, if David was indeed born in Suffolk, and his mother was a Jew, is that she was from the community in either Bury or Ipswich. Of course, it could be the case that she was from London – I think we forget that although travel wasn't as easy in the past as it is now, it didn't mean people didn't travel at all. To prove a PCC will or sometimes to collect interest and dividends on investments, a trip from the depths of Essex or Suffolk down to London was necessary, so we can't rule anything out. If David's mother was originally from London, it could be that when he made the move to the city, it was with the help of relatives who already lived there.
And so, a project was born….
So hopefully, this might explain why I decided to compile my Nunn research and put it online. I want to find out how much of what my Grandad remembered was true, and I would dearly love to find out where in Suffolk the Nunns were from. As I've been researching my Dad's family in Essex and Suffolk, I have come across the name "Nunn" over and over again, and every time I've wondered – is this David's family? And so it seemed sensible to me to collate references to anyone called Nunn as I progressed through various records, just in case. It's useful for me, but it's also useful for everyone else with roots in Essex and Suffolk, because the name is very much an East Anglian one.
Recently, in researching the Gardiner family in Great Bromley, I have found Nunn relatives on my Dad's side, and I have been looking at them in some depth: not only because I find their story quite interesting anyway, but also because, you never know, it might yield the link I'm looking for. In fact, Joseph Nunn's family were from the area around Bures St. Mary – when my Grandad said the Nunns were from "along the Essex and Suffolk border", he could have been talking about Bures St. Mary, which is in both counties, straddling the River Stour.
In fact, there is something intriguing in the 1798 will of Joseph NunnIII, which made me wonder if I'd at last found David Nunn's father – he left his son John £100, saying "if he had continued to embrace the established Religion of this Kingdom in which I, him, and all my family have been inculcated and brought up, I should have given him more but I deem him becoming a companion with the people he now associates with, disrespectful to me and a [dearth?] of that family harmony, which it has been my constant desire to cultivate." Whether Joseph was angered that his son was associating with Jews or people of a different interpretation of Christianity (a will in a family connected with the Nunns and Gardiners threatens to disinherit a daughter if she entered a Catholic convent, and some of the Gardiners married members of the Quaker Heckford and Bundock families) is impossible to say just from this, or even if John was leading a "Godless" existence and behaving badly – but it's fascinating none the less, and something worth exploring.
Although the family tree in the "Farm Bible" is long gone, I hope that one day I will be able to reconstruct it. Who knows if I'll manage it, but it's certainly worth a try!