→

→

→

Dedham St. Mary the...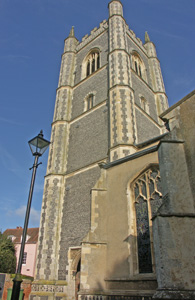 Transcriptions by Helen Barrell, except for marriages 1813-1837 by Arnie Webb. Transcribed from scans of original registers at ERO's Essex Ancestors. The transcriptions can be searched at FreeREG.
For information on the church, see the Dedham parish church site. Thanks to them for letting me use the above photo.
Notes
Dr. A. R. Pennie's 1989 thesis The evolution of Puritan mentality in an Essex cloth town : Dedham and the Stour Valley, 1560-1640 is well-worth reading. It mentions many Dedham locals and explains the historical milieu in which they lived.
One 1636 baptism in register for 1560-1620: Mary daughter of Henry & Joanna Wright, baptised 12th March (1635/6 or 1636/7)
Error: the marriage of Edmunde Mannock & Katheren Lister on 3rd November 1575 – the groom's father is Thomas, not the bride's.
No baptisms 1588 or 1589. Baptisms 1590 start at the end of September (two and half years of baptisms missing). Baptisms end October 1606, with none for 1607, two for 1608, then none for 1609. Starts again 1610. Only four baptisms 1614, none 1615.
No marriages for 1577, 1579, 1588, most of 1589. Few in the 1590s. None from 1606-1609. Only one marriage 1613, and none at all from 1614 to 1640. They resume in 1641.
Burials end January 1587/8. None at all for 1588 or 1589. They start again in October 1590. Few in 1593 and 1594. None April to August 1595, none October to November 1595, none January to February 1595. Only one entry 1596, none 1597, none April-May 1598. Few 1603 and 1604. None 1605-1609. Only two burials 1613.
One baptism 1637 survives, then baptisms recommence from October 1638 to June 1640. Note that the second register actually starts with baptisms for 1641, then it appears that in August or September 1654, someone found baptisms from 1637-1640 and entered them in the register, before returning to entering the baptisms chronologically from September 1654 onwards. Note that baptisms July 1640 to March 1640/1 are missing.
Baptisms become erratic from 1665, with fewer baptisms than before in the late 1660s and early 1670s  (there are only three in 1670, when other years have had over thirty). The handwriting and spelling is eccentric and challenging. Entries stabilise by the late 1670s.
Baptism 20th May 1711 "Edward of Humphrey Sands a Soldier in Flanders & Susan his Wife born on the road."
Gaps in the burials 1650s, 60s and 70s: burials 1654 end in October. No further burials until August 1655, then no burials from January 1655/6 until June 1656. Only 12 burials in 1656. Only 14 burials in 1657 (March to December). None for 1658. Only 10 for 1659 from March to June. Only 13 for 1660. Lots of burials for 1661, but only 12 for 1662 (from March to July). Burials are more reliable from 1663, until 1668, which misses most of July, all of August, September, and October, starting again in late November. Only 18 burials for 1669, 8 for 1670, 25 for 1671, 16 for 1672, 5 for 1673, 5 for 1674, 2 for 1675, 5 for 1676, and 3 for 1677. Burials are more reliable from 1678 onwards.
Gaps in entries 1679 and 1680 – no burials May 1679 to Nov 1679. A note says "Repentina obiit morte Wilhelmus Lister Parochialium sacrorum famulus, Plurima Exinde fuere omissa. Catera propria mea manu & cura sunl?, Ad scripta Tho. Rey." This translates (very!) roughly as "The sudden death of William Lister parish clerk meant many were omitted. By my hand & sole curate, the undersigned, Tho. Grey." Then between burials for August and September 1680, in the same handwriting  as the Latin inscription, it says "The following deaths are Registred by the date of the Affidavits till 19th of December following the certaine day of the Buryall being lost by the sudden death of William Lister sexton." Lister's burial is not in the register.
Possible gaps in 1700 burials – between late July and late November. Possibly missing burial between late and end of 1702 – there's an extra date in the register without a matching burial, but the entries aren't written on straight lines so impossible to match up.
Note entered beside 1724 burials: "Mem. most of the names in this year are in the preceding year; & a great number of Persons who died in this year when the Small Pox was very fatal, are omitted in this Register." The prevalence of small pox at this time might explain why, on 8th March 1723/4, William Crow and his two young children Sarah and William were all buried on the same day; they may all have contracted small pox around the same time. Only 2 burials for Sep 1724, one for Nov 1724, and two for March 1724/5. None of Oct, Dec, Jan or Feb.
No burials at all for 1729.
Gaps in marriages: none 1651 to 1653 inclusive, none 1669-1672 inclusive, one only 1673, none 1674-1680 inclusive.
Note after 1742 marriages: "The Reason why marriages are  fewer at Dedham since the year 1733, is, that Mr Barnes being Minister of Higham, as well as Vicar of this Parish, many Persons have chose, for the sake of Privacy, to be married by him at Higham & some at Langham."
Fifty-three deaths from small pox between August 1749 and November 1750.
Possible gap in baptisms – there's a space in the register with no baptisms between 13th December 1749 and 17th Feb 1749/50 as if the space was left to later enter the baptisms but they never were.
From 1760, there's the occasional missing name, so some baptisms have a child's first name and surname but no parents' names, or there might just be a first name and no surname or parents, or there might be parents and no child's name etc. This affects about 5% or less of entries for this period. There's also some gaps here and there (see note above) as if a space for a line or two of baptisms was left but never filled in. No baptisms for November and December 1781 – missing? No baptisms July to September 1782, only two between Oct and November, and none for December – presumably several baptisms never made it into the register.
Only 5 baptisms recorded for 1796 – this is very low compared to other years. Baptisms Aug-Dec 1798 not in register.
After 1805 baptisms: "Received into the Church previous to the Confirmation May 1803", then a list of 75 people (including their ages (aged from 1 to 31) and parents' names), then the note "The above had been privately baptized, but not registered; and all of them, who were above the age of fifteen, were confirmed at Colchester or Mistley May 1803." These names are included with baptisms.
In 1759, Henry Mixer, "Carpenter & clogmaker" was buried.
Gap after burial on 1st December 1797 and the next burial on 10th January 1798 – are some December burials missing?
Marriage register 1754-1812 was hand-numbered by the vicar. It starts off at 1, but the numbering goes awry in 1795. The marriage that took place on 3rd March 1795 is numbered 524, and the one following on 7th April that year is numbered 425. Then the marriages go on being numbered 100 less than they should be until 1802. The marriage that took place on 21st October was numbered 509, but the next marriage on 21st October was numbered 600. It should really be #610. Then the marriage on 18th November 1805 is numbered 633 and the next, on 20th January 1806, is numbered 644.
Baptisms
Burials
Marriages
1560-1613
1641-1705
1706-1754 
1754-1812
1813-1837