→

→

→

Thorpe-le-Soken St. Michael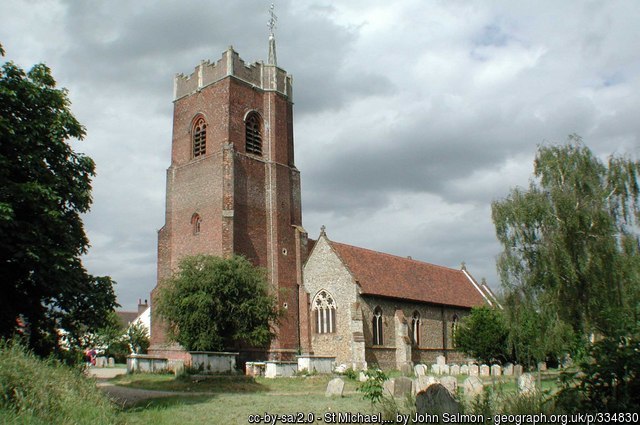 Transcribed by Helen Barrell. You can also see these transcriptions on FreeREG.
Notes
The earliest surviving register for Thorpe-le-Soken, covering 1682-1796 (D/P 8/1/1), has several faded pages so that some names are almost illegible.
Huguenot refugees lived in the parish from the late 1600s to the late 1700s and various entries pertaining to them can be found in St. Michael's register. There was a Huguenot church in the parish as well, and transcriptions from the register are available on CD from the Huguenot Society and from S&N Genealogy. It's worth checking both, as some Huguenot children were baptised in both churches, whereas others were baptised just at St. Michael's or just at the Huguenot church. Some families Anglicised their names, eg. Moses Gill's family was originally Gille and Gilles.
Missing marriage: this one slipped through, sorry: 17th Feb 1784, Robert Sallows x widower married Mary Gaymer x widow. Both of Thorpe le Soken. Witnesses: Jemima? & Joseph Salmon. By licence.
Stray: Elisabeth, base daughter of Henry Lamb of Thorp in Essex and Elisabeth Fenton of the Hamlett was baptised in Bures St Mary, Suffolk, on 23 Jan 1740/1.
Baptisms
Burials
Marriages
Abodes are in the notes.
1682-1753
1754-1812
1813-1837
1837-1918
Marriages for 1837-1957 can be searched for at FreeREG. The marriages contain a lot of information, so it is very time-consuming to create legible, logical spreadsheets for them. I might include a surname index at some point, rather than the full transcriptions.