I visited Boxford St Mary on 18th August 2022. I photographed all the older memorials (and some newer) inside the church, and a small number of headstones outside. The headstones outside are generally very worn. Some of the memorials inside the church have been obscured by the organ and other furniture. The dark stone memorials inside the church are oblong slabs, with the inscriptions at the top – I have cropped the blank space from the bottom of them. Where necessary, I've supplemented the memorials with information from the burial registers. Brief transcriptions follow the gallery. Simon Knott's Suffolk Churches includes two memorials I missed inside the church- those of David Birde, son of rector Joseph Birde, and Sarah wife of Nathaniel Salter, surgeon.
To see the images in more detail, you're welcome to download a copy. You can also see them at Flickr.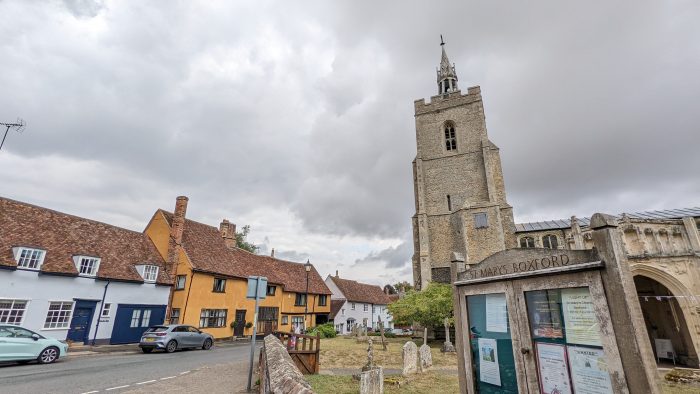 Outside the church
1 to 4: exterior of the church
5: very old graffiti carved into the door arch
6: Green: William Green died 8 June 1798, aged 31. Mary Wynne, his relict (widow) died 25 Feb 1839 [burial register: of Colchester, aged 68]. Another possible name but very worn – John Green?
7: Hart: Sarah Stannard wife of William Hart, died 17 June 1839 aged 53 [aged 52 in burial register]
8: Plume 1: Emily daughter of Rev.W. Plume and Sarah his wife, died 15 Sep 1841, aged 18. And Harriet their daughter, died 2 Nov 1845, aged 24.
9: Plume 2: Jane Plume [very worn. Died 28? Dec 1894. From burial register: buried 2 Jan 1894, aged 77, of Bournemouth]
10: Sherman: For 37? years clerk of this parish. Died 23? Feb 1883 aged ? [78 in register], and Sarah his wife, died 30? March [burial register: buried 1893, aged 86]
11: Vince: George Vince of Chilton, died 24 Sep 1908, aged 55. "Also of the above" died 13 Feb 1926, aged 82 [Mary A Vince died in early 1926, aged 80 on the BMD index, could be George's wife, but her name and relationship isn't shown on the headstone]
12: ? Very worn. Can only make out a possible date: 1676.
13: Phillips: George Phillips and Elizabeth. [very worn – from burial register, George died 1847, and Elizabeth in 1876]
14: Leonard: Florence Emma Leonard, died 25 Sep 1900, aged 17.
15: ? Very worn. Possibly Plumer, but no Plumers are in the burial register. The name appears to be *ner _l_mer, died Sept, 17__.
16: ? Lucy wife of J* [remainder of information worn away. Could be Lucy wife of John Carr, buried 16 July 1740, days after their son, but there are other Lucys in the burial register later in the 1700s who could be her]
Inside the church
17: Benyon: Anna Philippa wife of George Benyon, died 24 Sep 1753, aged 40.
18: Benyon: George Benyon, clerk. Aged 53? [information worn away. Burial register: buried 13 Dec 1767.
19: Adams: Elizabeth Adams, died 15 Jan 1767, aged 42
20: Strutt: Elizabeth wife of William Strutt, carpenter, lived together 40 years and 2 months. Issue: 5 sons, 6 daughters. Died 8? May 1769, aged 62, and William Strutt, died 1? Dec 1774, aged 70.
21: Strutt: Mary wife of William Strutt, son of William and Elizabeth Strutt. Died 30 Nov 1796, aged 61?, and William Strutt, died 23 Feb 1802, aged 71.
22: WW2 Roll of Honour: Charles King, Vernon Tricker, William Anderson, John Squirrel, Ronnie Tricker, Freddie Baker, John Stevenson.
23: WW1 Roll of Honour: William Baker, Thomas W Cobbold, Bertie J Clarke, Walter H Cuthbert, Frederick W Death, Temple W Joslin, Arthur W Munson, Charles Smith, Percy Grimwood, Frederick G Gooden, Ashton H Hughes, Archibald B Griggs, Lionel H Smith, Maurice L Everitt, Bertie RH King, Ernest S Griggs, Harry Sterry, Rodney C Clarke, Ernest W Ward, Arthur Rice, Horace C Gooden, Frank Sterry, Walter Eley, David J Evans, Walter W Whymark, Harry Fletcher, Edgar Mann, Albert Elmer, Oliver Grimwood, Leonard Pattle, Charles L Munson, Alfred Spooner, Bertie Griggs, William Pattle, Walter G Joslin, Harold Brett, Charles H Sparrow, Ernest King.
24: Bennett and Hyam: Top: Thomas Bennett, Master in Chancery, died 29 May 1764, aged 79, buried in the Temple Church, London, and Hannah his wife, died 10 June 1743, aged 49. Left: Elizabeth Bennett, daughter of Thomas and Hannah, died 11 May 1768, aged 38. Right: Anne Bennett, youngest daughter of Thomas and Hannah, died 16 Nov 1786, aged 53, "by whose death this branch of the family is now extinct." Bottom: Elizabeth Hyam, died 4 May 1748, aged 113. "For the fourth time a widow; who by a Fall, that brought on a Mortification, was at last hastened to her End."
25 and 26: Bird: Joseph Bird d 17? Aug 1624. Anna his wife, died 8? Nov 1630. [Inscription in Latin]
27: Allston: Edward Allston died 22 Jan 1617 (1617/8).
28: White: Robert White, gent., died 9 Sep 1715, aged 85
29: Moore and Brond: Older brass for Brond fastened onto newer stone for Moore. Moore: Martha Moore daughter of Robert and Mary Moore, died 7 Sep 1751, aged 6, and Mary Moore daughter of same, died 12 June 1752, aged 5. Brond: Richard Brond, died 9 June 1601.
30: Snelling: Samuel Snelling, clothier, died 1 Sep 1672, aged 32.
31: Wright: Gabriel Wright, late Citizen and Draper of London, died 24 Dec 1758, aged 52.
32: Bumpstead: Jeffery Bumpsted jnr., died 13 Oct 1730, aged 43, and Susan, wife of William Moulton, sister of Jeffery, died 3 Aug 1752, aged 55
33: Bumpstead: Jeffery Bumpsted of Boxford, son of Thomas Bumpstead, surgeon, died 22 July 1777, aged 33, and Ann wife of Jeffery, died 5 Oct 1786, aged 62.
34: Bacon: Susanna Bacon died 11 Apr 1753, aged 75, mother of Dr Montagu Bacon, late physician of Greenwich Hospital, died 23 Nov 1767, aged 51, and Sarah Bacon, relict (widow) of Montagu, died 31 July 1788, aged 67.
35: Alston: Catherine, wife of Edward Alston of Boxford, died 31 Oct 1690.
36: Browne: Susanna wife of Mr Joseph Browne, and daughter of Henry Dawson [note "w" added in later!], late of Groton, died 31 May 1689, aged 49. Issue: 5 sons and 8 daughters. And Bridget Browne, spinster, one of the children, died 18 Aug 1743, aged 72
37: Moore: Robert Moore [took?] to wife Mary Sp*, daughter of Joseph Browne. Robert died 23 May 1748, aged 32. [Partly obscured. Marriage licence: 4 Aug 1738, Robert Moore of Needham Market, Barking, Suffolk, to marry Mary Spencer of same. Marriage at Barking 6 Aug 1738, Robert Moore and Mary Spencer, both single and both of Barking, by licence. The furniture is possibly covering the word "grand" – Joseph Browne's daughter Martha married James Spencer of Hartest,a tanner, in 1708. This would make Mary Spencer, potentially, Joseph's granddaughter, rather than daughter.]
38: Bumpstead: Thomas Bumpstead, died 13 Dec 1768, aged 65
39: Bumpstead: Sarah wife of Thomas Bumpstead, died 5 Feb 1764, aged 47
40: Carter: Samuel Carter, died 12 Jan 1658 (1658/9), aged 70
41: Brond: John Brond, died 6 May 1610, aged 76. Having had two wives and by them "divers children"
42: ?: [forename?] *s, gent, died 2 Feb [year?] aged [?] [mostly obscured memorial of armigerous male. It might be possible to identify him by his arms. The Garneys arms are closest, and also have a surname ending in "s". But there are not Garneys in Boxford's burials. Nathaniel Adams of Boxford left a PCC will, but he isn't in the burial register either].
43: Church: Susan wife of John Church, rector. Left a daughter Elizabeth. Daughter of Thomas Carew of Little Waldingfield by his second wife Elizabeth Buddle of Hadleigh. Died 13 Aug 1769, aged 43.
44: Bu* [Bumpstead?] Jeffery Bu* [Bumpstead?], died 30 Oct [year?], aged 74 [partly obscured. Possibly Jefferey Bumpstead, buried 2 Nov 1740]
45: Warwell: Jacob or James Warwell, rector, died 28 Sep 1663, aged 65 [In Latin – James and Jacob are both Jacob in Latin]
46: Brown: Roger Brown, married Susan, daughter of John Brand of Edwardstone. Issue: 4 sons and 3 daughters. Susan died before Roger. Roger died 1 Dec 1661, aged [?] [partially obscured – although a number 6 is just about visible. Perhaps in his 60s, or his age ended in 6]
47: Strutt: Elizabeth wife of Isaac Strutt, daughter of Rev John Church and his wife Susan. Died 25 March 1814, aged 68, and [?] Strutt, gent., died 4 [?] , aged 83 [partly obscured. Presumably Isaac Strutt. The burial register says he was from Groton, and was buried on 12 Jan 1829, aged 82.]
48: Cobbold: William Cobbold, clothier, married Anne, daughter of John Piper of Boxford, died 27 Nov 1638 aged 40, issue 2 sons, 3 daughters. [the stone goes on to mention his wife, but this part if completely obscured. Burial register: Anne Cobbold, widow, buried 11 Aug 1662]
49: Street: H G Street [Harry Gladwell Street], died 28 Nov 1878, aged 36.
50: Bennett: Entrance to Bennett vault. It's next to a step.
51: Vernon and Rutherford: Captain Ralph Vernon 1880-1965 and his wife Jenny 1896-1969, and Rosemary Rutherford (1912-1972). The east window was dedicated to the Vernons, and designed by Rutherford.
52: Rectors of Boxford, from 1286-1989
53: Doggett: William Doggett married Avis daughter of Thomas Lappadge of Boxford. Issue 6 sons, 6 daughters, died 10 Oct 1610, aged 53 [I lost the photo of it, so the image here is reproduced from an out-of-print, out-of-copyright book]
Miscellaneous
54: Box tomb [inscription not legible]
55: Top of a tomb [inscription not legible]
56-57: missing brasses inside the church
58: parish chest
59-60: Mediaeval painting of a king, possible St Edmund.