→

→

→

Mendlesham St. Mary the...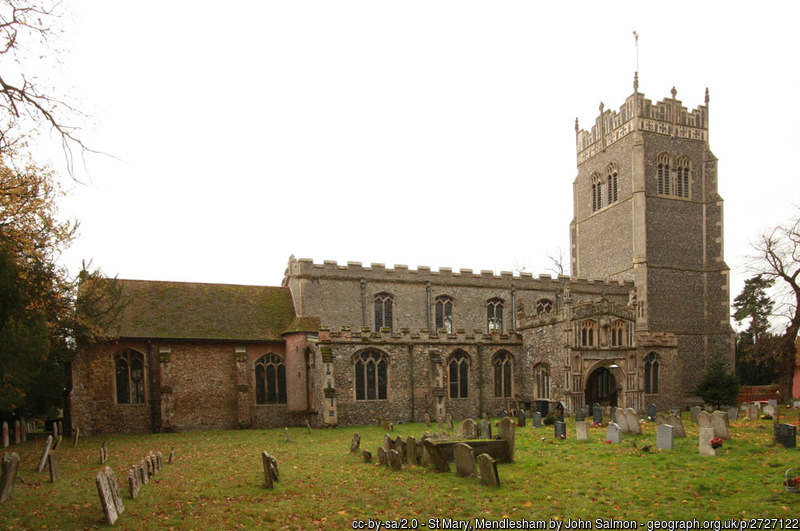 Transcribed from duplifiche of registers held at Ipswich Record Office. Entries are indexed alphabetically by surnames. They can also be searched for at FreeREG.
Memorials in the churchyard relating to the Marriott family were recorded in the early 1900s and published in The East Anglian. Read online.
"The Early Modern Religious History of Mendlesham" by Angus Williams. Mentions non-conformists in the village.
In 1657, several burials are recorded as having taken place at "Roberd Dunkons": Angus Williams' article (above) mentions Robert Duncan was a Quaker and his house became the local Quaker Meeting House. Duncan's garden doubled as a Quaker cemetery.
Several people from Mendlesham married at Stoke Ash. These were compiled in "The East Anglian", from 1687-1743 (archive.org).
Mendlesham isn't as badly affected by the "Commonwealth Gap" (where records are lost for the period 1649-1660, when the country was governed as a republic) as other parishes – Charles Partridge found evidence in Eye's register that the Commonwealth pages had been cut out! The "little register" (SRO ref FB159/D/1/2), used during the this time to record births and deaths (rather than baptisms and burials) and marriages has survived, although it's possible there's entries missing from it and the handwriting and spelling is pretty terrible! A new register began in 1662 and ran up to 1712 (SRO ref FB159/D/1/3), and is mainly in Latin, with Latinised names, and words like "vidua" instead of "widow". It's faded and difficult to read in parts. And in 1712, John Bryars – rector of Billingford, Norfolk, and curate of Mendlesham, copied up the old register (SRO ref FB159/D/1/4), saying "the old one which was very much worn & confused." Both have survived. I have transcribed from the original and checked against Bryars' copy when entries are very faded or difficult. I have spotted some errors in his copy – for instance, there's a burial of a woman described as a "virgo anilis" (aged spinster) which Bryars transcribed as "old widow".
Baptisms 1681-April 1699 are in FB159/D/1/3, and end April 1699 onwards in FB159/D/1/4.
The surname Connoll/Connold/Cunnold is sometimes written Gunnold/Gunnall etc.
Filby is also spelt Philby.
In the early/mid 1700s the name "Ama" appears. It's not clear if it's "Anne" with a stylised double "n" or "Amy" spelt differently. One woman called "Ama" is called "Anne" on her marriage, "Ama" as a mother for her children's baptisms, then "Anne" once another vicar takes over. But another woman called "Ama" is called "Amy" by the other vicar.
Baptisms
Burials
Marriages
1558-1749
1750-1816