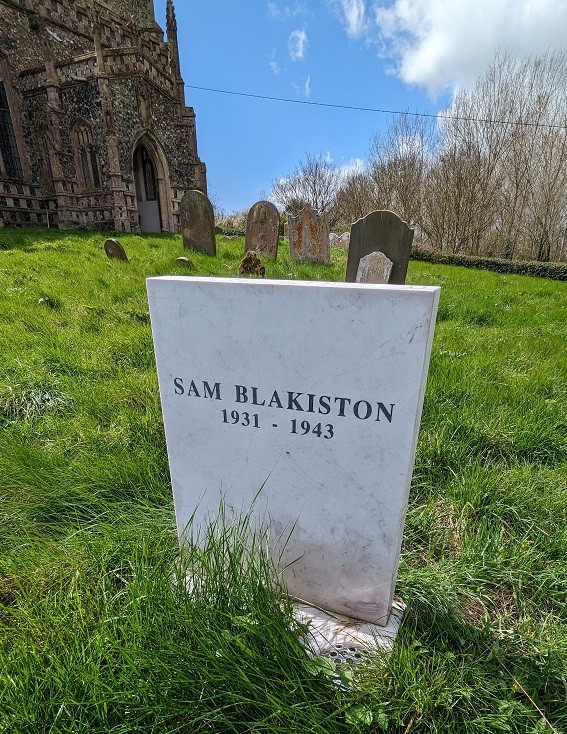 In April, I paid a visit to Kersey in Suffolk. Like many Suffolk villages, it's picturesque and full of ancient timber-framed houses, but Kersey is slightly different as its main street runs down and up the sides of a valley – quite unusual for a country that's famously not very hilly. A ford runs across the main street, and at one end the church is perched above the village on a hill.
There's some interesting memorials inside the church, and a large number of legible headstones in the churchyard. Some more legible than others, I noticed…
Among the old headstones, I found a very new stone for Sam Blakiston, who would've been about 12 when he died in 1943. There was no message on the stone, and no other family members named. I assumed someone from the family had recently decided to give Sam a proper stone – perhaps he'd never had one, or his original stone had decayed.
Then in the church, leaning against the ancient font, I saw a wooden cross with "Mary Blakiston" written on it, but no dates or other information. I thought it must've had something to do with Sam's stone, and was going to see what I could find out about the family once I got home.
There were several magpies dotted around the inside of the church, and photos and information about "Magpie Murders", a drama which was recently filmed in Kersey. So I put watching the "Magpie Murders" on my list of things to do on my return home as well.
Before I had time to research the Blakistons, I started to watch "Magpie Murders", where Kersey doubles for the imaginary Saxby-on-Avon. And with that, the mystery of the Blakiston headstone and cross was solved.
Sam's grave might look like a real grave – it's made of marble, and even has a metal vase for flowers. But it's not entirely a real grave, because it's a headstone for someone who has never actually existed. And the same goes for Mary's cross. She was Sam's mother, but like Sam, never existed either.
There aren't many Blakistons in Suffolk – although ironically, given that "Magpie Murders" is a crime drama, one Suffolk Blakiston married a Holmes!
They're both props from "Magpie Murders"! And it wouldn't surprise me if they will stay at Kersey, just like another prop grave I've seen.
When "A Christmas Carol" was filmed in Shrewsbury in the early 1980s with George C Scott as Scrooge, they needed a grave for the scene where The Ghost of Christmas Yet to Come shows Scrooge his last resting place. And what better prop to use than… an actual grave! The film crew found a flat grave whose inscription had worn away, and carved "Ebenezer Scrooge" across it (with, I should add, the permission of the church). You can find Scrooge's grave in the churchyard of St Chad's, Shrewsbury.