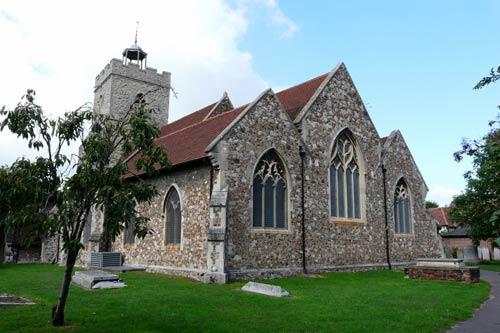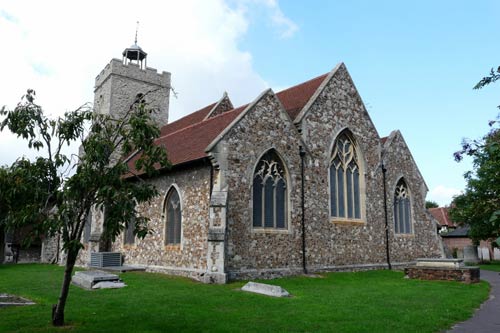 Photo by Cindy Lilley.
I've nearly finished transcribing the baptisms and burials register for Wivenhoe St. Mary the Virgin, 1695-1751.
It's not unusual at all to find people being buried in a parish that they don't usually live in – either because it's where they're originally from and they want to be buried beside their family members, or because they died too far from home.
I found one burial from 1718, and two from the 1730s for men from Sunderland, County Durham – James Dun on 22nd October 1718, John Whitfield on 16th June 1735, and Timothy Ruston on 23rd August 1739. Not long after Timothy's burial, on 24th Feb 1739/40, John Richardson from Scarborough, Yorkshire was buried.[1]More from the 1752-1812 register: John Richardson from Sunderland, aged 36, buried on 30 March 1776, William Hardcastle, aged 13, from the ship William of Sunderland, buried 23rd December 1808.
These seemed rather odd – Wivenhoe is nearly 300 miles away from Sunderland by road, and 250 miles from Scarborough. Of course, with Wivenhoe being a village which had a port and ship yards for centuries, it's possible that these men were sailors, involved with transporting something down the North Sea coast. But what?
And then, on 28th December 1750, we have the burial of Thomas Crawford, " from on board the True Friend, a collier, by a blow of the Capstone."
These extra bits of information suggest a solution to the burials of the men from 'up north', who ended up being buried so far from home in Essex. Collier ships were very important, transporting coal from the mining towns in the north of England, down the North Sea coast to London. Of course, they stopped off on the way – some would have been bringing their cargoes to Colchester. Maritime Heritage East has an interesting model of the Lambton collier brig from Sunderland, and they say:
This type of vessel was once a common sight in the River Colne.  They would sometimes offload part or all of their cargo into lighters at Wivenhoe for delivery to Colchester Hythe Quay, and would take on ballast at the Ballast Quay to make themselves seaworthy again for the return passage to the North East.  The last collier brigs on the East Coast finally ceased trading in the early twentieth century.
British History Online has an interesting piece on Wivenhoe's economic history, which briefly mentions the collier ships, which lost out to competition from the railways.
Scarborough Maritime Heritage discusses the town's role in transporting coal, with an example of a typical collier ship's voyage from 1718.
I wonder if the Co-Op coal yard, which used to be (and still is?) by the railway/road crossing in the Hythe, was a relic from those days? Coal was still brought into Wivenhoe when I was a child – during the Miners' Strikes of the early 1980s, coal from mainland Europe was imported through Wivenhoe port, which led to miners, coming from the distant coal fields of Wales and northern England, battling with police to stop lorries leaving the port.
It's interesting to think that Wivenhoe's involvement in the coal industry goes back as far as it does, although of course, now without a port, it is only an echo from history.