When looking at the Great Bromley Cardinalls, we follow back up the tree from William, who married Joane and Lettice, and find ourselves at William Cardinall of Great Wenham. We know that there is an issue surrounding the wife he's given in the Visitation (it would mean William Cardinall of Great Bromley was born before alleged his grandfather, Roger Amice!), however, we can find out more about William and how he fits in with the other Cardinalls in Suffolk, by looking at the Suffolk Visitation.
Suffolk Visitation, 1612
The Suffolk Visitation of 1612 doesn't take the form of a tree, as it's written out long hand. It contains no dates so is a bit confusing. It's in two sections: Cardinall of Hadleigh and Cardinall of Wenham. The following trees are a graphical representation of the Suffolk Visitation without any other information added.

It firstly tells us that Steven Cardinall of Hadleigh had three sons: William of Hadleigh, Steven of Great Wenham and Edward of Hadleigh. Edward a son, William, by his wife, Jane Bendlowes. William married twice – first to Margery Fawcon (no issue) and secondly to Susan Sicklemore – they had two children, Thomas and Mary. It's not clear, but perhaps Thomas and Mary were 6 and 2 in 1612.
Steven Cardinall of Great Wenham
So Steven, son of Steven of Hadleigh, moved to Great Wenham, and had three sons by his wife – first name unknown, maiden name Amice (which perhaps connects with the other Amice bride that appears in the Cardinall Visitations): William of Great Wenham, Steven of East Bergholt and Edward.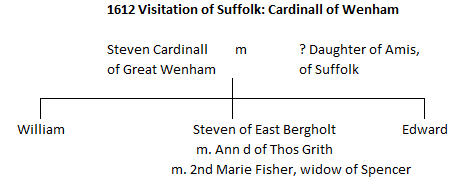 The Visitation details Steven of East Bergholt's enormous family, which I haven't turned into a tree here: by Ann, his first wife, he had eight children (William, Adam, Steven, Robert, John, Judith, Jane and Anne) and by his second wife he had four children (Humphrey, Philip, Mary and Margaret). Judith married John Branston of East Bergholt, and secondly George Cockerell of Coggeshall. Anne married Christopher Burrough of East Bergholt (it's worth noting that Christopher's 1607 will names Charles Cardinall as executor). Steven of East Bergholt's eldest son, William, married Jane Maynard of Colchester, and had eight children: William, Stephen, Edward, John, Elizabeth (married John Pearce of Parham, Suffolk), Thomasen (married Henry Walker of Bury St. Edmunds), Rose and Mary.
It's at this point that we can start to add some dates to this, because Steven Cardinall of East Bergholt (the third Steven Cardinall, if you will) is the one who wrote his will in 1568, and it was proved in 1573. The names it contains (such as Grith and Fisher) tie up with the names of his children in the 1612 Visitation. Other wills from Cardinalls in the nearby area repeat some of these names – Margaret Cardinall of Bramford's 1567 will mentions Sycklemer/Siclemer, and the 1574 will of Richard Cardinall of East Bergholt mentions his siblings who are the children of Stephen in the 1573 will.
So, if we want to know the identity of William Cardinall of Great Wenham, who appears in the 1612 Essex Visitation, I would suspect that it is none other than the eldest son of Steven Cardinall of Great Wenham, and brother of Steven Cardinall of East Bergholt. He wrote his will in 1543 and it was proved in 1551, wherein he mentions three children: Edward, William and Faith. At the time the will was written, Faith was unmarried, and Edward inherited very little. It was William who was to inherit the bulk of his father's estate.