We can learn a lot about William's professional life from his page at The History of Parliament: he was admitted to Grey's Inn in 1533 (where his grandson, James, would later go) and he was a Justice of the Peace in the 1540s and 1550s. He was receiver-general to the 16th Earl of Oxford by 1558, and Recorder of Colchester in the early 1560s. He or his father bought Great Bromley manor in 1542. He was married twice – first to Joan, in 1535, daughter of John Gurdon and widow of John Cole of Dedham, and secondly to Lettice, daughter of William Knightley and widow of John Clipsby. He and the father of his first wife bought the lease of a mill and some pastures in Dedham in 1536. He was buried in South Benfleet in 1568, and a brass can be found in the church there, bearing his name, age and date of death. He died intestate.
It's worth noting that The History of Parliament entry comments on William's Protestantism as he fell out of favour during the reign of Queen Mary. His son, Charles, was to have an infamous stepson in the shape of Sir Thomas Bowes, a prime mover in the Puritanical witchtrials of the 1640s. His other son, William, was a Puritan lawyer. And of course, Dedham and East Bergholt, where the Cardinalls circle about, were "godly" areas.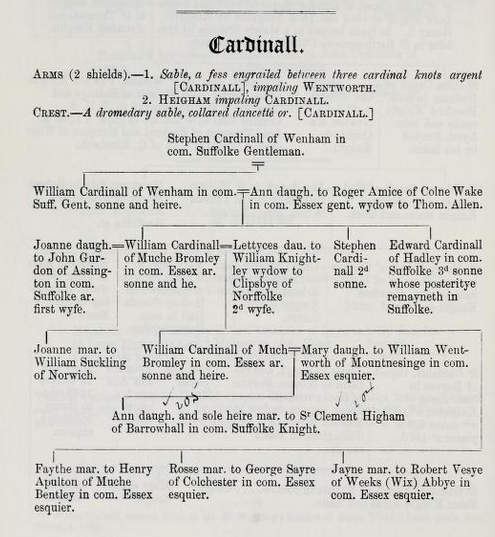 What of his family? William's lineage is a good example of why we should take care with using the Visitations. The one for 1612, shown above, gives his mother as Ann, daughter of Roger Amice of Wakes Colne. This cannot be correct unless we're dealing with an earlier Roger – Roger Amyce's will of 1574 mentions his daughter, Anne, who is the wife of Thomas Allen. Thomas is alive and well in Roger's will. Roger was born in about 1515, after William Cardinall's birth, which obviously makes it impossible for him to be William's grandfather. The 1558 Visitation (which seems to have had later additions made to it) says only that William married a daughter of an Amyce, which perhaps suggests that his wife being the daughter of Roger was a guess, presumably by who hadn't worked out the ages of those involved. It may be that the Roger Amyce who died in 1574 was in fact a relative of the Amyce who William married. The fact that no years are mentioned on most Visitations makes the slipping between generations more likely and more perilous.
The 1612 Suffolk Visitation says that Stephen Cardinall of Wenham married an unnamed Amis lady – has something got confused and it was Stephen, not his son, who married an Amis? Or did they both marry Amises? (perhaps William marrying a maternal cousin?). Then again, the Gosnold entry in the Suffolk Visitation says that William Cardinall of Wenham married Margaret Gosnold. He might have married twice, of course. See William's article for more.[1]Note that the first version of this article said that, based on John Gosnoll's entry in the History of Parliament, he was born about 1507 (based on his age when he was called to the Bar), so … Continue reading
For instance, volume 1 of The Biographical Register of Christ's College, Oxford, 1505-1905, has an entry for an Edward Cardinall, matriculation pending in December 1619. They look to the 1612 Suffolk Visitation, claiming that Edward is the son of William Cardinall of Great Wenham by his wife Jane Maynard of Colchester (which could well be correct – although I haven't checked this yet) – but then they say "In the Essex Visitaiton [see image above] he is described as of Hadleigh, Suffolk, 'where his posterity remained': but in the same place his mother is given as Anne, daughter of of Roger Amice of Colne Wake, widow of Tho. Allen." These are in fact two different Edwards – in fact, Edward who studied at Oxford in the early 1600s cannot possibly be the one identified in the 1612 Essex Visitation – because his brother couldn't have born 100 years earlier! And it confuses two Williams – William of Great Wenham did not marry Jane Maynard, it was in fact William of East Bergholt.
Inheritance
When his father, William Cardinall of Great Wenham, died in about 1551, William jnr was his executor and residual legatee. His will had been written in 1543, and he left his son Edward £10 and a silver salt cellar or 40s, and his daughter Faith £40 on her marriage if her husband was to William jnr's liking. Quite how large William jnr's inheritance was is unclear, but perhaps manorial records might show us. The other thing to note is how this compares, again, with the 1612 Visitation of Essex – there is no mention of Stephen Cardinall in William senior's will, and no mention of his daughter Faith who appears in the will, but not in the Visitation.
It is significant that William Cardinall of Great Wenham's will was witnessed by John Gardon and his wife Ann, and Robert Derehaugh, because those two names crop up elsewhere.
Wives
Joan Gurdon
In 1535, William Cardinall jnr married Joan, the widow of John Cole of Dedham, a clothier. The marriage settlement between William and Joan is held at the Record Office in Bury St. Edmund's, amongst papers relating to the Gurdon family of Assington; Joan's father was John Gurdon. I should think that a rummage through the Gurdon papers might yield some interesting information, but I'm not sure if John Gurdon left a will.
John Cole did, however. It was written on 31st August 1534, and proved on 6th October of the same year, so Joan remarried a year after her husband's death. At the time the will was written, Joan was pregnant, and John includes their unborn child in the will. He mentions his son John and his daughter Margaret, both of whom were under 21. He seems to leave his property to John, Margaret and his unborn child, but then mentions that if all three of them die without issue, their inheritances are to go "to the next of my blode" – his other daughters: Alice, wife of John Havynes, and Joan, wife of Robert Wyles. It seems that they received money on their marriages. It is possible that Joan Gurdon wasn't the mother of Alice Havynes or Joan Wyles. He made John Gurdon of Dedham his executor (perhaps his wife's brother).[2]PCC will – John Cole or Coole, clothier of Dedham, 1534. In 1544, a dispute arose over property in Dedham, between Thomas Veysye and John Cole, his guardian being John Gurdon. This is from a document held at The National Archives.
Lettice Knightley
Lettice's father was William Knightley, who practiced law in Norwich from about 1495 to 1540.[3]Sir Edward Coke and the Elizabeth Age, by Allen D. Boyer, pp.2., Stanford University Press, 2003. This makes her the aunt of Sir Edward Coke (1552-1634), whose mother, Winifred, was another of William Knightley's daughters. Coke rose to the position of Attorney General, and led the prosecution in the Gunpowder Plot.
The research of 18th century historian Anthony Norris (PDF) includes William Knightley's family, and mentions Lettice's marriage to Clipsby and thence to William Cardinall of Great Bromley. Knightley wrote his will in October 1547, and mentions his three unmarried daughters – this does not include Lettice, who presumably was married to either Clipsby or Cardinall by that point. Norris also mentions that:
In 1580 Edwd Coke and Charles Cardinal Recovered the Manor of Crustwic in Wiley in Essex against George Knightley Esqe and that Manor continued in the Cokes of Holkham until the beginning of this century.
Charles Cardinall is presumably William's son, and it suggests that Lettice was Charles' mother. It is likely that Charles and Edward were cousins, and George Knightley was their uncle. In fact, the Knightly Visitation for 1558 does show that Charles was Lettice's son: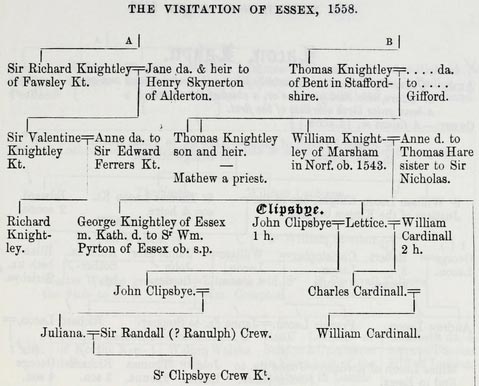 Note that in 1590, Charles bought the manor of Braham Hall in Little Bromley from William Pyrton – this is possibly a link with his uncle's wife Katherine, who was a daughter of William Pyrton (perhaps Katherine's brother or nephew).
William's children
Exactly which children William had by which wife isn't entirely clear (apart from it being possible that Charles was Lettice's son). The 1612 Visitation above tells us that he had only one child by his first wife, Joan – a daughter called Joan, who married William Suckling of Norwich. This isn't right because it should be Robert Suckling of Norwich – Joan was his second or third wife. They were married in 1577. The Suckling family is discussed in more detail in the section on William's son, Charles (?-1624), because Charles' first wife was Elizabeth Suckling (step-daughter of Joan – Charles married his step-niece, in other words. I suspect Joan was quite some bit younger than her husband, however – he was born in about 1520, so was nearly 60 when he married Joan, and Joan had three children by him). The 1612 Visitation then says that William and Lettice had one son (William) and three daughters. But from other evidence, we know William had more children than this.
The 1558 Visitation (which someone must have gone back and added to) gives us a different picture: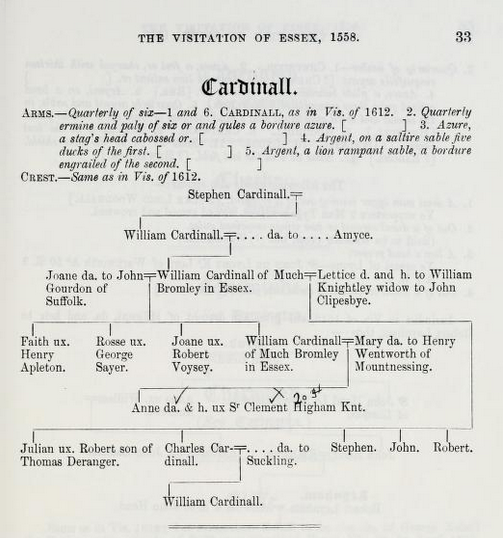 Joan/Jane – Suckling or Vesey?
This version shows us that William and Joan had four children (three daughters and a son), and that William and Lettice had five children – one daughter and four sons. Without baptism registers going this far back, it is nigh on impossible to say for sure. Note the change from Joan marrying a Norwich Suckling, to Joan marrying Robert Voysey, whereas the 1612 Visitation says that another daughter, Jane, married Robert Vesey. And the Norfolk Visitation says it was Jane who married Robert Suckling. While we know that Joan married Robert Suckling in 1577, we know, too, that whoever married Robert Vesey/Voysey had done so much earlier, because Stephen (one of William's sons, possibly by Lettice), wrote his will in 1575 and mentions his "sister Vasie". He also left £5 to his goddaughter Elizabeth Vasie, who may have also been his niece.
In fact, all we need here for proof is a marriage that took place in Great Bromley on 2nd December 1577, between Robert Sucling, gentleman of Norwich, and Joane Veysie, widow. Joan and Jane, despite what we might gather from the Visitations, are in fact one and the same person. For more on Joan and the Veseys, see the Veseys of Wix Abbey. Joan was buried in Wix on 2nd September 1624.
It's as well Joan did marry Robert Suckling – she and Robert are the 4 x great-grandparents of Admiral Horatio Nelson. But that's another story….
The Appletons of South Benfleet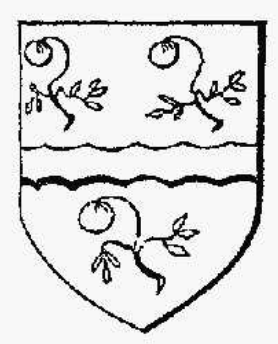 The Visitations say that Faith married Henry Appleton – the 1612 one says he was of Great Bentley. I think they mistook Bentley for Benfleet – William Cardinall was buried in South Benfleet in 1568, as we know from a brass which still survives in the church of St. Mary the Virgin. Burke's Extinct and Dormant Baronetcies of England says that Henry Appleton, eldest son of Roger Appleton and his wife Agnes,[4]daughter of Walter Clarke of Hadleigh, Suffolk held the manor of South Benfleet, and lived in a house called Northmayes or Jarvis Hill. It was this Henry who married Faith, daughter of William Cardinall of Great Bromley. They had three children; Roger, Edward, and a daughter called Edith. Henry died on 2nd November 1606. It was Henry and Faith's son Roger who was created a baronet in 1611, and died not long afterwards in 1614. Burke follows Sir Roger's line to his descendant Sir Henry Appleton, who died in 1709/10 without children, thus rendering the baronetcy extinct, but the family's amassed wealth passed to Henry's sister, Elizabeth.
The Sayers of Colchester and Aldham
William's daughter Rose married George Sayer of Colchester at Great Bromley on 22nd September 1561. He is the son of another George Sayer, of Colchester. There is a memorial in St. Peter's church in Colchester to George senior, showing George and his wife facing each other kneeling at an altar, with their sons and daughters kneeling behind; it is not unlike the Suckling monument in Norwich. George Sayer senior died in about 1577. According to Frederic Chancellor in The Ancient Sepulchral Monuments of Essex (which features a very clear drawing of the Sayer monument), George senior was alderman and bailiff, and owned a considerable amount of property around north-east Essex. He left most of his property to George jnr, and his will mentions that George and Rose had four children: George, Thomas, Frances and Mary. Burke's History of the Commoners of Great Britain and Ireland says Thomas had his seat in Bowton, Suffolk; that Mary married John Prettyman of Suffolk, and Frances married Robert Browne of Colchester.
The 1634 Essex Visitation for the Browne family is very interesting in that we can see the marriage of a daughter of George Sayer (who we know to be Frances), but it also shows that after Frances' death, Robert married Mary Vesey of Wix – presumably connected with Joan/Jane Cardinall (see above). And it also shows that the Brownes had a connection with John Prettyman – perhaps Margaret Prettyman, who married William Browne, was a granddaughter of George Sayer (which would make William and Margarett step-cousins – I think!).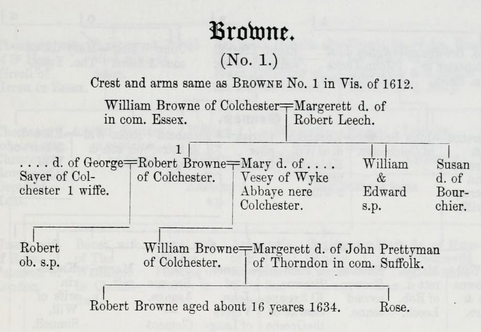 Rose's husband wrote his will in 1594, and it was proved in 1596 (he died on 3rd July that year). It is a very long will, full of lots of household objects. George mentions Rose, as well as his son George (who according to Burke was 30 at the time of his father's death), his "daughter Pretiman" and a grandchild called Rose Browne. He names his son George as executor, and requests his "brothers", William and Charles Cardinall, supervise.
Chancellor says that one of George's sons succeeded to his estates in Aldham, called Bourchiers Hall, and they lived there until the male line died out in the mid-1600s. At the time he was writing, a gravestone slab on the floor of Aldham church (which survived after the church was demolished in 1855) could still be seen which commemorated Sir George Sayer, knight, who died 11th July 1650, aged 36. He, Chancellor says, is a descendant of George Sayer senior. He predeceased his father, and his posthumous daughter, Esther, succeeded the estates after the death of her grandfather in 1658. If you look through the marriages from Wakes Colne, you'll find the following marriage on 2nd December 1652:
Gualter Pierson, Gentleman, & Mrs Elizabeth Sayer, daughter of John Sayer esq of Bourchers Hall in Aldham, lately a Member of the honourable house of Commons.
If we compare this to Burke, again, we can see that George and Rose's eldest son, George, was knighted on 4th June 1607. He married Dorothy, daughter of Sir John Higham of Barrow Hall, Suffolk, which is significant, because Rose's niece Ann Cardinall, daughter of her brother William Cardinall (1535-1598), married Sir Clement Higham of Barrow Hall – clearly we can see a network involving the Cardinall/Sayer/Higham families. Sir George and Dorothy had six children: John (born 1598), Higham, Francis, Richard, Ann and Susan, and Sir George died 7th March 1630. It was John who inherited Bourchiers from his father, and became an MP for Colchester in 1645. It is his son, another Sir George (he was knighted in 1640), whose burial slab was seen by Frederic Chancellor on the floor of what remained of Aldham's old church.
An Oxfordshire vicar
Stephen Cardinall went to Trinity College, Cambridge in 1557, and received his BA in 1560/1. He was made a fellow of St. John's College in 1562, and received his MA there in 1564. He received his Bachelor of Divinity in 1571, the same year he was university preacher. He became perpetual vicar of North Stoke in Oxfordshire in the same year, and died in 1576. He left a will in which he mentions his sisters Sayer and Vasie, and his goddaughter Elizabeth Vasye (as mentioned above). His brother Charles Cardynall was his executor, to whom he bequeathed £100.
It is possible that John Cardynall, who was at St. John's, Cambridge in 1566, and got his LLB (Bachelor of Law) from Trinity Hall in 1570, is another of William Cardinall's sons who appears on the Visitation. John Cardynall's VCC will was proved in 1570. It is very short and written in Latin, and is hard to make head nor tail of, however, it does mention a Stephen Cardinall, so it could very well be that the Cardinall brothers Stephen and John were both Cambridge scholars.
Deranger or Derehaugh?
William jnr and Charles will have their own pages, so we're left with Julia, who, according to the 1558 Visitation (she doesn't appear on the one for 1612), married Robert, son of Thomas Deranger. I think this surname might be Derehaugh. I've not managed to do much research into this family, but it is perhaps significant that the 1613 will of William Derehaugh of Gedgrave in Suffolk mentions his cousin, Thomas Higham of Stratford in Essex.
More significant is the 1621 will of Francis Derehaugh of Gedgrave. He had been left property in Holborne, Middlesex, by his late uncle, Robert Derehaugh of Gray's Inn, and that Robert had also put them in the name of William Vesey of Gray's Inn (Vesey may have been the grandson of Robert Vesey (d. 1575) and his wife Joan, née Cardinall). He mentions his brother, Robert Derehaugh, and it seems that their father had died and Mary, their mother, remarried to Peter Martin. The will mentions various other people, including a Thomas Derehaugh of Badingham, but it doesn't say how he is connected to Francis. Francis mentions a bond between himself and Arthur Middleton of Horsham, Sussex, in order to pay his father's extensive debts.
Francis' will was contested – there is an administration in the PCC, dated 1621: Francis Derehaughe/Derohaughe of Gedgrave, to Arthur Midleton of Horsham, Sussex, pending his suit versus Mary Cardinall alias Derehaugh, and Dorothy Gray alias Derehaugh, sisters.[5]There is a Chancery suit, dated 1625-1660, called Cardinall v. Middleton Now – Dorothy Derehaugh is mentioned in Francis' will (which he wrote in 1615), saying she was to receive £300 on her marriage, and Mary, his sister, is also married. Mary was a widow – her late husband was William Saxey[6]They married at St Gregory-by-St-Paul on 29th December 1605. –  at the time the will was written, and was to receive £200. It would appear, then, that between 1615 and 1621, Dorothy married someone called Gray, and Mary married again, to someone called Cardinall. I've found a transcription for a marriage on 19 September 1615, for a Dorothy Derehaugh marrying a Henry Gray – the transcription only gives the place as "Westminster" so I don't know which church it took place in. However, it is likely to be the Dorothy mentioned in the suit.
Mary Derehaugh married William Cardinall (presumably one of the East Bergholt Cardinalls) after the death of her husband William Saxey. Admon for her brother, Robert Derehaugh of Gedgrave, was given to William Cardinall in 1637, with a memorandum that in 1615 Robert had been planning to go overseas and had told several friends and acquaintances that he intended to write a will before he did. But that he never got round to it, he would leave everything to his sister Sexie. He doesn't give her first name, but it must be Mary Saxey. The admon is written in Latin, but says that William Cardinall was granted admon. Mary was dead by then, but she and William had two surviving children, also called William and Mary. They would be Mary's heirs so would inherit Robert's estate.
But how this fits in with Julian Cardinall marrying Robert "Deranger", I don't yet know! Had Julian married Robert of Gedgrave but died before he did? But it seems possible that this connection has something to do with the Cardinalls in Suffolk, because the Derehaughs were connected with the manor of East Bergholt. History of Parliament's entry on John More of Burston Haugh, Suffolk, mentions that More's cousin, Robert Derehaugh, was connected with the Dedham classis, part of the Presbyterian movement. More's brother-in-law was Robert Barker, who was a business associate of William Cardinall (although I have a feeling that History of Parliament muddles up William Cardinall of East Bergholt with William Cardinall of Great Bromley, latterly Nottinghamshire).
A half-hearted, not-particularly confident conclusion
Please don't take what I've written here as gospel. It's extremely difficult trying to map facts onto the Visitations. They're a handy guide, but they can be very wrong! Then again, when we're dealing with families which, generation after generation, repeat the same first names incessantly – it gets even more confusing. I am going to The National Archives this year to look through the various Chancery records that involve the Cardinalls – maybe this will shed more light on them…. then again…. maybe it may only serve to confuse things further.
↑ 

1
Note that the first version of this article said that, based on John Gosnoll's entry in the History of Parliament, he was born about 1507 (based on his age when he was called to the Bar), so Margaret couldn't be his wife. However, since writing this I have researched the Gosnoll/Gosnolds of Otley and the John born in about 1507 was Margaret's nephew, not her father. John Gosnoll born about 1507 married Catherine Blennerhassett. He died in 1554, and Catherine's next husband was Anthony Wingfield. The Wingfields will appear – or already have – again on this site. I'd also got my William Cardinalls muddled up!

↑ 

2
PCC will – John Cole or Coole, clothier of Dedham, 1534.

↑ 

3
Sir Edward Coke and the Elizabeth Age, by Allen D. Boyer, pp.2., Stanford University Press, 2003.

↑ 

4
daughter of Walter Clarke of Hadleigh, Suffolk

↑ 

5
There is a Chancery suit, dated 1625-1660, called Cardinall v. Middleton

↑ 

6
They married at St Gregory-by-St-Paul on 29th December 1605.