As mentioned in talking about his father, William (1509-1568), it's not entirely clear who William's mother was – either Joan Gurdon or Lettice Knightley. However, it seems that William had been born in Dedham – in his will, he refers to it as "my native Towne where I was borne".
You can read about his career at The History of Parliament. He was educated at St. John's, Cambridge, then was admitted to Grey's Inn in 1553, being called to the bar in 1555. He was a puritan lawyer; the Cardinalls seem to have been a puritan family. He was busy as a justice of the peace in Essex in the 1570s – there are many documents at the Essex Record Office which involve him interceding in local legal disputes, and Dartmouth, albeit a rather long way from Essex, was his constituency in 1574. In the 1580s he was in Nottinghamshire, having become a member of the council of the north in 1582.
Anne Cardinall (1563 – d. before 1607)
William had one child (at least, only one appears in the Visitations and in his will). This was his daughter, Anne. It seems likely that she was the "An Cardinall" baptised at Great Bromley on 17th September 1563 – no parents' names are in the register, however.
Anne's mother was William's first wife, Mary Wentworth, daughter of Henry Wentworth of Mountnessing in Essex. Records show there is a connection between the Wentworths and the Earls of Oxford, which is worth noting given that William's father (William, 1509-1568) was receiver general to the 16th Earl of Oxford, and that the East Bergholt Cardinalls also had dealings with them.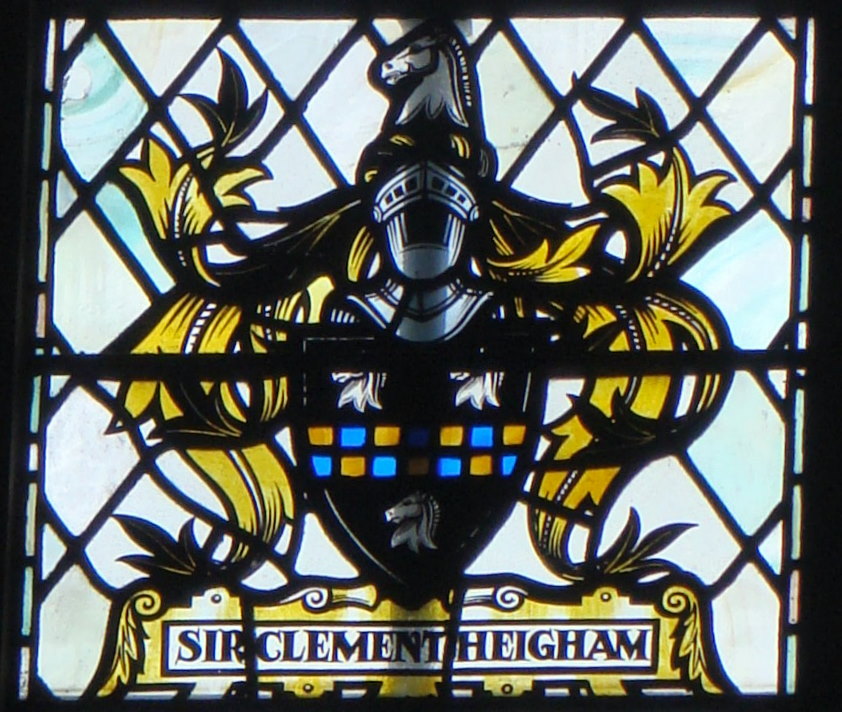 Anne married Sir Clement Heigham of Barrow in Suffolk. At least from the 1561 Visitation of Suffolk, the Heighams appear to be a huge, sprawling family; Sir Clement's paternal grandmother was Anne Waldegrave, daughter of George Waldegrave of Smallbridge, Suffolk. I think this refers to Smallbridge Manor in Bures St. Mary, which was held by the Waldegraves.  The above stained glass is from a window in Lincoln's Inn, commemorating Sir Clement's grandfather – another Sir Clement Heigham (1495-1571). Anne and Clement had at least two sons, who appear in William Cardinall's will – William and Edmund. Another heir of Anne's, John Heigham of Ditchingham in Norfolk, appears in record from 1607 pertaining to Great Bromley Manor, when he and Charles Cardinall quit-claimed to George Stringer of Nottinghamshire, William Cardinall of Norwich (Charles' son) and Edward Cardinall of Furnival's Inn.[1]ERO ref: D/DU 40/93. Whether this is another son of Anne and Clement's, or perhaps a grandson, is unclear just from these two documents.
Great Bromley manor
William's father had died in 1568, and in 1578, he gave his brother Charles an annuity for life of £10, which was to come out of the manor of Great Bromley. Perhaps this might indicate that the manor had been bought by William senr, and was inherited by William jnr. Charles is named as "Charles Cardynall of Furnival's Inn, Middlesex". By 1580, however, Charles seems to have been in Little Bromley, where he and his wife Elizabeth had their children baptised. The manor had been bought in 1542 by a William Cardynall, from Sir John Guldeford and his wife Barbara – it seems that this may have been William senior.
William's will
By about 1585, Mary, William's first wife, had died, and he married Julian, a widow. They lived in Edgmanton in Nottinghamshire.  It was here that William wrote his will. It's an interesting production – we're all quite used to wills opening with a quick "In the name of God amen", or a longer version which talks about bequeathing one's soul to Christ before the testator gets on with divvying up their earthly belongings – but William's will has an opening gambit that goes on for nearly a page. I think this may give us an insight into just how keenly puritanical this family were; he sees the preamble of his will as the place "to leave behind me a full declaration of my faith".
According to the aforementioned History of Parliament, by the time William came to write his will in 1595, he had already settled most of his property. In the will, he mentions his wife Julian and her daughter Bridget Mason, and his daughter Anne Heigham. He also mentions his brother Charles Cardinall, who inherits part of the manor of Moverons. He left money to Dr. Chapman of Dedham – apparently Chapman had married one of William's sister, though who she was (and whether this was true) I do not yet know.[2]Roland Greene Usher, The Presbyterian Movement in the Reign of Queen Elizabeth as illustrated by the minute book of the Dedham classis, pp. xxxviiThe other part of Moverons, he bequeathed to Dedham Grammar School, to maintain two poor scholars born in Dedham or Great Bromley, at St. John's, University of Cambridge. Charles and his male heirs were to choose the scholars, and, in the event of Charles having no male heirs, William's cousin William Cardinall of East Bergholt was to perform the selection.
William's will was proved on 18th November 1598, and several documents at the Essex Record Office show how his property passed about afterwards.  In February 1598/9 (so only a little while the will was proved), Julian leased the manor of Great Bromley to Sir Clement Heigham of Hadleigh, Suffolk for 40 years at £20 per annum.[3]ERO ref: D/DU 40/89 This is presumably to her step-daughter's husband. Then in 1607, there are several documents where the manor changes hands. I should point out that I'm no expert on the technical terms and phrases used in manorial records. It's probably easiest if I put them in chronological order:
8th April: assignment of remainder. Julian Cardynall of Nottinghamshire, widow to William Cardynall of Norwich, gent., and Edward Cardynall of East Bergholt, gent. William and Edward bought it from John Heigham (which presumably refers to the lease in 1598/9).[4]ERO ref: D/DU 40/15
11th April: Conveyance for £400, again, Julian Cardynall of Nottinghamshire to William and Edward.[5]ERO ref: D/DU 40/91
18th June: A quitclaim dated this day (mentioned above), has John Higham of Ditchingham, Norfolk and Charles Cardynall of Furnival's Inn, quitclaiming to George Stringer of Nottingham, William Cardynall of Norwich, and Edward Cardynall of Furnival's Inn. The catalogue entry says that John Higham is the heir of Dame Anne Higham, deceased, which probably means that Anne had predeceased her stepmother, Julian. It also says that William Cardynall of Norwich is son of Charles Cardynall of Furnival's Inn.
20th June. Three documents are dated this day, all feoffments. They seem to say substantially the same thing – that William Cardynall of Norwich, gent., and Edward Cardynall of Furnival's Inn, are conveying to Nicholas Tymperley of Hintlesham, Suffolk, and Edward Newport of Chignal St. James the manor of Great Bromley. It mentions the land that William bequeathed for the benefit of Dedham Grammar School, saying that he is the uncle of William Cardinall of Norwich: in other words, Charles Cardinall's eldest son, baptised in Little Bromley in 1580. Charles' wife and William's mother was originally from Norwich, which might explain why William had gone there. Considering that in the document date 18th June, William's father is Charles Cardinall of Furnival's Inn, then it seems we have an interesting fact about Charles come to light, which I will mention on his own page. One of the documents mentions an acre of the manor's land which William (1535-1598) had conveyed to William Beryff. [6]

ERO refs: D/DU 40/16, D/DU 40/94, D/DU 40/95
So what exactly does this all mean? Does it mean that in April 1607, Julian Cardinall sold Great Bromley manor to her step-nephew, William Cardinall, and Edward? (whoever Edward is – I haven't worked that one out yet). But, come June, William and Edward then sold the manor on again? This, from my limited understanding, seems to be the case.
A busy man
William Cardinall, then, was a busy man, involved in politics in the south-west of England and the east midlands, with his property and family swirling about Essex, Suffolk and Norfolk. His daughter had married into an important family, but as William had no surviving sons, the story of the Cardinalls must continue with his brother, Charles.