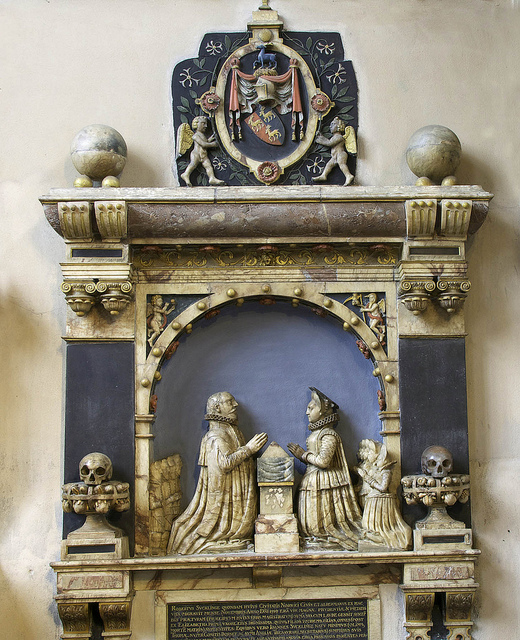 A brother of William Cardinall (1535-1598), who was a recorder of Colchester and member of Parliament during the reign of Elizabeth I, Charles can be traced by his will of 1624 to Great Bromley. Sources are confused as to whether Charles and William were brothers or half-brothers – William may have been a child of William Cardinall senior and his first wife, Joan Gurdon of Dedham; it seems certain that Charles was by William senior's second wife, Lettice Knightley.1)History of Parliament entry on William Cardinall senior. In his will, William junior said he had been born in Dedham, so perhaps Charles had been too, although it certainly seems like that there was quite a large age gap between the two brothers.
A record held at the Essex Record Office, dated 17th October 1578, shows William Cardynall of Great Bromley, esqr, granting an annunity for life of £10 Charles Cardynall, gentleman, of Furnival's Inn, London.2)ERO ref: D/DU 40/86 The 1598 will of Charles' brother, William states that he had given Charles this annuity, coming out of his Manor of Great Bromley, shortly after their father's death. Presumably William had inherited the manor from their father, and the £10 annuity was to ensure Charles was not empty-handed. Charles, then, was a legal clerk or a barrister. Although his children were baptised in Little Bromley between 1580 and 1603, in records surrounding the sale of Great Bromley manor in 1607 name him as Charles Cardinall of Furnival's Inn.
Suckling family of Norwich
In 1579, Charles married Elizabeth Suckling of Wix. They married on 8th June at Wix – "Charles Cardynall gent and Elizabeth Sucklinge."3)In Burke's Commoners, Charles is described as "of Dedham, but note that the year before, Charles is of Furnival's Inn in London. It might be a hangover from his brother William saying he was born in Dedham in his will. From Burke's History of the Commoners of Great Britain and Ireland, we can see that Elizabeth was a daughter of Robert Suckling (1520-1589) of Woodton Hall in Norfolk, and his first wife, Elizabeth Barwick. Robert was a baker and an alderman, and was Sheriff (1564), Mayor (1572 and 1582) and a Burgess in Parliament (1571 and 1586). Elizabeth is represented by one of the kneeling figures behind her mother on the Suckling monument in the above photograph. It's worth mentioning the other children of Robert and Elizabeth Suckling, because their names will crop up again:
Edmund, who became dean of Norwich in 1614. He died in 1628 and is buried in Norwich cathedral
Robert, a Catholic exile in Italy4)Entry on his brother, John Suckling at History of Parliament
John (1569-1627, sixth son of Robert), who became Sir John Suckling.
Anne (?-1626), who married Thomas Layer (1528-1614) of Norwich5)History of Parliament
Mary, who married John Hassell, of St. Peter's, Cornhill, London. Their son John (1571-1654) succeeded Edmund as dean of Norwich in 1628.6)Oxford Dictionary of National Biography
Maud (?-1631), who married Sir Peter Gleane (1564 – 1633).7)Some information on Robert Suckling and his family from Victoria Golden's piece for Norwich Heart. See also Burke's Commoners.
Robert Suckling's third marriage, at Great Bromley on 2nd December 1577, was to Joan, daughter of William Cardinall of Bromley (presumably Great Bromley), and widow of Robert Vesey of Wix.8)Victoria Golden says Robert's second wife was called Mary, but History of Parliament says that it was Margaret Pettingale, who, by the time she got round to marrying Robert, was on husband #4. Robert and Joan had two sons – Charles (born 1578, who was the family's successor) and Christopher, who lived in Wix, Essex. As Joan was Charles Cardinall's sister, in marrying Elizabeth Suckling Charles had married his sister's step-daughter; his step-niece, if you will. Robert Suckling named Charles, both his son-in-law and brother-in-law, as one of the executors in his will.9)Legal wranglings followed Robert Suckling's death. The National Archive holds a record, E 134/44Eliz/Trin1, which shows Sir John against Johanna and Christopher and Thomas. Thomas might be a third child of Robert and Johanna, who isn't mentioned in the Visitations or Burke's Commoners. According to History of Parliament, Edmund Suckling disputed his father's will because he was only left £100. For more on the Sucklings, see the entry on William Cardinall (1509-1568) and my blog on the Suckling's famous relatives: Robert and Joan were the ancestors of Horatio Nelson.
Cardinalls in Little Bromley and Wix
Charles and Elizabeth's children were baptised in Little Bromley, and Wix:
William, 29th May 1580 in Little Bromley
Mary, 29th April 1582 in Little Bromley
Joan, 8th April 1585 in Wix
Elizabeth, 18th September 1587 in Wix
Robert, 5th April 1593 in Little Bromley
Margaret, 23rd May 1597 in Little Bromley
Anne, 24th May 1599 in Little Bromley
By 1601, Elizabeth had died, and Charles married again, to Bridget Bowes, a widow. They had one son, James, baptised in Little Bromley on 12th April 1603.
Mary Cardinall, aged about 17, married William Leyre in Little Bromley on the last day of the December, 1599. It is quite possible that William Leyre is related to Thomas Layer of Norwich, who had married Mary's maternal aunt, Anne Suckling. Edmund Suckling mentions a William Layer in his will, as his "son-in-law", leaving him a picture of his mother which hung in the parlour of Edmund's house in Blofield. It may be that William was Thomas and Anne Layer's son, who had married firstly one of Edmund's daughters, and then Mary Cardinall. The Norfolk Visitation says that William Layer of Cringleford, Norfork, married ?, daughter of Cardynall of Essex, and had several children. Cringleford parish registers have been transcribed by FreeREG, from which we can see that William and Mary had the following children:
William, 22nd August 1605
Lucy, 25th April 1615 (married someone called Parke, died 6th December 1658, "A pious woman a loving wife")
Charles, 4th February 1618/9
There is a baptism at St. Andrew's, Norwich, for William son of William Layer, on 18th April 1602, who might be another child of Mary and her husband. The Norfolk Visitation says William had a son called Thomas. William, it seems, was buried in Cringleford in 1643, and Mary, his widow, in 1650.
Joan married Thomas Gooch in Ardleigh in 1607, and Elizabeth married Henry Firmage in Lawford in 1611. By 1638, Henry Firmage was living in Norwich, and the only child he mentions is Anne. His daughter Anne (possibly Elizabeth's daughter) married Thomas Balliston in 1637, but Anne died in 1642. Thomas and Anne's only child, Elizabeth, died when she was three. Henry mentions his "sister Gooch" – meaning Joan, his sister-in-law, and Joan's daughter Mary, and his "sister Layer" – again, another sister-in-law, Mary, and Mary's son William. Elizabeth isn't mentioned in Henry's will so had perhaps died by 1638.
The Visitation of 1634 misses some of this detail, but also contributes some extra facts. It shows us that Charles second wife, Bridget, was the widow of Thomas Bowes jnr, and daughter of Ralph Starling. It also leads us into the next generation of Cardinalls and, by showing us that Charles' son, Robert, married Elizabeth Beriff, we can see how the Cardinalls came to be related to James Clarkson of Tendring – more on all of that in other articles.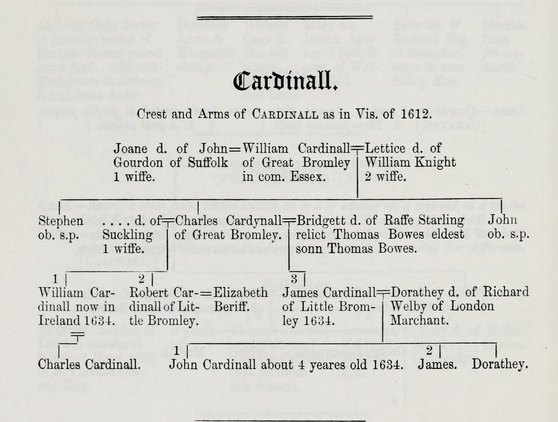 Visitations have to be taken with a pinch of salt – Charles is absent from the 1612 visitation, but appears in the one for 1558.
Bridget Starling
Bridget's parents, Ralph Starling and Alice Yonge, married in Dedham on 13th February 1560/1; Alice was from Boxford in Suffolk. There are baptisms for three children of theirs in Dedham – Bridget (26th July 1562), Mary (27th November 1564) and Ralph (29th October 1568). Alice died in November 1568, a few weeks after the birth of her son, and Ralph married again in 1574. His new wife was Margaret Thurston – Ralph was her third husband. She was originally from the Tendering family in Boreham, Essex, and it was in this village where she and Ralph were married.
When Ralph wrote his will on 24th October 1580, he described himself as a clothier of Dedham. He owned a lot of property in Dedham, and houses in Ipswich and London. His son Ralph, who was underage at the time the will was written, was made executor. His guardian was to execute the will until Ralph was of age; this guardian was Richard Starling, Ralph senior's kinsman. Ralph was buried in Dedham on 27th October 1580. There is a Chancery record, Cardinall v. Bromlie (at some point between 1596-1616), over a dispute regarding property in London on Lombard Street – this is possibly the property Ralph bequeathed to Bridget's sister, Mary. The plaintiffs are Charles Cardinall and Bridgett Cardinall his wife; the defendant was Sir Henry Bromlie knight.10)A possibility is that Mary had married Henry Bromley, died, and then Bridget believed that it should become hers. This is purely a guess, however, as I haven't seen the Chancery records myself.
Margaret died six years later, in April 1586. Her will mentions her children from her two previous marriages, and also tells us a lot about the different belongings that people had at this period and what they felt was valuable; the gold mourning ring with a death's head upon it sounds particularly splendid, and one wonders how closely it resembled this one made about one hundred years later, which is held at the British Museum.
Bridget's brother, Ralph, who was a minor in 1580 when their father died, had moved to Great Bromley by the 1620s. In 1589, he married Susan Upcher of Dedham in Little Bromley, but his will, written in 1624, makes no mention of any wife or children, and he left everything to his nephews – Thomas Bowes, who inherited the bulk of his estate (and would be knighted only a few years later), and James Cardynall.11)ERO ref: D/ACW 10/52 It also mentions his cousin Christopher Bales (1591-1649) – he was the son of his mother's sister, Mary (1564-1595), who had married Martin Bayles (?-1596). Ann Laud, daughter of John Laud, appears in the will too, but he neglects to mention what his connection is with them. Ralph's will was proved on 3rd February 1626. A chancery suit between Cardinall (plaintiff) and Bowes (defendant), might tell us that there was a dispute between the two. This record is at The National Archives and might shed light on the relationship between these half-brothers.
Bridget and the Bowes family
Bridget Starling appears in the 1634 Visitation of Essex under the Bowes family, too. It shows that her husband, Thomas jnr, was the great-grandson of Thomas Bowes of York. Her husband's grandfather, Sir Martin Bowes, was lord mayor of London in about 1545, and died in 1566, and Thomas jnr's father was another Thomas Bowes (let's call him Thomas snr). Thomas jnr's mother was Thomazin, daughter of William Wilkinson, who was a sheriff of London in 1585.
Thomas jnr and Bridget had two children, Sir Thomas and Elizabeth, who married Martin Salter of Flowton.12)Note that this is true of the 1634 Visitation – the 1558 Visitation, which presumably someone went back and added things to, has Thomas' niece as Elizabeth, wife of Martin Salter. I am not sure yet which is true. Thomas died in late November/early December 1598, and his will, describing him as being a gentleman of East Bergholt in Suffolk, mentions his wife Bridget, son (Sir) Thomas, and then three daughters: Judith, Anne and Elizabeth. It isn't obvious from the will of all of the children were those of Judith or if Thomas had been married before.
Now – Bridget's son Sir Thomas is an interesting, and in fact, infamous character. He was knighted in 1630, and in his role as magistrate in the 1640s, was enthusiastic in rounding up "witches" in the Tendring Hundred with Witchfinder General Matthew Hopkins. Sir Thomas Bowes married Mary, third daughter of Paul Dewes of Stowlangtoft in Suffolk, and, according to the 1634 Visitation, they had four children: Thomas (if you've been keeping count, the fifth), Martin, Paul and Cicely. Alumni Cantabrigienses gives names of other children of Sir Thomas and Mary – Richard and William (who became rector of Tendring in 1668 and died in 1670). There are six baptisms in the Great Bromley register for children of Sir Thomas and Mary:
Thomas, 24th January 1627/8 (went to Trinity, Cambridge in 1646, buried in Great Bromley 1680)
Ciscillia, 17th February 1629/30
Martin, 23rd November 1631
Paul, 5th Febrary 1633/4 (went to St. John's, Cambridge in 1650. Called to the Bar 1661; died 1702)
Bridget, 26th September 1636
Richard, 22nd January 1639/40 (became rector of Great Bromley in 1661, then of Stowlangtoft in 1668)
If this is rather confusing, then perhaps a tree (bringing together information from the Visitations, wills and parish registers) might help: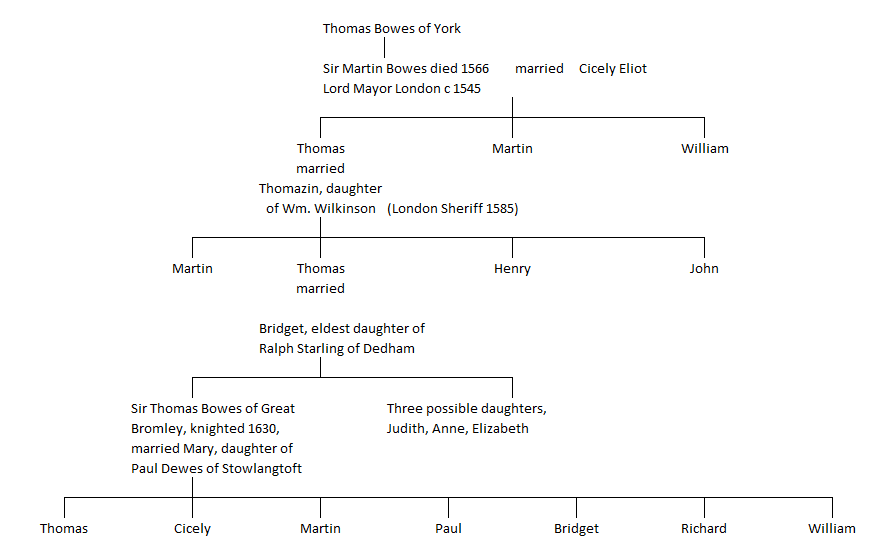 A portrait of Sir Thomas Bowes, painted in 1630 (so presumably to commemorate his being knighted) is being sold by John Noote Galleries in the Cotswolds. It was painted by Daniel Mytens the elder, and says he was 34 at the time, so he was possibly born in 1596, and so was only a toddler when his father died. It is possible that the widowed Bridget took her children with her when she moved to Essex to live with her second husband, hence perhaps how Sir Thomas came to live in Great Bromley, or because he inherited property there when his uncle, Ralph Starling jnr died.
William Cardinall's bequests
On his brother's death in 1598, Charles inherited a farm called Coldhall in Great Bromley, and a part of another farm called Moverons in Frating. William stated that Moverons was to be inherited by a male heir of Charles'. William had bequeathed the other part of Moverons to Edmund Chapman, pastor of Dedham, and after Chapman's death, this was to fund two poor students of Dedham Grammar School, who had been born either in Dedham or Great Bromley, to attend St. John's College, Cambridge. Charles and his male heirs were to select these students.
The last will and testament of Charles Cardynall
Charles Cardinall wrote his will on 17th January 1624 and less than a month later, his will was proved. Because there are no surviving burials for Great Bromley for this period, it's unclear whether he was buried there or not. He left his eldest son, William, £20 bond (this was money due from a debt from Mr. John Hassall – note that William's maternal aunt, Mary Suckling, had married John Hassall of London, and they had a son also called John); his son Robert, a farm called Breameshall (which was either partly or wholly in Little Bromley); and his son James, property in Dedham and Great Bromley, some of which had belonged to his mother's father. Three of Charles' daughters are also mentioned: Anne, Mary and Joan. Anne appears to have been unmarried (no surname appears, so it's hard to say for certain) – she inherited property in Wix. Mary Layer, who we know married William Leyre in 1599, inherited £5. Joan Goache inherited £20 – Joan had married Thomas Gooch in Ardleigh, Essex, on 25th May 1607. The 1614 will of Joan's uncle, Thomas Layer of Norwich (husband of Ann Suckling) mentions a Doctor Gooch – might this be Joan's husband? Considering that Joan's brother William appears to be mentioned in Layer's will, it is certainly a possibility. Elizabeth, a daughter of Charles and Elizabeth, baptised in Wix in 1587, does not appear in her father's will; she may have predeceased him.
Note that a document from 1620 at the Essex Record Office has Charles grant Braham Hall in Little Bromley to his son Robert, "out of love for my natural son, Robert Cardinall." This is a bit strange given that "natural son" euphemistically means "illegitimate son", so perhaps this Robert (who presumably is the same one mentioned in the will – Braham Hall and Breameshall are likely to be the same place) isn't the one who Charles and Elizabeth baptised in 1593. Then again, perhaps it's wrong to assume that "natural son" here means "illegitimate" – he may just be pointing out that Robert is his son by birth, rather than a son-in-law.
The 1634 Visitation says that Charles' son, William, was in Ireland in 1634, and had a son, Charles – whether he took his son with him, and whether they came back, I don't know. In the 1607 records concerning the sale of Great Bromley manor, William was in Norwich, presumably through a connection with his mother's Suckling family in that city. Maybe it was through a connection with the Sucklings that he was in Ireland some years afterwards. It is very likely to be him who is the William Cardinall, with a wife, Mary, who appears in the 1614 will of Thomas Layer of Norwich: Layer called him "my cozen".
Please note that the above photo of the Suckling monument has been sourced from Flickr, under a Creative Commons licence.
| | | |
| --- | --- | --- |
| 1. | ↑ | History of Parliament entry on William Cardinall senior. |
| 2. | ↑ | ERO ref: D/DU 40/86 |
| 3. | ↑ | In Burke's Commoners, Charles is described as "of Dedham, but note that the year before, Charles is of Furnival's Inn in London. It might be a hangover from his brother William saying he was born in Dedham in his will. |
| 4. | ↑ | Entry on his brother, John Suckling at History of Parliament |
| 5. | ↑ | History of Parliament |
| 6. | ↑ | Oxford Dictionary of National Biography |
| 7. | ↑ | Some information on Robert Suckling and his family from Victoria Golden's piece for Norwich Heart. See also Burke's Commoners. |
| 8. | ↑ | Victoria Golden says Robert's second wife was called Mary, but History of Parliament says that it was Margaret Pettingale, who, by the time she got round to marrying Robert, was on husband #4. |
| 9. | ↑ | Legal wranglings followed Robert Suckling's death. The National Archive holds a record, E 134/44Eliz/Trin1, which shows Sir John against Johanna and Christopher and Thomas. Thomas might be a third child of Robert and Johanna, who isn't mentioned in the Visitations or Burke's Commoners. According to History of Parliament, Edmund Suckling disputed his father's will because he was only left £100. |
| 10. | ↑ | A possibility is that Mary had married Henry Bromley, died, and then Bridget believed that it should become hers. This is purely a guess, however, as I haven't seen the Chancery records myself. |
| 11. | ↑ | ERO ref: D/ACW 10/52 |
| 12. | ↑ | Note that this is true of the 1634 Visitation – the 1558 Visitation, which presumably someone went back and added things to, has Thomas' niece as Elizabeth, wife of Martin Salter. I am not sure yet which is true. |