→

→

→

William Cardinall of Great...
When looking at the Great Bromley Cardinalls, we follow back up the tree from William, who married Joane and Lettice, and find ourselves at William Cardinall of Great Wenham. We know that there is an issue surrounding the wife he's given in the Visitation (it would mean William Cardinall of Great Bromley was born before alleged his grandfather, Roger Amice!), however, we can find out more about William and how he fits in with the other Cardinalls in Suffolk, by looking at the Suffolk Visitation.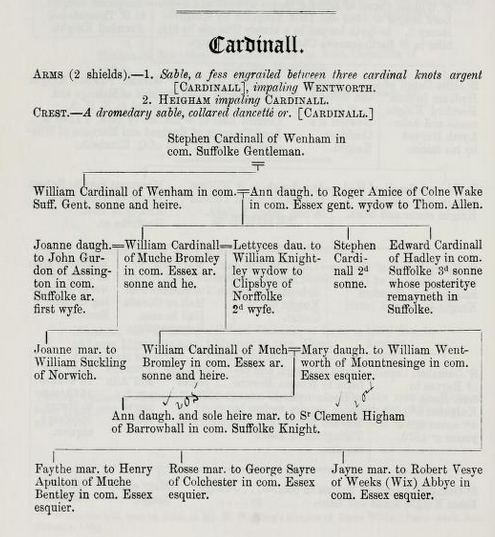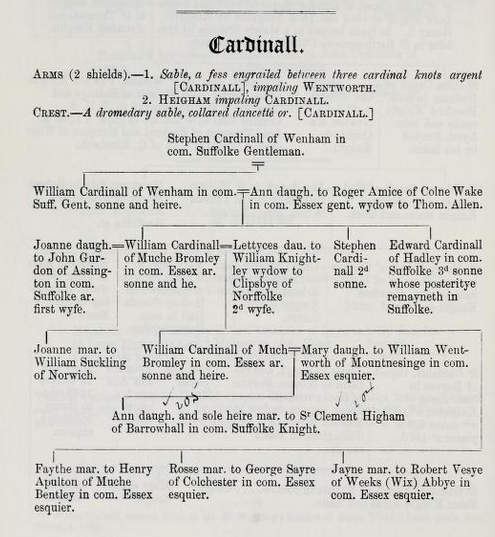 Suffolk Visitation, 1612
The Suffolk Visitation of 1612 doesn't take the form of a tree, as it's written out long hand. It contains no dates so is a bit confusing. It's in two sections: Cardinall of Hadleigh and Cardinall of Wenham. The following trees are a graphical representation of the Suffolk Visitation without any other information added.

It firstly tells us that Steven Cardinall of Hadleigh had three sons: William, Steven of Great Wenham and Edward of Hadleigh. Edward had a son called William, by his wife, Jane Bendlowes.[1]The Suffolk Visitation says that Edward's wife Jane was the daughter of William Bendlowes of Bardfield. There was a William Bendlowes of Great Bardfield, buried there in 1584. His will mentions … Continue reading William Cardinall married twice – first to Margery Fawcon (no issue) and secondly to Susan Sicklemore – they had two children, Thomas and Mary. It's not clear, but perhaps Thomas and Mary were 6 and 2 in 1612.
Steven Cardinall of Great Wenham
So Steven, son of Steven of Hadleigh, moved to Great Wenham, and had three sons by his wife – first name unknown, maiden name Amice (which perhaps connects with the other Amice bride that appears in the Cardinall Visitations): William of Great Wenham, Steven of East Bergholt and Edward. However, I think this repeats what's under "Cardinall of Hadleigh" – it seems very coincidental that two generations of Stephen Cardinalls, both of Great Wenham, would have three sons all called William, Stephen and Edward! What the Visitation seems to be doing without being clear that it's doing so is showing us the line of Edward, son of Stephen 1st, and the line of Stephen 2nd, son of Stephen 1st.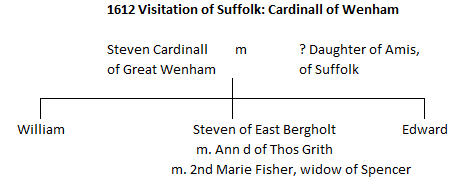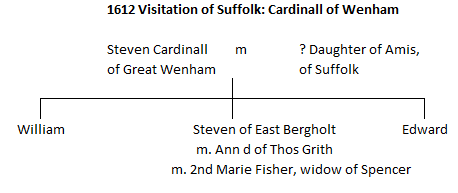 The Visitation details Steven of East Bergholt's enormous family, which I haven't turned into a tree here: by Ann, his first wife, he had eight children (William, Adam, Steven, Robert, John, Judith, Jane and Anne) and by his second wife he had four children (Humphrey, Philip, Mary and Margaret). Judith married John Branston of East Bergholt (PCC will 1582) and secondly George Cockerell of Coggeshall (PCC will 1599). Anne married Christopher Burrough of East Bergholt (their son Christopher's PCC will (1607) names Charles Cardinall as executor). Steven of East Bergholt's eldest son, William, married Jane Maynard of Colchester (her father John's PCC will 1569), and had eight children: William, Stephen, Edward, John, Elizabeth (married John Pearce[2]Note that there is a PCC admon dated 23rd March 1666/7 of Susanna Cardinall of Stratford, Suffolk, naming John Perse esqr. of Parham, Suffolk. She died 1625, he died 1624), Thomasen (married Henry Walker of Bury St. Edmunds), Rose and Mary.
Steven Cardinall of East Bergholt is the one who wrote his will in 1568, and it was proved in 1573. The names it contains (such as Grith and Fisher) tie up with the names of his children in the 1612 Visitation. Other wills from Cardinalls in the nearby area repeat some of these names – Margaret Cardinall of Bramford's 1567 will mentions Sycklemer/Siclemer, and the 1574 will of Richard Cardinall of East Bergholt mentions his siblings who are the children of Stephen in the 1573 will.
So, if we want to know the identity of William Cardinall of Great Wenham, who appears in the 1612 Essex Visitation, I would suspect that it is none other than the eldest son of Steven Cardinall of Great Wenham, and brother of Steven Cardinall of East Bergholt. He wrote his will in 1543 and it was proved in 1551, wherein he mentions three children: Edward, William and Faith. At the time the will was written, Faith was unmarried, and Edward inherited very little. It was William who was to inherit the bulk of his father's estate.
The Gosnolds of Otley
The 1561 Visitation of Suffolk for the Gosnolds shows Margaret, daughter of John Gosnoll of Otley,[3]The Gosnolds have become quite famous in recent years thanks to them being Danny Dyer's "posh" ancestors. and his wife Catherine, marrying William Cardinall of "Wenham, Essex". This is presumably meant to be Great Wenham, Suffolk.
The confusion comes because in the 1574 will of Roger Amice of Wakes Colne, his wife Ann is shown as the wife of Thomas Allen. In this Visitation, we see William Cardinall marrying Ann, daughter of Roger Amis of Wakes Colne and widow of Thomas Allen. Which cannot possibly be right, unless we're dealing with an extra set of people called Roger, Ann Amice and Thomas Allen.
It's possible William was married to a woman called Amice, and also to a woman called Margaret Gosnold, as the Suffolk Visitation says. Or it may be that Amice is completely wrong and he was only married to Margaret. Bearing in mind that the Amyce entry in vol 2 of the Essex Visitation, "Miscellaneous Essex Pedigrees" mentions that William Cardinall was removed from the pedigree as the second husband of Anne Amyce suggests that someone was correcting a mistake, perhaps getting muddling up because Stephen Cardinall married an Amyce. There were Amyces in Washbrook, where there were also some Cardinalls, and I wonder if someone got "Washbrook" and "Wakes Colne" confused.
The accuracy of the Gosnold Visitation holds up as it can be tested against surviving documents. It says that Margaret's sister, Alice, married three times. Firstly to Thomas Merrell of Whepstead, secondly to Thomas Webbe of Dedham and finally to John Beriffe of "Bridgelay", presumably Brightlingsea. The 1506 will of Thomas Webbe of Dedham mentions his wife Alison, his five sons Robert, John, Henry, Thomas and William, and a daughter Eden (Edith?), as well as John, William and Katherine Meryell. The 1521 will of John Beriffe of Brightlingsea mentions his wife Alice, then John and William Marrell and Robert Webbe, "my wife's sons". The will of another John Berriff of Brightlingsea, dated 1542 mentions "my brother Robert Webbe" as well as "my brother Merrell." Alice appears to have died in 1536, and is commemorated by a brass in the church of All Saints, Brightlingsea, where she sits on a bracket with a brass of her daughter Margaret.
Bearing in mind that the Visitation has Alice's three marriages spot on, as evidenced by the wills, the marriage of Alice's sister Margaret to William Cardinall is most likely to be accurate as well. The Berriffs link in with the Cardinalls again later, as you will see, and it might be the two Gosnold sisters' marriages which helped to establish it, as well as the fact that the Cardinalls settled around Great Bromley, which is near the Berriffe's home of Brightlingsea.
The dates stack up too. As we can see, Alice had had several children by 1506, and went on to have more by John Beriffe. According to the brass, she and John had two sons and three daughters. William Cardinall of Great Wenham, who wrote his will in 1551, was the father of William, born in about 1509.
The will of John Gosnold was written in January 1511/2 and proved that February. He was Alice and Margaret's father, but his will doesn't mention them, only his sons Robert, Edmund and William, Robert's daughter Katherine and Edmund's daughter Margaret. It's a shame because had the will said "Margaret the wife of William Cardinall" then we'd have evidence of the marriage and an idea of when it would've been. But it's likely that the daughters aren't mentioned because they were already married and had therefore received a marriage portion as part of a settlement, hence they wouldn't be inheriting anything else from their father. We know that Alice was still alive in 1512, so death isn't necessarily the reason for them not being mentioned in the will. Margaret might still have been alive – and we know she must've been married by 1512, so it could mean that she was the mother of William Cardinall, who was born in about 1509. Faith, mentioned in the 1551 will of William senr, was unmarried when the will was written in 1543, and it might be the case that she was somewhat younger than William jnr, and therefore could've been the daughter of a later wife – the daughter of the mysterious Amice lady, perhaps, while William jnr was Margaret Gosnold's child. Then again, had William senr married Magaret Gosnold, might we expect to see the Cardinall arms impaled by those of the Gosnolds?
Robert Gosnold, the eldest of John's sons, died in about 1573, outliving his sister Alice by nearly 40 years. He was very old at his death – he had outlived his two sons, John (died 1554) and Robert (died 1559), and in his will mentions grandchildren and great-grandchildren. Robert's son Robert had married Mary Vesey, and that family would be linked to the Cardinalls by the marriage of Joan Cardinall (?-1624) to Robert Vesey. In fact, there are links between a big swirl of families – the Cardinalls, the Gosnolds, the Knightleys, the Wingfields, the Berriffes, the Veseys, the Pyrtons, the Boodes and the Veres.
Footnotes

↑

1
The Suffolk Visitation says that Edward's wife Jane was the daughter of William Bendlowes of Bardfield. There was a William Bendlowes of Great Bardfield, buried there in 1584. His will mentions two children: a son also called William and a daughter called Elizabeth who had predeceased him. Elizabeth had married a Wentworth, and William's 1584 will mentions nine Wentworth grandchildren, all of whom were under 21 at the time: Mary, Alice, Margaret, Frances (b abt 1569), Jane, Thomasin (b abt 1575), Anne (b abt 1577), Thomas (b abt 1572) and John (b abt 1573). Looking at the Essex Visitation for the Wentworths, Henry Wentworth of Bumpstead married "daughter of Benlow of Finchingfield" and must be Elizabeth Bendlowes (the 1590 PCC will of Henry Wentworth of Steeple Bumpstead mentions that William Bendlowes was his late father in law. Henry had remarried, to a woman called Margaret. He left legacies to some of his children and these names also appear in William Bendlowes' will). According to the Essex Visitation, Henry of Bumpstead was the son of Roger Wentworth of Felsted and his wife Anne Buckford. Roger's brother Henry had a daughter called Mary, and she married William Cardinall (1535-1598) in Gosfield in 1562. So there is a connection between the Bendlowes and the Cardinalls, in that Henry Wentworth, who married Elizabeth Bendlowes, was the first cousin of William Cardinall's wife Mary Wentworth. But there appears to be another. The Essex Visitation and Lincolnshire Pedigrees vol 2 show that a Joan or Jane, daughter of Christopher Bendlowes, sister of William Bendlowes, married Richard Heron. Leicestershire Pedigrees says that Richard was of Halstead, and Richard's 1548 will at ERO (surname "Haron") mentions money coming annually out of the farm at Halstead Hall. Richard was living in Langham when he wrote the will, and mentions his wife Jane and two children "Gedwarde" and Elizabeth ("Gedwarde" was of course Edward, who became Sir Edward, a baron of the Exchequer. The family moved to Leicestershire). Richard's mother Elizabeth was still alive as she was left money in Richard's will. On the reverse is a note written by "Bendlowes the elder" to his daughter Jane who was struggling to execute the will as she didn't have the money to pay Richard's debts. Bearing in mind Richard died in 1548, I think it's possible that the Jane Bendlowes who married Edward Cardinall was in fact this Jane, the daughter of Christopher and widow of Richard Heron/Haron. She presumably went on to marry Edward after Richard's death. Therefore the Suffolk Visitation contains a slight mistake.

↑

2
Note that there is a PCC admon dated 23rd March 1666/7 of Susanna Cardinall of Stratford, Suffolk, naming John Perse esqr.

↑

3
The Gosnolds have become quite famous in recent years thanks to them being Danny Dyer's "posh" ancestors.