William Griffin was born in about 1729. Although the record of his baptism doesn't appear to have survived, other records point to him being the son of another William Griffin and his wife Elizabeth who lived in Stoke Poges, about twenty-five miles south of Drayton Beauchamp. Elizabeth died in 1738, and the following year William senior married Mary Marks, a widow who lived in Bierton, moving his family north. His brother Daniel lived in Wingrave, very near to Bierton, which may be how the couple met.
In 1752, thirteen years after moving to Bierton, William junior was a 23-year-old yeoman living in Bierton. He married Mary Markham, a widow who was living in Drayton Beauchamp,1)This information is all garnered from their marriage licence. The record of their marriage itself only gives their names and not their residences or their marital statuses. Before seeing the transcription of their marriage licence, I hadn't realised that Mary was a widow. about six miles away.
Buckinghamshire Genealogy Society has a very useful map of parishes in the county. Drayton Beauchamp is a long, thin parish, which runs north to south abutting the Hertfordshire parish of Tring to the east and Puttenham to the north, and to the west, Buckland. Immediately to the west of Buckland is Aston Clinton, and just north of Aston Clinton is Bierton.
Mary Markham presents a mystery: I can't find any record of Mary Markham before she married William Griffin. She mentions two daughters in her will, Mary Brill and Hannah Morris, who were the children of her first marriage, but I can't find their baptisms or Mary's marriage.2)Both Mary junior and Hannah gave Markham as their maiden names when they married. There is a clue, however: Hannah had a son called Benjamin Markham Morris, and her sister Mary had a son called Benjamin as well, which makes me wonder if Mary's first husband was called Benjamin Markham. Maybe, one day, we will know for sure.3)The name Benjamin seems to run in the Markham family. The Centre for Buckinghamshire Studies holds a will for Benjamin Markham of Bierton, proved in 1731, and Oxfordshire archives hold the will of Robert Markham of Berryfield, Quarendon, grazier, who died in about 1763. He had a son called Benjamin who is mentioned in his will.
Mary Markham jnr married William Brill at Drayton Beauchamp in 1766. They lived in Weston Turville, and between 1766 and 1786 had six children: George, William, Benjamin, Mary (died in infancy), Joseph and Mary. Hannah Markham married Richard Morris in Buckland, the parish immediately west of Drayton Beauchamp. They had eleven children between 1770 and 1791: William, Benjamin Markham, John, Joseph, Elizabeth, the strangely named Kingsmill (a daughter), Thomas, Mary, Sarah, Hannah and William. There might be a link between some of the Morris children, and in-laws of Hannah's half-brother, Daniel, the Fowlers, as Joseph Morris' executor was Thomas Fowler of Buckland, a farmer. I will look more closely at the Markham girls and their families another time.
Drayton Beauchamp's church, where William and Mary married and where their children were baptised, has a Norman font, which is still in use today. The village was owned by the Cheyne family, and when William and Mary were married, they would have stepped over memorial brasses that were already ancient by 1752, and have walked up the aisle past the recently installed memorial to William Cheyne and his wife Gertrude Pierrepoint, incorporating lifesize marble statues of the deceased couple. A nice collection of photos showing the inside of the church can be seen at the University of the Third Age's site.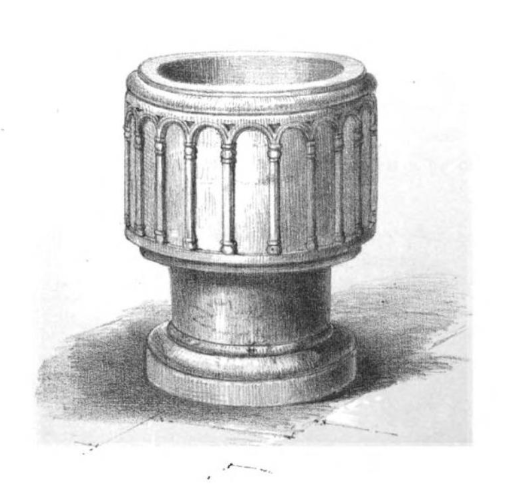 William and Mary's children
William and Mary had seven children: six sons and a daughter. All of the baptisms took place at Drayton Beauchamp's parish church.
John, baptised 29 July 1753
William, baptised 2 April 1755
Daniel, baptised 8 April 1757
Elizabeth, baptised 22 April 1759
George, born about 1761
Thomas, baptised 24 Apr 1763
Henry, baptised10 Jun 1765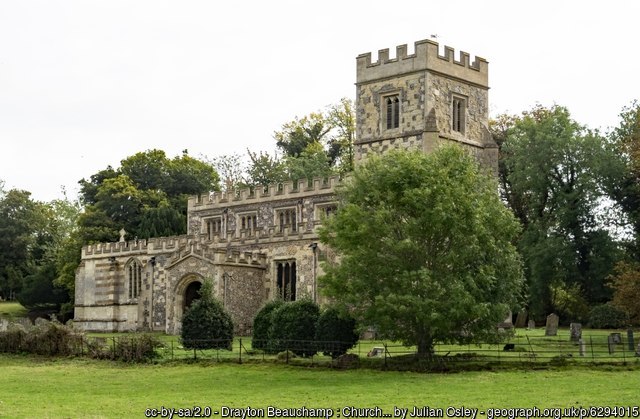 Thank you, Uncle Daniel
William's uncle, Daniel Griffin, died in 1778. Daniel's wife had died the year before, and none of their children had survived to adulthood, so William, as his nephew, inherited Daniel's property. Daniel left him the house in Wingrave where he lived at the time, including one acre of pasture, and several acres of arable land in Wingrave as well as Leighton Buzzard, Bedfordshire, six miles away. Daniel left his godson – William's son Daniel – a legacy of £5, which is worth about £430 today.
The end of the beginning
William senr was buried in Drayton Beauchamp 10 June 1799, the register recording him as a farmer. He didn't leave a will. However, Mary, his widow, wrote one on 26 July 1804. In her will she mentions her daughters from her first marriage, Mary Brill and the late Hannah Morris who had died in May that year. It might be Hannah's death that prompted Mary to write a new will. She left £30 to Mary Brill, and £30 to Richard Morris, Hannah's husband. She provided legacies for Mary and Jane, daughters of her eldest son, John, and a legacy of £10 for her grandson James Burnall, who was a son of William and Mary's daughter Elizabeth. Mary left her son Henry her bed and other pieces of household furniture and fittings, and the remainder of her household stuff was divided between her daughters Mary and Elizabeth, and her granddaughter Sarah Morris (one of Hannah's children). Everything else was to be divided among her children. The executors of her will were her sons William and George.
She doesn't specifically mention any land, so what happened to the house and the acres of farmland that her husband had inherited from his uncle isn't clear. If William had died in possession of the house and land, then, because he died intestate, Mary would presumably have inherited it. He might have sold it, of course. But then again, when Mary says that everything else was to be divided among her children after the payment of legacies and the division of her furniture and clothing, she might have meant that land.
One of the witnesses was Arthur Charles Stone, an attorney from Tring. The other was William Fowler of Cannon Street Road, St George's in the East, London. It's tempting to wonder if William Fowler is related to Daniel Griffin's wife, Sarah Fowler. Sarah had a brother, William, born in 1757, but the William on Cannon Street Road died in 1831 aged 79, which means he was born about 1752. I've tried to trace birthplaces for the people in his will, and the only one I managed to trace was his grandnephew, William Fowler, born in Bristol in 1801. So at the moment, I don't think there's a connection. But you never know what might turn up later.
Mary was buried at Drayton Beauchamp on 18 August 1806, presumably in her seventies or eighties and having outlived two husbands and at least one of her children.
First published: 3 June 2020
Edited to include information about William's birth and his inheritance from his uncle: 17 June 2020
| | | |
| --- | --- | --- |
| 1. | ↑ | This information is all garnered from their marriage licence. The record of their marriage itself only gives their names and not their residences or their marital statuses. Before seeing the transcription of their marriage licence, I hadn't realised that Mary was a widow. |
| 2. | ↑ | Both Mary junior and Hannah gave Markham as their maiden names when they married. |
| 3. | ↑ | The name Benjamin seems to run in the Markham family. The Centre for Buckinghamshire Studies holds a will for Benjamin Markham of Bierton, proved in 1731, and Oxfordshire archives hold the will of Robert Markham of Berryfield, Quarendon, grazier, who died in about 1763. He had a son called Benjamin who is mentioned in his will. |