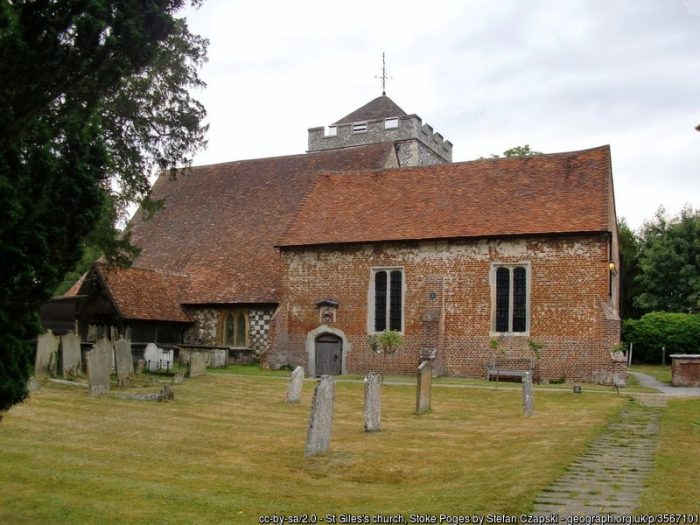 In 1726, William Griffin and his wife Elizabeth had their son John baptised at the parish church of Stoke Poges. I'm not sure yet where William and Elizabeth married, or even if the record of their marriage has survived.1)There are two transcriptions of a marriage between William Griffin and Elizabeth Framton on 3 August 1725 but the location is given as just "London" as one, and "Westminster" in the other. I haven't been able to find the parish or see the image from the register. Two more children of the couple appear in Stoke Poges' register: Elizabeth, baptised in 1732 and Anne, baptised in 1734 and buried only a few months later. The gap between John and Elizabeth's baptisms suggests that there may have been more children who have slipped through the net somehow. Wills suggest that this was William Griffin, who was 23 when he married Mary Markham in 1752 – suggesting a date of birth around 1729.
William's wife died in May 1738, and was buried in the churchyard at Stoke Poges. It's thought that Stoke Poges was in Thomas Gray's mind when he wrote Elegy Written in a Country Churchyard in 1750. The village is home to Stoke Park, a country mansion turned golf club which has appeared in several films, including Goldfinger. The churchyard where Elizabeth was buried appears in another Bond film, For Your Eyes Only.
In July 1739, William married again, a widow called Mary Marks. The marriage took place at Aylesbury; William was a widower from Stoke Poges, and Mary was a widow from Bierton. I don't know how the couple knew each other, as Bierton is about 25 miles north of Stoke Poges, but it may be that William had a connection with Bierton (his brother Daniel had lived in Wingrave, the parish just to the east of Bierton, since at least 1730) already as on marrying Mary, he and his little family moved up to Bierton.
Griffins in Bierton
Mary's first husband was Benjamin Marks, a husbandman. They had married at High Wycombe in 1718. Benjamin left a will, which was proved in May 1739,2)The transcription of his burial gives the date as 17 March 1738 – I don't know if this should be 1737/8 or 1738/9. mentioning his wife Mary and his brother Robert. He also mentioned his kinswoman, Ann Parsons, daughter of Thomas Parsons. As Mary's maiden name was Parsons, Ann and Thomas are perhaps her niece and her brother. It doesn't appear that they had any children.3)I only know who's mentioned in the will thanks to a booklet of Bierton Peculiar wills from the EurkeA Partnership. Once Oxfordshire's archives are open again, I'll be able to get a copy of the will. It seems possible to me that Benjamin left his farming business to his wife, hence William moved up from Stoke Poges to run it.
I haven't found out what happened to William's daughter Elizabeth, but in 1752 both of his sons married. William moved to Drayton Beauchamp on marrying Mary Markham, a young widow who lived in the village there. John married Catherine Ingram at Buckland chapel. Catherine died in January 1761, and only a few months later in October that same year, John married Jane Ingram, who was from Weston Turville, the village just south of Bierton. Jane had been born in about 1739, the daughter of Joseph and Jane Ingram. John's first wife was presumably a relative of Jane's but I haven't found a baptism for Catherine yet.4)Joseph's brother Thomas lived in Bierton. He had a daughter called Catherine who was baptised in 1741, but it would mean she was only twelve when she got married. Although it was legal for a girl of that age to marry at the time, it was incredibly unlikely. Joseph Ingram married Jane Gurney of Great Kimble at Wendover in 1730, five years before the first baptism for their children appears in a register. It might be that John's first wife was in fact another daughter of Joseph and Jane. Although marrying your late wife's sister fell into the prohibited degrees at the time, so such marriages shouldn't really have taken place, they still did sometimes, as we will see with John Griffin, who first married Frances Kingsley, then after her death her sister Charlotte.
William senior wrote his will in May 1753, and it was proved in April 1763. I haven't found the record of his burial yet, so he must have died between those two dates. He mentions his wife Mary and his sons John and William, with no sign of his daughter Elizabeth who may have died before this time. He also mentioned his brother Daniel, and his friend Joseph Ingram – who would become his in-law once John married Jane Ingram. It's possible that Mary died before William's will was proved – there is a burial at Bierton for a Mary Griffin on 5 April 1761.
John wrote his will in August 1763, and it was proved in August the following year. Again, I haven't found his burial. His will mentions his wife Jane, his brother William, and William's son John – this is John who was born in about 1753 and would go on to own Chalkshire Farm in Ellesborough, a mile or so from Chequers.
After John's death, Jane moved back home to Weston Turville, where she married her second husband, Thomas Jarvis, in 1771. They had five children.5)Jane buried 1773, Mary baptised 1774, another Jane in 1776, and two sons called Thomas in 1778 and 1780. I haven't traced Thomas and Jane any further, although he might be the Thomas Jarvis who was buried at Haddenham in 1790, aged 72. His will is at the Centre for Buckinghamshire Studies, so I can't get hold of it at the moment.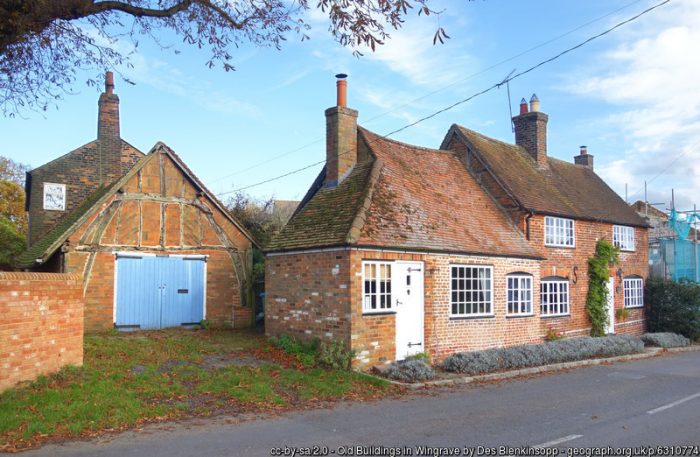 Griffins in Wingrave
William senr's brother Daniel lived in Wingrave, which is the parish just to the east of Bierton. The earliest record I've so far found him in is his marriage there on 29 September 1730, to Margaret Pateman. They had two daughters, both called Anne, one in 1731 and one in 1734, but neither appears to have survived to adulthood.6)It's interesting that his brother William also had a daughter called Anne – it might indicate that there was someone on the Griffin side of the family, perhaps their mother, who was an Anne. Interestingly, they both had daughters called Anne in 1734!
Margaret died in 1776 and left a will, which is unusual at the time for a married woman. This would happen if a woman went into marriage with her own money as part of a settlement that stated she had the right to dispose of as she wished.7)Her will is at the Centre for Buckinghamshire Studies so, again, I'll have to wait to find out who she left her property to.
Daniel two years later, and was buried in Wingrave, where Margaret had been buried too. He was of Rowsham, in the parish of Wingrave, and in his will is described as a yeoman.8)PCC will of Daniel Griffin of Wingrave, probate 6 May 1780, written 29 January 1777. He mentions his nephew William Griffin, who was living in Drayton Beauchamp at the time, leaving him a house with an acre of land in Rowsham, and pieces of land in Wingrave and Leighton Buzzard in Bedfordshire. He also left a legacy to his godson Daniel, one of William's sons and therefore his great-nephew. He also mentions a farmer at Wingrave called Thomas Shockley, and his two sons Thomas and Richard – no family relationship is mentioned, but it could be that the Shockleys were related to Daniel's late wife.
| | | |
| --- | --- | --- |
| 1. | ↑ | There are two transcriptions of a marriage between William Griffin and Elizabeth Framton on 3 August 1725 but the location is given as just "London" as one, and "Westminster" in the other. I haven't been able to find the parish or see the image from the register. |
| 2. | ↑ | The transcription of his burial gives the date as 17 March 1738 – I don't know if this should be 1737/8 or 1738/9. |
| 3. | ↑ | I only know who's mentioned in the will thanks to a booklet of Bierton Peculiar wills from the EurkeA Partnership. Once Oxfordshire's archives are open again, I'll be able to get a copy of the will. It seems possible to me that Benjamin left his farming business to his wife, hence William moved up from Stoke Poges to run it. |
| 4. | ↑ | Joseph's brother Thomas lived in Bierton. He had a daughter called Catherine who was baptised in 1741, but it would mean she was only twelve when she got married. Although it was legal for a girl of that age to marry at the time, it was incredibly unlikely. Joseph Ingram married Jane Gurney of Great Kimble at Wendover in 1730, five years before the first baptism for their children appears in a register. It might be that John's first wife was in fact another daughter of Joseph and Jane. Although marrying your late wife's sister fell into the prohibited degrees at the time, so such marriages shouldn't really have taken place, they still did sometimes, as we will see with John Griffin, who first married Frances Kingsley, then after her death her sister Charlotte. |
| 5. | ↑ | Jane buried 1773, Mary baptised 1774, another Jane in 1776, and two sons called Thomas in 1778 and 1780. I haven't traced Thomas and Jane any further, although he might be the Thomas Jarvis who was buried at Haddenham in 1790, aged 72. His will is at the Centre for Buckinghamshire Studies, so I can't get hold of it at the moment. |
| 6. | ↑ | It's interesting that his brother William also had a daughter called Anne – it might indicate that there was someone on the Griffin side of the family, perhaps their mother, who was an Anne. Interestingly, they both had daughters called Anne in 1734! |
| 7. | ↑ | Her will is at the Centre for Buckinghamshire Studies so, again, I'll have to wait to find out who she left her property to. |
| 8. | ↑ | PCC will of Daniel Griffin of Wingrave, probate 6 May 1780, written 29 January 1777. |