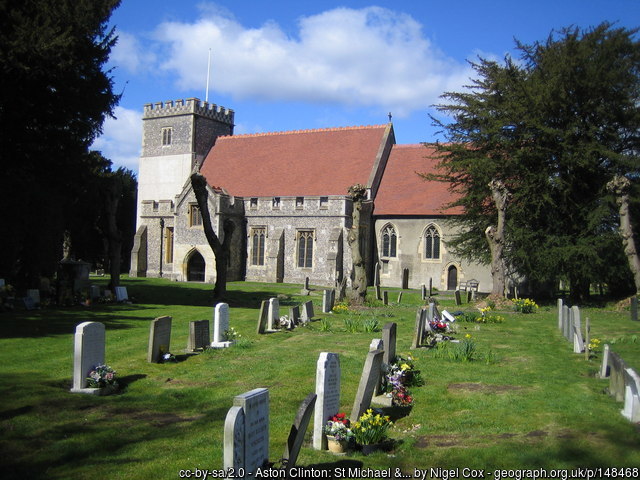 Daniel Griffin was baptised in Drayton Beauchamp on 8 April 1757, the third son of William and Mary Griffin. His godfather and presumably the man he was named after was his paternal great-uncle, Daniel Griffin of Wingrave. He left Daniel £5 in his will when he died in 1778.1)PCC will of Daniel Griffin of Rowsham, Wingrave, yeoman, proved 6 May 1780. "I give and bequeath unto my godson Daniel Griffin son of the said William Griffin [the testator's nephew] the sum of £5." According to The National Archive's historical money converter, £5 in 1780 was equivalent to about £430 in 2017 money, and in 1780 would have bought you one cow, five stones of wool, or paid the wages of a skilled tradesman for thirty-three days.
When Daniel was about 27, on 20 April 1784, he married his first wife, Anne Wells, at the church of St Michael and All Angels in Aston Clinton. According to their marriage licence, Daniel, like his father had been, was a yeoman, living in Drayton Beauchamp. The following year, Ann gave birth to their only child, a daughter who they called Elizabeth. Sadly, Elizabeth died only a couple of months after her baptism, and the following year, Ann followed her to the churchyard.
On 4 December 1787, a year after his wife's death, Daniel married for a second time. His bride was Sarah Fowler, the daughter of Thomas Fowler (1724-?) and Sarah Adams (?-1790). Thomas, it appears, was the son of an Aylesbury baker, Thomas Fowler, and his wife Elizabeth Budd.
Daniel and Sarah had nine children, and I've been able to trace what happened to all of them, except for their youngest daughter, Alice.
Daniel and Sarah's children
Thomas, baptised 21 March 1788 at Aston Clinton
William, baptised 19 July 1789 at Aston Clinton
Sarah, baptised 2 October 1791 at Aston Clinton
Daniel, baptised 22 May 1793 at Aston Clinton
George, baptised 17 Oct 1796 at Aston Clinton
John, baptised 23 Sep 1798 at Aston Clinton
Elizabeth, baptised 11 Jan 1801 at Aston Clinton
Alice, baptised 9 Jan 1803 at Drayton Beauchamp
Charles, baptised 26 Feb 1805 at Drayton Beauchamp
Daniel appears in the electoral roll in 1784 and 1804 because he owned land at Aston Clinton. His entry on the roll for 1804 says that he lived in Drayton Beauchamp, which matches up with the baptisms of his youngest two children.
Sarah died not long after Charles' birth, although I haven't yet found the record of her burial.
Daniel and Elizabeth
On 25 July 1809, Daniel married for a third time. His wife was Elizabeth Evans, a widow eighteen years his junior. The marriage took place at St Andrew's, Holborn.2)Quite a few people connected with the Griffins married at St Andrew's Holborn, to the point that I think some of them used the parish as a "suitcase address" and didn't actually live there, just wanted to be married there for some as-yet unknown reason. Findmypast says that of marriages taking place at St Andrew's between 1754 and 1812, over 4% of grooms came from outside London or Middlesex, and over 3% of brides did. Daniel Griffin is one of that 4%. His brother William, after sailing to Hawaii with Captain Cook, had settled in London and lived in the parish of St Sepulchre, which is the parish right next door to St Andrew's. Their witnesses were Evan Firth and Martha Gregory – William's daughter Ann had married a man called Joseph Firth, who ran pubs in Holborn and Lambeth.3)Evan was born in about 1785, and Joseph in about 1780, so they might have been brothers or cousins. Evan was baptised at St James Piccadilly on Christmas Day 1785, having been born on 5 December, the son of William and Elizabeth Firth. His sister Penelope had been baptised at the same church two years earlier in 1783. Evan also had a sister called Mary. On 2 May 1798, Evan was apprenticed to William Gibbs, a shoemaker of St Leonard Foster Lane in the City of London. On 12 July 1807, Evan married Sarah Ann Townley (born 6 April 1787, baptised 26 April, at St Margaret's, Westminster, the daughter of John Townley and Hannah née Beesley. They had married at St George Hanover Square on 15 July 1785.) at the church where he had been baptised. It doesn't appear that they had any children. On the 1841 census, he was living in Hatton Gardens on independent means with his wife Sarah, and a woman called Mary Firth, aged about 50, and one servant. Evan had written his will in 1830. He owned several houses, all of which, along with his personal property, he left to his wife Sarah Ann. He recommended that after her death, she leave the houses to his sister Mary Burgess and her son Benjamin. I haven't found Mary's baptism yet. She married Benjamin Burgess at St Mary's, Newington, in 1807, and Evan was one of the witnesses. In February 1810, Mary was admitted to the Holborn Lying-In Hospital, on the recommendation of R. Walpole. The register says that her husband, Benjamin, was a coachman of St Mary Newington. Their son Benjamin was born on 1 April 1810, and was baptised at the hospital on 5 April. Mother and child were discharged on 22 April. Aside from their appearance in Evan's will, I haven't been able to find out anything more about them, or indeed Evan's parents, or his sister Penelope. Evan die in December 1848, aged 57, at 4 Stanley Terrace in Chelsea. He was buried at Kensal Green cemetery on 22 December 1848, which is where his widow Sarah Ann was later buried after her death on 26 June 1865. Despite knowing all of this about Evan, I can't see a link between him and Joseph, beyond Evan witnessing Daniel and Elizabeth's marriage! This all makes it seem likely that Daniel and Elizabeth met via a connection with William and his family. In the marriage register, Daniel is described as a widower from Drayton Beauchamp.
Family
Seven years after they were married, Daniel and Elizabeth had their only child, a daughter, Harriet Ann. She was baptised at the church in Drayton Beauchamp on 3 November 1816, and her father's occupation was given as a farmer in the baptism register.
Daniel must have been doing fairly well financially as he'd apprenticed his eldest son, Thomas, to a grocer in Aylesbury in 1802, and presumably his sons who became linen drapers had been apprenticed too.4)I can't see his other sons in the apprenticeship records, though. Around the time of Harriet's birth, his children from his first marriage were beginning to drift off. His son Daniel married in Stepney in 1816, then three of his children married in London in 1818: William, Elizabeth and Sarah. John married in Camberwell in 1820, Thomas for a second time in 1826,5)I haven't yet identified Thomas' first wife. and Charles in 1829. Daniel's children had all moved away from rural Buckinghamshire for the bright lights (well, gas lamps) of London, and it's hard to know how much they had to do with their baby half-sister.
By 1830, Daniel had moved to Berkhamstead in Hertfordshire, where he worked as a yeoman, and where wrote his will on 27 February that year.6)Prerogative Court of Canterbury, proved 10 Oct 1835. He left £300 to Elizabeth, then all his effects and money were to be converted into stocks, with the dividends going to Elizabeth. Then after her death, £700 which would be part of the stocks was to be divided up between seven of Daniel's children. This meant £100 each to the seven surviving children he and Sarah had had – Thomas, William, Sarah, Daniel, John, Elizabeth and Charles. Harriet isn't mentioned in the will, but it implies that she would receive what was left over.
His executors were to be his wife Elizabeth, and his brother George in Ivinghoe, Buckinghamshire. The will was witnessed by Thomas Frederick Robinson, an attorney from Tring, and William Collins of Berkhampstead.7)Daniel's niece Charlotte (daughter of William Griffin, 1755-1839) had married a man called William Collins in 1811, so he might be the witness, although he and Charlotte lived around Holborn and Clerkenwell, so it might be one of his relatives who witnessed the will, rather than Daniel's nephew-in-law himself.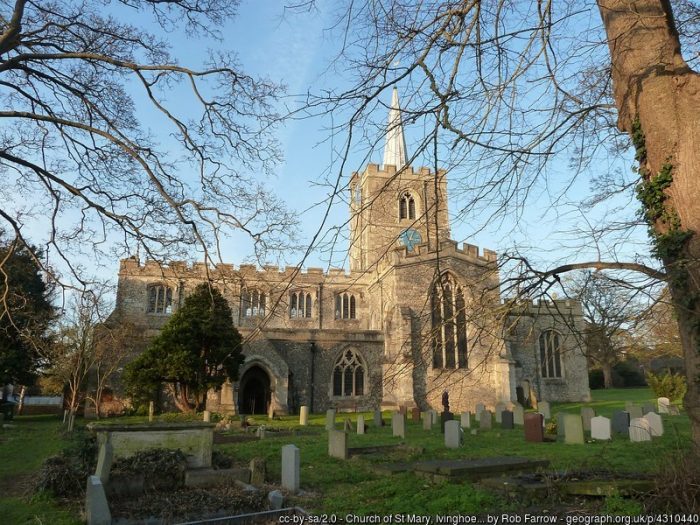 Daniel died in January 1835 and was buried in Ivinghoe, the village where his brother George was living. In 1841, Daniel's widow and youngest child were living in Tring, on New Street in Tring's West End. New Street seems to have disappeared now, or at least has been renamed. According to Buckinghamshire Genealogy, the West End was also known as the Tring Triangle, an area formed by three roads: Western Road, Langdon Road and Park Road.
A year later, mere months after Harriet had got married, Elizabeth died in Tring. She was 69 years old, and was buried in Ivinghoe, presumably with Daniel.
Who was Elizabeth Evans?
I haven't been able to find out anything about Elizabeth's life before her marriage to Daniel. I found potential first marriages for her in Hertfordshire and Buckinghamshire, but on further investigation, those couples continued to have children after 1809. On the 1841 census, when Elizabeth was living in Tring, Hertfordshire, says that she wasn't born in the county. Sadly, she didn't make it to the 1851 census which would've told us where she was born. There are a huge number of Elizabeths who married men with the surname Evans in London in the period when she would've got married, so it would take a very long time to narrow it all down, if it could ever be done.
There is a tempting clue, however. Daniel Sutton, grandfather of Harriet's husband Daniel Sutton Olney, named among his executors a man called Thomas Evans, a cooper of Guildford Street in Southwark. Thomas wrote his will in 1835,8)PCC. Proved 9 April 1838 but there is no one name in the will that links him to the Griffins. He mentions two sons, Thomas and John, and I did wonder if it was possible that Elizabeth had been married to a son of his who had died some years earlier. Thomas was a Baptist and there is no record of his children's births. If Elizabeth had not had any children by her first husband, then there would be little reason for her to appear in the wills of her Evans in-laws, especially once she had married again.
All we know is that she probably wasn't born in Hertfordshire, and that, based on her age when she died in 1842, she was born in about 1773.
First published: 4 June 2020
Edited to add information about Evan Firth and Elizabeth Evans: 10 June 2020
Edited to add information about his uncle Daniel Griffin: 17 June 2020
| | | |
| --- | --- | --- |
| 1. | ↑ | PCC will of Daniel Griffin of Rowsham, Wingrave, yeoman, proved 6 May 1780. "I give and bequeath unto my godson Daniel Griffin son of the said William Griffin [the testator's nephew] the sum of £5." According to The National Archive's historical money converter, £5 in 1780 was equivalent to about £430 in 2017 money, and in 1780 would have bought you one cow, five stones of wool, or paid the wages of a skilled tradesman for thirty-three days. |
| 2. | ↑ | Quite a few people connected with the Griffins married at St Andrew's Holborn, to the point that I think some of them used the parish as a "suitcase address" and didn't actually live there, just wanted to be married there for some as-yet unknown reason. Findmypast says that of marriages taking place at St Andrew's between 1754 and 1812, over 4% of grooms came from outside London or Middlesex, and over 3% of brides did. Daniel Griffin is one of that 4%. |
| 3. | ↑ | Evan was born in about 1785, and Joseph in about 1780, so they might have been brothers or cousins. Evan was baptised at St James Piccadilly on Christmas Day 1785, having been born on 5 December, the son of William and Elizabeth Firth. His sister Penelope had been baptised at the same church two years earlier in 1783. Evan also had a sister called Mary. On 2 May 1798, Evan was apprenticed to William Gibbs, a shoemaker of St Leonard Foster Lane in the City of London. On 12 July 1807, Evan married Sarah Ann Townley (born 6 April 1787, baptised 26 April, at St Margaret's, Westminster, the daughter of John Townley and Hannah née Beesley. They had married at St George Hanover Square on 15 July 1785.) at the church where he had been baptised. It doesn't appear that they had any children. On the 1841 census, he was living in Hatton Gardens on independent means with his wife Sarah, and a woman called Mary Firth, aged about 50, and one servant. Evan had written his will in 1830. He owned several houses, all of which, along with his personal property, he left to his wife Sarah Ann. He recommended that after her death, she leave the houses to his sister Mary Burgess and her son Benjamin. I haven't found Mary's baptism yet. She married Benjamin Burgess at St Mary's, Newington, in 1807, and Evan was one of the witnesses. In February 1810, Mary was admitted to the Holborn Lying-In Hospital, on the recommendation of R. Walpole. The register says that her husband, Benjamin, was a coachman of St Mary Newington. Their son Benjamin was born on 1 April 1810, and was baptised at the hospital on 5 April. Mother and child were discharged on 22 April. Aside from their appearance in Evan's will, I haven't been able to find out anything more about them, or indeed Evan's parents, or his sister Penelope. Evan die in December 1848, aged 57, at 4 Stanley Terrace in Chelsea. He was buried at Kensal Green cemetery on 22 December 1848, which is where his widow Sarah Ann was later buried after her death on 26 June 1865. Despite knowing all of this about Evan, I can't see a link between him and Joseph, beyond Evan witnessing Daniel and Elizabeth's marriage! |
| 4. | ↑ | I can't see his other sons in the apprenticeship records, though. |
| 5. | ↑ | I haven't yet identified Thomas' first wife. |
| 6. | ↑ | Prerogative Court of Canterbury, proved 10 Oct 1835. |
| 7. | ↑ | Daniel's niece Charlotte (daughter of William Griffin, 1755-1839) had married a man called William Collins in 1811, so he might be the witness, although he and Charlotte lived around Holborn and Clerkenwell, so it might be one of his relatives who witnessed the will, rather than Daniel's nephew-in-law himself. |
| 8. | ↑ | PCC. Proved 9 April 1838 |